God of Vengeance is a play of passions, a social critique that explores the distance between outer appearances and inner truth, and a powerful dramatic statement on the oppression of women. Written by Sholem Asch in 1906, it remains strikingly relevant for contemporary audiences, and is a reminder not to view the past through a misty-eyed filter of nostalgia. The Cameri Theatre production, directed by Itay Tiran, was adapted from the original by Itay Tiran and Dani Rosenberg. Asch's play is quite radical, raising issues of prostitution in the Jewish community and lesbian love affairs, and the adaptation reflects a contemporary feminist consciousness in its treatment of those themes.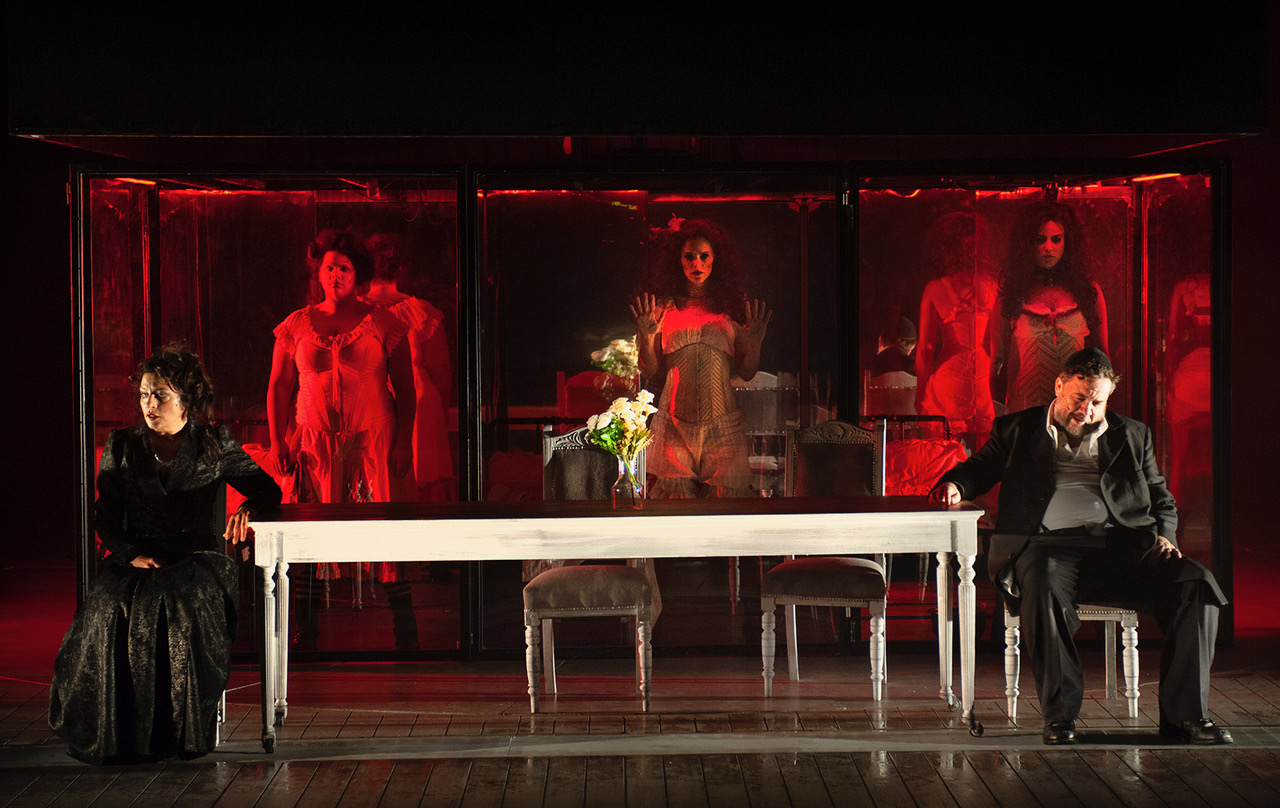 Yankl Shepshovich (Alon Dahan) is the owner of a brothel who wishes to make amends for his sins and lead an observant Jewish life. He plans to shut down the brothel, but in the meantime, it occupies the ground floor of the building, while he lives with his wife and daughter, just one floor above. Eran Atzmon's set design reflects the central themes of the play, the relationship between what is hidden and what is revealed, the distinction between above and below and the proximity between the two.
One of the difficulties of this life is that while prostitution may help a person make a living, it is not likely to earn the acceptance and respect of one's neighbors. While it may be too late for Yankl and his wife Sure (Helena Yarlova), they hope that their daughter Rifkele (Joy Rieger) may have a better future and place in the Jewish community. The family dynamics reveal the problematic nature of the "do as I say, not as I do" philosophy of life. Try as they might to keep Rifkele an innocent little girl, she is a 17-year-old living above a brothel – she is no longer a little girl, and curiosity, perhaps mixed with a touch of rebelliousness, is only to be expected.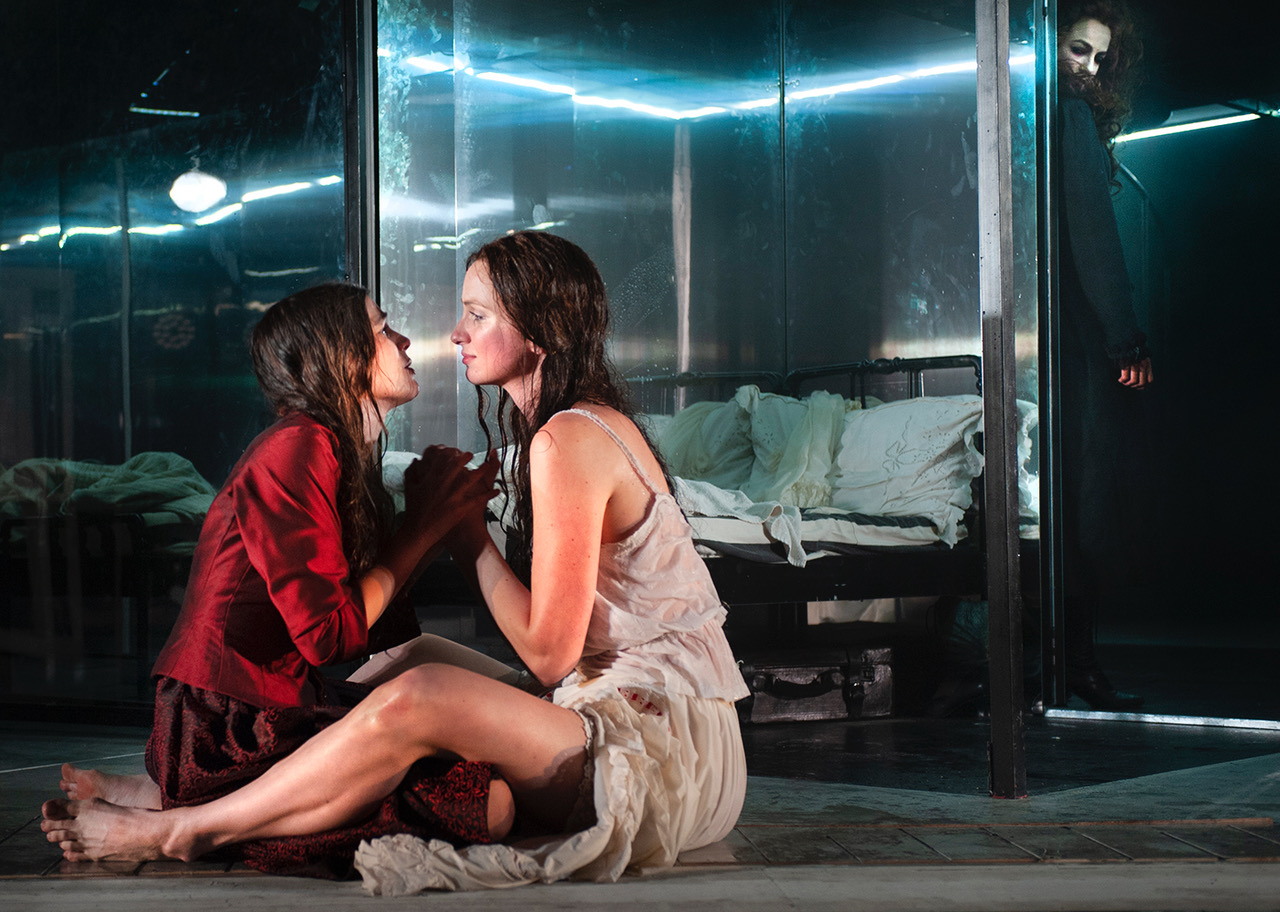 There is a duality to Yankl's character that Alon Dahan expresses to perfection. He is a brute, a rough, violent man who is accustomed to getting his hands dirty, and yet, there is a tender aspect to him, a yearning for something better, something pure. As Yankl, Dahan exudes a soft-spoken piety and tenderness, yet at the slightest aggravation he can become a raging beast.  Yankl views his daughter Rifkele as a possession, not a person. She is merchandise, to be bartered for a place in heaven, and acceptance in polite society, through her beauty and virginity, which will obtain a good shidduch, marriage to a Jewish scholar from a good family. Helena Yarlova's Sure, is more pragmatic in her approach – after all, she too used to be a working girl, and in her attempts to smooth over conflicts, she also radiates a genuine warmth.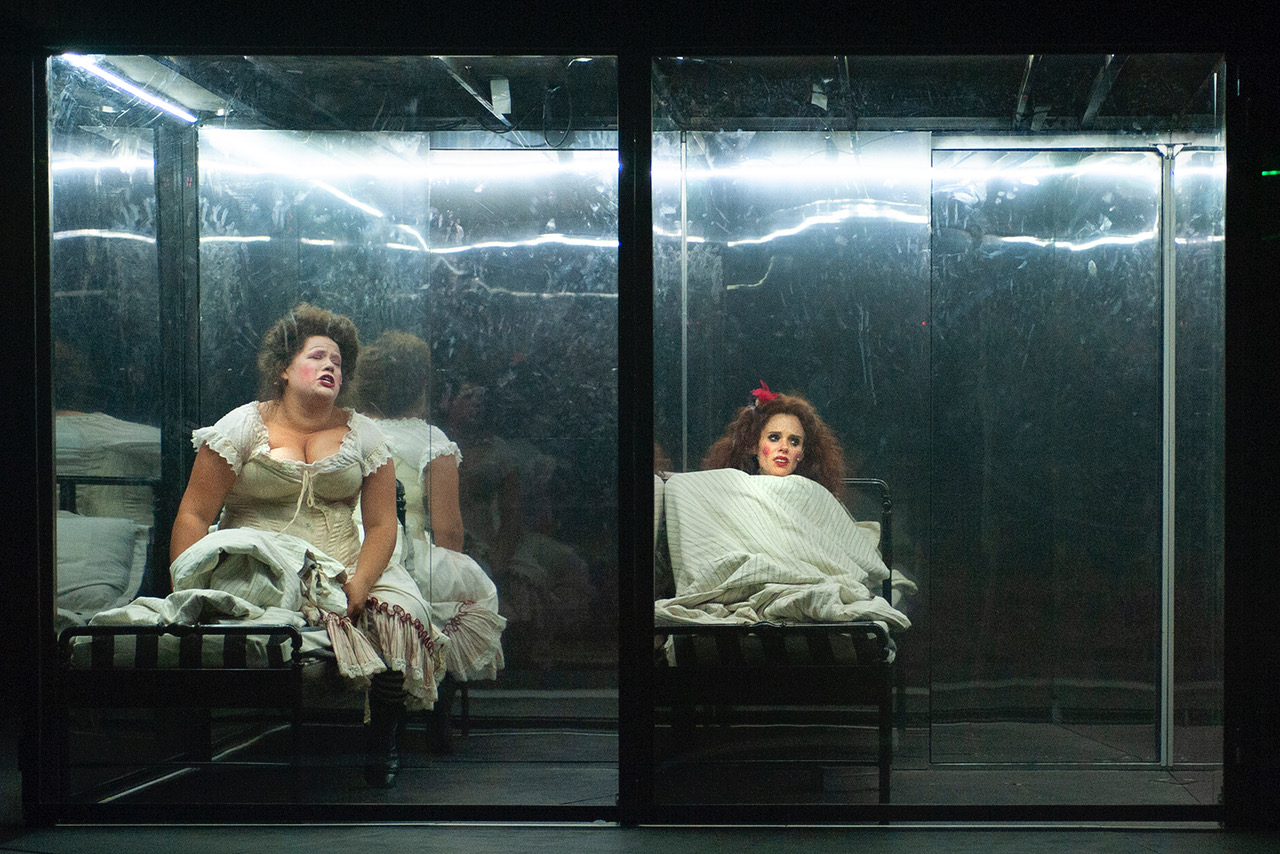 Although it is a play of extremes that deals with harsh realities, there are many moments of lightness and beauty. There is a comradery between the women in the brothel. Having for the most part escaped from abuse and poverty at home in their village, they find that city life presents its own hardships. As they take comfort in each other's company, Maya Landsmann is particularly funny and poignant in her portrayal of Basha. As for the dangerous lesbians – the relationship that develops between Rifkele and Manke is depicted with empathy and a very organic sense of friendship that blossoms into love and desire. Joy Rieger expresses Rifkele's awakening sexuality with a lovely sense of youthful delight in discovery, and Anastasia Fein imbues Manke with compassion, as well as a weary resignation to her lot in life. The tenderness, excitement, understanding, and playfulness they find in one another is a glimmer of light in the darkness.
God of Vengeance
By Sholem Asch; Adapted by Itay Tiran and Dani Rosenberg; Directed by Itay Tiran; Set: Eran Atzmon; Costumes: Moni Mednik; Music: Dori Parnes; Lighting: Nadav Barnea; Movement: Gilad Kimchi; Director Asst: Amit Apte; Music Production: Amit Poznansky; Cast: Alon Dahan (Yankl Shepshovich), Elena Yaralova (Sure), Joy Reiger (Rifkele), Eran Mor (Shloyme), Yarden Bracha (Hindel), Anastasia Fein (Manke), Yoav Levi (Reb Eli), Eran Sarel (Reb Aaron the scribe/Client), Neta Plotnik (Reizel), Maya Landsmann (Basha), Uri Rawitz (Leib/Father of proposed groom), Tom Gal (Groom).