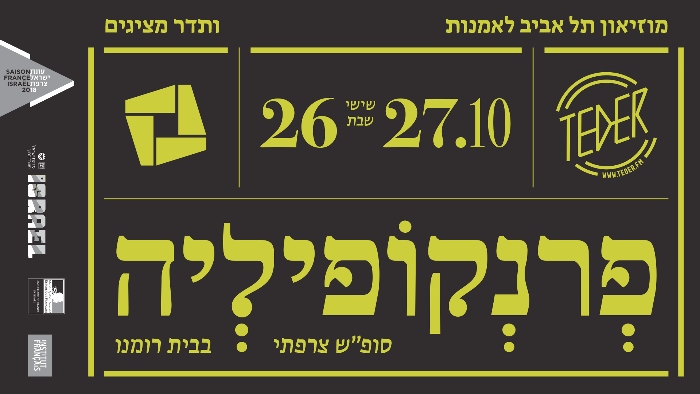 Francophilia – art, music & more this weekend! The collaborative project of the Tel Aviv Museum of Art, the France-Israel Season 2018, and Beit Romano/TEDER, the artistic-intellectual weekend will take place at TEDER on Friday, October 26th and Saturday, October 27th with lectures, movies, video art, and performances. Admission free!
Program Highlights
FRIDAY OCTOBER 16 – Doors open at 19:00
There will be an art exhibit by Gili Avissar, an installation by Claudette Zorea & Hed Mayner, on the ground floor; an exhibit of photographs by David Adika on the second floor, as well as a group exhibit by French and Israeli artists.
The different spaces of Beit Romano will feature exhibits and events in parallel. From 19:30 – 20:30 – a work by French performance artist Myriam Lefkowitz with the participation of local volunteers (following participation in a workshop on Thursday, October 25th, sign up via the TEDER page). Lefkowitz will also perform on Saturday.
At 20:00 there will be a screening of Bande de Filles (Girlhood) by Céline Sciamma, a riveting film that reflects the exploration, struggles, and dilemmas of a black young woman growing up in the suburbs of Paris.

22:00 – after the film, enjoy the Omri Mor Trio performing Andalusian jazz.

Then party with DJ Raphael Top Secret.
SATURDAY OCTOBER 27 – Doors open at 16:00
Dancers Stephan Ferry, Zachi Cohen and Ran Levy will perform on the main from from 17:00 – 18:30
At 17:30 Boogie Balagan from Marseilles
DJ Zlatan (Antinote) will have you dancing at 19:00
At 20:30 get ready for Daft Brass – Eyal Talmudi and his marching band in a special performance with (brass of course!) covers of famous French electronic duo Daft Punk!
Krikor Kouchian with a set of electronic music at 21:30
On both days there will be a marathon of lectures (entrance based on space available) – Friday beginning at 21:00, Saturday from 17:00.
Admission is free and open to the public, age 21+. Beit Romano, 9 Jaffa Road.
Links: Francophilia event page