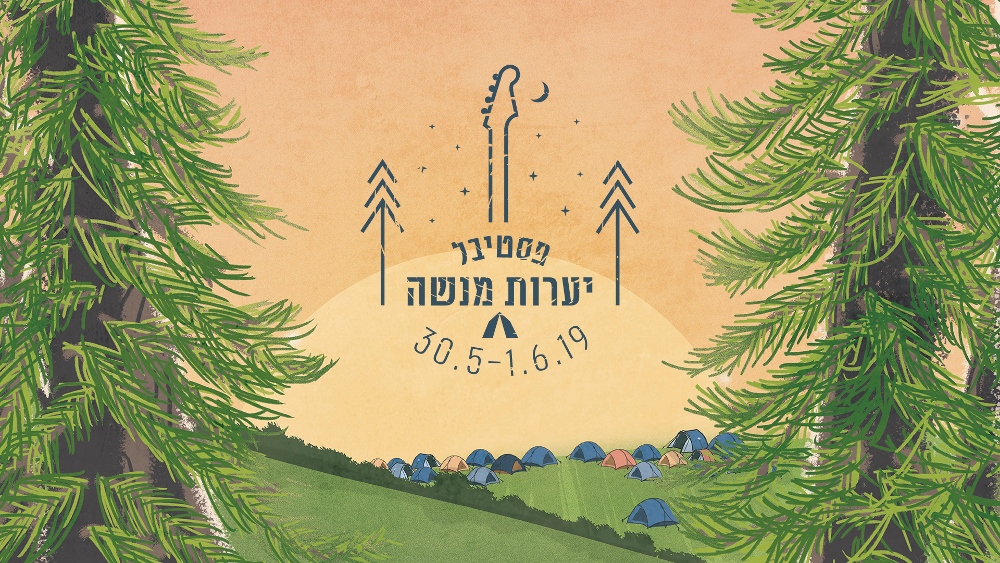 Three days of music, art, nature, community, and good vibes at Yearot Menashe! Now in its 11th edition, the Menashe Forest Festival will take place from May 30 – June 1, 2019, by the Keini river. The Meggido region, recognized by UNESCO as a Biosphere Reserve, is one of the most beautiful and serene landscapes in Israel. The festival is a local initiative that has grown and flourished over the past decade, with Israeli and international musicians performing before crowds of thousands. Immersed in nature, embracing the arts, festival goers experience the harmony of culture and nature in action. Growing ever so gracefully, last year the festival moved to a larger space – and it was amazing!
With music on several performance stages, workshops, art installations, activities for children, dance and theatre performances, Yearot Menashe is not to be missed!
Some of the terrific bands and musicians to perform at Yearot Menashe 2019:
Blind Orchestra – is the disappearing moment, the intricate design of a snowflake melting on your tongue, a dreamlike dance into the unknown, the essence of experience. Emerging from the perpetually creative brain of Dov 'Balu' Rosen (founding member of The Angelcy & Lo Dubim), the concept is very intriguing: in each performance a different ensemble of musicians performs blindfolded, in sets of improvised music, conducted by touch, with a different conductor for each set. It's all about freedom, diversity, and the willingness to take risks. The music you hear is created in the moment. No one knows what to expect. But I'll let you in on a secret: the ensemble is always composed of incredibly talented musicians from the independent music scene. Wherever the music takes you, it will be amazing.
Gunned Down Horses – Thrilling, intensely physical, and suspenseful, their performance is an exhilarating concert experience; wild revelry that reflects breath-taking musicianship. Suffused with elegance, poetry, and dark passions, their songs merge a seductive, primal sense of pleasure with intellect and ironic humor. Think Edgar Allan Poe meets Dionysus.
Tigris – Electricity is in the air, sound on the threshold of the unknown. Merging African percussion instruments, guitar, bass, keyboards, electronica and an other-worldly vibe, Tigris sends a visceral message that penetrates deep. The first time I heard their new EP Lightning, the music felt like subversive invasion that takes over your body, making it move to the rhythm of the driving dark beat of an alien heart.
Tal Fogel – the songs are precise, emotional investigations with surreal imagery, her high clear voice floating wraith-like over the edgy electric guitar and drums.
Tiny Fingers – Textured layers of instrumentals that send the mind to the outer reaches of consciousness and make the body MOVE!!! & Shye Ben Tzur – a dance of the body and spirit, uplifting melodies, rhythms, an experience of joy and community.
And so many more:
Asaf Amdursky, BEMET hosting Alon Olarchik, Hatikvah 6, Mark Eliyahu, The Paz Band, Echo hosting Luna Abu Nassar & Sima Nun & Jenny Penkin, Pele Ozen hosting Fishi HaGadol (Adam Ben Lawi) & Yasmin Jazz Leselrot & Teddy Neguse, Ouzo Bazooka, After Midnight All Starz – Danny Shoshan & Eli Hadad & Yehuda Eder & a secret guest, No Pressure Love (Keren Tennenbaum, Avigail Koevary, Rachel Yaron, Flora, Noya Eder, Daniel Rubin, Kama Vardi, Alex Moshe), Avi Belleli & Galia Hay, Forestt, Tal Friedman and the Fat Cats, Reggae Tribute to Meir Ariel – Roots Militia & Ehud Ariel, Adi Ulmansky, Kabako, Sangit Collective host AvevA, Plastic Soup, Zohar Greenberg, Noga Shalev, Oy Li & Kobi Farhi, Yogev Shetrit Trio, Treeboga, Shazamat, Maya Johanna & Mayor, Tal Fogel, Ella Ronen, Yael Kraus, Saffek, Pufferfish, Dirty Fly, Shay Hazan Quintet, O MER, ILHAAM Project (France), Pashtuta Breaks electronic party, Liron Meyuhas, Alon Gilron, Noa Shapira, InAbell, Yoav Arbel, Itai Freed, Merav Helinger, Oren Zur & Nadav Bachar, Shelly Levy, Pir Volach, Nadav Hollander, Nir Shlomo, Loren Noyman, Gil Bar Hadas, Oded, Dialgo and more…
Special events include Abraham's Tent – an evening of Arab-Hebrew music and culture, under the artistic direction of Gil Ron Shama. Master classes in cooperation with Rimon Music School, with Yossi Fine, Yehuda Eder and others.
Activities include a circus tent where you can juggle to your heart's content, there will be an Activism Market (with the participation of the New Israel Fund) focusing on social change, ecology initiatives, and other important issues, & not to just talk the talk – there will be opportunities to volunteer at NGOs in the festival's neighborhood, the Megiddo Biosphere.
Tickets to all 3 days of the festival are 380 NIS, early bird tickets (while available) are 330 NIS. Daily ticket prices are 120/220 NIS. Children under 12 – admission free. Tickets may be ordered online at www.yearot.com