Gilles Lellouche, whose film Le Grand Bain opened the 16th edition of the French Film Festival, arrived in Israel with the film's producers Alain Attal (Trésor Films) and Hugo Selignac (Chi-Fou-Mi Productions) to talk about the film (no spoilers! it opens in theatres on April 4th), the love of cinema, and the wonder that is Tel Aviv. In a press conference that took place at the French Institute on March 19, Lellouche said that although he doesn't really know Israel, other than Jerusalem and Tel Aviv, he finds Tel Aviv to be "exceptional" saying that "when one goes to the beach and sees women wearing hijab, Muslims, Jews, everyone together on the beach. It's something that is never mentioned in the media, the diversity that exists here. They don't talk about how this city is tolerant. Tel Aviv is modernity, it is a city that inspires hope."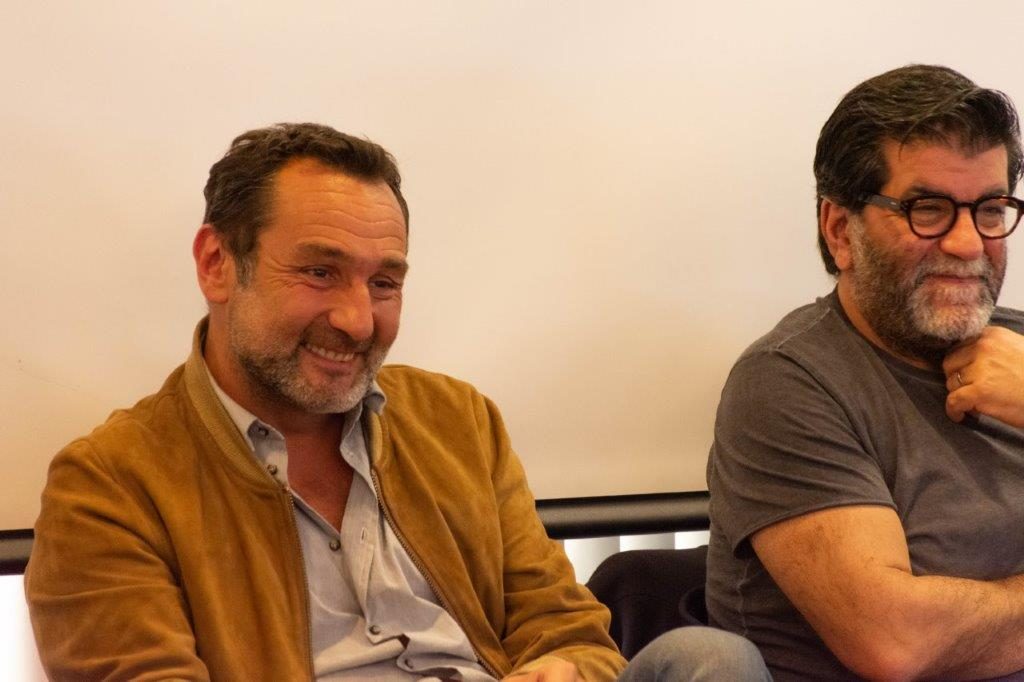 Lellouche, who has appeared in over 50 films, is well known as an actor. Two of those films, Pupille and Les petits mouchoirs, are also in the festival program. Le Grand Bain is his second foray as a director, and brings together an impressive ensemble cast including Mathieu Amalric, Guillaume Canet, Benoît Poelvoorde, Jean-Hugues Anglad, Virginie Efira, Leïla Bekhti and Marina Foïs, in a heart-warming comedy that focuses on a group of men who decide to form their own synchronized swim team, a sport that is typically associated with women.
Given the broad range of films in which he has appeared, Lellouche was asked what attracts him to a film? His response: "I don't want to repeat myself. I am a cinephile. I love all genres of cinema. Actually, that what drives an actor, a director, a producer… What is the engine of a creative artist? It is the fear, not to be sure of yourself, not to stay in your comfort zone. It is better to take risks and do different things each time. Before I am an actor or director, I love cinema. I simply love cinema. As a child I saw films (on video cassettes, no Netflix in those days) on Wednesdays and weekends. It's the same in music. I love all genres of music, and all genres of film. I think that is what is wonderful about being an actor, you can do whatever you want. And when you have this choice, the minimum that you can do is to be diverse, to be original, different. One of the actors I most admire is Robert De Niro. He is the essence of acting in his endless range, he performs in comedies and suspense films. I think that is the way to be an actor."
How did Lellouche manage to assemble such a stellar cast?
Lellouche responded with a smile, "I paid them. Isn't that the job?" Yet he also went on to say, "I was very lucky. People just believed in this project. These actors agreed to train for four months, training daily in the pool. I could have made a mess out of this movie but they took a risk, and invested four months of work, believing that it would be good."
After Le Grand Bain's success at the box office (over 4 million viewers so far) and 10 César nominations, it is clear that it was a very worthwhile risk.
Le Grand Bain opens in Israeli theatres on April 4, 2019.