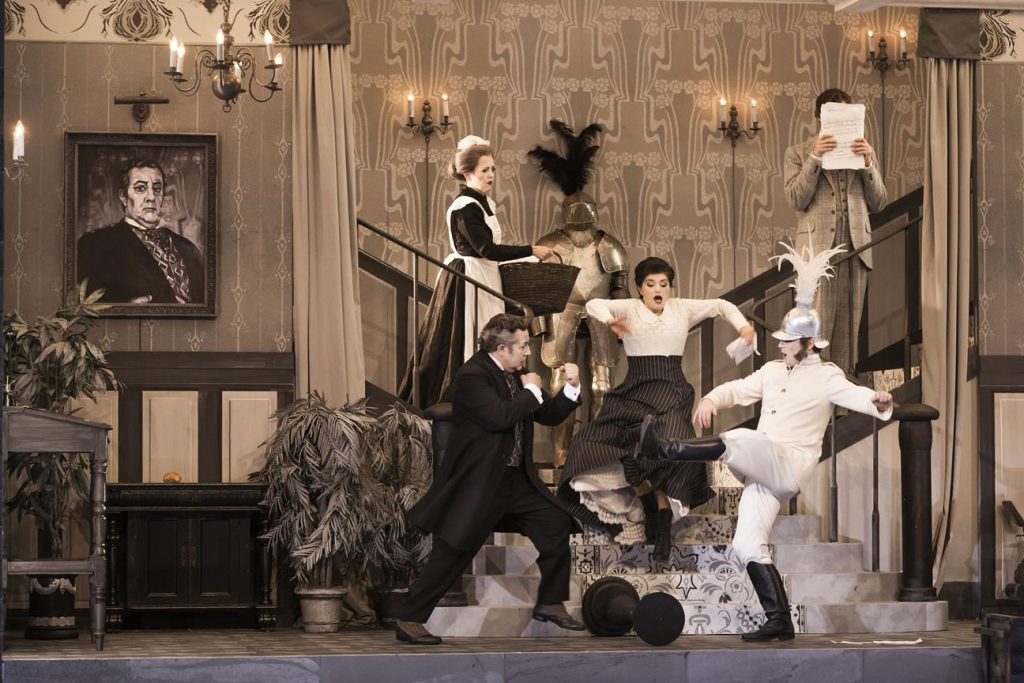 The Israeli Opera offers an exciting season in 2019 – 2020, with a diverse selection of operas, dance performances and music series. The program was announced at a press meeting on Tuesday, March 26, 2019, held onstage, amid the impressive and elegant set for Tosca. Opening the opera season in November will be Jules Massenet's Manon, based on the 1731 novel Manon Lescaut by Abbé Prévost. This will be the first time that Manon is performed at the Israeli Opera. En route to the convent, Manon is distracted by love, and tempted by a luxurious life; clearly the future does not bode well for the young woman. It will be directed by Vincent Boussard, who also designed the costumes, and will be conducted by Dan Ettinger, with Ekaterina Bakanova and Christina Pasaroiu alternating as Manon. As it happens, there is a connection between Manon and La Traviata (to be presented in May 2020) for the latter opera is based on Alexandre Dumas' La Dame aux Camélias, which references Manon Lescaut.
Alessandro Talevi will direct La Traviata, and shared his thoughts on the opera: "I think it's always important for a director to find the essence of the piece as the composer would have wanted it to be portrayed to the audience. In the case of Tosca, I think Puccini wanted to create the atmosphere and the world of opera in the 1800s as you can see here, but I think Traviata is something completely different. Verdi specifically wanted his of the Dumas novel to be in a contemporary setting… But we have to ask ourselves why he wanted it to be contemporary? And I think it's because the idea of the woman who is transgressive, who challenges notions of morality, is particularly disturbing and compelling when it's a living person, when it's someone in the present. I think it touches on some dangerous and uncomfortable issues around morality and how society judges women…For me it was important to go back to Verdi's original wishes, to find a way to tell the story in a contemporary setting where these ideas of transgressive values, the challenging of bourgeois morality really has a currency for a modern audience. The production is going to be in a very glamourous internationalist setting. Not necessarily Paris, it could be Paris, it could be Milan, it could be London, it could be fashionable Tel Aviv. Where the modern high society fashion world is. Where female sexuality is commodified in order to sell things, to sell fashion…what I wanted to touch upon is that women very often have harsh choices to make if they want to break out of the roles that men set for them. and often their choices are judged much more severely than men's choices are. Verdi's story in this sense alludes to this fact. You could say in a sense this opera is visionary of a later feminist discourse of the following century and the 21st century. Verdi always is a visionary."
A new opera will be presented in December 2019 – Dead Man Walking by Jake Heggie. Sister Helen Prejean wrote a book in 1993 based on her experiences as spiritual advisor to two men on death row, reflecting on the moral issues of the men's acknowledgement of their crime, and the use of the death penalty. A film version was made in 1995, starring Susan Sarandon and Sean Penn. Heggie's opera premiered in 2000, and has been extensively performed and highly acclaimed internationally since then, with a documentary on the making of the opera airing on PBS in 2002. The opera will be directed by Tomer Zvulun, and conducted by Patrick Summers, who conducted the opera's debut performance at the San Francisco Opera in 2000. Joseph de Rocher will be portrayed by Michael Mayes, who has performed the role on many international stages, and Maya Lahyani will perform the role of Sister Helen Prejean.
2020 will open with Wolfgang Amadeus Mozart, and Michael Eisenstadt commented on the considerations involved when producing an opera by Mozart: "When the authentic music revolution (as it is known in the world of classical music) began, it opened questions – What Mozart does one perform? With which instruments? With what orchestra? Baroque singers and violins? What has been happening here over the past three years, we are trying to taste and sample Mozart in all the existing possibilities, rather than limit ourselves to a particular approach. So, if we heard Don Giovanni last year with all the richness of a romantic, classical orchestra of the 19th century, conducted by Daniel Oren, this year we turn to Cosi with the Israel Camerata Orchestra Jerusalem, and next year it will be Idomeneo, in a production by the wonderful Kasper Holten who did Don Giovanni last year." Costumes for Idomeneo will be designed by Anja Van Kragh, well remembered from last season's Don Giovanni, who came to opera following her work with the fashion house of Dior.
In yet another interesting connection between operas on the program, the Israeli Opera presented Idomeneo in the past, in the days of its Noga Theatre venue, and in that production, choreographer Inbal Pinto performed as a dancer. Known for creating captivating imaginative worlds onstage, the versatile Pinto, will direct, design, and choreograph Ruggero Leoncavallo's Pagliacci, in an intriguing evening featuring the return of the opera Schitz, composed by Yoni Rechter, based on a play by Hanoch Levin, and directed by Ido Ricklin, dramaturg of the Israeli Opera. Pinto previously co-directed Christoph Willibald Gluck's Armide, with Avshalom Pollak at the Israeli Opera in 2006. Pagliacci features a play within a play, as it follows the adventures of an acting troupe that comes to perform in a town.
Pinto shared her thoughts on the opera saying, "In approaching Pagliacci I tried to think of what drives the community to which this troupe of clowns arrive, and I imagined a society that has no horizon. A society that enlarges and intensifies the human character, and perhaps tells, as if under a magnifying glass, the human story of each and every one of us. This troupe of clowns that brings color and beauty, and perhaps even hope to the town, but over the course of the opera we discover that there too, the hope falls apart and becomes a bit darker, like life itself. The beauty of the opera is in its reflection of the stage and life…Years ago when I did Oyster it was the first time that I designed a stage within a stage, and the gaze of people who live outside the stage, and life on the stage, reflect each other and create an image of one another."
Rounding out the coming season will be Tchaikovsky's Yevgeni Onegin, conducted by Daniele Callegari, and directed by Jean-Claude Auvray, with Ira Bertman and Alla Vasilevitsky alternating as Tatyana. It is often the most popular operas that represent the greatest challenge, as Israeli Opera General Director Zach Granit commented on Il Barbiere di Siviglia, "Everyone has seen so many productions of it, what innovation can be introduced?" Well, there's something to look forward to in February, as Rossini's opera will be directed by Martin Lyngbo, in a new production from the Royal Danish Opera, presenting the beloved music in an homage to the Hollywood era of silent films.
The complete program and ticket information may be found on the Israeli Opera website.