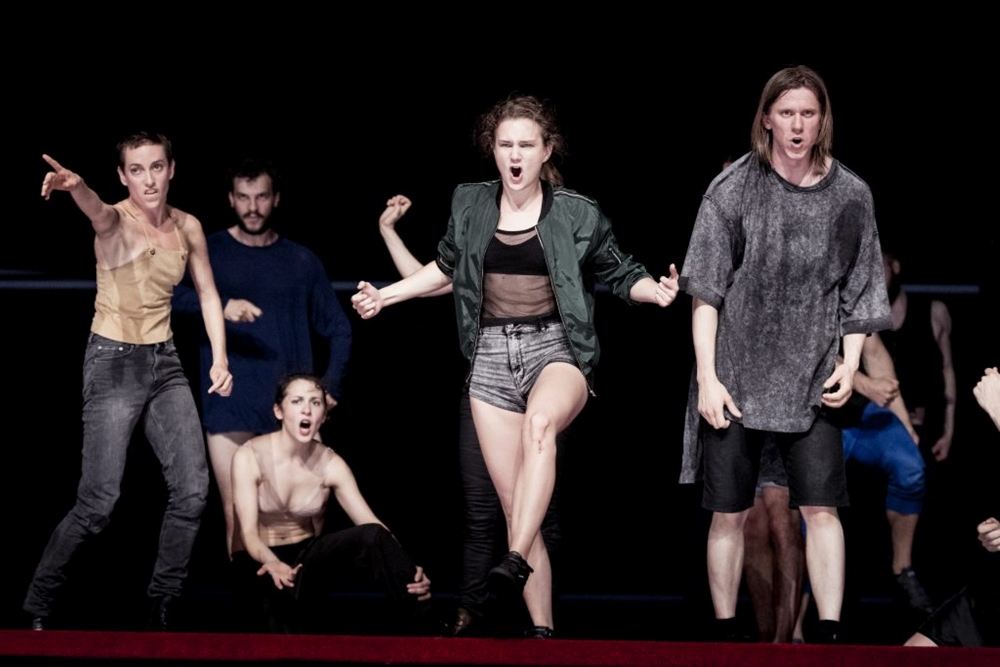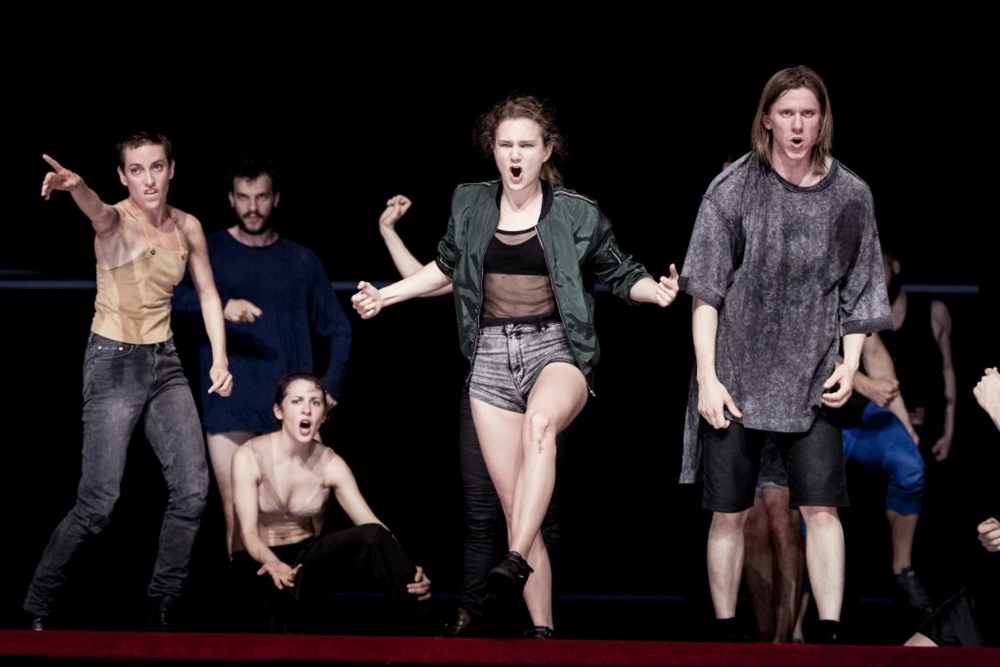 There is an exciting energy to the Israel Festival, now in its 58th edition, which will take place from May 30 – June 15, 2018 in Jerusalem. A unique entity on the Israeli cultural scene, the festival presents a multidisciplinary program of international and Israeli works that crossover, merge, and blur the borders between music, theatre, dance, video, and performance, creating new expressive forms. Israel Festival CEO Eyal Sher stated in a press meeting that took place this morning announcing the artistic program that "the festival's purpose is to enrich the cultural landscape, rather than imitate it, and to expand the artistic discourse. To create an artistic program that will make waves, and create a point of reference that will continue to reverberate throughout the year. Our intention is always to be a few years ahead of the mainstream." The current program certainly reflects this philosophy, with an abundance of distinctive, diverse, and thought-provoking works.
Artistic Director Itzik Giuli commented that although the festival does not work with a particular theme, once the process of curation is complete, it is possible to discern affinities among the selected works. He stated: "This year's program shows a growing interest in artists' questions surrounding identity. The contemporary creations of the 2019 Israel Festival tell us a story about our connection, as a community, to the historical narratives that create our social identity, as well as the reasons and actions taken for the creation of one's personal and social identity. Artists deal with these issues, each in their own special way and form, and the performances reflect the natural evolution of art that moves with time, takes on new shapes, blurs the disciplinary borders, and completely changes the relationship between performer and audience. The result: an astonishing artistic expression of contemporary, bold, brave and exciting creation."
Just as impressive as the artistic program is the festival's commitment to keep ticket prices within an affordable range, between 60 – 180 NIS, with a 20% discount for seniors, students and soldiers, as well as special bundle tickets for double features on Thursday nights. Making it easier to attend the festival, shuttle services from Tel Aviv, Haifa and Beer Sheva will be available on opening night, as well as for the "Night Shift" programs on June 6th and 8th. The Israel Festival staff: Dan Halperin, chairman of the board; Eyal Sher, Israel Festival CEO; Itzik Giuli, artistic director; Miri Menirav, festival producer.
The full program and ticket information are available on the Israel Festival website.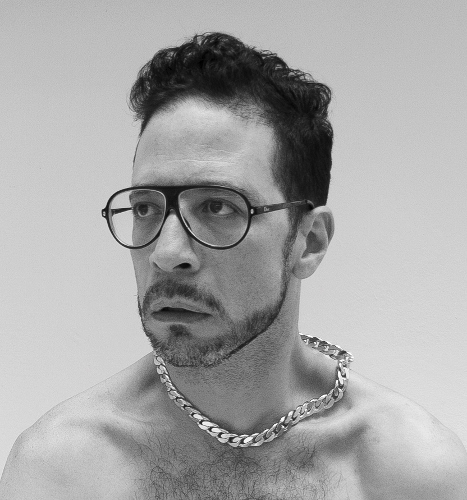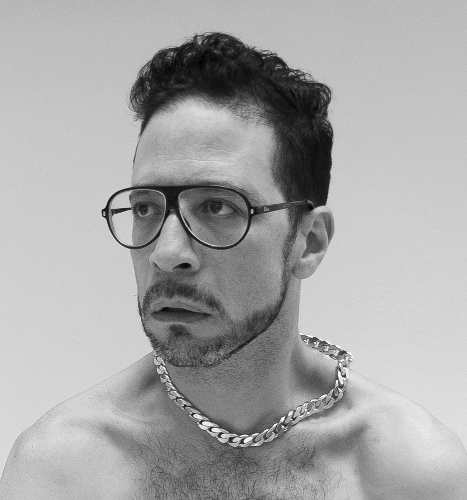 Opening the festival will be Beats Per Second, an open-air concert at the Jerusalem Theatre under the artistic direction of singer-songwriter, actor and writer Gilad Kahana (lead singer of the Girafot). I had the pleasure of talking to Kahana before the press meeting began, and he told me that in conceiving this concert, he wanted "to create an evening from which you emerge feeling inspired, feeling that you want to get up and do something." He expanded on this theme at the press meeting, saying, "Something that creates the kind of dialogue that makes you explode, you walk out and you are angry, you want to write a poem, you want to build a table, you want to create a revolution, you want to do something." Looking at the lineup for the concert, Gilad Kahana has indeed put together an ensemble of that reflects, as he says, "the crazy abundance of musicians and voices" of the Israeli scene. The concert will feature Atar Mayner on the DJ stand, with Dor 3, RASTA HAI, Damsel is Depressed, Eden Derso, DIGITAL MONX – Ori Kaplan and Tamir Muskat's new ensemble, Itamar Ziegler, Ron Bunker, and Tom Darom featuring Tomer Yosef, Gili Yalo, Eden Dersso, ELISEE, A-WA and Gilad Kahana himself.
"I aspire to create an evening that will not end," Kahana said, "A concert begins and comes to a close and everyone disperses. I know this about myself and people with whom I perform – we get off the stage and you're on fire, you want to do something. So instead of going home and having a drink to put yourself to sleep or eat a lot to fill that black pit – let's do another performance. So instead of having the concert end, we'll go into the theatre for another show." An intimate after party will take place in the Jerusalem Theatre (space is limited, so reserve your tickets now) with a looser, more experimental jam. The opening concert will take place on Thursday, May 30th at 21:00 at the Jerusalem Theatre.
The Israel Festival 2019 Program:*
Protagonist / Jefta Van Dinther & Cullberg Contemporary Dance Company  (Sweden)
One of the most intriguing young choreographers today, Jefta Van Dinther gathers Cullbergb Contemporary Dance Company dancers for a tribal techno dance that explores the human need for both belonging and individuality. Drawing inspiration from the Berlin club scene, Van Dinther creates a space where a group of strangers are intensely present in the now, together. On a dim stage, the dancers form groups that paradoxically only exacerbate the sense of loneliness. Protagonist conveys the melancholy and intensity of the party, while conjuring contemplation on affection, intimacy, and connection as well as isolation, control, and alienation. A compelling not to be missed dance masterpiece.
Thursday, 6.6, 20:00 | Jerusalem Theatre | The show contains nudity
Figure a Sea / Deborah Hay, Laurie Anderson & Cullberg Contemporary Dance Company (Sweden)
Figure a Sea is an exciting collaboration between Cullberg Contemporary Dance Company and two icons – choreographer Deborah Hay and multidisciplinary artist and composer Laurie Anderson. Using ease, accuracy, visibility, ambiguity and uniformity as the key elements of her creation, Hay draws on the dancers' intelligence, willingness, humor, and beauty. With transient and irreproducible intimacy, Cullberg Contemporary Dance Company  dancers unfold an ocean of tenderness to the mysterious and exhilarating sounds created by Anderson.
Wednesday, 5.6, 20:30 | Jerusalem Theatre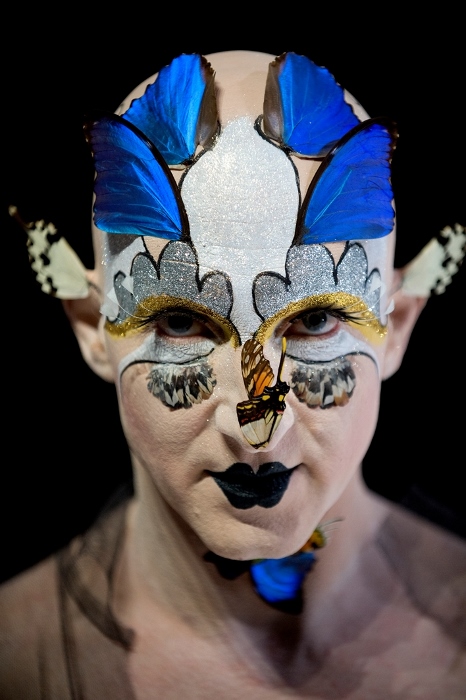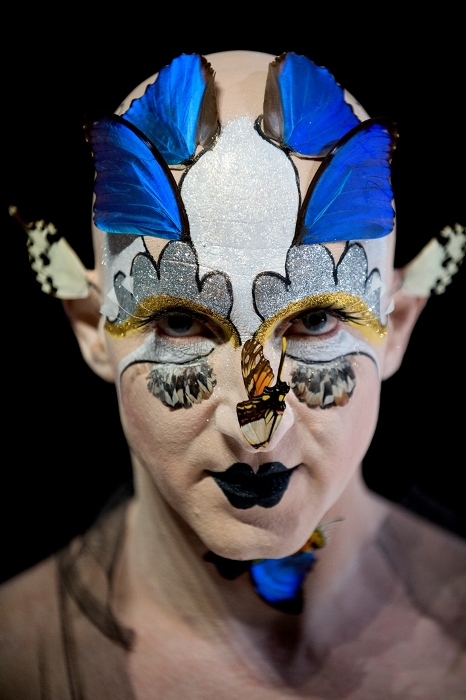 Elu / Steven Cohen (South Africa/France)
When artist-performer Steven Cohen asked his 96-year-old surrogate grandmother how he could possibly go on after his life partner passed away, she told him: "put your heart under your feet … and walk"
Self-described South African, white, gay, Jewish man, Cohen created a performative hybrid that brings together all these identities. Like a fragile, queer butterfly, he stands alone amid an installation of hundreds of ballet shoes – including ones that belonged to his partner the dancer Elu, dozens of candlesticks, and a skirt made of record players. Behind him, a screen displays scenes that insist on finding the aesthetic in the visceral in the face of the unimaginable finality of death.
In a chilling requiem to his partner of twenty years, Cohen performs a brave parting ceremony that celebrates art both as a path of coping with loss and as a resolute choice in a vital and passionate existence. We are invited to take part in an alternative ritual and poetic, personal, and touching artistic act, in which the living opts to serve as the human grave of the dead, etches him on his foot, and keep alive their never-ending love.
Thursday, 6.6, 21:30 | Friday, 7.6, 15:30 | Jerusalem Theatre
The show contains nudity | The show contains disturbing video footage | Ages 16+
And so you see… our honourable blue sky and ever enduring sun… can only be consumed slice by slice …/ Robyn Orlin (South Africa)
On the momentous occasion of South Africa's 20th Freedom Anniversary in 2014, renowned choreographer Robyn Orlin ponders if the people of South Africa are truly free and whether the promised democratic values, especially gender equality, meet the hopes laid down in the constitution.
The exceptional solo fuses a live video work with a mesmerizing performance by South African performer-healer Albert Khoza. Khoza's hybrid figure conjures questions of conflicting identities: is it possible to be traditional and gay? South African and a citizen of the world? Why are these conflicts seen as betrayal rather than an opportunity to discover something new?
To the sounds of Mozart's Requiem, we are invited to delve into an enchanting pagan dance ritual that moves across boundaries of gender and race. "The African" imagined by the West becomes an elusive, ever changing sexually liberated form.
Orlin creates an anarchy that moves from a sensual war dance with Putin's hologram to a vibrant political cabaret. The black man immerses himself in celestial blue, not afraid to welter in the grotesque and to reflect every beautiful, daunting, sad, and tormented facet of contemporary South African identity.
Robyn Orlin received the 2003 Laurence Olivier Award for Outstanding Achievement in Dance.
Thursday, 6.6, 22:45 | Friday, 7.6, 14:00 | Jerusalem Theatre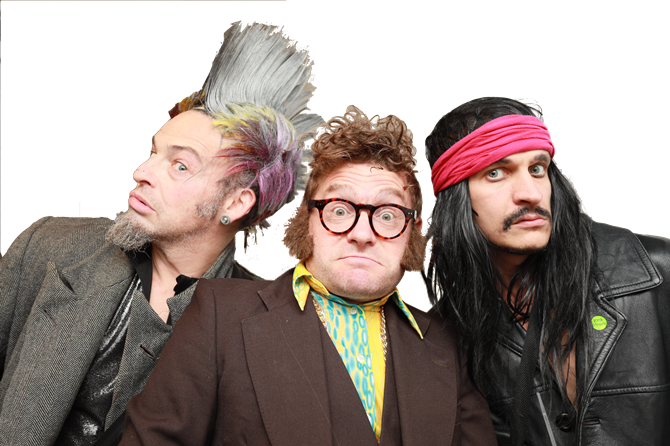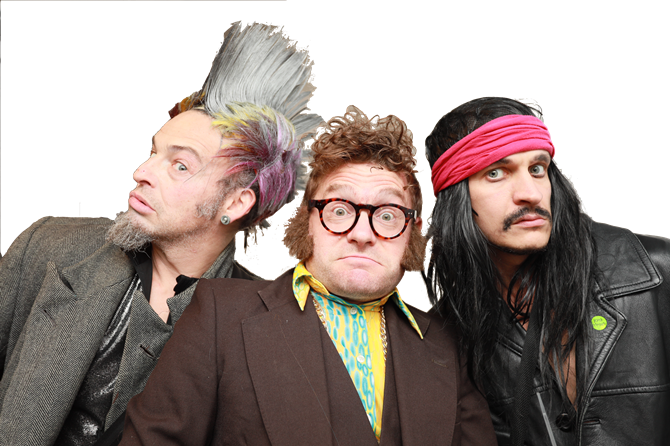 Happy Metal / DAVAI group (Israel)
In this exhilarating roadshow for the whole family, the members of DAVAI play musicians in a Swedish heavy metal band who stumble onto the wrong stage and have to adapt the wild show to an audience of children. With original music played on improvised instruments – including shovels fashioned into guitars and trumpets made out of plasticware – the band will try to teach the children and their parents how to cross the road safely, how to wash their hands before a meal, why they need to be polite and why violence is bad.
With the magical and witty language of clowning, the performers ask the children in the audience about their world, communicate with them at eye level, and show little and big viewers how we can communicate in a rich language of images, objects, music and dance.
DAVAI was founded in 2015 in the desire to create a comic theatre that is not based on words but combines visual art, circus, clowning, cinema, music, and philosophy. Since its establishment, the group has performed in dozens of international theatre festivals, and in 2018 received the Golden Hedgehog prize for the show Under Construction. For children age 4+
Wednesday, 5.6, 17:00 | Thursday, 6.6, 17:00 | Jerusalem Theatre
Matia / Zvi Sahar and Itim Ensemble (Israel)
In a unique stage language that interweaves theatre, cinema, and puppetry, director Zvi Sahar and Itim Ensemble present the first ever stage adaptation for adults to Janusz Korczak's iconic children book King Mat the First
The story looks at the courage to envision a different society, one without political power games and prejudice, and what happens when this vision meets a world that has no place for dreamers. Echoing Korczak's dramatic biography, this poignant tale maintains its relevance to today – almost 100 years after it was written.
On a stage covered with wooden blocks and a theatre of objects projected on screen in real time, King Matt's impossible world takes shape and crumbles, leaving us to wonder who is the puppet and who is the puppet master. The show invites us to embark on a journey in the wake of lost childhood, a moment before sobering reality hits.
Itim Ensemble was founded 30 years ago by theatre director and choreographer and Israel Prize winner Rina Yerushalmi and stage designer Moshe Sternfeld (d. 1994). Zvi Sahar (Salt of the Earth, Gulliver) has been serving as the ensemble's director since 2018
Friday, 7.6, 12:30 | Jerusalem Theatre
Romeo and Juliet / Elad Theatre (Israel)
One of the most unique theatre companies working in Israel today, Elad Theatre is run by stage artists who left successful careers in Habima and the Cameri theatres and moved to Eilot in the south, in the conviction that creative theatre should also thrive outside central Israel. The remote region serves them as fertile ground for exploring the boundaries of the medium and developing new artistic languages.
Continuing their signature adaptations of classic plays, Elad Theatre presents a new adaptation of the banquet scene from Shakespeare's timeless play Romeo and Juliet. The audience is invited to join the performers around a bountiful table for a communal meal in the pastoral courtyard of the Museum of Natural History in Jerusalem, as the first encounter between the tragic young couple comes to life before them.
This site-specific performance challenges the frontal format of the theatre experience and invites the audience to take an active part in the banquet – eat, drink, dance to live music, and experience the impossible drama of Romeo and Juliet, one of the greatest love stories in the history of Western culture.
Monday, 10.6, 20:30 | Tuesday, 11.6, 20:30 | Wednesday, 12.6, 20:30 | Courtyard of the Museum of Natural History in Jerusalem
Heaven's Door (Israel)
The Israel Festival returns to the beautiful Tower of David Museum with a one-night only show marking the 400th anniversary of the birth of Rabbi Shalom Shabazi.  Israel's most beloved leading musicians Ester Rada, Berry Sakharof, Liron Amram, Miri Mesika, Sagiv Cohen, Idan Amedi, Zion Golan, Shai Tsabari, and S H I R A N will perform familiar songs and new adaptations of Shabazi poems created especially for the show. Under the open sky in the city of his yearning, we will travel between Earthly Jerusalem and Heavenly Jerusalem, between East and West, in celebration of the greatest Jewish Yemenite poet
Tuesday, 11.6.19, 21:00 |Tower of David
Night of the Moles / Philippe Quesne (France)
Philippe Quesne returns to Jerusalem with Night of the Moles, where he creates a subterranean world – home to a family of giant moles who start a rock band.
With his distinct style, Quesne's extraordinary audio-visual language transforms the theatre into a giant cave, evoking mythological and allegorical imagery. In this cave that represents all caves, from a prehistoric dwelling through Plato's cave to a nuclear bunker, the moles live their magical and mischievous, yet melancholic and lonely life.
Night of the Moles is a labyrinthine nocturnal journey through a utopian microcosm, a place of fantasy and reveries alongside reflections on the darker aspects of human existence. For Quesne's moles, it seems that the worst has already happened. Now they start over, industrially building and demolishing, and we are invited to join them in the depths of the earth for a celebration of the first, or perhaps the last, underworld rock concert
In the past two decades Phillipe Quesne has been one of the most prolific producers in Europe. Since 2014, he serves as director of the Nanterre-Amandiers Theatre in France. His unique creative process is rooted in the observation of trivial phenomena and everyday rituals, which he transforms into a visual theatre that interweaves melancholy and joy
Thursday 13.6, 21:30   | Jerusalem Theatre
Songs of Lear / Song of the Goat Theatre (Poland)
Director: Grzegorz Bral
Based on the classic play King Lear, Songs of Lear mixes movement, sound, singing, music, and text to create a powerful distillation of Shakespeare's famous tragedy. Standing in a choral circle on an empty stage, the Songs of The Goat ensemble disassembles the narrative and interweaves its fragments into a polyphonic vocal performance. The outcome is a profoundly moving musical ritual that unravels surprising underlying rhythms and mysterious energies in the Shakespearian play.
This non-linear dramatic event sets music as the essence through which we experience the interplay between song and word, rhythm and gesture, voice and character. The music leads us to a different sphere, where we not only see or hear but actually feel the play's dramatic vibration. This compassionate interpretation gets under the viewers skin, presenting Lear's story like we have never seen it before.
Songs of Lear had its international premiere during the 2012 Fringe Festival in Edinburgh, where it received three prestigious awards. Since then, it appeared on the some of the world's leading stages, including BAM, New York
Thursday, 13.6 20:00 | Friday, 14.6, 13:00 | Jerusalem Theatre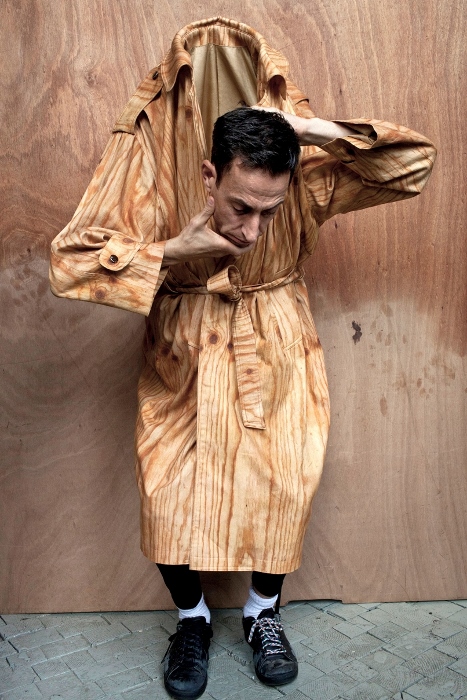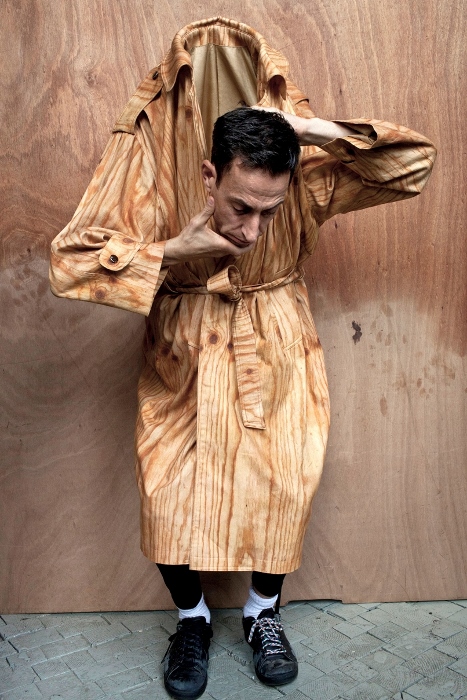 Hallo / Martin Zimmermann (Switzerland)
"Hallo carries the audience away, far, far away from what one might expect from an evening at the theatre -Le Figaro
For more than 20 years, Zimmerman has been bringing his rare chameleon-like quality to stages all over the world. In his latest solo Hallo, he creates a dreamlike, absurd theatre of objects and body with a childlike curiosity and humor. In an enigmatic space where objects have a life of their own, the line between reality and fiction blurs. In his search for a partner, Zimmermann unfolds his tragi-comic inner world before the audience. Returning to his performance roots, he demonstrates extraordinary skills as he loses touch with reality, mistakes himself for his own reflection in the mirror, folds himself up and becomes another prop on the stage. Hallo offers an opportunity to watch a total artist who developed a unique and "immediate" body language of his own, as he continues to explore the dialogue between objects and the body in a playful and astonishing performance. Suitable for ages 12 and up
Friday, 14.6 14:30 | Saturday, 15.6, 21:15 | Jerusalem Theatre
Suddenly Everywhere is Black with People /  Marcelo Evelin/Demolition Incorporada  (Brazil)
Suddenly Everywhere is Black with People, which debuted in the Belgian Kunstenfestival to critical and popular acclaim, examines the concept of togetherness in a human community. Inspired by Elias Canetti's book Crowds and Power, renowned Brazilian choreographer Marcelo Evelin investigates the mass as a coming together of singularities.
Five performers painted black from head to toe share a space with the audience. Moving as a single human body, they compel the viewers to constantly reposition themselves. In a fascinating reversal – a choreography of dancers becomes a choreography of a crowd.
In a black space encircled by white neon lights, Evelyn confronts us with one of the greatest human fears – the fear of the other and the unknown. Between darkness and light, Evelyn's crowd takes on new forms that demand the audience's dynamic and alert response as they enter the nonviolent sphere of a relationship with the other.
Suddenly Everywhere is Black with People is an unsettling invitation to look at the body as an open arena, where we can allow ourselves to surrender to the movement of the mass, to merge with the other, become the other, and bridge the gaps that we put between us.
Thursday 13.6.19, 23:15 | Friday 14.6.19, 16:00 | Jerusalem Theatre
Standing room only | The show contains nudity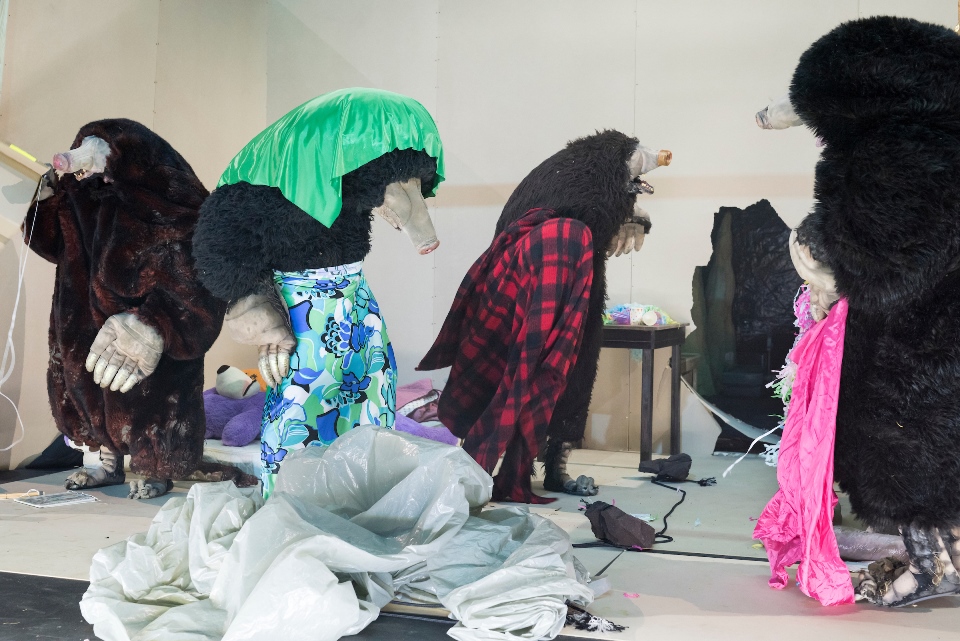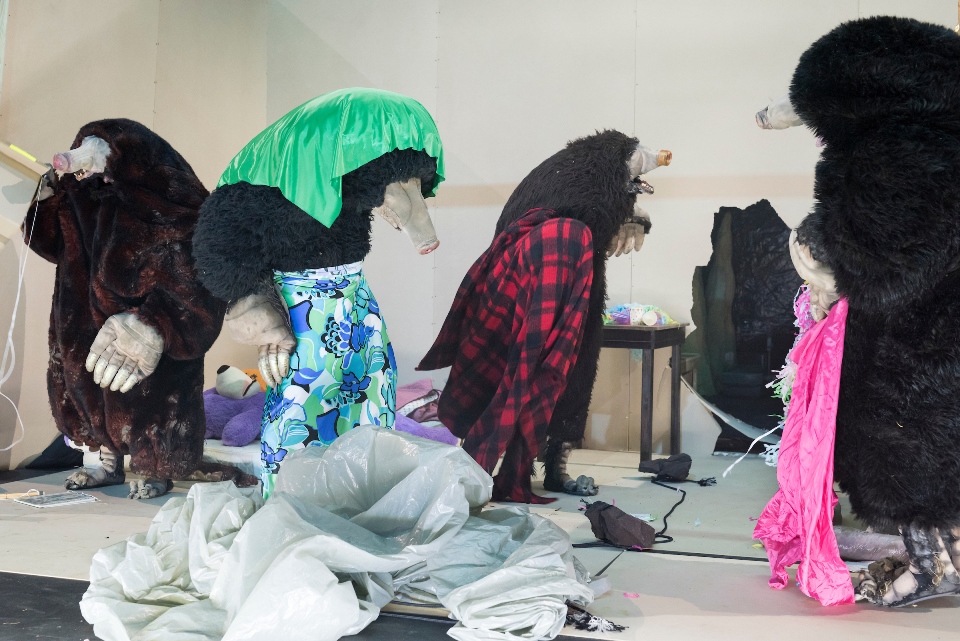 The Afternoon of the Moles / Philippe Quesne (France)
Lewis Carroll led us along with Alice down the rabbit hole, and Philippe Quesne invites the entire family into a magical subterranean world of moles.
While most of us have never met a mole up in person, we all know something about these creatures that dig burrows, spend their life underground, and are practically blind. But what do they do all day? Do they fight? Do they throw parties? Maybe they have a band
In The Afternoon of the Moles children are invited to meet a new species of giant moles, who live underground and are looking for friends. They may be almost blind, but that doesn't stop them as they build a colorful new world, play and dance, and mostly – have the time of their lives.
Philippe Quesne, a master of the magical and the bizarre opens the gates to the underworld for both adults and young people. Suitable for children age 8 and up.
Friday, 15.6, 13:00 | Jerusalem Theatre
The Planets – A Journey Between Stars (Israel)
On the centennial of Gustav Holst's The Planets premiere, seven prominent Israel composers – Avner Hanani, Joseph Bardanashvili, Udi Perlman, Israel Sharon, Tomer Yariv, Ziv Cojocaru, Avner Dorman – revisit the piece with new orchestrations. With two grand pianos and a dizzying array of percussion instruments, MultiPiano and Tremolo Percussion Ensemble will take us on an interstellar journey through an extraordinary world of sounds that shifts between past and present, presenting Holst's timeless piece through the eyes of contemporary composers. The concert will also include works by Ravel and Mussorgsky
Sunday, 2.6.19, 21:00 | Jerusalem Theatre
Re:Play / The Revolution Orchestra (Israel)
Four of the Revolution Orchestra's composers – Zohar Sharon, Ophir Baron, Tomer Bar, and Amir Lekne – take us on a journey of music and video art in the footsteps of the musical legends who inspired them. For one night, Jacqueline du Pré and Jimi Hendrix, Astor Piazzolla and Édith Piaf, Marvin Gaye and Yehudi Menuhin, John Lennon and Glenn Gold, Luciano Pavarotti and Freddie Mercury will all come to life in an exceptional musical-visual multisensory experience.
Saturday 15.6,  21:30 | Jerusalem Theatre
Tikun Chatsot / The Great Gehenna Choir (Israel)
The Great Gehenna Choir established by Noam Enbar in 2016 takes us on a vocal journey along David Avidan's mystical poem "Tikun Chatsot," deconstructing the traditional choral format and challenging not only how we listen, but also how we are present in the show. In this "ritual of listening to the ephemeral," the unique vocal collective brings together audience and performers for a spiritual, political, private and collective experience. An invitation for a nighttime stroll inside a poem and through a shift of consciousness.
Monday 3.6, 21:00 | Tuesday  4.6, 21:00 | Jerusalem Theatre
View Field / Clipa Theatre (Israel)
Returning to the Israel Festival for the eighth time, Clipa Theatre continues to push the boundaries of theatre with a performance that explores the social and political arenas of the artistic action and audience-performer relationship.
Challenging imagination, interpretation, and suspicion, ViewField implants subtle anomalies in the familiar urban reality. From the vantage point of a high balcony, we are invited to gaze down at the street along the seam between Jaffa Road and the Old City walls, as Clipa Theatre members blend into the urban landscape and the everyday activity in the city at twilight. Our unique perspective as an audience and the expectation for something to happen will imbue and alter our perception of the events.
The narrative of ViewField is not composed solely by the performers' actions; it takes place in the imagination of each and every viewer, diverging into countless different scenarios. An invitation to a personal experiment, the performance brings up questions on individual interpretations of a performative piece, and on our anxiety, suspicion, and at times indifference, when we are looking at a fraught urban environment
Monday, 10.6, 18:00, 19:30 | Tuesday, 11.6, 18:00, 19:30 | Wednesday, 12.6, 18:00, 19:30 | Thursday, 13.6, 18:00, 19:30 | Safra Square, balcony of building no. 10, Jerusalem City
Re:Think 2 / Zik Group  (Israel)
Performing for over three decades on Israeli and international stages, Zik Group returns to the Israel Festival with ReThink 2 – a show that conjures changing landscape views, offering the audience a contemplative and fascinating experience of movement through time and space.
In a captivating process, Zik members juxtapose various visual elements to create performative images that change throughout the show, redefining their surroundings. The evolution of the objects underscores their original context, while the accumulating layers present complex relationships between object and action, creation and extinction, artist and worker, presence and absence.
Zik Group operates with exceptional artistic boldness and unique organizational structure in the Beit Nekofa studio. In this performance, the group's established visual artists are joined by emerging artists from a wide range of disciplines
Friday, 31.5, 21:00 | Saturday, 1.6, 19:30, 20:30 | Sunday, 2.6, 21:00 | Monday, 3.6, 21:00, Zik Studio, Beit Nekofa
Citywide – Incubator Theatre
A mobile stage truck will travel throughout Jerusalem during the festival, surprising audiences with popup music, dance and poetry slam shows in the public space.  Dozens of performances will take place at different locations around the city – Rap, Hip Hop, and audience participation battles, a rock concert and big band in four language (Azerbaijani, French, Spanish, and English), and a Slam Jam with original poetry slams accompanied by live music improvised on stage by various musicians. Come meet the festival's hip hop truck in the Cats' square, Zion square, Davidka Square and other locations.
Hours, locations and artistic lineup will be announced throughout Jerusalem and on the festival's website/ All shows are open to the public
Piano Club Classical Music at Eden Tamir Music Center (Israel)
One of the jewels of Jerusalem, the Eden Tamir Music Center was founded in 1968 by duo-pianists Alexander Tamir and the late Bracha Eden in an ancient house surrounded by a magical garden at the picturesque Ein Karem neighborhood.
Presenting concert programs under the artistic direction of Alexander Tamir for more than 40 years, the 2019 Israel Festival is proud to host three Friday concerts devoted to one of the foremost instruments in the history of music – piano. The concerts will feature works by Brahms, Debussy, Stravinsky, Rachmaninoff, and Schubert.
Friday, 31.5, 12:00 noon
Brahms Fest
Peter Frankl and Friends
(Hungary/England/Israel)
Cello Sonata No.2 in F Major, Op.99
Clarinet Sonata No.2 in E Flat Major, Op.120 No.2
Waltzes Op.39 for Piano 4 Hands
Clarinet Trio, Op.114
Musicians: Peter Frankl (piano), Zvi Plesser (cello), Gilad Harel (clarinet), Einat Fabrikant (piano)
Friday, 7.6, 12:00 noon
Concerto for Two Pianos
Roman Rabinovich and Adam Golka, piano duo
(Uzbekistan/Israel/Canada/USA)
Debussy – "The Sea" (Adam Golka's adaptation for two pianos)
Stravinsky – Concerto for two pianos
Rachmaninov – Symphonic Dances
Friday, 14.6, 12:00 noon
Schubertiade
The Jerusalem Piano duo – Shir Semmel and Dror Semmel
(Israel)
Fantasie in F minor, D.940
Allegro in a minor, D.947, " Lebensstürme"
Sonata in C major for piano four-hands, D 812, "Grand Duo"
Poem Balev / Original Israeli chamber music (Israel)
Ein Karem Music Center, Jerusalem
The Israel Festival and the Felicja Blumental Music Centre are proud to present Peom Balev – a Saturday morning concert series featuring original music by prominent Israeli composers and musicians.
The year, the concerts will be devoted to works in styles that encompass the musical pluralism in Israel. The works will be performed by vocal ensembles – Sirenot Woman Vocal Ensemble that combines the music of Israel with East Asian musical traditions, Cecilia Mixed Vocal Ensemble that focuses on composers who dedicated their works to biblical themes, as well as the Israel Chamber Project for outstanding musicians, which will debut original new works alongside Israeli classics.
The three ensembles perform in Israel and worldwide to critical and popular acclaim. Over the years, they received different excellence awards, including the Minister of Culture Prize.
Saturday, 1.6, 11:00, 60 min., no intermission
Israeli Beads
Sirenot Woman Vocal Ensemble conducted by Shosh Lagil
Program includes works by Oded Zehavi, Pyris Eliyahu, Binyamin Yusopov,
Yudit Ravitz, Nahum Hyman, Mark Elyahu
Accompanied by Boris Malkovsky (accordion & piano)
Saturday, 8.6, 11:00, 75 min., no intermission
Israel Chamber Project
Program includes works by Moshe Zorman, Mordechai Seter,
Yehuda Zisapel, Sergiu Natra, and Gilad Cohen
Guy Eshed (flute), Tibi Tzeiger (clarinet), Itamar Zorman (violin),
Michal Korman (cello), Ofra Yitzhaki (piano), Sivan Magen (harp)
Saturday, 15.6, 11:00, 70 min., no intermission
Cecilia Ensemble
Musical director: Guy Peltz
Verses from the Bible
Program includes works by Ödön Pártos, Tzvi Avni, Yechzkel Braun,
Paul Ben Haim and Salomone Rossi
The Moran Choirs, artistic director: Naomi Faran
For tickets and more information visit:
www.israel-festival.org  or dial *2168
*All program information and texts provided by the Israel Festival