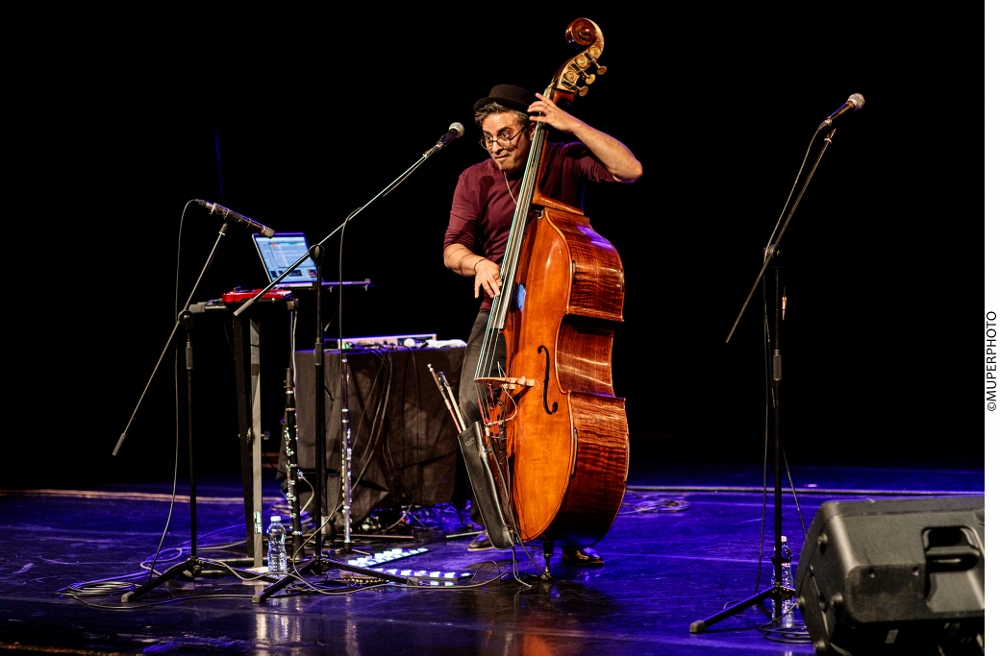 Adam Ben Ezra is a mesmerizing performer, creating worlds onstage with his music. Composer and multi-instrumentalist, his main instrument is the double bass, which doubles as both string and percussion instrument under his mercurial hands. With two albums out – Can't Stop Running, recorded with percussionist Gilad Dobrecky and guitarist Adam Ben Amitai, and his solo album Pin Drop, recorded on analog tape before a live audience – Ben Ezra is set to begin work on his third album with the exciting producer Itzik Pzazaty (The City, producer for Nechi Nech & more), his guest at the March 28th concert at the Inbal Multicultural Center. Singing, drumming, playing the double bass, keyboards, clarinet and flute with bells on his ankle, Adam Ben Ezra moved with the warm ease of someone playing for a few friends at home, and the swiftness of a conjurer. The live performance was exhilarating, a dazzling musical journey through genres and cultures, a dance, a stunning visual and visceral experience. Muperphoto was there to capture the mood and the moment with his exquisite photographs.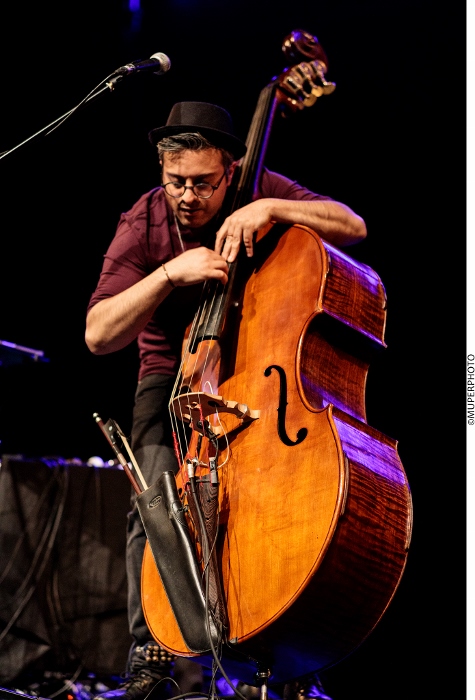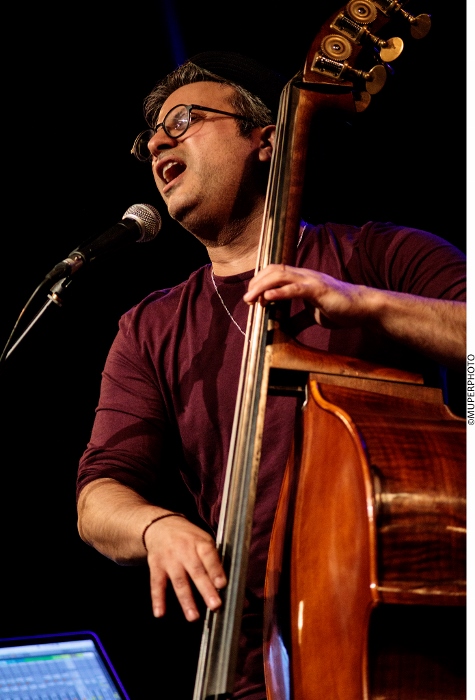 The evening opened with Adam Ben Ezra alone on the stage, surrounded by his instruments. The first piece had a feel of mystery, a journey through a tropical jungle thick with plants and trees. He uses the double bass in every way imaginable – not just the strings, but using the body as a percussion instrument, creating seductive rhythms. In this song, he also hit the strings with an open hand, eliciting a sound that reminded me of a machete cutting through deep green leaves. As he plays there is often a look of wonder in his eyes, as if to say – Hey, I don't know where we're going, but it's a great adventure.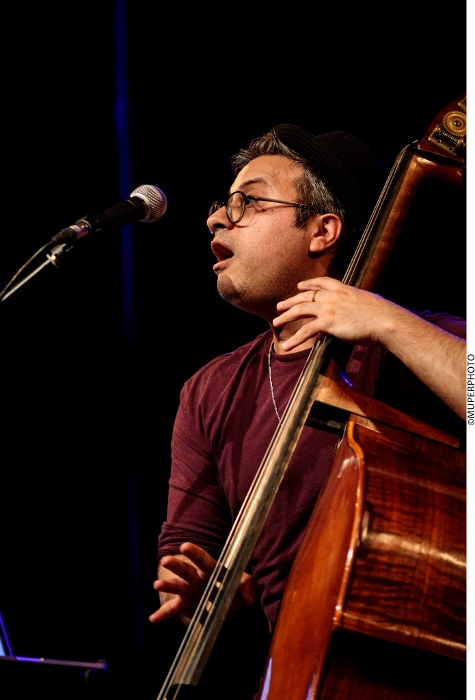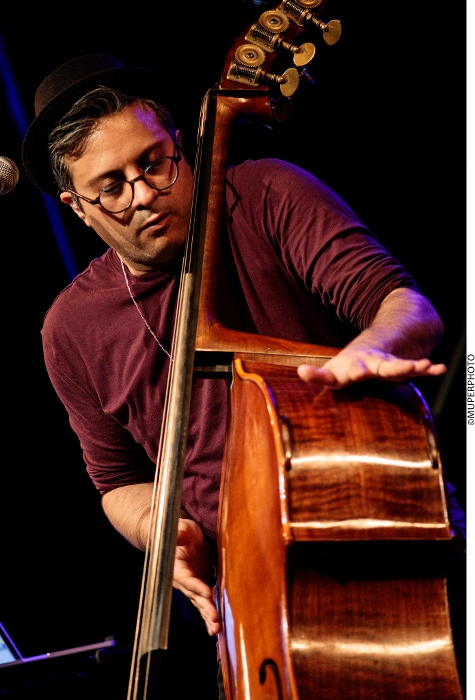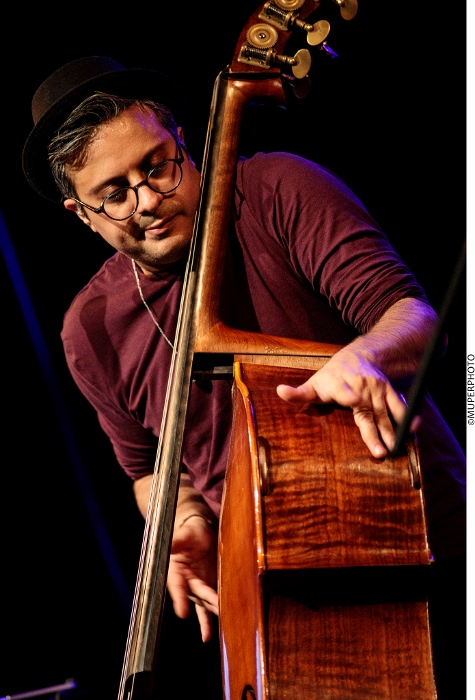 Each piece sent my mind in different directions, evoking images, sensations and associations. The varnish on the upper right-hand corner of the double bass is worn in places, traces of its double role as a percussion instrument. Hand percussion played a role here too, as Adam Ben Ezra was a vision of perpetual motion, plucking the strings, drumming on the wood, or picking up the bow. To this he added breezy vocals and foot-stomping bells. The sounds and rhythms took me high up, to the roof tops of a city, looking out on sunny skies and the hum of people; where from day into night – everything is happening.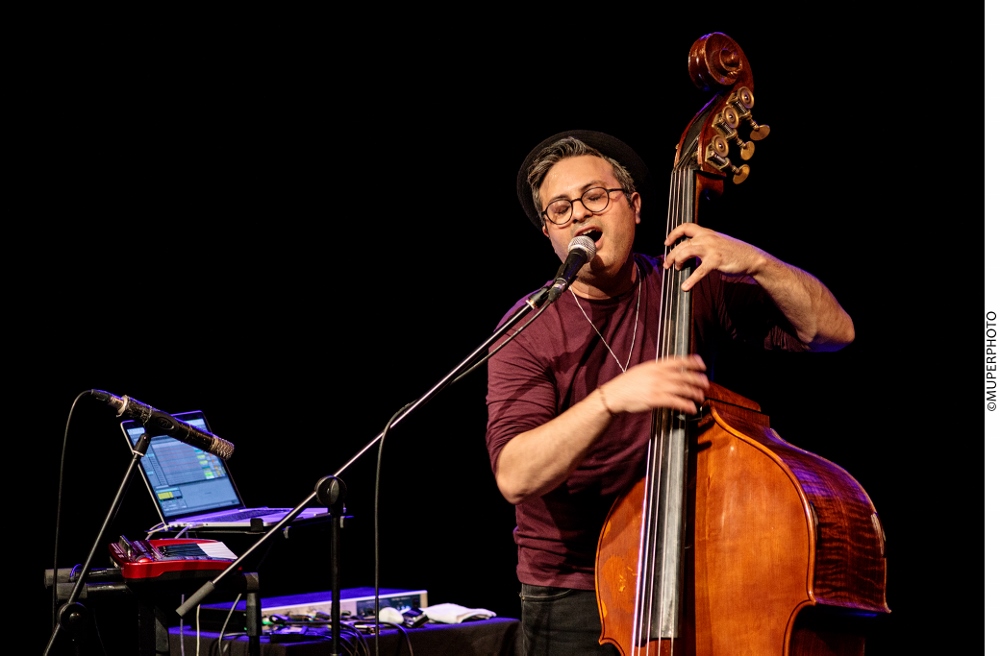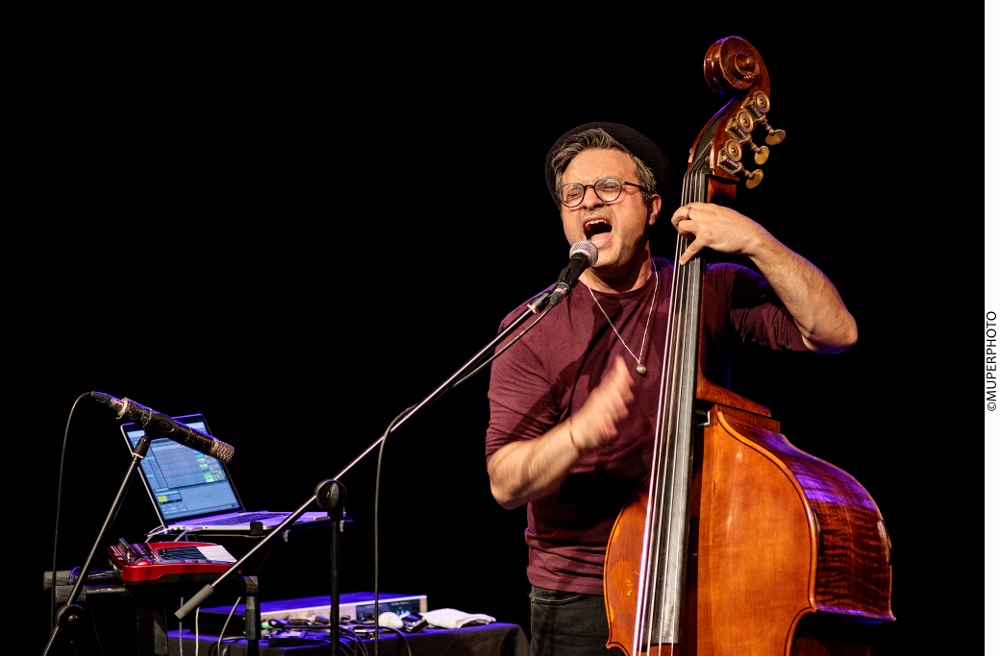 Next up was Silk Road (from the album Pin Drop), in which percussion merged with smooth sounds on the double bass and vocals; Ben Ezra's voice dancing barefoot in a river of melody.  As the song traveled on the route from Europe through Africa and India, the emphasis moved to percussion and tap, then back again to a more romantic melody.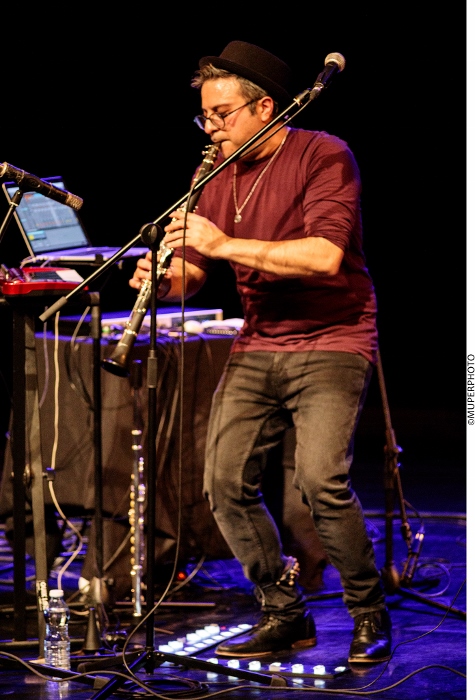 Adam Ben Ezra spoke of turning towards his cultural roots in Iraq and Yemen, an exploration which led him to Arabic music as well. A sense of these influences could be heard in the undulating vocals and melodies, the easy curving rhythms of several songs. In Tfila he lets the clarinet sing out a pure song of the soul, a yearning that reaches out through the distance and ages, an ache, a hope. Then, as a fluttering echo of the clarinet floats in the air, he picks up the double bass once more, and begins to sing a song of the Middle East. Incandescent.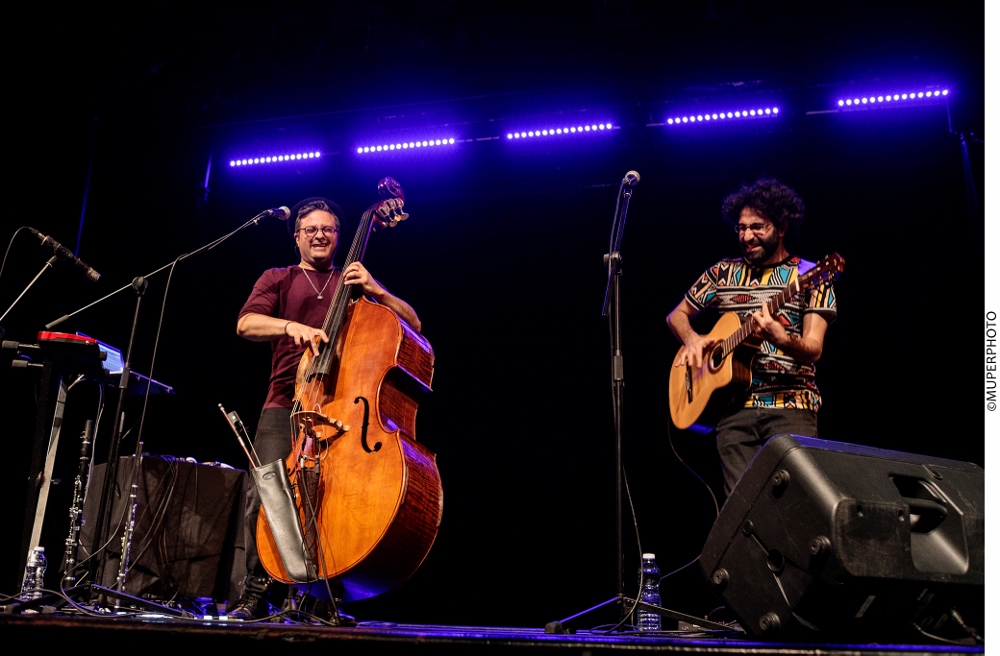 In this intimate atmosphere, Adam Ben Ezra shared with the audience his feeling that this is a very special time for him as he is working on a third album, collaborating with producer Itzik Pzazaty, who joined him onstage. The moment was electric, the rapport between the two musicians was felt immediately throughout the room. In everything he does onstage Pzazaty brings a magnificent energy, a quirky intensity and radiant, positive vibes. A Spanish flair played out with Adam Ben Ezra on double bass evoking sounds that flow, and Itzik Pzazaty beat boxing, infusing the song with bright sparks.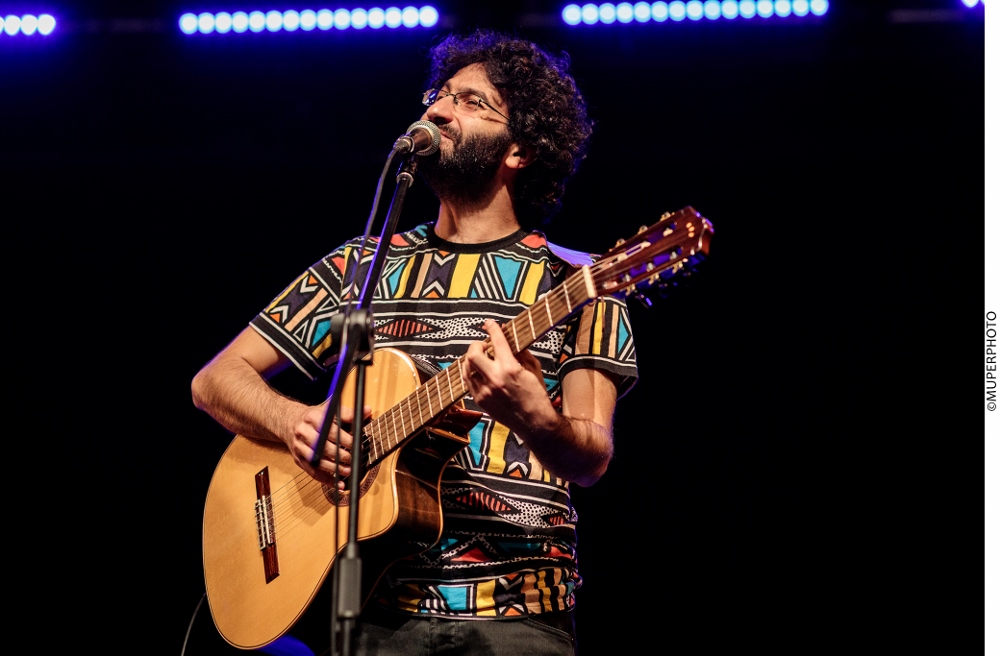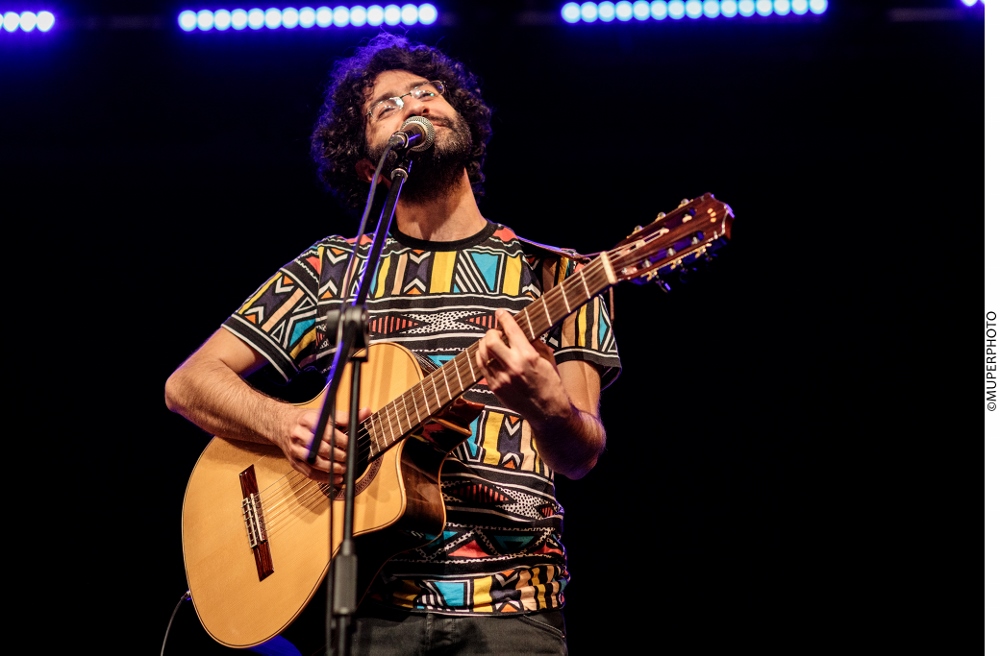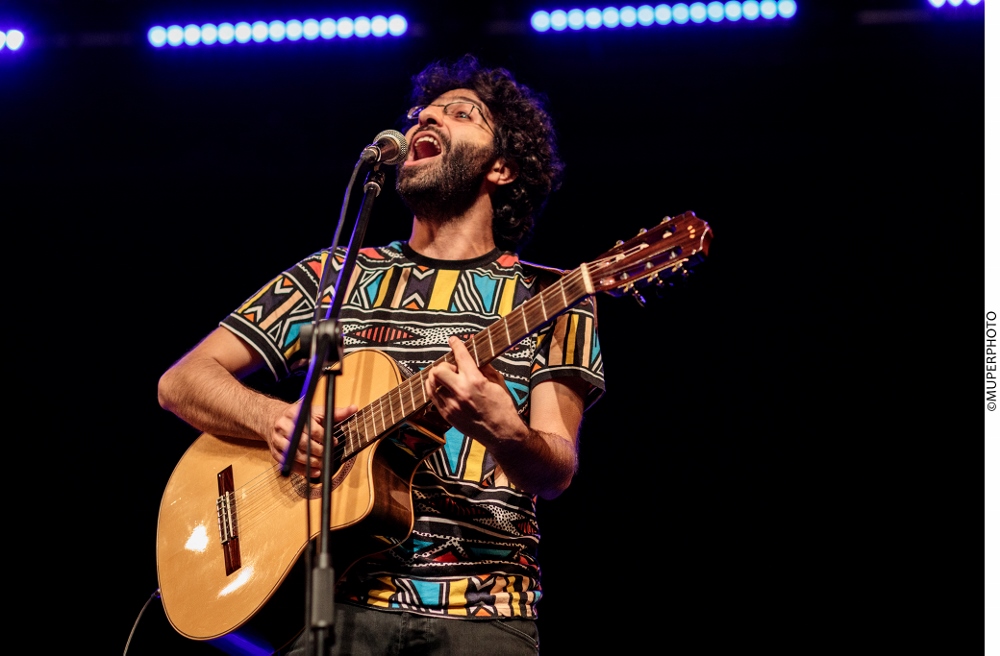 The two musicians teamed up on an original by Pzazaty – a fun, sexy, rock, love song in Hebrew. The audience was encouraged to join in on the chorus, and complied with gusto. At times with surprising enthusiasm.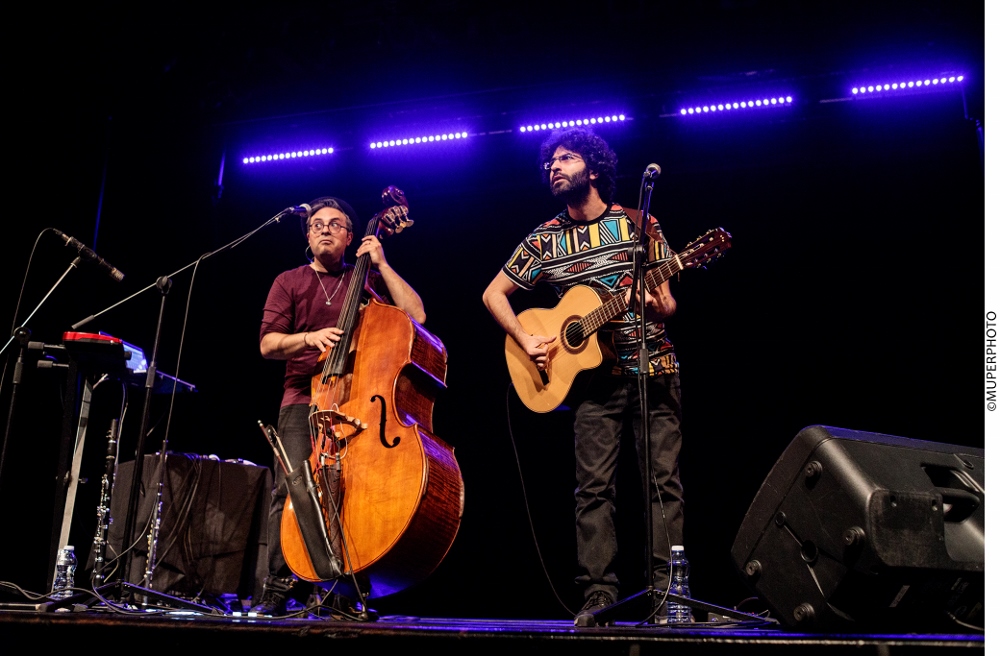 Where could it possibly go from there? Would you believe a cover of Britney Spears' Toxic with the audience performing the violin part? Truth, it happened, I was there, and it was so much fun!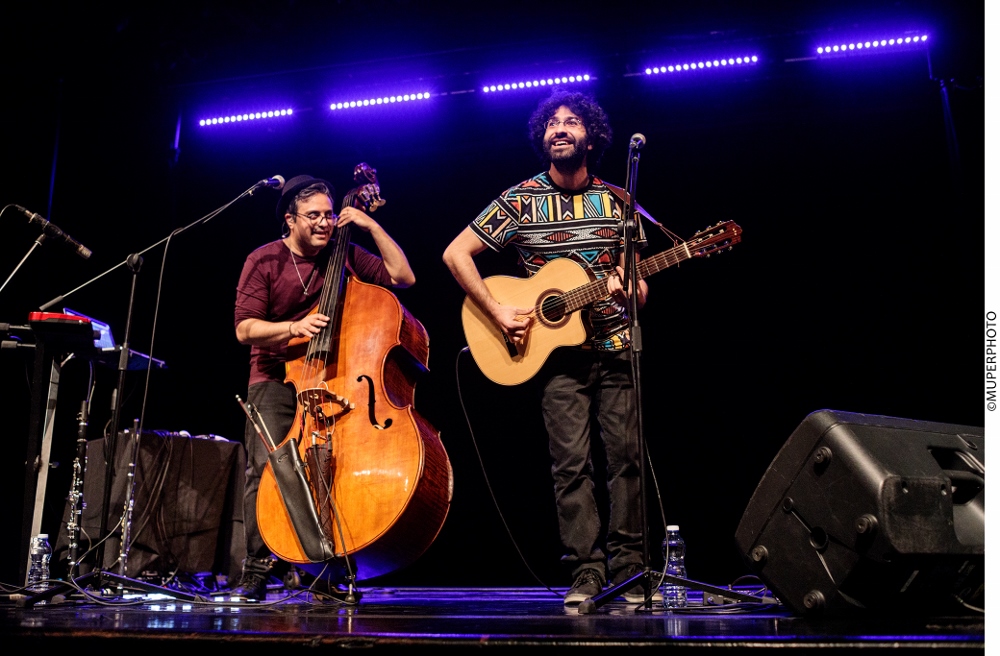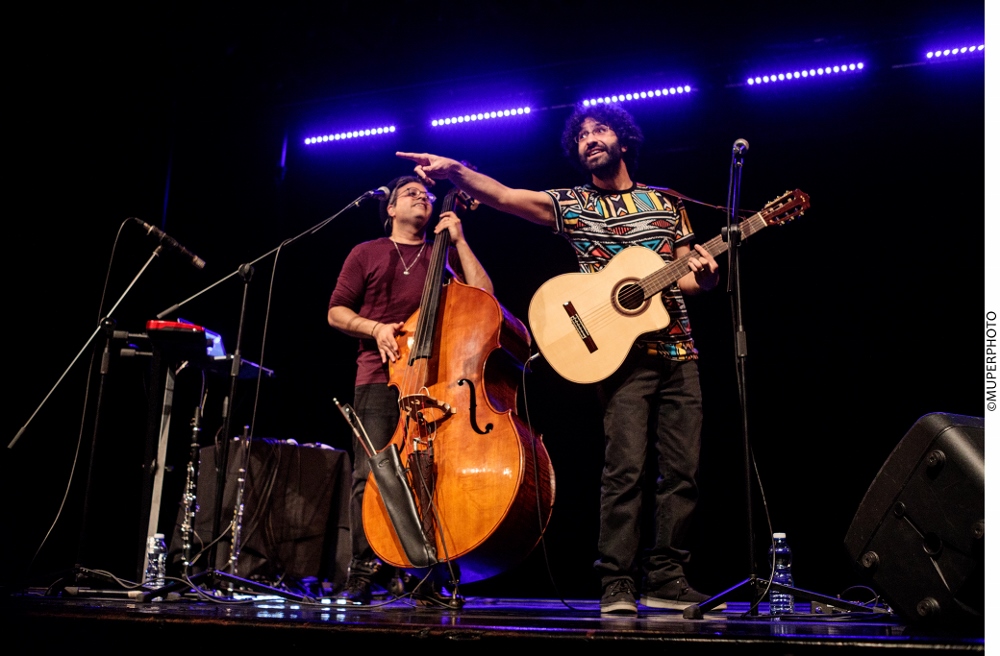 Adam Ben Ezra went solo once more for the last part of the concert, taking the audience through musical landscapes, introducing something new at every turn. The music took me from sensual spice gardens filled with colorful flowers swirling through the air, to the song that the waves sing to the sun, seabirds flying from blue to blue, blue to green, wings kissing the wind. Layers and layers of intricacy, mixing it up with something a little rawer and more visceral, undercurrents of intensity, moving from easy, carefree rhythms, to deep funk that invades your mind through your body. Is it any wonder that the audience did not want to let him leave the stage?