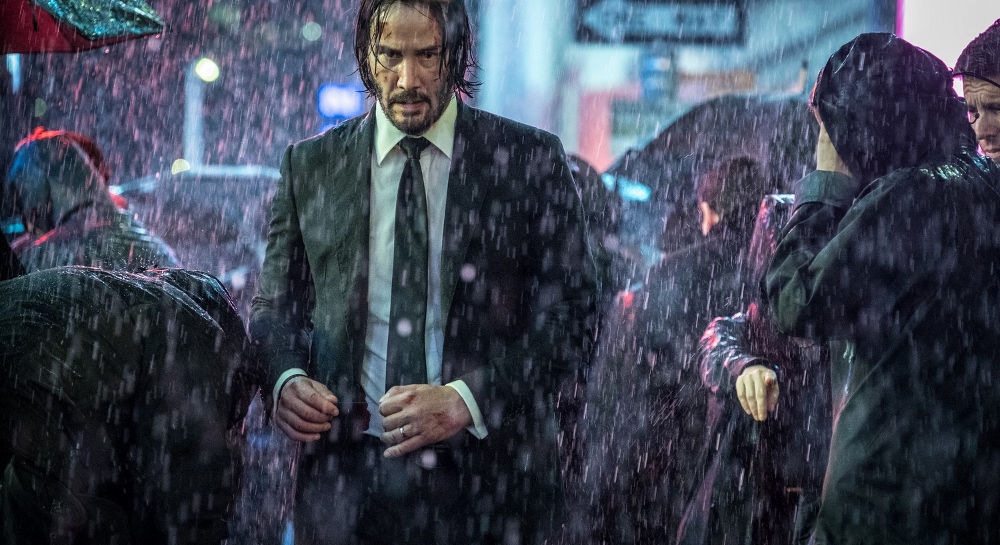 Replete with non-stop action and beautifully stylized violence, John Wick: Chapter 3 – Parabellum imbues the genre with alluring mystique in its creatively visualized secret domain of crime, existing in parallel to mainstream life, with its own elaborate rules and rituals. Director Chad Stahelski's past experience as a stunt man serves him well once more, the fight scenes, which comprise most of the film, are exquisitely choreographed. Keanu Reeves is as soulful and lethal as ever, Ian McShane elegant and inscrutable, Laurence Fishburne regal and fierce. This third John Wick adventure is rendered even more exciting by the powerful presence of Angelica Huston, Halle Berry and Asia Kate Dillon. Surprisingly, the film comes close to passing the Bechdel-Wallace test.*
If by some odd chance one is not familiar with the John Wick saga, have no fear. The film is fine as a stand-alone adventure, no background is necessary as the details of the protagonist's predicament are made quite clear. Formerly retired assassin and canine aficionado John Wick (Keanu Reeves), still grieving for his wife Helen who died of cancer, has now been declared excommunicado by the crime underworld High Table for having the temerity to kill on the sacred premises of the Continental hotel, run by Winston (Ian McShane). There's a 14-million-dollar price on his head, but he's been given an hour lead time to make his escape. The treacherous terrain of New York City's rain-slick streets composes the noir backdrop for the film's fantastic opening chase scene.
The saga draws on the timeless appeal of the outcast fighting his lonely battle against a cruel world, and it works so well. The "parabellum" of the film's detail comes from the Latin phrase "si vis pacem para bellum" which means if you want peace, prepare for war. John Wick, who wants nothing more than to live quietly with his beloved dog and his memories, makes his way through the film killing people at a prodigious rate. One might think that one's moral compass might at least indulge in a slight shudder, yet the execution is so creative and movement so graceful that the action is utterly riveting. And after all, it's fictional. Nothing fazes Wick, not even 7'3″ NBA center Boban Marjanović in a brief, yet fascinating scene. John Wick's agility and endurance are remarkable, and he does it all in a suit and tie. One can only sit back and enjoy.
The art and design of the film are sumptuously imagined and meticulously detailed. The administrative hub of the underworld is a retro-flavored office full of women adorned with piercings, tattoos, and one particularly significant character flaunts a delicate pink beaded earring, and a slash of bright pink lipstick to match. Needless to say, rotary phones and old-school typewriters are featured here, as well as the cutting-edge method of updating information with chalk and erasers on a blackboard.  So much fun! As an entirely different counterpoint, some of the most exciting action scenes take place amid mirrors and glass in an ultra-modern setting designed with sleek minimalism.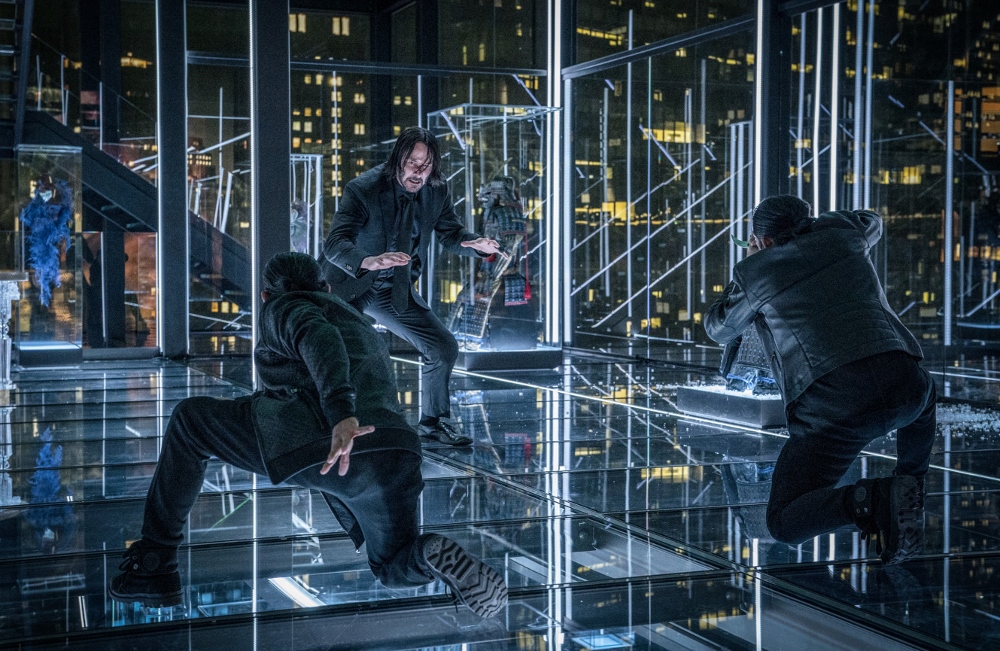 It is a pleasure to note the introduction of three new and complex characters. Angelica Huston portrays a stern and dignified Ballet director and former mentor of John Wick, who is not only a severe taskmaster but powerful ruler of her own particular domain. Although a glimpse of the surroundings reveals stereotypical views of young girls in ballet class and boys wrestling, Huston herself portrays a character refreshingly free of gender stereotypes. As is another character with apparent links to Wick's past (are we thinking prequel?), Sofia (Halle Berry), a strong woman who has made her way in the world and shares his love for dogs. Yet most intriguing is the Adjudicator, portrayed by Asia Kate Dillon with cool, assertive flair, bringing an edgy twist to the saga.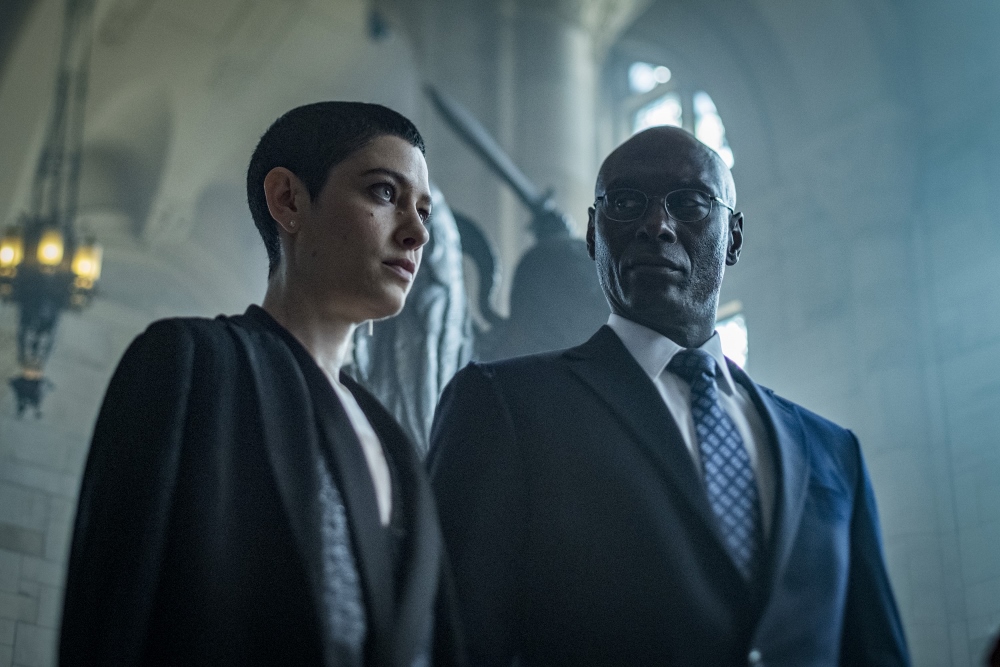 And finally, bravo to John Wick 3 and Chad Stahelski for celebrating public libraries! The film is a great reminder of the importance of re-shelving books properly, so that they may reliably be found the next time, because you never know when you might need that volume of Russian Folktales.
John Wick: Chapter 3 – Parabellum
Director: Chad Stahelski; Screenplay: Derek Kolstad, Shay Hatten, Chris Collins, Marc Abrams; Story: Kolstad; Cinematography: Dan Laustsen; Editor: Evan Schiff; Music: Tyler Bates, Joel J. Richard; Cast: Keanu Reeves, Halle Berry, Laurence Fishburne, Mark Dacascos, Asia Kate Dillon, Lance Reddick, Said Taghmaoui, Jerome Flynn, Jason Mantzoukas, Tobias Segal, Anjelica Huston, Ian McShane