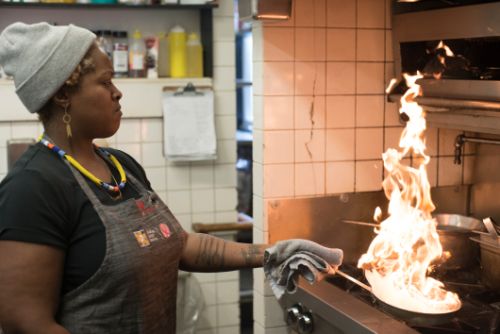 "This is a restaurant, shit happens." Victoria Blamey in The Heat: A Kitchen (R)Evolution
Women are making history in the kitchen, and The Heat: A Kitchen (R)Evolution, written and directed by Maya Gallus, participating in the TLVFest documentary competition, offers a fascinating behind-the-scenes look at a diverse cohort of chefs, stars and climbers, each with her distinctive style and presence. Our contemporary fascination with food (in places of plenty) has elevated the stuff of sustenance into an art form, and a source of entertainment in a culture that promotes/encourages chef adulation and cooking as performance. Yet, as Amanda Cohen of the vegetarian restaurant Dirt Candy points out, when the magazines feature chefs, "It's always like one woman and nine men on a cover."
Focusing on 8 chefs in France, London, New York and Toronto, the documentary is a visually appealing tasting menu of the scene and its protagonists, revealing the challenges women chefs face and the changes they bring to the world of restaurants and kitchen culture. Featured are: Anne Sophie Pic of Maison Pic in Valence (the fourth female chef ever to win 3 Michelin stars); Angela Hartnett of Murano in London (first female protégé of Gordon Ramsey); Anita Lo of Annisa (Greenwich Village restaurant 2000 – 2017) and beat her competitor Mario Batali in the first season of Iron Chef America; Amanda Cohen of the vegetarian restaurant Dirt Candy on the Lower East Side in New York City; Victoria Blamey, Executive Chef at Chumley's in Greenwich Village, New York City; Suzanne Barr of Saturday Dinette and Kid Chocolate in Toronto; Charlotte Langley a freelance chef who hosts pop-up events "off the grid" in Toronto; and Ivy Knight, a writer and former line cook.
Tantalizing images of artistic plates designed with minimalist precision abound; it is a pleasure to watch chefs such as Anita Lo or Anne Sophie Pic create beauty on a plate. Yet there is also the visceral appeal of a wood-handled knife plunged deep into a burger. There is a duality to the restaurant experience: the dining room is a place of pleasure, with the murmur of conversations lit by wine and the candle's glow; but the kitchen is loud and hot, metaphorically and literally.
Talking about the kitchen culture of aggression, Amanda Cohen comments: "I always say that I wasn't ever really harassed because I was a woman, I was harassed because I was human. Chefs are like equal-opportunity assholes, they'll harass anybody they see who's weaker than them." In the strict hierarchy of the kitchen, anyone new and inexperienced is automatically "weaker" and therefore a target. Many of the chefs interviewed speak of a "cycle of aggression" in which, once they rise in the ranks, chefs behave towards their subordinates in the same manner in which they were treated. When Angela Hartnett began working with Gordon Ramsey, there had never been "a woman who worked there for a full year" and there were bets placed on how long she would last. Describing her own style as a chef, Hartnett says she is "direct in my approach" but does not "need to swear or shout." It is riveting to listen to the stories of these powerful, outspoken women, to see the changes they are making, developing different forms of leadership.
As several of the chefs note, there is still very much of an "old boy's club" in the business, which leads to a cyclical series of obstacles. The media features and celebrates star chefs in major restaurants, yet as Amanda Cohen pointed out, women chefs do not tend to open those large-scale restaurants, opening "mom and pop restaurants because they're only able to get a small amount of money." As a result, the women chefs are less visible, less known, making it harder for them to attract investors, and the cycle continues.
Yet although they confront many challenges, the choices these women are making are changing the culture. Suzanne Barr talks about raising her young son Miles while running Saturday Dinette, sometimes cooking with the baby strapped on her back, with customers occasionally pitching in to pick up the baby. Working against stereotypes of black women in the kitchen, Barr is creating a different archetype, one of woman as a leader who commands respect, yet also seeks to train and lift up those who work in her kitchen.
The Heat: A Kitchen (R)Evolution
Written and directed by Maya Gallus
Canada, 2018, 75 min, English with Hebrew subtitles
Screenings will take place:
Friday, June 7, 2019, at 18:00 in Cinematheque 2
Thursday, June 13, 2019 at 18:00 in Cinematheque 2
Order tickets online via this link
The 11th edition of TLVFest, the Tel Aviv International LGBT Film Festival, will take place from June 5  -15, 2019 at the Tel Aviv Cinematheque. Read more about the festival, guests and film recommendations on Midnight East.