Wild nights and an exciting, diverse program of films will be featured in the 14th edition of TLVFest, the Tel Aviv International LGBT Film Festival, taking place from June 5 – 15, 2019 at the Tel Aviv Cinematheque. Curated by General and artistic director Yair Hochner, the festival will include 63 full-length features and documentaries, as well as 75 short films from 30 different countries. Opening the festival on June 5th will be Yuval Hadadi's debut feature film 15 Years, focusing on the dilemma of 42-year-old Yoav who has it all – a successful career as an architect, a 15-year loving relationship with Dan, and in Alma, an artist, he has a great BFF. The calm order of his life is disrupted by changes, and Yoav needs to make critical choices. Award ceremonies will take place on June 15th, with the screening of the festival's closing film Trixie Mattel: Moving Parts, directed by Nick Zeig-Owens. The documentary follows Trixie from her failure in season 7 of Ru Paul's Drag Race through club performances, a tour in England, and the recording of an album.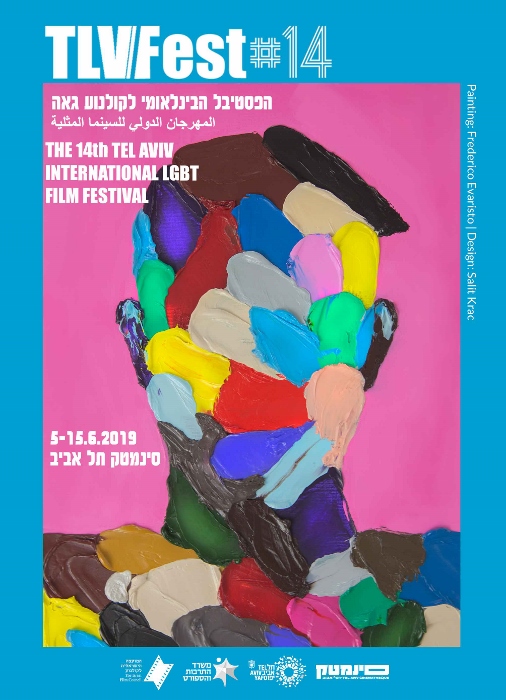 TLVFest will present an Honorary Award to American-Canadian film and theatre director, screenwriter, playwright and producer Thom Fitzgerald. TLVFest offers an opportunity to enjoy and discover Fitzgerald's body of work, screening four of his films: his debut feature The Hanging Garden (1997), The Event (2003), Cloudburst (2011) and the most recent Splinters (2018).
Splinters, based on a play by Lee-Anne Poole, is a sensitive, intelligent look at issues of sex, family, identity and relationships. Sofia Banzhaf delivers a powerful yet nuanced performance as Belle. Essentially estranged from her mother Nancy (Shelly Thompson) ever since she came out as a lesbian, Belle returns home following her father's sudden death. With a deft and delicate touch, Fitzgerald conveys the beauty of coming home to a familiar landscape and Belle's confrontation with memories, love, desire, anger and grief. Complex, fully realized characters draw the viewer into the intricacies of relationships. The tension in the home is palpable, Nancy is frustratingly fragile and critical, passive aggressive and annoyingly obtuse. When Belle tells her that she will probably always date women, Nancy responds "Well, I hope not," despite the fact that it's been many years since her daughter came out to her. No wonder Belle never visits. Yet there is also tenderness, caring and robust humor. Bailey Maughan brings a welcome lightness to the film in his role as Greg, Belle's brother.
Star drag queen Sherry Vine will be presented with an Honorary Award from TLVFest on opening night. Vine stands out as a drag queen who sings her own songs live, her YouTube channel, with parodies of Madonna, Lady Gaga, Britney Spears and others, is internationally popular. Special guest of the festival will be Vine's partner in Battle of the Bitches, Jackie Beat, who, in addition to music parodies of Cher, Katy Perry and many more, has written skits for several famous female entertainers including Rosie O'Donnell, Margaret Cho, Sandra Bernhard, and Patricia Arquette. Jackie Beat will be appearing in Thom Fitzgerald's forthcoming film, Stage Mother, which stars Jackie Weaver (Animal Kingdom).
Unconventional and utterly captivating, Madeleine Olnek's film Wild Nights with Emily (2018) will be shown at the festival, as well as Codependent Lesbian Space Alien Seeks Same (2011). Special guest of the festival, film director, producer, screenwriter and playwright, Madeleine Olnek has written 24 plays. She received a research grant from Harvard University and the Guggenheim Foundation to write a film adaptation of her original play, Wild Nights with Emily, and the result is moving, inspirational, educational, and hilarious. Emily Dickinson's poems are central to the film, with texts writ large on the screen, as the neural network connecting the different narratives: scenes from Emily's youth, the mature Emily (wonderfully portrayed by Molly Shannon), and the events of Emily's life as told by Mabel Loomis Todd, who posthumously published (after significantly altering the texts) Emily's poems.
Emily Dickinson, one of the few women historically included in the canon of great poets, has traditionally been portrayed as a reclusive spinster, an eternal virgin in a long white dress who sits up in the attic writing poems. Yet contemporary research has uncovered a very different Emily Dickinson, due in part to advances in science and technology which make it possible to view original texts obscured by erasures. Significant is the insight into Dickinson's relationship with her sister-in-law and next-door neighbor Susan, to whom she wrote many poems, and with whom she corresponded intensely. Scholars and over-thinkers will want to explore Open Me Carefully: Emily Dickinson's Intimate Letters to Susan Huntington, edited by Ellen Louise Hart and Martha Nell Smith. The rest of us will enjoy Olnek's innovative and wildly funny film.
The full program and ticket information for TLVFest is available on the website in English. http://tlvfest.com/tlv/he/en/