There are many surprises in David Charles Rodrigues' debut feature documentary Gay Men's Chorus Deep South, not the least of which is its capacity to move and inspire. Given the ingredients "gospel music" and "chorus", I expected a feel-good film (and it is), yet it also reveals individuals encountering the limitations of their own perspectives, and offers a sense of the complex social-political ambiance in the South.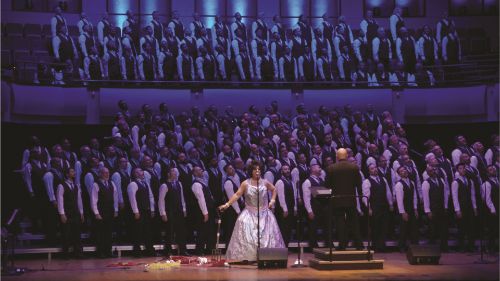 In response to the heated and aggressive climate throughout the US following Trump's election, and anti-LGBTQ discriminatory legislation in North Carolina and Mississippi, the San Francisco Gay Men's Chorus decided to embark on the Lavender Pen Tour, visiting the most conservative Southern states to sing out their message of acceptance and love. Joining them on the journey are the Oakland Interfaith Gospel Choir.
If the premise of the tour sounds perhaps somewhat naïve, and potentially condescending (the denizens of free and enlightened San Francisco bestowing their beneficence on those living is less liberally fortunate states), as it plays out, the journey is anything but, primarily due to the open way the various members of the chorus interact with the people they meet, and reflect on their own thoughts and feelings with honesty. The chorus members are not that naïve. They don't presume that they are going to change the South with a song, or anyone for that matter. In one scene, several members stand listening to a hateful voice mail: "…you people ought to get back into your stupid closets where you belong," and one of them says: "There's no amount of singing that's going to fix that."
Yet there is hope of supporting members of the LGBTQ community with their message and presence, and connecting on a personal level with a wide range of people through concert performances, and in churches, which are the heart of social, and by extension political, life in the South.  Several of the members, including Artistic Director Tim Seelig, are originally from the South, revisiting old wounds, they are returning to the places where they encountered discrimination, humiliation and rejection. Searching, not only to support others, but to find closure and perhaps their own healing.
The stories of several chorus members unfold throughout the journey, and are very touching. Here, too, there are surprises. Jimmy's father, who has been estranged from his son for six years, agrees to come to the concert, even though this is not his kind of music. The staid Jimmy Sr. is filmed sitting in the audience while a hilarious rendition of Patsy Cline's She's Got You (written by Hank Cochran) is performed in magnificent drag. Later, when father and son meet, it turns out that was Dad's favorite part of the show.
Along the tour interviews are conducted with local residents, complementing the narrative arc of the chorus. Presenting diverse situations and opinions, these bring a lively texture to the film and provide an opportunity to get a better sense of people's lives, and in particular the realities of LGBTQ lives in the South. For some, as one young woman said, "it's a huge risk to go out and be openly gay." The encounters between the chorus members, as a group or as individuals, with the different people and organizations are full of unexpected moments. Don't miss Artistic Director Tim Seelig's interview on an Alt-Right radio talk show.
When they sing, their harmonies are so beautiful that even the hardest, most cynical heart must soften, if only a little bit. The songs are wonderful – from Holly Near's Singing for Our Lives (written after the assassination of Harvey Milk and Mayor George Moscone, it has become an anthem sung world-wide), and I'm Not Afraid, to You Have More Friends Than You Know, written by Jeff Marx and Mervyn Warren for the It Gets Better stage show, and the timeless Amazing Grace.
Gay Chorus Deep South
Director: David Charles Rodrigues; Writers: David Charles Rodrigues, Jeff Gilbert; Cinematography: Adam Hobbs; Editor: Jeff Gilbert; Music: Bryan Senti; Cast: The San Francisco Gay Men's Chorus, Oakland Interfaith Gospel Choir, Tim Seelig, Ashlé, Jimmy White, Jim Dant, Malaysia Walker.
Screening: Tuesday, June 11, 2019 at 20:00, Cinematheque 2. Tickets may be ordered online via this link.