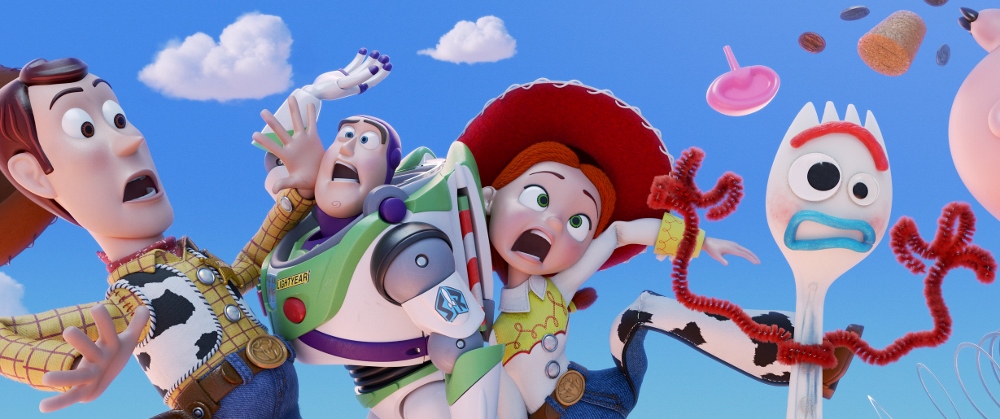 Toy Story 4 takes the series essential premise – "what if toys are alive and have feelings" – and runs with it, venturing into as yet unknown territory to question the meaning of existence. The last film brought a fitting conclusion to the narrative arc, having seen Andy through his childhood, Woody and the gang were passed on to Bonnie. What more could a fourth film contribute? In a very clever move, this is precisely where Toy Story 4 takes off: Woody has essentially outlived his usefulness. Once Andy's favorite toy, he now spends most of his days languishing in the closet, while others are Bonnie's chosen playmates. What's an old cowboy to do? Directed by Josh Cooley, with a brilliant voice cast, Toy Story 4 explores existential dilemmas in a funny and poignant film that is full of adventure, fun, fascinating characters and thrilling visuals.
A dramatic opening scene shows off Woody (Tom Hanks) at his best in a flashback from nine years ago: risking life and limb on a dark, stormy, night, valiantly saving RC, the remote-control car, from a toy's worst fate – to be lost. Yet on this fateful night, Woody must also confront loss, as Bo Peep (Annie Potts) is taken away to be donated. Never losing her equanimity, Bo comforts Woody, telling him philosophically that "it's time" because Molly (Andy's little sister) does not need her anymore. For Woody, a toy's raison d'être is to be loved and played with by a child, as he was by Andy. Even though in his present situation as Bonnie's (Madeleine McGraw) toy, his status has fallen, Woody clings to his credo, and remains entirely devoted to Bonnie, feeling responsible for her happiness. In a hilarious move, this responsibility extends to caring for Forky (Tony Hale), a recycled art creation of Bonnie's, made of a plastic spork, pipe-cleaners, googly eyes, a popsicle stick, and modeling clay. Literally brought to life by Bonnie's love, Forky does not quite embrace his new role, and Woody's attempts to recruit him to toy-hood (to the tune of Randy Newman's terrific "I Can't Let You Throw Yourself Away") are very funny.
As the toys come along on a family vacation, new possibilities of adventure and danger abound and the film features some intriguing new characters and locations. Gabby Gabby (Christina Hendricks), a doll long ago abandoned to the dusty shelves of the Second Chance Antique store, has a desperate need which will drive her to desperate action, aided by the truly scary ventriloquist's dummy Benson. The colorful gaiety of a carnival acquaints Buzz Lightyear with Ducky and Bunny, plush animals with vivid imaginations voiced by comedy duo Keegan-Michael Key and Jordan Peele, and Keanu Reeves brings a legend-in-his-own-mind charm to motorcycle stuntman Duke Caboom. Yet the most exciting character in the film is Bo Peep, who has spent the past seven years living as a lost toy, with no child to call her own, riding in a motorized skunk doll, with her sidekick, the tiny Giggles McDimples (Ally Maki). The delicate porcelain perfection of Bo Peep has weathered some hard times, and she is all the more alluring for it.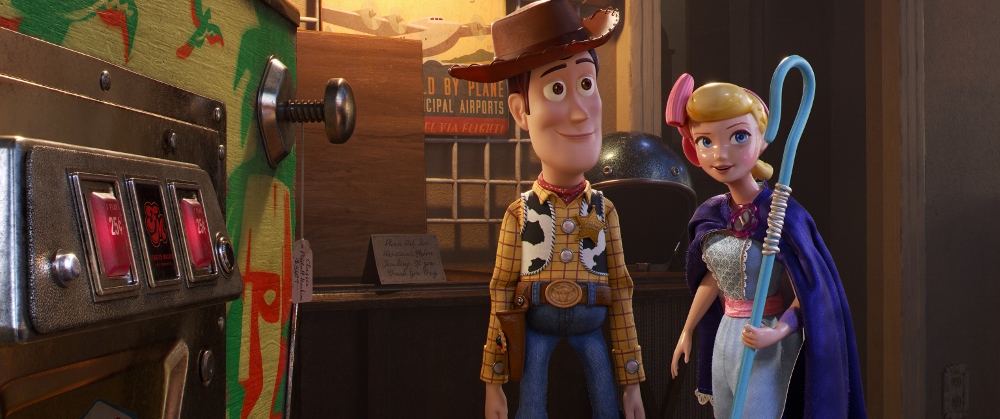 I was riveted to the screen for every action-packed, wacky, funny, and tender moment of the film – Toy Story 4 is pure pleasure. Don't forget to stay until the very final credit rolls out!
Toy Story 4
Director: Josh Cooley; Screenplay: Andrew Stanton, Stephany Folsom; Story: John Lasseter, Andrew Stanton, Josh Cooley, Valerie Lapointe, Rashida Jones, Will McCormack, Martin Hynes, Folsom; Cinematography: Patrick Lin, Jean-Claude Kalache; Editor: Axel Geddes; Music: Randy Newman; Voice Cast: Tom Hanks, Tim Allen, Annie Potts, Tony Hale, Keegan-Michael Key, Madeleine McGraw, Christina Hendricks, Jordan Peele, Keanu Reeves, Ally Maki, Jay Hernandez, Lori Alan, Joan Cusack, Bonnie Hunt, Kristen Schaal, Emily Davis, Wallace Shawn, John Ratzenberger, Blake Clark, June Squibb, Carl Weathers, Lila Sage Bromley, Don Rickles, Jeff Garlin, Maliah Bargas-Good, Jack McGraw, Juliana Hansen, Estelle Harris, Laurie Metcalf, Steve Purcell, Mel Brooks, Alan Oppenheimer, Carol Burnett, Betty White, Carl Reiner, Bill Hader, Patricia Arquette, Timothy Dalton, Flea, Melissa Villaseñor, Jeff Pidgeon, John Morris.