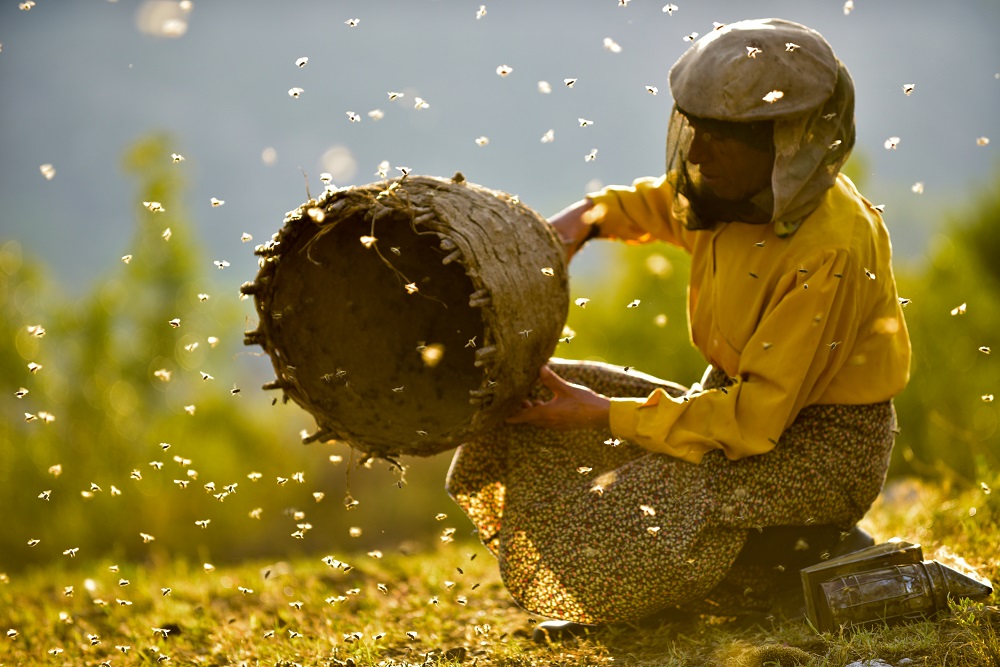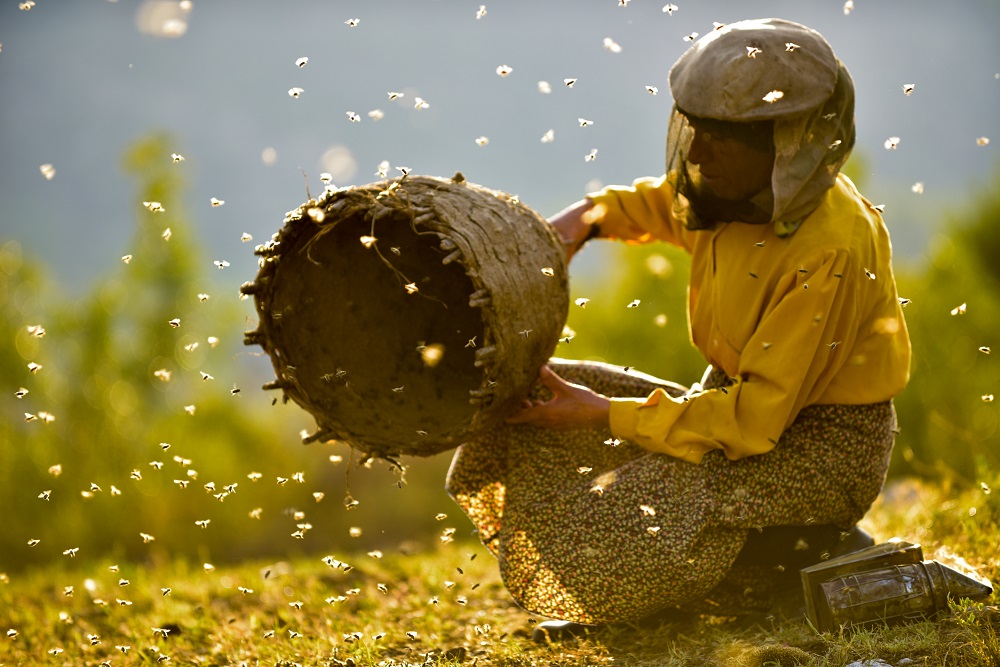 A solitary figure walking through the North Macedonian landscape, surrounded by the gray, beige, and green of the rocky terrain, Hatidze appears to be alone on the earth. Her stride is purposeful, her golden-yellow blouse billowing in the wind. Carefully climbing up a narrow path, she arrives at her destination, moving rocks to reveal a hidden bee hive. As her nimble brown hands pull out a wedge of honeycomb dripping with sweetness, there is a poetic sense of wholeness to the image, for its color is the same bright hue as her garment.
Honeyland, directed by Tamara Kotevska & Ljubomir Stefanov, is a documentary with the feel of allegory, a sumptuous painterly quality to its vivid images, and a lively, surprisingly suspenseful plot. The film is strictly observational, without any external narration or explanations, culled from three years of filming in the all-but-abandoned village where Haditze makes her home, caring for her elderly, bedridden mother, and tending to her bees. The editing is excellent, and the resulting film has a compelling narrative arc, that raises pertinent environmental issues. Most of all there is Haditze herself, who is revealed in all her strength, vivacity, wisdom and yearning.
Haditze lives in harmony with nature, singing to her bees, and respecting their needs, taking only half the honey they produce. It may not bring enough at market for more than a very modest, meager, existence, but guided by this principle, she knows that the bees will continue to thrive and make honey. Her peaceful, if rather solitary, life experiences a dramatic change when the rowdy, noisy Sam family, with their seven children, moves into the village. The rambunctious children reveal hidden aspects of Haditze's personality, as she laughs, sings, dances and plays with them, offering a glimpse of what might have been, if tradition did not dictate that she remain single, dedicating her life to caring for her parents.
Yet the arrival of this family, with their many hungry mouths to feed, disrupts the delicate balance of the small ecosystem. It is a fascinating drama to follow, as Haditze develops a connection with the family, while the chasm between their different approaches to life and bee-keeping grows ever wider.
Awarded Best International Film at the Docaviv 2019 festival, Honeyland will be screened throughout the month of July at the Tel Aviv Cinematheque, Haifa Cinematheque and Herzliya Cinematheque, and in the month of August at the Jerusalem Cinematheque. Screening dates and times, as well as additional information may be found on the Docaviv website.  
Honeyland
Macedonia 2019/85 min/Turkish, Hebrew & English subtitles
Directors: Ljubomir Stefanov, Tamara Kotevska; Production & Editing: Atanas Georgiev; Cinematography: Fejmi Daut, Samir Ljuma; Soundtrack: Rana Eid; Music: Foltin