The Suzanne Dellal Centre is celebrating its 30th anniversary with a festive international dance season, welcoming dance companies from Colombia, Korea, Spain, The Netherlands, Argentina, and the USA. One of the unique aspects of this season's program is a focus on Israeli choreographers who live and work abroad. This "homecoming" is a wonderful opportunity for Israeli audiences to become acquainted with the works of these creative artists.
The full program:*
Ensalsate – Colombia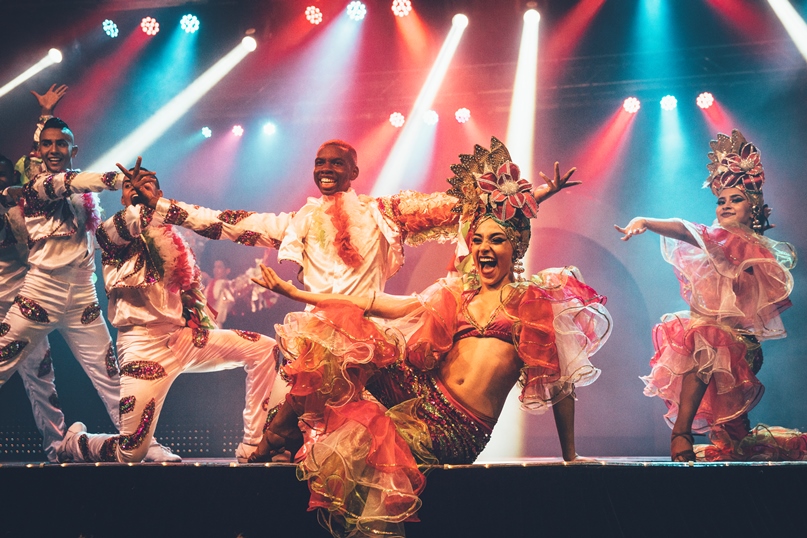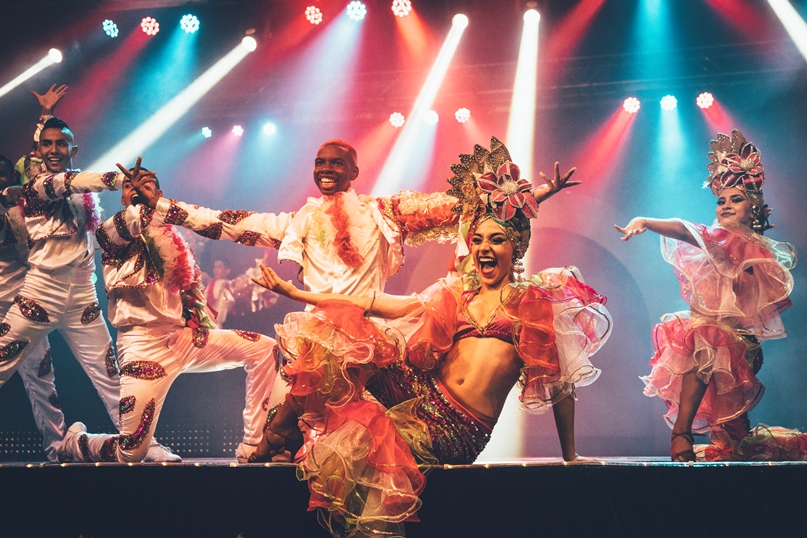 Tuesday, July 16th at 21:00, with a post-performance talk; Wednesday, July 17th at 19:00; Thursday, July 18th at 21:00; Friday, July 19th at 14:00; Saturday, July 20th at 12:00. Dellal Hall
Friday, July 19, at 16:00 – FREE outdoor salsa class in the courtyard
América Baila
Post-performance discussion July 16
America Baila takes us through a splendid array of popular and traditional dances from the Americas. With colorful and sparkling costumes illustrative of each region and style, the dancers dazzle with the passion of tango and milonga, the rhythm of samba and lambada, the variety of Colombian and Mexican folklore, the warmth of Caribbean merengue and bachata, and the elegance of the American ballroom. The joy and strength of the flavors and cultures of Latin America and the USA come alive with 14 world-class dancers.
Ensalsate (Salsa Viva & Tango Vivo) has been wowing audiences for 23 years with their pulsing, beating, bright spectacles of dance and acrobatic salsa. The highly talented dancers are experts in salsa, mambo, boogaloo, cha cha, bolero, bachata, milonga, samba, and Colombian folkloric dances. They wear ornate costumes, covering themselves head to toe in vibrant color and sparkle. Each dance is full of explosive salsa sensation. Packed with surprises, the performance showcases the essence of the Colombian and Latin dances, bringing together salsa cabaret, cumbia, Colombian folk fusion, salsa acrobatics, and more! The dancers' unbelievably fast feet and strength give life to an energetic and thrilling show.
Peridance – USA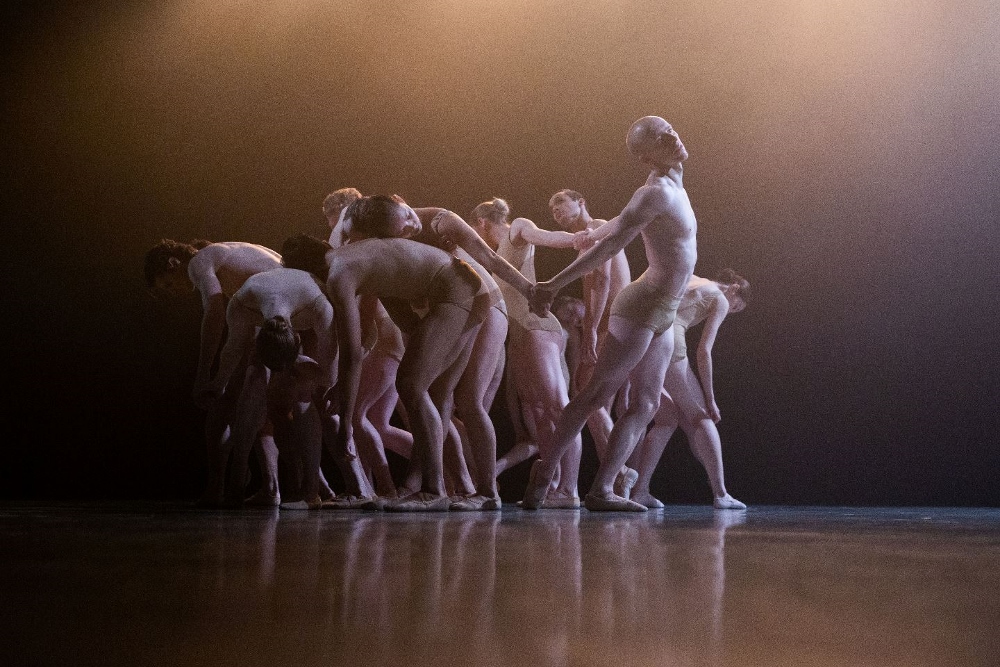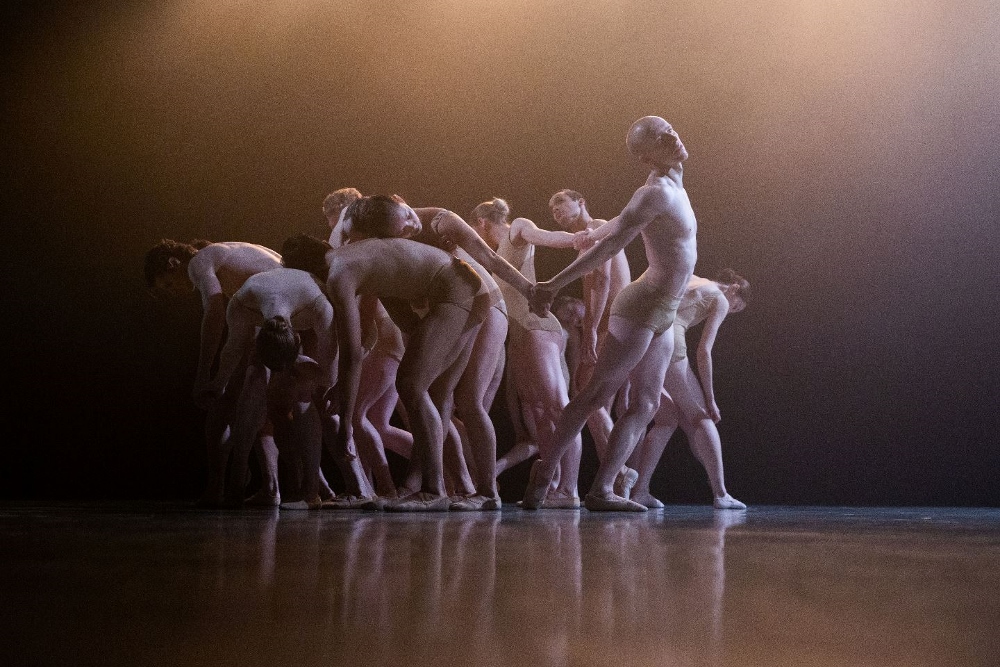 Thursday, August 1, at 21:00; Dellal Hall
An Evening of Repertory by Igal Perry, Alice Clock, and Yoshito Sakuraba
Post-performance discussion with the artist
Peridance Contemporary Dance Company, founded by Artistic Director Igal Perry, returns to Israel for one night only with three stunning works by Perry and rising US choreographers Alice Klock and Yoshito Sakuraba. Perfection Has No Dreams, by Igal Perry in collaboration with Israeli composer Ofer Bashan, deals with yearning for perfection through the imperfection of creation. Although our every step brings us to a crossroads of endless possibilities, often elusive and imperfect, we hope to someday return to the very path we chose in the first place, knowing that ultimately all paths lead to an inevitable end. Alice Klock, a 2018 Choreographic Fellow at Hubbard Street Dance Chicago, has created All Told, which explores the strength, intrigue, and intricacies of individuals, and the power of sharing stories. Each dancer crafts an individual character as they explore the overarching sagas that unfold when the separate tales interweave. Sakuraba, whose works have drawn much attention for their physicality, created Nightwalkers, as a series of spectacles and physical exchanges. The work finds its own way to push boundaries and create imaginative, otherworldly images, offering feeling, resonance, and exhilaration.
New York City's Peridance Contemporary Dance Company, founded by Artistic Director Igal Perry, has been a powerhouse of energetic and evocative dance since 1984. Operating from its home at the renowned Peridance Capezio Center at Union Square, the Company presents an annual New York Season at the Salvatore Capezio Theater as well as guest performances in venues such as the Joyce Theater, BAM, and Lincoln Center. In addition to Perry's signature works, described by the NY Times as "blessedly inventive," the Company has commissioned and performed works by many notable choreographers including Ohad Naharin and Dwight Rhoden.The Company cultivates many choreographic and compositional collaborations to augment its signature works by Perry, who is passionate about presenting works with live music and original compositions.
Compañia Sharon Fridman – Spain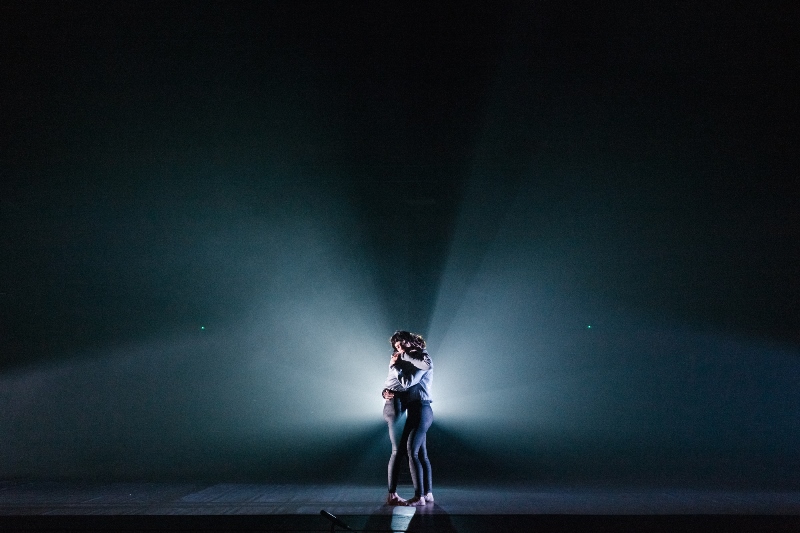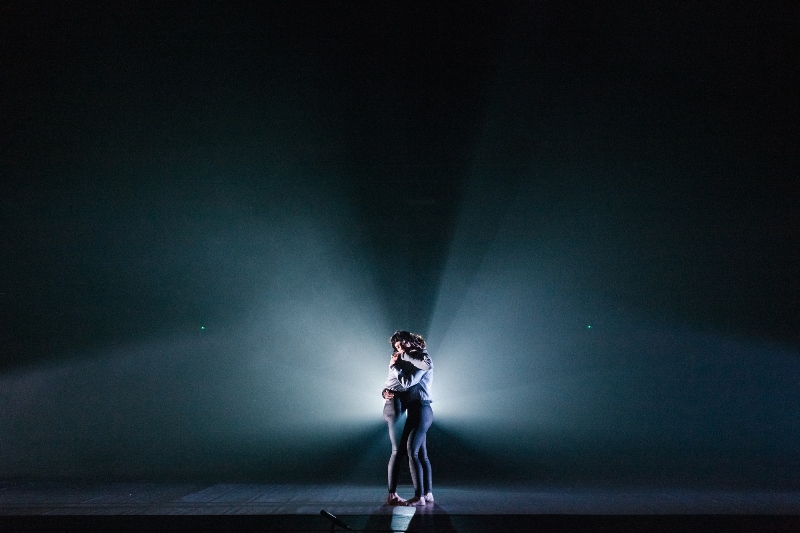 Wednesday, August 7,  at 21:00; Dellal Hall
Evening of duets: Hasta Dónde…? and Dose of Paradise (World Premiere)
Post-performance discussion with the artist
Israeli-born Sharon Fridman returns from Spain with two duets exemplary of his signature style: Hasta Dónde…? (In collaboration with Vertigo Dance Company) and a world premiere titled, Dose of Paradise. Hasta dónde…? asks "how far?" How far can one transmit? How far can one suffer? The duet uses the limits of physical manipulation between two people to see how far a body can pull or be pulled. Sometimes no side is a winner. In his newest work, Dose of Paradise, Fridman and his company continue their exploration into the evolution of human relationships and their potential to foster harmony. Paradise delves into the complexity of an unconscious relationship, in which one projects onto the other what is not, what they demand, what they lose, and what hurts them. Repetition leads to a tempo that sacrifices consciousness. The "partner" is a reflection, a projection. The lines in space trace paths from dependence to trust, from fear to loneliness, from fear of the void to paradise.
Sharon Fridman's dancing knowledge is made up of Israeli folklore and contemporary dance. Born in Hadera, Israel, he settled in Madrid and founded Compañía Sharon Fridman in 2006. His career as a dancer started when he joined the Ido Tadmor Dance Company, based in Tel Aviv. Fridman's performance career includes Kibbutz Contemporary Dance Company and Vertigo Dance Company, among others. In 2000, he started working as a choreographer with the Phrasal group. In 2004 he joined Mayumaná Company as choreographer and artistic coordinator. His work has been presented by Paris Quartier d´Été, among others, and has received many prizes, among them the prestigious Max Award 2015.
Maria Juncal – Spain
Friday, August 9, at 21:00; Saturday, August 10, 14:00; Dellal Hall
La Vida es un Romance (Life is a Romance) – World Premiere
Post-performance discussion August 9
All things turn, but the significance of our roots remains. Woman…of her we all are born.
La Vida es un Romance is a personal journey. The dance takes us through memories and proposes a new commitment to life. We cross an imaginary portal, each step bringing us toward the future, while memories anchor us to the past. Maria Juncal, the flamenco virtuoso, and three singers take us on a journey of feelings. When the light goes out, does the silence appear?
"Her hair is brown, and she hails from Cordoba, she has the air of a Sultan and the grace of a princess."
Maria Juncal has been called "like a fire" for her fierce and fiery performances. Native to the Canary Islands, María was born into a family of flamenco blood, the Borruls. She studied ballet and Spanish classic dance as a student of Miguel Navarro, Rosalina Ripoll, and her aunt, Trini Borrul. In Madrid, she studied with legendary flamenco stars as La Tati, Güito, Merche Esmeralda and Ciro, and classic dance with Dagmara Brown. She has worked with the companies of Manolete, José Greco, Güito and "Flamenco bells", doing tours around the world. In Los Angeles, María has collaborated with Debbie Allen, dancer and actress of the series "Fame." She was the winner of the Antonio Gades National Award of Flamenco Dance, voted the best flamenco dancer at the Festival Del Cante De Las Minas, and won the prize for best soloist choreography in the XV Contest of Choreography of Spanish dance and Flamenco in the Albeniz Theatre of Madrid.
Ori Flomin and Helena Franzen – USA/Sweden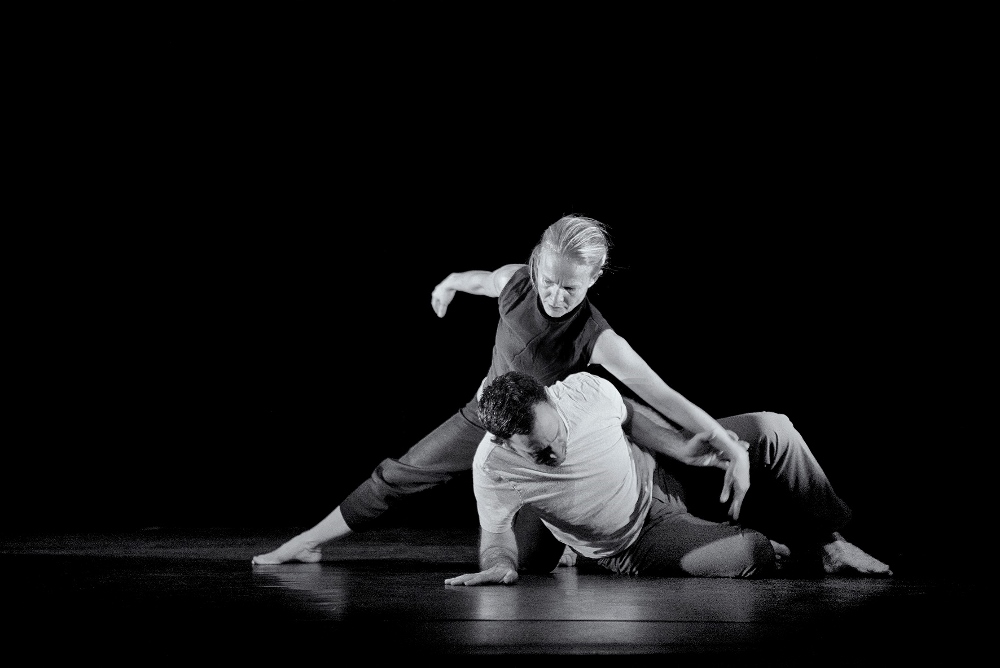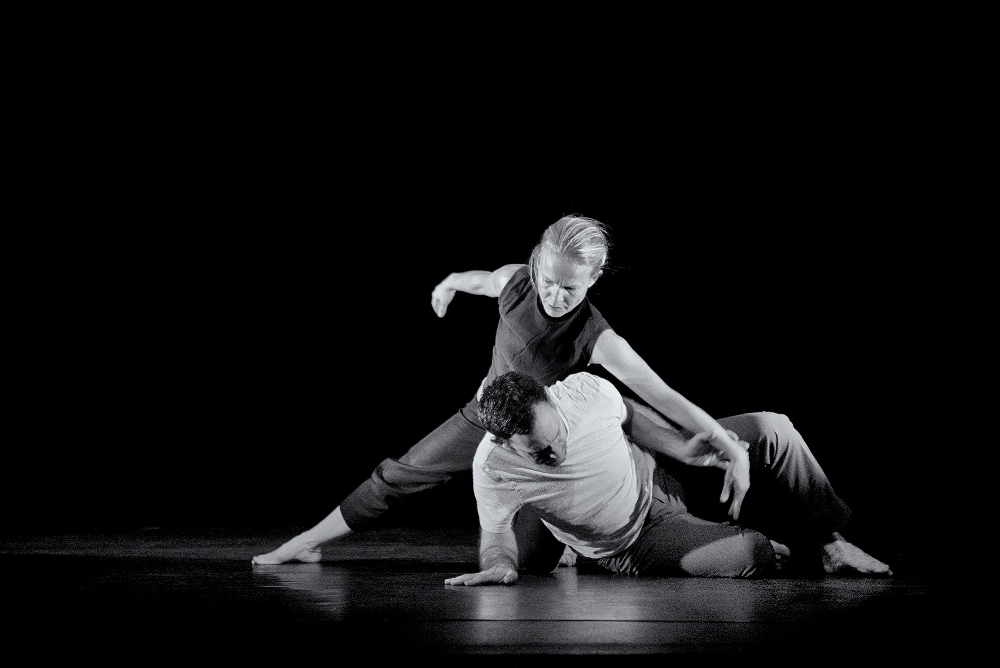 Sunday, August 11, at 21:00; Monday, August 12, at 19:00; Yerushalmy Hall
Meeting You
Post-performance discussion August 11
What kind of attraction touches us, and how does it remain with us? What creates friendships? Thirty years after moving to New York City, Ori Flomin returns to Israel to perform with long-time Swedish collaborator Helena Franzen in Meeting You, a duet that revolves around friendship and togetherness. Veteran performers, long-time friends, and international collaborators, Flomin and Franzen question what has kept them together for so many years across long distances and what keeps us all together when we are so far apart.
Ori Flomin is from Israel where he started his dance training with Ilana Kalef and the Bat-Dor Dance School. Since moving to New York in 1989 his choreography has been presented at Gibney Dance, Dance Theater Workshop, PS122, Movement Research at Judson Church and internationally in Austria, Japan, Germany, Australia and Norway. He has been commissioned by LINK Dance Company (Australia), Zenon Dance Company, USA) SADC Tisch , NYU (USA), The Place (UK), and The Dance School of Norway, among others. Ori was the assistant to Artistic Director of Stephen Petronio Dance Company, for which he also danced from 1991-1999. He also danced with Neil Greenberg, Helena Franzén, Molissa Fenley, Maria Hassabi, Kevin Wynn and Michael Clark. Helena Franzén was educated at the Ballet Academy in Stockholm 1986-89 and at the Institute of Choreography at DOCH (University of Dance and Circus), Stockholm 1995-98. In her work she has developed a personal movement vocabulary, charged with intricate physical challenges and explosiveness- a special poetry of the articulated body. Helena has been commissioned to create works for The Göteborg Dance Company , Skånes Dansteater, Norrdans, The Royal Opera in Copenhagen, The EDge, London and 59 North/ Opera Ballet, Stockholm.
Club Guy & Roni with Slagwerk Den Haag Band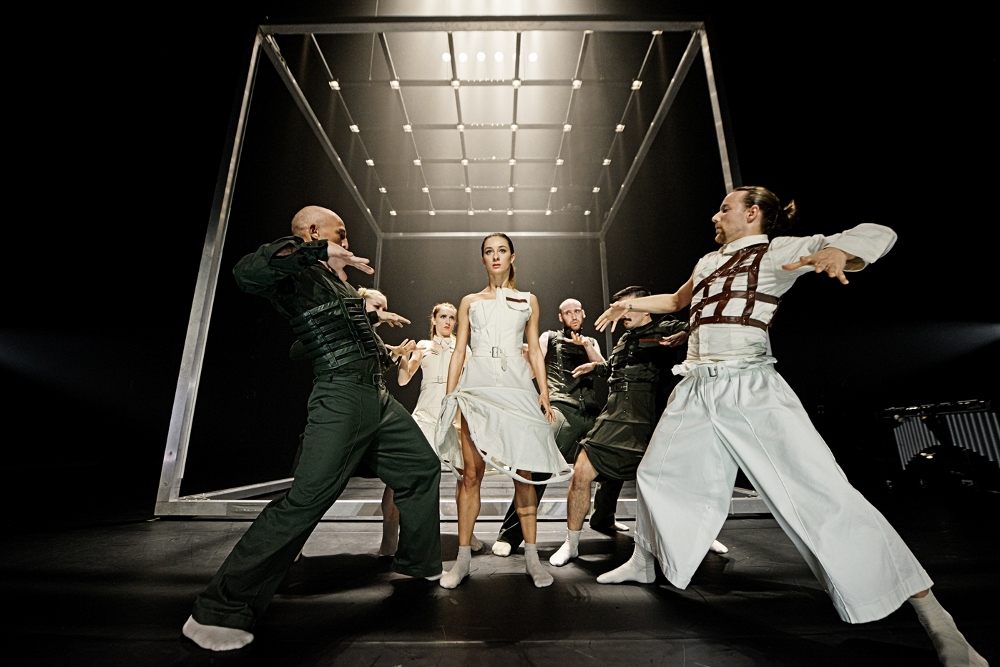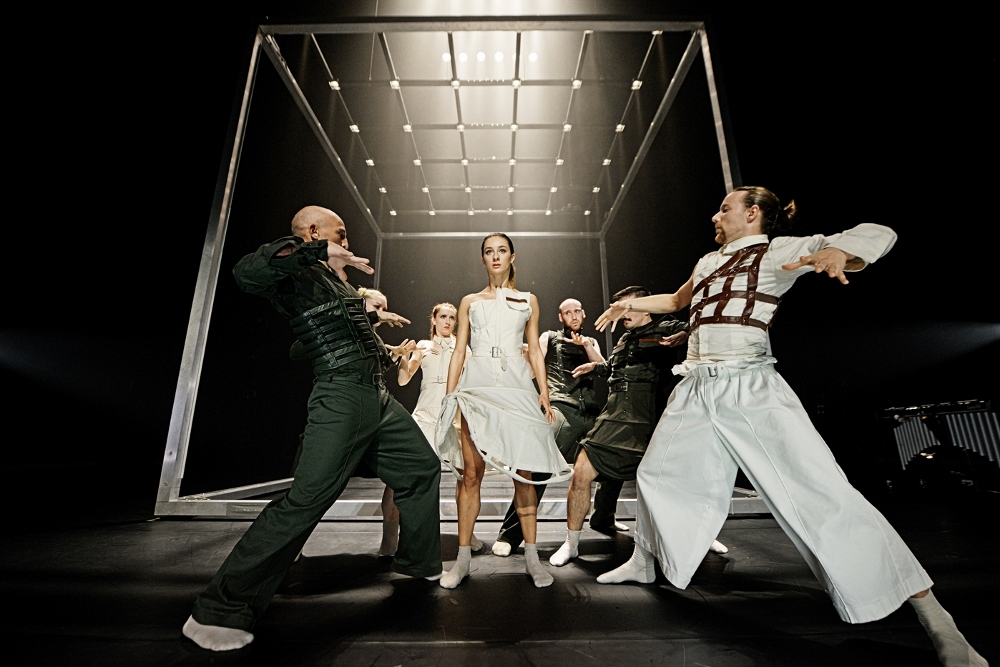 Monday, August 12- Wednesday, August 14, at 21:00; Dellal Hall
TETRIS Mon Amour
Post-performance discussion August 12
TETRIS Mon Amour is a high-energy dance and music concert in which every detail, every eye and every finger, is choreographed like clockwork. The game Tetris is a simple but truly addictive computer game that quickly conquered the world when it was invented in Moscow in 1984. Choreographer Roni Haver was once hooked on it. In TETRIS Mon Amour, Haver declares her love and obsession with the game and the way it provokes order and self-control. The music, played live on stage by the versatile musicians of Slagwerk Den Haag, is composed by Thijs de Vlieger, part of the famed electronic music trio NOISIA. In Tetris you have to deal with falling blocks – In real life one must manage all things that come at you. In both, one must survive before it's "GAME OVER." Step into the game!
Guy Weizman and Roni Haver began their careers as dancers with the Batsheva Ensemble in Tel Aviv. Over the next years they danced with several companies in Europe and in 2002 they founded the dance company Club Guy & Roni in Groningen, Netherlands. They create adventurous and explosive dance performances linked to contemporary topics that reach far beyond the genre of dance. In their quest for innovation, they cooperate with artists from other disciplines such as music, theatre, literature, film, and visual arts. In 2017 Weizman became artistic director of the Noord Nederlands Toneel, one of the four largest government subsidised theater companies of the Netherlands.
Arkadi Zaides – Belarus/Israel/France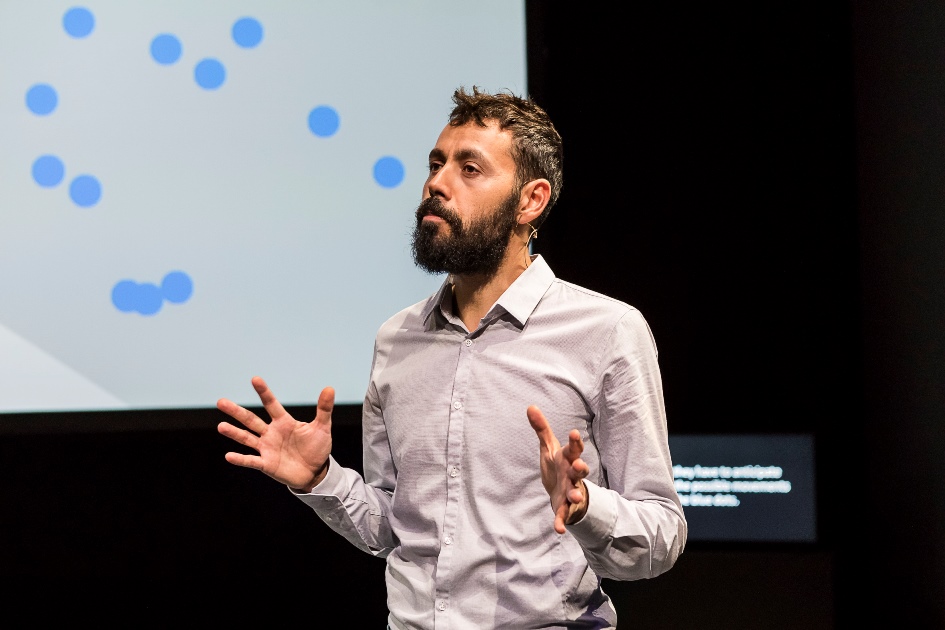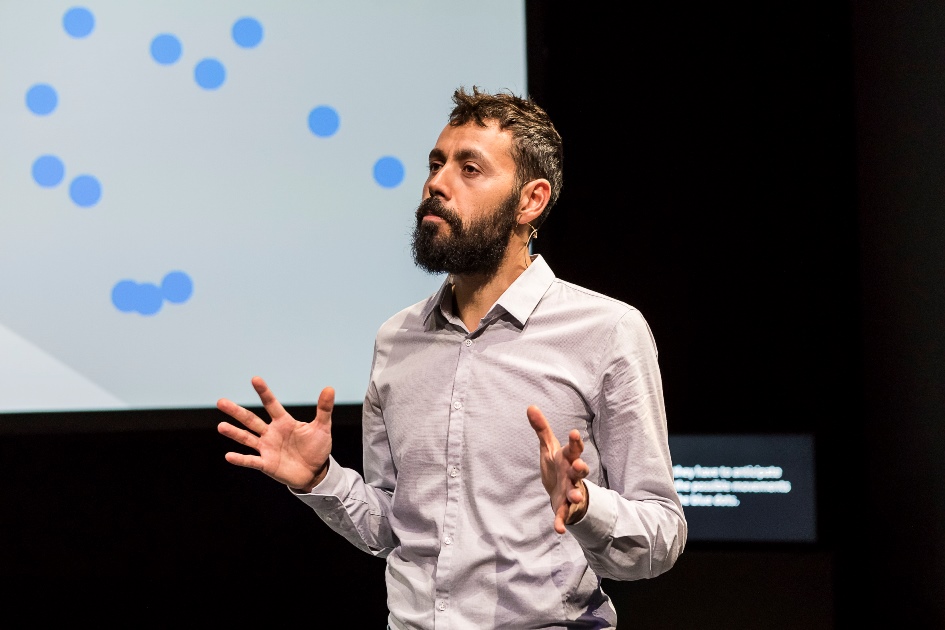 August 15, 21:00, Yerushalmy Hall
TALOS
Post-performance discussion with the artist
As Europe shuts its borders, a new choreography emerges in the areas surrounding the continent. Far from putting an end to migration, the closing of the borders generates new movements. TALOS, a new solo work by Arkadi Zaides, explores the future of borders through a choreographic perspective. Zaides and his interdisciplinary research team collected interviews, film material, and documents that trace a namesake EU-funded border project that promoted a mobile robot system intended to detect and prevent illegal border crossings. TALOS, a political lecture-performance, applies choreographic practice to reflect on the ethical issues and consequences around the initiative.
Arkadi Zaides is an Israeli independent choreographer and visual artist, of Belarusian origin, currently active in France and Belgium. In Israel he performed with the Noa Dar Dance Group, Batsheva Dance Company and the Yasmeen Godder Dance Group, before embarking on an independent career in 2004. Zaides holds a Masters from the DAS Choreography at the AHK Academy of Theater and Dance in Amsterdam, The Netherlands. His performances and installations have been presented in numerous dance and theater festivals, museums and galleries across Europe, North and South America, and Asia. He is a recipient of numerous awards, among them the Emile Zola Prize for Performing Arts for demonstrating engagement in human rights issues in his work Archive (2013); the 2012 Israeli Lottery Foundation Landau Award; 2008, 2009, and 2011 Israeli Ministry of Culture and Sport Young Artist Prize; 2010 Rosenblum Award for excellence in the arts; and a 2010 Kurt Jooss Award.
Co-produced by Les Subsistances (FR), La Maison de la Danse (FR), K3 – Zentrum für Choreographie, Tanzplan Hamburg as part of Together Apart project, funded by the German Federal Cultural Foundation (DE), TanzQuartier Wien (AT), NEXT Arts Festival, Lille-Kortrijk-Tournai (BE-FR), CSS, Villa Manin (IT) , CDC Toulouse (FR), Wiesbaden Biennale (DE), Teaterhuset Avant Garden (NO), CCNN – Centre Chorégraphique National de Nantes (FR)
Residency support Kunstenfestivaldesarts (BE), O Espaço do Tempo (PT), STUK (BE), Tanz im August/HAU Hebbel am Ufer (DE). With the participation of DICRéAM. With the support of Transfabrik Fund – the Franco-German Fund for performing arts. Institut des Croisements/Arkadi Zaides is supported by French Ministry of Culture and Communication – DRAC Auvergne Rhône-Alpes. International distribution Key Performance.
Contemporary Dance from Korea
Friday, August 16 & Saturday, August 17, at 21:00; Dellal Hall
Winners of the Seoul International Choreography Competition
Post-performance discussion August 16
An evening featuring four works by up-and-coming Korean choreographers. The works include: Sinawee, a dance based on shamanistic music in which four dancers attempt to bring order to chaos; Sunyata is about leaving the darkness for the light; Essential Emotion grapples with emotions as the building blocks of survival; and That's Only my World my Life begins as if only three people survive after the Earth explodes. The dances range from contemplative to fun and are brought to Tel Aviv through a partnership between Suzanne Dellal Centre, the Modern Dance Promotion of Korea, and the Seoul International Choreography Competition.
Marcos Ayala Tango Company – Argentina
Monday, August 19 – Wednesday, August 21 at 21:00; Thursday, August 22, at 19:00; Friday, August 23, at 14:00;  Saturday, August 24, at 21:00; Dellal Hall
August 22, 21:00 – Free outdoor Milonga in the courtyard
ASTOR TANGO
Music by Astor Piazzolla
Post-performance discussion August 19
"I can not define them technically; they are forms of playing, forms of feeling; it's something that comes from inside, spontaneously." – Astor Piazzolla
Marcos Ayala, inspired by the artistic life of famous Argentine tango composer Astor Piazzolla, faces a new challenge within the language of interpretive Tango. His sensual choreographic creation immerses the viewer in the history of Piazzolla, who broke with the molds of his time despite the rejection of his contemporaries. Marcos Ayala and his partner Paola Camacho, with 10 extraordinary dancers, channel the legend and the genius.
Marcos Ayala, director, choreographer and dancer, proposes a constant reinvention of the genre to keep Tango current through the generations. With his company, he has achieved a language of great significance that leaves the astonished audience (beyond) in their expectations. He also expresses all his experience and knowledge through choreographic creations of contemporary stories without neglecting the style of dance that he best interprets, tango". Marcos Ayala with his partner, Paola Camacho, create a perfect dance couple, with synchronous movements of great interpretive technique. His virtuosity leaves amazed the audience as well as the participation of other dance couples that making up the Company.
*Information on the performances and dance companies, and texts, provided by the Suzanne Dellal Centre.