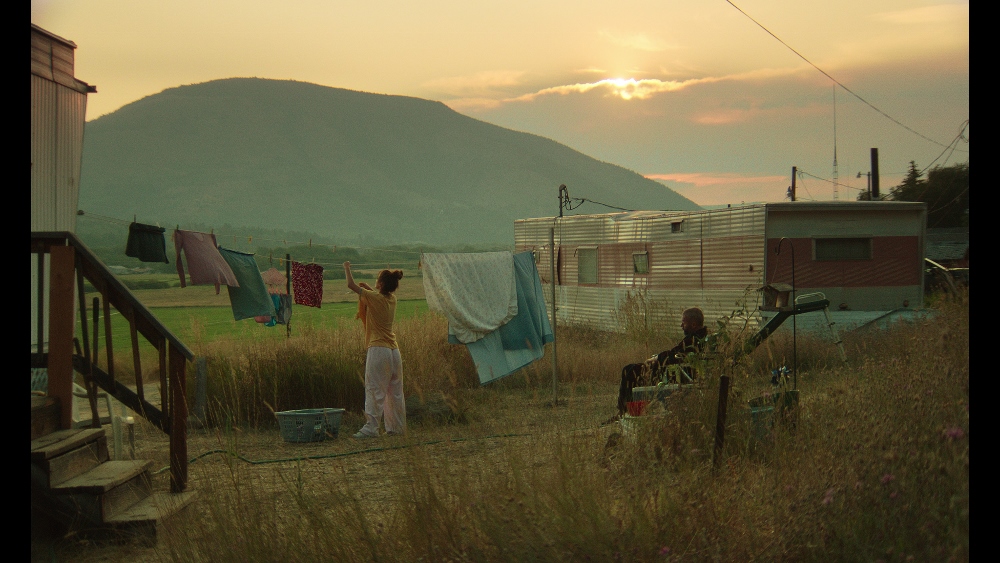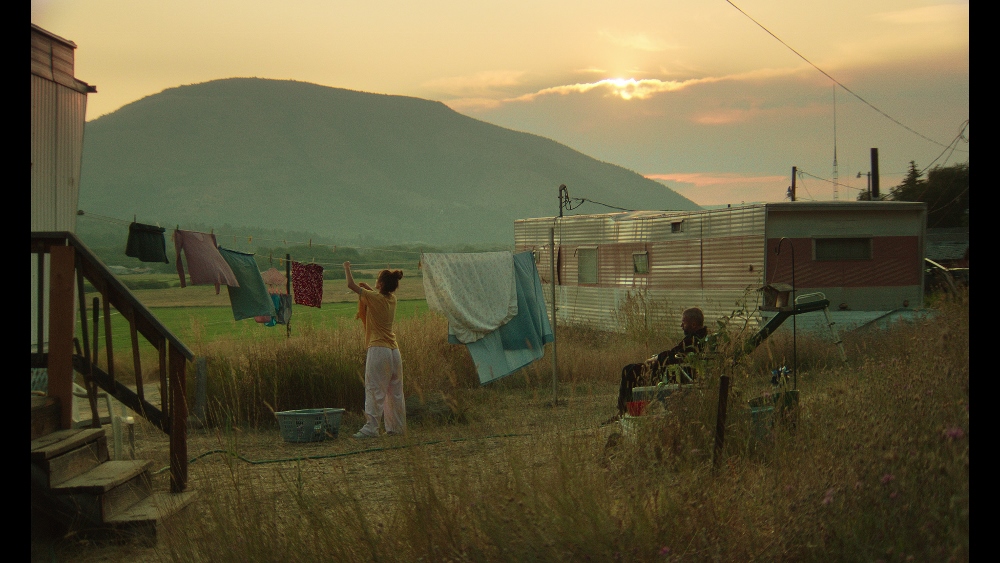 "Get a bunch of tattoos, get a husband, get fat" is Mickey's flippant response to her father, when he asks what she's planning to do now that she's turned 18. Given that her best friend Beth is pregnant, and Mickey's boyfriend Aron is already talking about marriage and children, it's apparently not an atypical expectation for her milieu. But if it sounds like Mickey is setting the bar rather low, the first few minutes of Mickey and the Bear make it abundantly clear that even this lackluster future might be beyond Mickey's reach, given her circumstances. Set amid the muted colors and possibilities of a small town in Montana, the film is illuminated by strong performances from Camila Morrone as Mickey and James Badge Dale as her father Hank. It's rare to find a film that grapples with a true dilemma, this striking debut feature written and directed by Annabelle Attanasio does so with precision, sensitivity, and unflinching honesty.
Hank (James Badge Dale), an Iraq war veteran, suffers from PTSD and is as dependent on Mickey (Camila Morrone) as he is on opioids. Ever since her mother Vanessa died of cancer, Mickey has had to take on the role of responsible adult in the home – making meals, taking on a job at a taxidermist after school to help make ends meet, and doing whatever needs to be done for Hank, whether it's doling out his meds or bailing him out of jail. Now that she is about to graduate from high school, Mickey is at a crucial turning point: will she seek out her own path in life, or will she remain her father's caretaker?
The film is composed of small moments and precise, subtle details. Mickey's inner world is revealed as she feeds her lizard, watches YouTube videos of jellyfish, stares poker-faced at the school photographer who instructs her to smile, or looks through her mother's dresses in the closet. Competently hefting the weight of more responsibility than someone her age should have to bear, often with a resigned sigh, it clearly wears her down, yet she still dreams and yearns. Even more significant, she still speaks out, stands up for herself, makes plans. Camila Morrone imbues Mickey with intelligence, strength and vitality, reflecting the complexity of her emotions. The relationship with her father is depicted in all its heartache, ambivalence, and warmth. James Badge Dale is compelling as the troubled, out of control, defiant, broken, yet charming Hank. He's impossible, but he's not the designated bad guy. As he says: "It wasn't meant to be like this. I wasn't meant to be like this."
Outstanding performances by Camila Morrone and James Badge Dale illuminate the film throughout. Yet in Attanasio's screenplay even those characters whose presence is fleeting, are deftly delineated and deeply felt. Rebecca Henderson portrays Head Psychiatrist Leslee Watkins as the go-by-the-book administrator who nonetheless shows compassion and willingness to listen, and even get involved. A brief scene with Wyatt's aunt reveals much about the life of the town, and its legacy of hazardous chemicals in the soil and water from over a century of smelting.  In Mickey, Attanasio has created a character that reaches beyond predictable archetypes to tell a riveting story. Mickey's relationship with her boyfriend Aron (Ben Rosenfield) is full of genuine affection, mutual dependency, and a glaring disparity in intelligence and maturity. An attractive alternative is presented in the form of UK import Wyatt (Calvin Demba), but this is not the kind of film in which a new love interest is the prevailing factor in the protagonist's trajectory. It is not certain that Mickey will always make good choices, but it is always clear that she is aware and has agency in her relationships and her life. One cannot but empathize with her, root for her, and follow with anticipation and curiosity to see what choices she will make.
Screenings will take place: Friday, July 26th at 11:15, YesPlanet 7; Monday, July 29th at 14:45 at Lev Smadar; Thursday, August 1st at 19:45 at the Jerusalem Cinematheque 2.
Mickey and the Bear
USA/2019/88 min/English/Hebrew subtitles
Written and directed by Annabelle Attanasio; Cinematography: Conor Murphy; Editor: Henry Hayes; Music: Brian McOmber; Cast: Camila Morrone, James Badge Dale, Calvin Demba, Ben Rosenfield, Rebecca Henderson, Katee Ferguson.