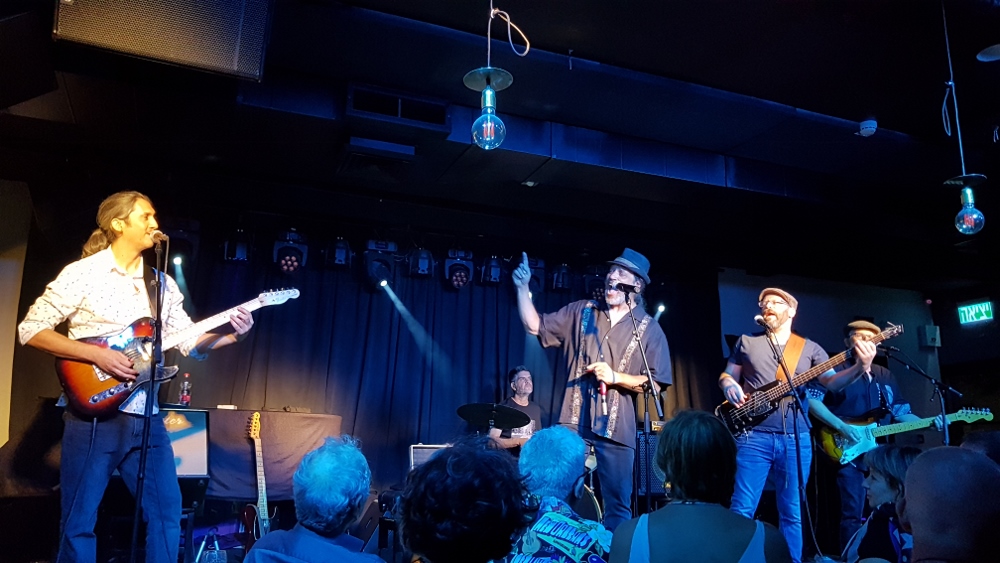 Dov Hammer is a blues singer-songwriter and harmonica player with an exuberant, compelling stage presence. Blue Soul, his new solo album, is a journey through songs of experience, reflecting different musical influences, from Chicago Blues to hip hop. Surging with energy, the songs take the hard times and heartache and turn them into rhythms that get your body swaying. The lyrics tell of a mind and heart trying to take the rough days, the confusion and the beauty of this world and make sense of it all, and as Hammer's song says: "Make it count." Seeing Hammer perform live is something that must be experienced, watching him move with ease between harmonica and song is magical!
Dov Hammer's Power Blues played the new Shablul Jazz Club last night, and hearing them live is a terrific experience! The evening opened as Dov wound his way through the packed room, playing the harmonica, filling every corner of the room with music and a sense of camaraderie as he joined the band – Gil Katzir – guitar and backing vocals; Yair Fine – guitar, slide guitar and backing vocals; Amos Springer – Bass guitar and backing vocals; Nir Segal – drums – onstage, to sing out The Who's: "join together with the band." Accomplished musicians all, there were so many cool solo riffs throughout the evening, and just as strong was the sense of fun and rapport between the musicians; they were having a good time performing, and throughout the room, people were smiling, clapping, swaying and stomping their feet. One couple even got up to dance!
In Hammer's originals there is a sense of deep roots and connection to traditional blues and their origins in Black American music, and having made that language his own, his voice comes through with a mighty sound that reverberates with the freedom of creativity. Turning up the heat with a rollicking cover of Elvis Presley's That's All Right Mama, then jumping right into the classic Rollin' and Tumblin', the band set the tone for an eclectic, super-energetic night. Next up was an original from Hammer's album – Dance the Blues. The rhythms and sound of Hammer's songs get into your blood, with all the force of the blues, and the words speak to a contemporary sensibility. Some of life's pains and wonders are eternal, love won and lost, and some resonate with the particular issues of our time – "Can't tell the satire from the news."
Adversity always brings out the best of the blues, and the next song – I'm Gone was dedicated to Yair Fine, slide guitar player's A string. It's a great song, an original that has the timeless feel of the blues. The next song Hey Bartender, harks back to the 50s, and is a rousing ode to intoxicating indulgence. On a quieter, moodier note, they performed Hammer's Find A Way, followed by Make It Count, the first track on Blue Soul, that inscribes the blues with Jewish soul and reflects on time – eternal and individual – with a captivating rhythm and anthemic force. One of my favorites is Blue Soul, the title track of the album, which draws on Jewish traditions in its imagery – "Call me the wilderness generation" to describe an artistic and existential journey, with a hip hop feel to its rhythms. The song also speaks of an openness and merging of cultural influences, a perspective that infuses Hammer's live performance with a set list that merged originals with covers, including classics, such as B.B. King's The Thrill is Gone, and a lively, instrumental interlude of another classic, The Beatles, with snatches of Can't Buy Me Love and Get Back. It was a great night, with terrific energy.
Links: Dov Hammer website , facebook page