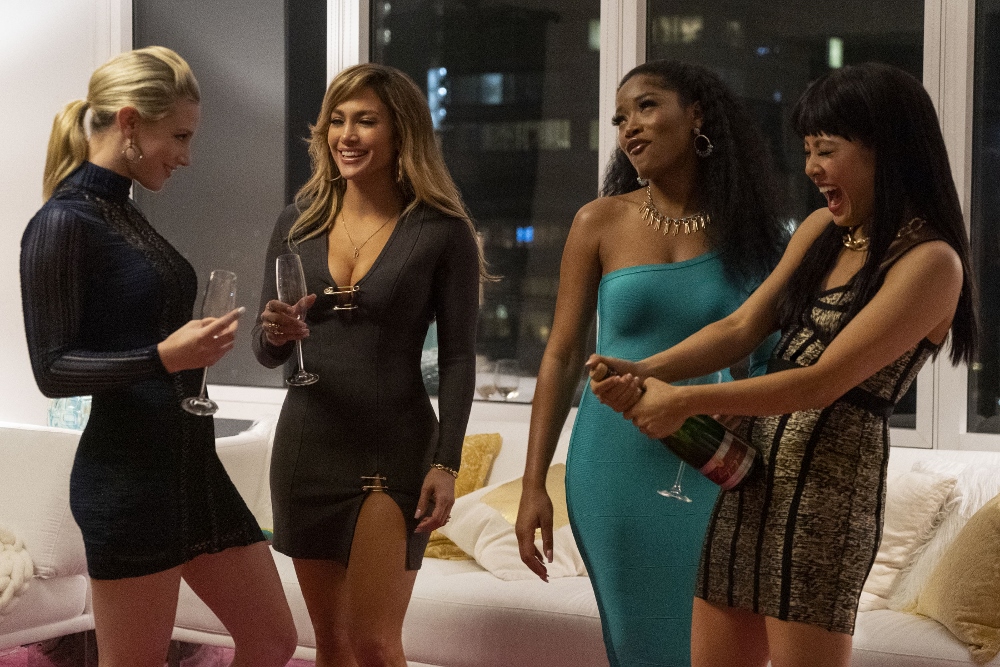 Jennifer Lopez is dazzling as Ramona in Lorene Scafaria's Hustlers; bold, brilliant, and bewitching, she generates a seductive heat that is also a warm, comforting glow. Rather than intimidating, Ramona makes you want her as your best friend, and that's where it can get dangerous. It's an outstanding performance in a fascinating, fast-paced film that breaks through stereotypes and genre boundaries.
A true-crime drama, Hustlers is by turns poignant and hilarious, tantalizing and horrifying. Depicting the life and work of strippers from a woman-centered perspective, with Jennifer Lopez and Constance Wu leading a strong, ensemble female cast (Cardi B and Lizzo are fantastic!), it's as much a film about friendship as it is about sex, money, and power. The film is based on Jessica Pressler's article "The Hustlers at Scores," which was published in New York Magazine on December 28, 2015. Pressler interviewed strip club dancers who successfully ran a scheme to entice clients to part with large sums of money. Although the names of the characters have been changed, the film maintains fidelity to the events described in Pressler's article. These interviews frame the film, allowing for some hindsight and reflection to balance the non-stop, adrenaline rush of action.
Destiny (Constance Wu) is new to the club scene, as she learns the ropes, so does the audience. Although money is the obvious incentive for this career choice (I haven't checked, but feel safe in assuming that the potential for income is greater than minimum wage), there are no guarantees, as tips are the main source of income. However, a dancer's earnings are not all hers to keep; the club takes a big cut. The relationship with the clients is complex. Although one might say that the clients admire the dancers, to the extent that they enjoy watching them and desire their proximity, but they admire them as one admires an object that can be bought or sold. This is not typically a relationship of trust and mutual respect. As Destiny says, the clients can be "degrading, aggressive, possessive and violent." Yet the way to get the big tips is by pleasing the customers, and as Destiny soon discovers, it's not as easy as it looks.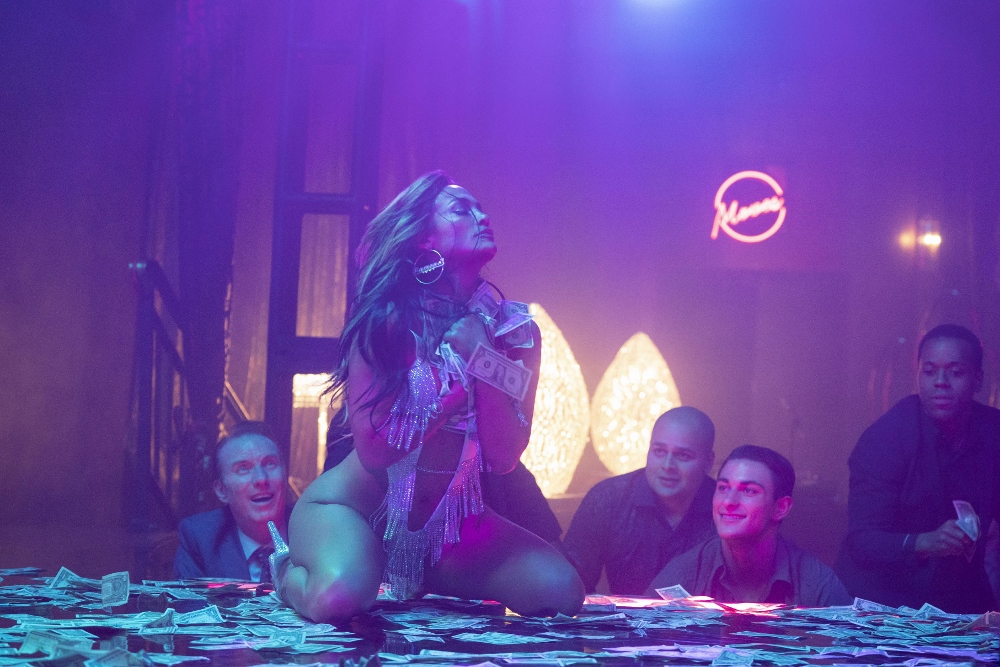 Cue Ramona (Jennifer Lopez). Jennifer Lopez performs a mesmerizing pole dance, it's the ultimate pole fantasy: she is sexy and powerful, reveling in the strength and grace this art form demands. Surrounded by men throwing money at her, she generates an aura of control and command. As Destiny watches Ramona dance, the look on her face is one of awe and revelation: so that's what it's all about. Scafaria maintains a careful balance, presenting an honest and accurate depiction of the women's work in the club, without slipping into voyeuristic excess. The pole dance sequence conveys so much about the profession, the art and discipline, raising issues of power and control, as well as making explicit the concept of sexuality as a commodity. Having raised these issues, as well as reminding the world that Jennifer Lopez is awesome, Scafaria moves on with the plot. This is not a film overloaded with scenes of scantily dressed women, it's a film about women who chose to use their sexuality as a means to an end; a tool, a weapon.
Ramona takes Destiny under her wing, and the film follows the ups and downs of their friendship and profession. The Wall Street crisis of 2008 hits everyone hard, and as Ramona puts it, "everybody's had to get creative, baby." Putting together a posse of women who join forces to entice men into the club to spend money, Ramona is calculating and cold, yet the friendship and mutual support of the women is heart-warming, and there is something exhilarating about their underdog-fights-back, Robin Hood-like scheme. Yet at the same time, it's also horrifying. As Destiny tells Elizabeth the journalist (Julia Stiles) the gritty details, the look on her face makes a great reality check. Oh yeah, what they were doing was really, really, wrong. If I was watching a movie in which a man did the same thing, I'd be furious. Fun and suspenseful, the film's strength is in its ability to evoke those contradictory thoughts and emotions. My only caveat is that I wish Lizzo had more screen time. Hustlers is the best morally ambiguous pleasure I've enjoyed in a long time.
Hustlers
Written and directed by Lorene Scafaria; Cinematography: Todd Banhazi; Editor: Kayla Emter; Music Supervisor: Jason Markey; Cast: Constance Wu, Jennifer Lopez, Julia Stiles, Keke Palmer, Lili Reinhart, Mercedes Ruehl, Cardi B, Lizzo, Madeline Brewer, Frank Whaley, Jon Glaser.