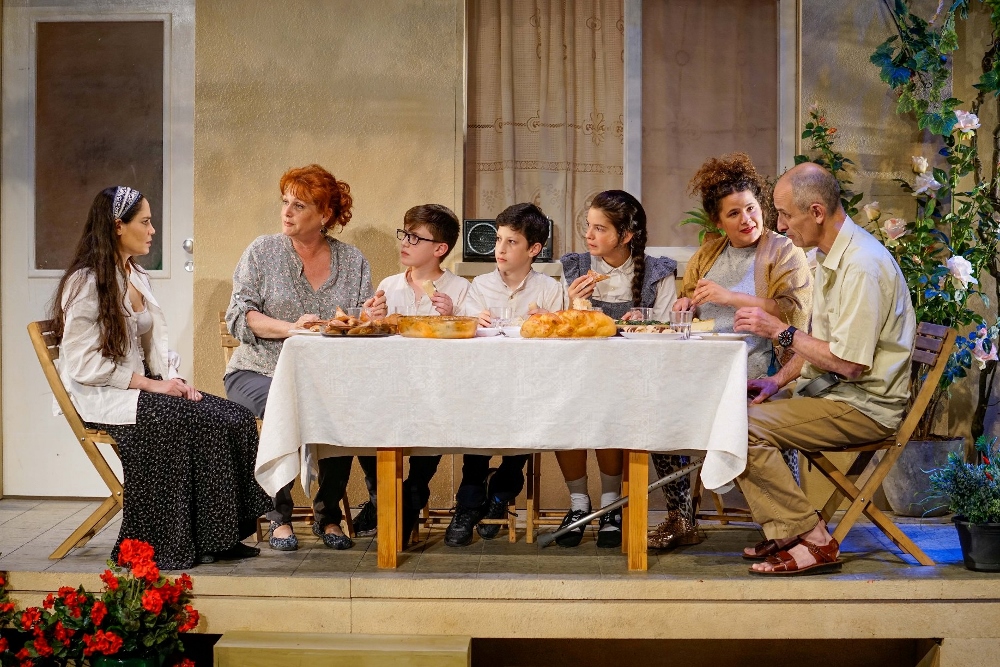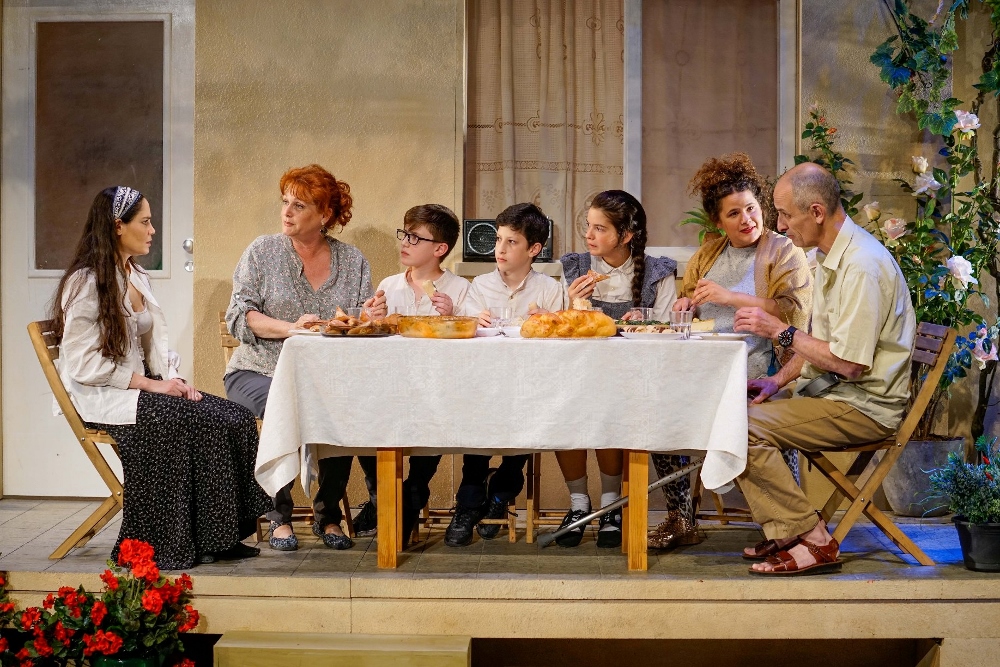 Homeward, written and directed by Aya Kaplan, is an intensely gripping play that focuses on the return of a woman to her family home in the kibbutz, after spending the past 16 years living in a cult. The play is inspired by the experiences of Yehudit Herman (who lived in the compound of cult leader Goel Ratzon in Tel Aviv for 12 years, and bore him 5 children) and others in Israel and throughout the world who lived under the influence of a cult. Yet although the play is informed by real events, its emotional impact and strength comes from the truth that is created onstage, as it explores the difficulty and complexity of this return.
Kaplan has chosen wisely not to dwell on the more sensational aspects of life in a cult, there is not a trace of exploitation in this drama. Instead, the focus is on the parts of the story that don't make the headlines, the nuances of feelings and relationships. The play opens as Noa Shemer (Netta Garty) and her children are taken by the police after a raid on the group home, in which its leader, Avihu Tishby (Shmuel Vilozny) has been arrested. While the investigators Moran (Ruth Asarsai) and Hefetz (Ido Markowitz) would like Noa to give them information that would incriminate Tishby, she is clearly still entirely in his thrall. Noa is given leave to return to her parents' home on the kibbutz.
On the surface, it would seem like a miraculous rescue. Over the past 16 years, Noa's life has been controlled by Tishby. The mother of 5 children, she's had to work long and hard as a cleaner, giving Tishby all her earnings and social benefits. Now, thanks to the police raid, she is free. Yet it is not quite so simple. Noa's family and the audience are presented with a situation that is difficult, if not impossible to comprehend: how an intelligent young woman, brought up to think freely, would willingly give up her freedom, money, body, to be ruled by such a man. Even more challenging to understand is the extent to which she still believes in his power and doctrine, as she tells her parents: "We are here against our will."
Netta Garty delivers an excellent performance as Noa, conveying her distress and conflicting emotions as she confronts the changes in her life. Noa's parents – Nava (Odeya Koren) and Reuven (Avi Termin) each respond in their own way to the situation. Nava keeps striving for the happy homecoming she envisioned, trying to connect to the children, her grandchildren and urging everyone to focus on the present. Whatever pain or anger she has is hidden deep within. Reuven, however, does not attempt to restrain his anger and loathing for the beliefs that Noa has adopted, leading to constant confrontations. Amidst these tensions, Maya Landsmann as Gili, Noa's much younger sister, is a bright and joyous presence onstage, full of energy and humor. Watching Noa pray with the children, Reuven rages, but Gili quips "Just think of it as a sing-along." The actors portraying Noa's children are wonderfully convincing and natural in a challenging role. Having been brought up in the cult, they are at once wholly of that world, and yet, as children, they are also drawn to the new freedoms, pleasures, and experiences that surround them in the kibbutz.
The play intersperses scenes from the present – Noa and the children at the kibbutz, with scenes from the past – Noa's first encounters with Tishby at age 17. Shmuel Vilozny is eerily impressive as Tishby, eloquently drawing the young girl into his net by making her feel chosen and special, showering her with attention, and then criticizing her choices, making her feel that she is in danger of losing his esteem, all the while isolating her from friends and family.  The merging of past and present allows the audience to see the trajectory of Noa's experiences, and how words spoken in anger or impetuous actions can have far-reaching consequences. In its sensitive exploration of this difficult terrain, the play depicts the complex dynamics of guilt, anger, sorrow, regret and compassion between Noa and her family, engaging the audience's empathy for them all.
Homeward
Written and directed by Aya Kaplan; Inspired by the story of Yehudit Herman; Set: Svetlana Breger; Costume: Yehudit Aharon; Lighting: Keren Granek; Movement: Amit Zamir; Music: Avi Belleli; Video Art: Guy Romem; Video: Tami Shaham; Professional Counseling: Dr. Gabi Zohar; Director Asst: Rom Resnik; Cast: Noa Shemer – Netta Garty; Avihu Tishby – Shmuel Vilojny/Ohad Shachar; Nava Shemer – Odeya Koren; Reuven Shemer – Avi Termin; Gili Shemer – Maya Landsmann; Moran Turjeman – Ruth Asarsai; Rani Hefetz – Ido Markowitz; Michael – Assaf Salomon/Gilad Shmueli; Shuvi – Carmel Bin; Meshiv Hatshuva – Ori Ziv Gadnir/Mark Kruglikov; Eliyahu Hatishbi – Ivri Shay; Neviat Hameshiv – Noa Matarso/Emily Malishva