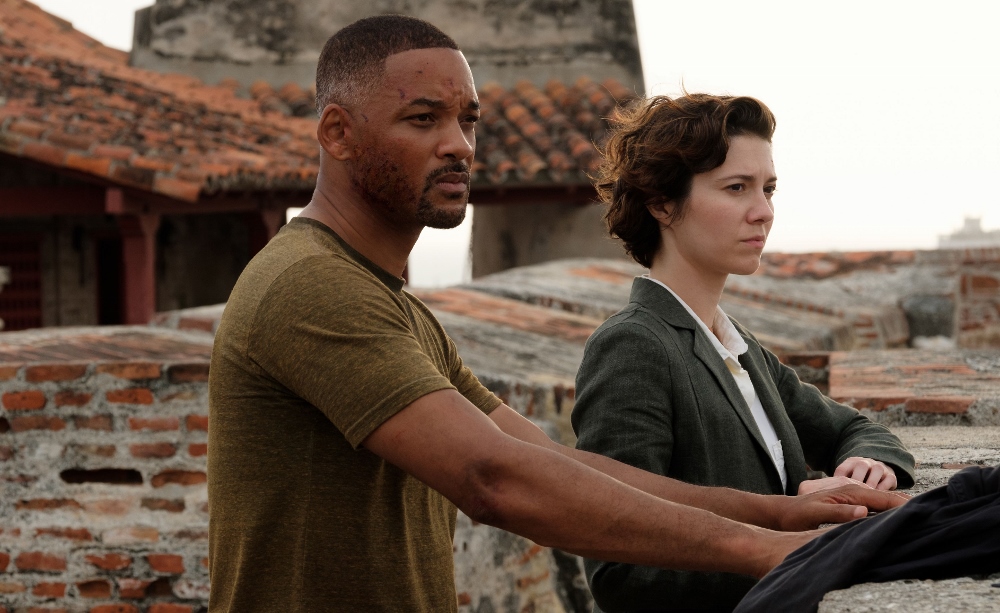 Ang Lee – the name alone is enough to get me into the movie theatre, because he is a director who likes to explore and take risks. His repertoire – The Wedding Banquet, (1993); Eat, Drink, Man, Woman (1994); Sense and Sensibility (1995); Crouching Tiger, Hidden Dragon (2000); Brokeback Mountain (2005); and Life of Pi (2012) to name just a few – reveals films of lush visuals and scintillating choreography, with psychological depth and sensitivity to nuances of feeling, as well as cutting edge technology. His latest, Gemini Man, starring Will Smith, is a film with an intriguing concept, and most definitely a leap into the unknown.
No one can shoot like assassin extraordinaire Henry Brogan (Will Smith), but at 51, with 72 kills under his belt, he's ready to retire. Unfortunately, there's been lots of scheming behind his back at the agency, and the conclusion is that Henry must go. But who could possibly be skilled enough to take him down? A younger, vigorous, 23-year-old version of Henry, cloned by the evil Clay Verris (Clive Owen) as part of his plan to create an army of fearless killers who feel no pain. The concept is intriguing, and the technology is fascinating. Shot at 120 frames per second, the film is densely visual, and Junior, the computer-generated younger version of Will Smith (the product of painstaking detailed work, and many, many, hours of watching reruns of Fresh Prince of Bel Air) is astonishing to behold. The future is here.
The film is at its best in the action scenes, where the advanced technology creates an exciting and suspenseful viewing experience. There is a fantastic chase scene on motorcycles through Cartagena, there are a few tantalizing glimpses in the film's trailer.   However, ultimately, Gemini Man feels more like an experiment than the fully-realized action-suspense film it might have been. There is a sense that in the focus on fine-tuning the technology (and the results are amazing), Ang Lee lost sight of the essence of the characters and story.
Rather than diving into the rich and complex emotional and psychological aspects of an assassin experiencing regret – for the kind of life he has lived, and the opportunities of life, such as becoming a husband and father, that he has passed up – Henry's character remains rather flat. Where is the irreverent, raw appeal Will Smith is known for? Even when hunted down by a younger, cloned, version of himself, he takes action, but the emotional/psychological potential of this encounter is not realized. There are so many missed opportunities, every character in this film can be summed up in a single sentence tagline, and never develops any further. There is so much unexplored richness, for example, the creepy yet intriguing experience of Clay Verris (Clive Owen) raising Junior like a son, yet intending him to become an instrument of death – what was he thinking?  Fellow Defense Intelligence Agency operative Danny Zakarweski (Mary Elizabeth Winstead) is a very welcome addition to the film with her intelligent, kick-ass female presence.
The Gemini Man screenplay, currently credited to three writers – David Benioff, Billy Ray, Darren Lemke – was originally written by Darren Lemke in 1997, and has been rolling around Hollywood, adding writers, changing directors and lead actors for 22 years. There is even an interesting short trailer on YouTube, made by Joe Carnahan and starring Clint Eastwood. Skydance Media acquired the rights in 2016, and Ang Lee came on as director in 2017. The long incubation time is certainly due in part to the lack of the necessary technology at the time. However, somewhere along the way, the story and characters were lost in the pursuit of advanced technology and visual effects. Impressive though they may be, nothing works quite like a good script.
Gemini Man
Director: Ang Lee; Screenplay: David Benioff, Billy Ray, Darren Lemke; Story: Lemki, Benioff; Cinematography: Dion Beebe; Editor: Tim Squyres; Music: Lorne Balfe; Cast: Will Smith, Mary Elizabeth Winstead, Clive Owen, Benedict Wong.