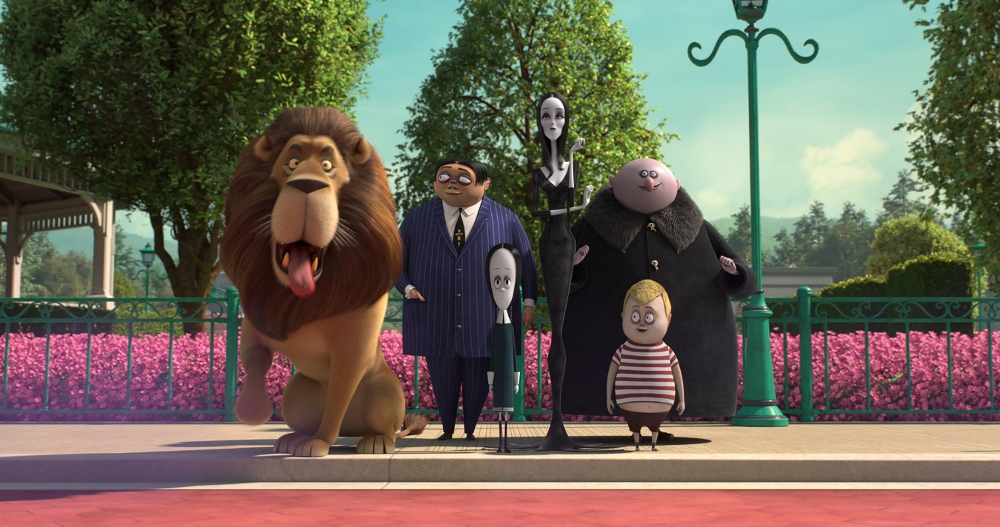 As kooky as ever in their current 3D computer-animated iteration, The Addams Family are more delightful than scary. Directed by Greg Tiernan and Conrad Vernon, and featuring a stellar voice cast, the film is clever and fun, with imaginative art, and one of the catchiest theme songs ever written. Not just for kids, or their nostalgia-driven elders, The Addams Family has an appeal for all those who have a penchant for weird.
When the wedding of the ardent Gomez (Oscar Isaac) and eternally blasé Morticia (Charlize Theron) is interrupted by villagers with pitchforks, they realize that it's time to leave the Old Country. Uncle Fester makes good on his promise to bring them somewhere "horrible" and takes the love-bats to New Jersey. There they run into, or rather over, Lurch (Conrad Vernon) who fits right in as the butler in their new home – an abandoned State Hospital for the Criminally Insane. It's horror light, a home and family in which everything subversively contradicts almost all normative values (couldn't resist a giggle when Morticia tells Wednesday "Don't forget to kick your father goodnight"), yet no one is ever really hurt, even if they get an arrow through the head.
The Addams Family have a long and rich history. They began their existence as cartoons drawn by Charles Addams, who created 150 single panel cartoons (many published in The New Yorker) between 1938 and 1988. But they are best known for the 1964 television show starring John Astin and Carolyn Jones, for which Vic Mizzy composed The Addams Family theme song. The show ran for two seasons (64 episodes) on ABC, and has been enjoying international popularity in syndication ever since. A live action feature starring Angelica Huston as Morticia, Raul Julia as Gomez, Christopher Lloyd as Uncle Fester and Christina Ricci as Wednesday, was released in 1991, with a sequel, Addams Family Values, in 1993. The current animated version plays on the same motif as the original television series, finding humor in the clash between the Addams family and conventional contemporary culture.
Much has changed since 1964, and the mournful aspect of Addams family fashion is no longer subversive in an era when even toddler couture has long since added black to the palette, and baby clothes adorned with skulls are commonplace. Yet transgression never loses its appeal. Many a child will delight in the abundance of ghoulish, gruesome, and contrary customs.  And almost everyone who has ever been a child can relate to Wednesday (Chloë Grace Moretz), as she tells Morticia: "I have a lot of things you don't know about." Pugsley (Finn Wolfhard), soon to turn 13, is trying hard to live up to his family's expectations, practicing for the Addams' rite of passage – the Saber Mazurka, a ceremony similar to the Jewish Bar Mitzvah, only with sabers. In its expression of the pressure on kids (and adults) to conform, the film conveys a positive message on letting children explore and grow into their individual identities, appreciating and loving family members (and others) in all their unique qualities and eccentricities.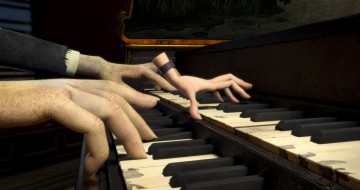 While the real estate plot line pitting Margaux Needler (Alison Janney) and her perfect community of "Assimilation" against the eerie mansion dwellers on the hill is rather thin and predictable, the true charm of The Addams Family is in the quirky details. Gloomy Wednesday with her hair braided as nooses, who sleeps under a guillotine; Lurch improvising, with his long, broken fingernails delicately touching the piano keys searching for a tune that will meet with Thing's approval; Ichabod the animate tree, the bridge of spiders in the basement, and the entire bizarre family from Uncle Fester to one-eyed Aunt Gloom – to quote the song: "they really are a scream/The Addams Family."
The Addams Family
USA/2019/87 min/English
Will be shown in Israel in English and also in a version dubbed in Hebrew
Directed by Greg Tiernan and Conrad Vernon; Screenplay: Erica Rivinoja, Matt Lieberman; Story based on characters created by Charles Addams; Editing: Kevin Pavlovic; Music: Mychael Danna, Jeff Danna; Cast: Oscar Isaac, Charlize Theron, Chloë Grace Moretz, Finn Wolfhard, Nick Kroll, Snoop Dogg, Alison Janney, Bette Midler, Martin Short.