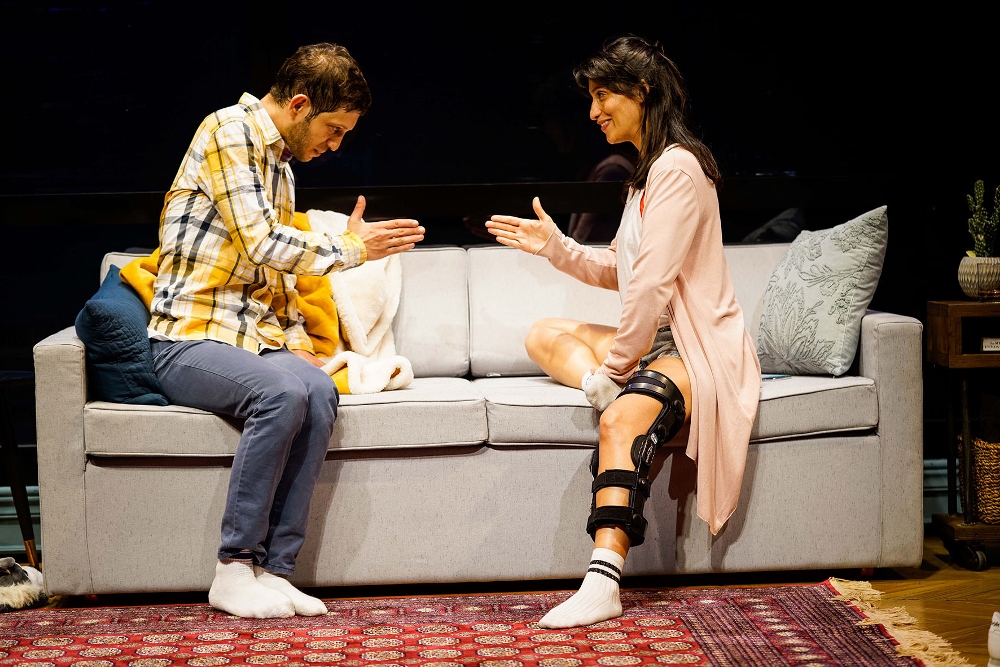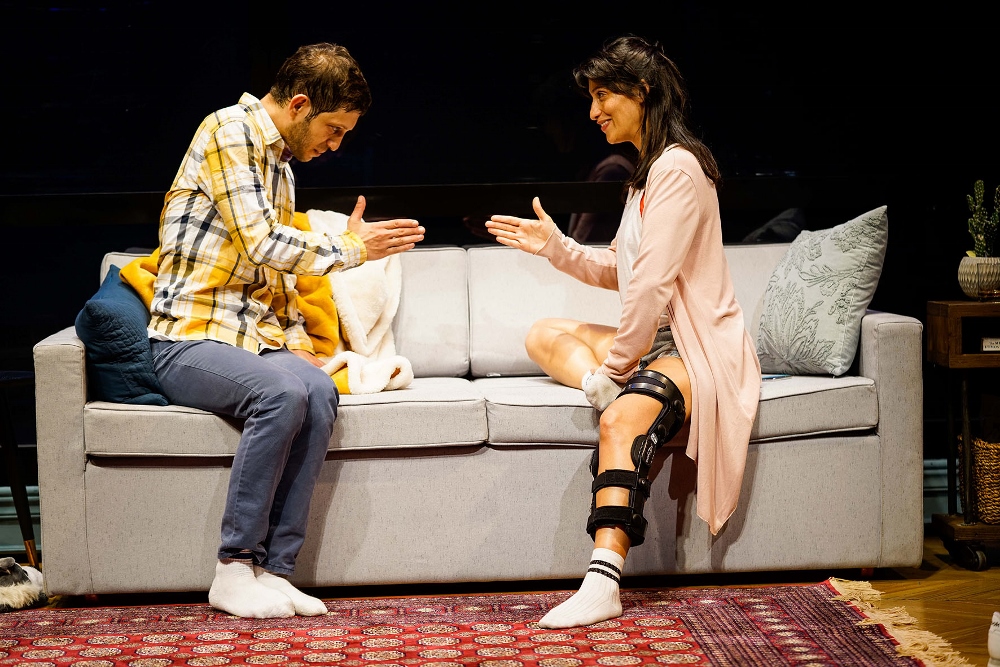 Light and graceful under Miri Lazar's direction, Dancing Lessons by Mark St Germain, delves into deep feelings and raises the issue of disability in a thought-provoking manner. Performing in this duet are Tom Hagi as Ever Montgomery, a geophysicist who has Asperger's, and Meirav Shirom as Senga Quinn, a dancer who was seriously injured in an accident.
Lazar, who edited the evocative soundtrack for the play, opens Dancing Lessons with a song to set the tone: LCD Soundsystem's New York I Love You But You're Bringing Me Down. The loneliness and sense of urban alienation in the song provides an introduction of sorts to Senga and Ever, neighbors who live in the same apartment building, yet have never met. Until one night, Ever knocks on Senga's door. Her first instinct is to tell him to go away, but Ever is desperate and he persists.
The practical reason that brings Ever and Senga together is a professional event that he must attend, where there will be music and dancing. As Ever does not know how to dance, and does not want to feel too uncomfortable at the event, he decides to hire Senga to teach him how to dance. The only problem is that with her leg in a brace, Senga is very limited in her movement and still in considerable pain. For the time being, at least, Senga can't dance either. But there is something deeper, beneath the surface, that draws these two together. As Senga tells Ever, despair is something she recognizes, and albeit reluctantly at first, she agrees to try to teach him.
Meirav Shirom and Tom Hagi imbue the tentative rapprochement of these two strangers with a very natural feel, there is a sense of being there in the living room with them, as they take one step forward, three steps back. Senga closes herself off from the world because of her injury, she can't imagine a life without dance. Three dancers provide a reminder of all that Senga has lost, their movement, fluid and lovely, a contrast to her own, halting, slow and painful. Shirom conveys Senga's lively personality as well as her distress, drawing Ever out with her charm and compassion.
As for Ever, Tom Hagi immerses himself in the role entirely. Ever's speech, his way of forming sentences and expressions, and his body language convey both his social isolation and his efforts to find ways of existing in this world and connecting with others. Clever, funny, and perceptive, in Hagi's portrayal, Ever is someone you want to get to know.
St Germain's play takes on the issue of disability in a sensitive and intelligent manner, and for the most part, succeeds in avoiding clichés or sounding like a public service announcement. The banter and more soulful conversations between Ever and Senga flow very naturally, thanks to Eli Bijaoui's translation, as well as the wonderful rapport between the actors. My one caveat is with St Germain's choice to make Ever a brilliant geophysicist. It's frustrating that when a character with autism or Asperger's is created, the writer feels the need to compensate by making that character exceptionally brilliant and successful. Ever as a character is very well-written, and wonderfully portrayed by Tom Hagi. If he were a librarian rather than a geophysicist would he be less attractive? I don't think so.
One of the play's strengths is that Ever talks about Asperger's in a very personal, concrete, and specific way, sharing more of his experiences with Senga as the two grow closer. His openness about his difficulties and limitations contrasts with Senga's despair at the thought of a life without dance. Without diminishing the pain of her situation, the encounter between the two makes the viewer, as well as Senga, aware of the possibility of change, of redefining one's identity, of a productive and happy life lived with a disability.
Dancing Lessons
By Mark St Germain
Translated into Hebrew by Eli Bijaoui; Director, Movement, and Music Editing: Miri Lazar; Set Design: Shani Tur; Costume Design: Shira Weiz; Lighting Design: Ziv Voloshin; Video Art: Amit Ben Shushan, Amir Tal; Assistant Director: Ido Shanun; Cast: Tom Hagi as Ever, Meirav Shirom as Senga, Dancers: Noa Avraham, Naama Gilboa, Tal Naor