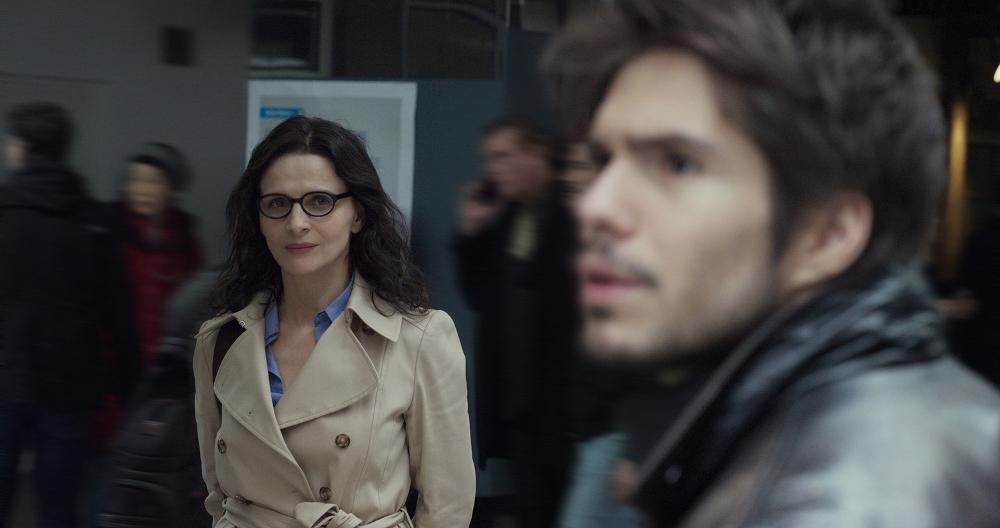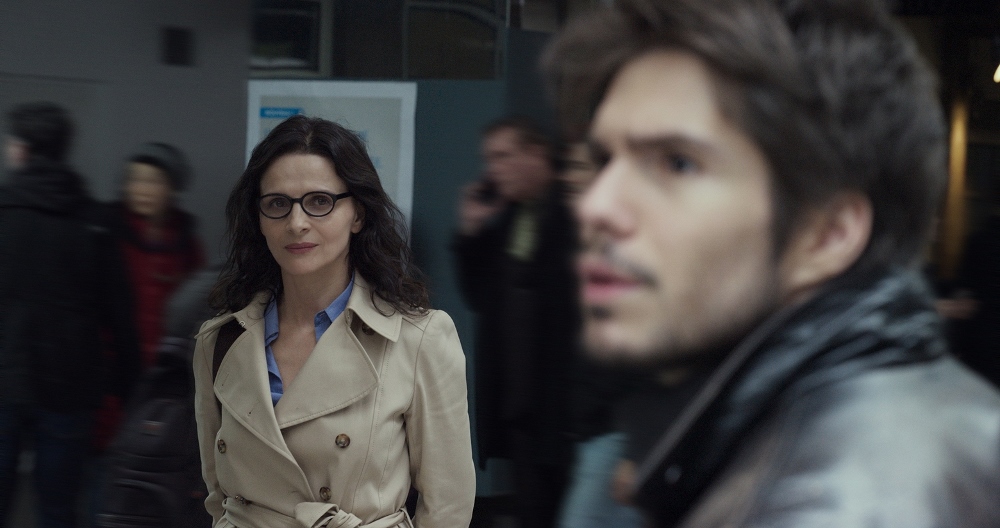 Juliette Binoche is mesmerizing in Safy Nebbou's Who You Think I Am, yet this intriguing, suspenseful film with its twisty plot is not quite the film it might have been. In this tale of desire and loneliness, Binoche portrays Claire, a 50-year-old professor of literature who is divorced with two young sons. The film employs several modes of storytelling, and can be interpreted as a contemplation of storytelling, and the way that form affects content in our contemporary, digital culture. At the center of the action is a very trending topic – catfishing, as Claire creates an online persona that represents her as Clara, a luscious 24-year-old. While I am not fond of spoilers, unfortunately, there is no way to discuss this film without revealing some salient plot points. Dear reader, consider yourself warned.
Claire reveals her story through conversations with her therapist Dr. Catherine Borman (Nicole Garcia), whose severe expression tantalizes with its suggestion of hidden thoughts and feelings. Conveniently for the viewer, as a new patient of Dr. Borman, this not quite reliable narrator begins at the beginning. Following a disappointing affair with the shallow Ludo (Guillaume Gouix), she creates a fake profile on social media and in order to follow up on his activities, connects with Ludo's friend and roommate Alex (François Civil). As Clara, she and Alex begin a virtual friendship of texting that progresses into phone conversations, and quickly escalates. Claire becomes obsessed with Alex, as they text back and forth incessantly, becoming forgetful at work, and neglectful as a parent. Yet they can never meet, because he is in love with the fantasy woman Clara.
Up to this point, the film is interesting in its portrayal of loneliness and the desire for attention and affection – on the part of Alex as well as Claire. Anyone can feel lonely, even hot young photographers, and social media does fill that void to a certain extent. Even more interesting is the phenomenon of catfishing and the way it reveals so much about the way people experience relationships. Catfishing works because digital culture makes it very easy to create a false online identity, but also because of the fictional nature of all relationships. There is a measure of fantasy in the way we perceive, interpret, and imagine our relationships with ourselves and others. The film, in a surprising move, takes this a step further, and, with the encouragement of her therapist, Claire writes up the story of her entanglement with Alex, altering the development and denouement. Having created one fictional relationship that eventually led to a breakdown, she begins to heal by creating another. That, I thought, was rather fun and cool.
Here's what I don't like. It turns out – spoiler alert – that Clara is based on Claire's niece Katia, whom Claire took in after the young woman's parents died. Then, of course, Katia and Claire's husband began an affair which led to Claire and Gille's divorce. Can these kinds of things happen? Yes, and I'm sure they do. Yes, it's plausible that despite her intelligence and education, Claire's sense of self-worth is based on the approval of men, and yes, it's possible that her niece would betray her because she finds Gilles, who is 27 years her senior, so irresistible. The predatory, narcissistic older woman, women as enemies of one another, betraying one another – why must a film that is exploring contemporary culture, and working with innovative modes of storytelling, affirm such a misogynist world view?
Who You Think I Am (Celle que vous croyez)
Director: Safy Nebbou; Screenplay: Nebbou, Julie Peyr, adapted from the novel by Camille Laurens; Cinematography: Gilles Porte; Editor: Stéphane Pereira; Music: Ibrahim Maalouf; Cast: Juliette Binoche, Nicole Garcia, François Civil, Guillaume Gouix, Charles Berling, Jules Houplain, Jules Gauzelin.