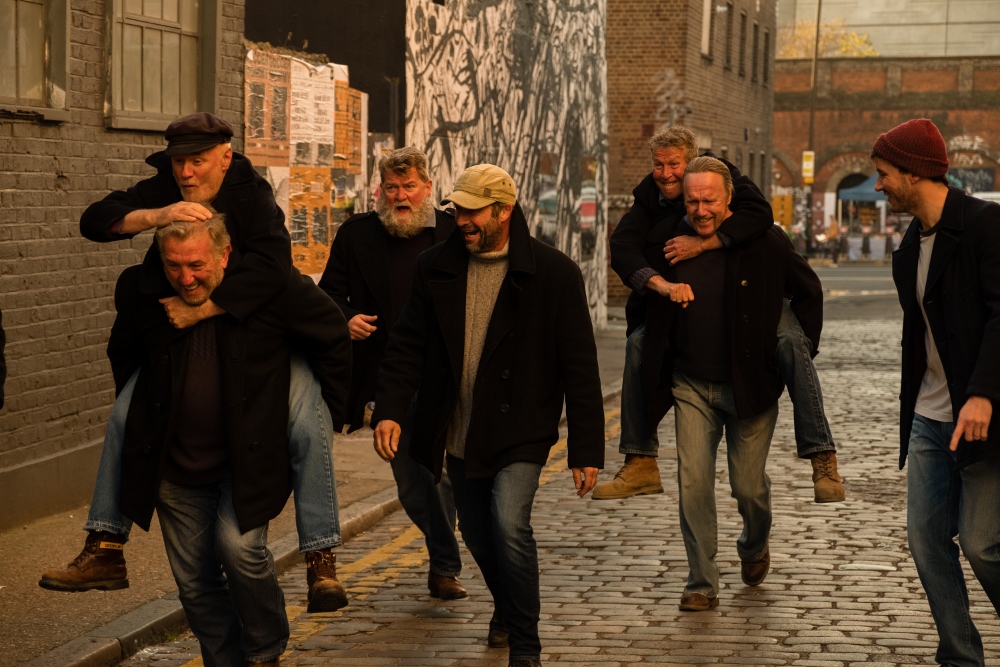 Music, romance, family and friendship are at the core of Fisherman's Friends. The warm-hearted film is inspired by the true story of a group of friends – fishermen, builders, and shopkeepers from Port Isaac in Cornwall, who gathered each week for 30 years singing folk song and sea shanties to raise money for charity. Serendipity led to a contract with Universal Records, and their debut album became a top 10 hit. Directed by Chris Foggin, the screenplay by Nick Moorcroft, Meg Leonard and Piers Ashworth, weaves a lovely romantic story around these colorful threads. Indulge in the feel-good comfort of the Fisherman's Friends' harmonies amid the beauty of the Cornwall coast.
Daniel Mays stars as the likeable but somewhat rudderless music executive Danny Anderson, who comes to Port Isaac with his music industry buddies for a stag weekend, all four apparently determined to manifest the ugly and oblivious tourist at his drunken and irresponsible worst. Yet their entitled indifference is not reserved for strangers, and Danny's boss Troy (Noel Clarke) decides that it would be great fun to prank him. Having heard the Fisherman's Friends singing on the wharf, he tells Danny that he must get this group on contract, then ditches him. What a laugh!
City-slicker Danny's sales pitch is not match for the stoicism and wry humor of the locals, and his fish-out-of-water bumbling around Port Isaac and its denizens is fun to watch. All four generations of the fictional local family represent well, from paterfamilias Jago (David Hayman) and his wife and savvy barmaid Maggie (Maggie Steed), to his taciturn son Jim (James Purefoy), his granddaughter the tough and enticing single mom Alwyn (Tuppence Middleton) and her charming daughter Tamsyn (Meadow Nobrega). All the awards on the walls of Danny's chic London flat can't compare to the enduring honesty, courage, strength and love that he finds among these people.  Modest in scale, and not reaching for surprising twists, yet Fisherman's Friends has the appeal of folk songs, the simple songs that strike a chord of recognition because they sing of things that we know – love, hardship, loss and hope.

Fisherman's Friends
UK/2019/112 min/English with Hebrew subtitles
Director: Chris Foggin; Screenplay: Nick Moorcroft, Meg Leonard and Piers Ashworth; Cinematography: Simon Tindall; Editor: Johnny Daukes; Music: Rupert Christie; Cast: Daniel Mays, James Purefoy, Tuppence Middleton, David Hayman, Maggie Steed, Noel Clarke, Meadow Nobrega.