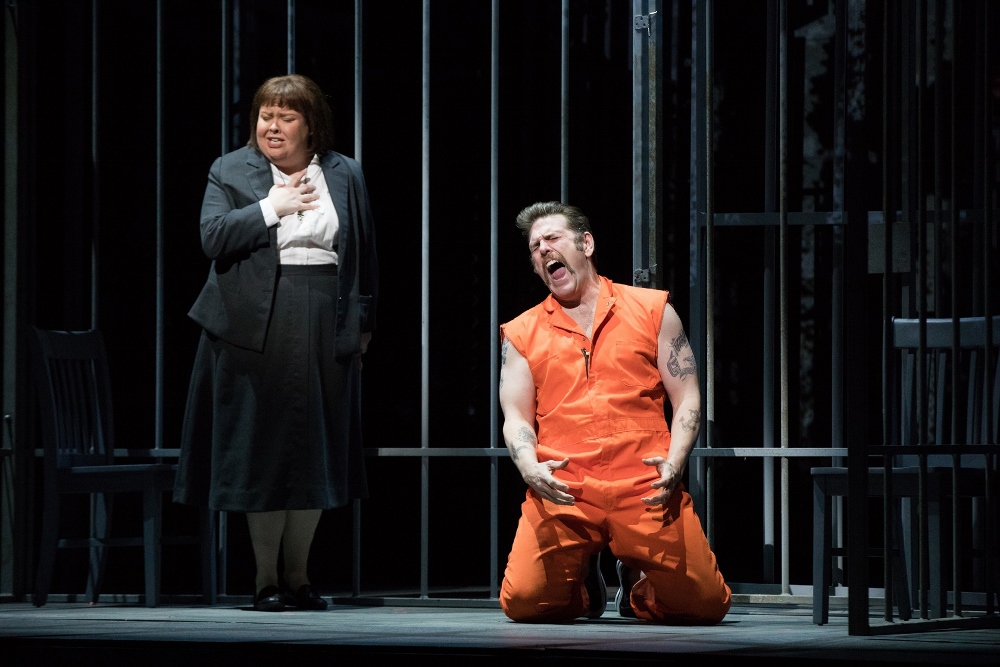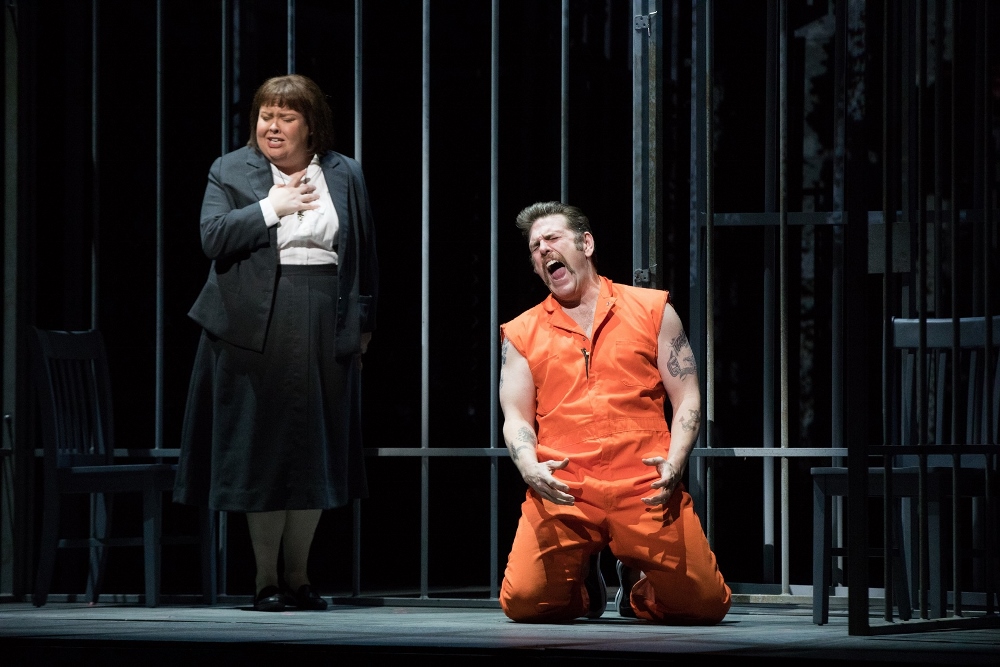 The contemporary opera Dead Man Walking, composed by Jake Heggie, will be performed at the Israeli Opera from December 11 – 19, 2019. One of the most-performed American operas, Dead Man Walking is based on the 1993 non-fiction book of the same name by Sister Helen Prejean, and is concerned with the controversial and difficult moral question of the death penalty. Following her experiences serving as a spiritual advisor to two prisoners sentenced to death for their crimes, Sister Prejean wrote about the impact of the death penalty on all those involved – those convicted, their families, and the guards working in the prison. A film adaptation was made in 1995, directed by Tim Robbins and starring Susan Sarandon and Sean Penn.
Dead Man Walking premiered on October 7, 2000, at the War Memorial Opera House, produced by the San Francisco Opera. It was the first opera composed by Jake Heggie, and the first of his three collaborations with librettist and playwright Terence McNally, followed by Three Decembers in 2008, and Great Scott in 2015. A new production, created by director Tomer Zvulun, premiered in March 2016 in New Orleans. It is this production which will be presented at the Israeli Opera.
The opera opens with a violent scene as the De Rocher brothers attack and murder a teenage couple. Joseph De Rocher, convicted of murder and sentenced to death, corresponds with Sister Helen Prejean and asks her to be his spiritual advisor. Despite the warnings and concerns of the other nuns, she decides to accept. Visiting Joseph at the prison leads her on a challenging moral journey, as she confronts questions of faith and morality in her relationships with Joseph, his family, and the families of his victims. The opera does not take a stand on the issues, but rather presents the people, their feelings and circumstances to raise the critical questions of mercy and justice.
Israeli mezzo-soprano Maya Lahyani will perform the role of Sister Helen Prejean. Lahyani's repertoire includes the title role in Carmen, Orsini in Lucrezia Borgia, Maddalena in Rigoletto, Flora in La Traviata and many more. She performs at the Metropolitan Opera in New York, as well as the opera houses of Seattle, Fairbanks, Wolf Trap, Dallas, San Francisco, and Toronto. The role of Joseph De Rocher will be performed by Michael Mayes. A co-production with the Atlanta Opera, Dead Man Walking will be conducted by Patrick Summers and sung in English.
Performances will take place: Wednesday, December 11th at 20:00; Friday, December 13th at 13:00; Saturday, December 14th at 20:00; Monday, December 16th at 20:00; Wednesday, December 18th at 18:00; Thursday, December 19th at 20:00.
An introductory talk will take place an hour before each performance, admission is free to ticket holders. Tickets may be reserved online from the Israeli Opera website, or call: 03-692777.