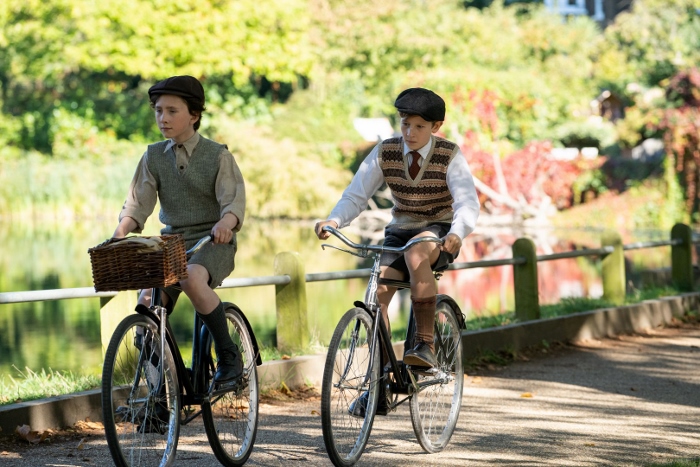 The Song of Names opens with a mystery – the disappearance of David Eli Rapoport, a promising young violinist, on the eve of his concert debut. Yet although the plot revolves around the mysterious disappearance, and the efforts of his childhood friend Martin to find David, the underlying theme of the film touches on even greater mysteries: how can one comprehend a loss beyond words, how can one understand another person's pain? Music is the key to these mysteries, and French-Canadian director François Girard (The Red Violin) is sensitively attuned to its ability to open hearts and minds. The evocative soundtrack composed by Howard Shore, award-winning composer of the soundtrack for The Lord of the Rings, The Hobbit, and dozens of major films, with featured solo violinist Australian-Taiwanese Ray Chen, is strikingly beautiful and moving.
Adapted by Jeffrey Caines from the eponymous novel by Norman Lebrecht, the narrative arc begins in the 1930s, when Zygmunt Rapoport (Jesse Noah Gruman) brings his nine-year-old son Dovidl (Luke Doyle) to music publisher Gilbert Simmonds (Stanley Townsend) in London, hoping to find a way to develop his son's gifts. Impressed with the boy's talent, Simmonds offers to take him in and support his musical education, much to the chagrin of his own son Martin (Misha Handley), who must now share his bedroom with the arrogant young prodigy. Thrown together by circumstance, the two boys begin to forge a friendship, yet WWII looms in the background. Contact is lost with Dovidl's family in Warsaw, and even once the war is over, their fate remains unknown.
The film shifts between 1986, and scenes from the boys' past.  56-year-old Martin (Tim Roth), now married to the sweetheart of his youth Helen (Catherine McCormack), sees a young violinist whose gestures remind him of David's signature gesture for good luck: kissing the rosin. This encounter propels Martin on a tireless search to uncover the fate of his friend. The story of Dovidl and Martin's youth and friendship is interspersed with the older Martin's investigation. One sees their very different characters as they grow and develop, and the impact that the loss of his family, and the uncertainty of their fate, has on David. As young adults, Martin and David are portrayed by Gerran Howell and Jonah Hauer-King, with Howell bearing a nice resemblance to Tim Roth.
The Song of Names
Director: François Girard; Screenplay: Jeffrey Caine, based on the novel by Norman Lebrecht; Cinematography: David Franco; Editing: Michel Arcand; Cast: Tim Roth, Clive Owen, Catherine McCormack, Gerran Howell, Jonah Hauer-King, Misha Handley, Luke Doyle