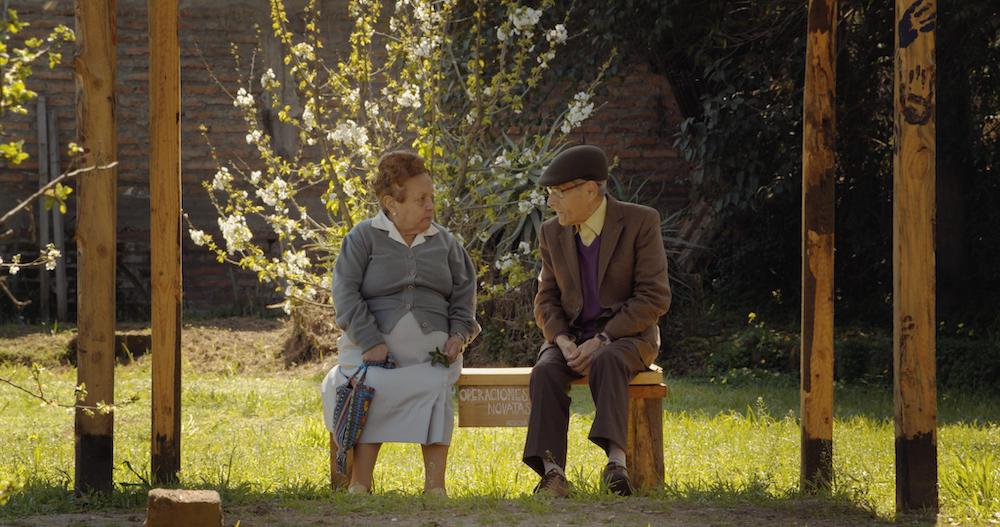 Although he's far from the cinematic image of an undercover agent, 83-year-old Sergio is uniquely suited to the task at hand: infiltrating a retirement home to observe and verify that a client's mother is treated well and not being abused. It sounds like the premise for a comic spy film, but while Maite Alberdi's heart-warming documentary is abundantly entertaining, its deeper implications resonate long after the credits roll. The film will be shown at the 2020 Docaviv Festival, which will take place online from September 3 – 12.
The Mole Agent opens like a spy film with a twist, as private investigator Rómulo places an ad looking for a man between 80 and 90 years old. How often does an opportunity like this come along? Several candidates apply and the viewer is treated to a quick montage of their interview efforts, but the winner is the handsome Sergio. Rómulo's client is the daughter of a woman in the home, who fears that her mother is being robbed and mistreated. The plan is for Sergio to enter the retirement home as a new resident so that he can observe Sonia, the woman's mother, in her daily life. A film crew is already in place, ostensibly filming a documentary about the home. My one caveat about the documentary is that while the presence of a film crew sounds like an effective (if expensive) way to prevent elder abuse, I wonder about its efficacy as a method of detection. Had they any inclination to shirk their duties or worse, the camera would inevitably affect the behavior of the staff.
Like any secret agent, Sergio is outfitted with cutting edge gadgets, the only catch is that most high tech is not designed with octogenarians in mind. Sergio's earnest efforts to take photos and place a facetime call from a smartphone are amusing, as is Rómulo 's frustration. However, the film really hits its stride when Sergio enters the home.
It turns out that there are 40 women residents and 4 men, Sergio included, so its no wonder that his arrival causes quite a stir. Not only is Sergio quite attractive, he's also lucid. Quite a catch. He soon finds himself the center of attention, yet is not deterred from his task as he diligently explores the home, and gets to know the residents. Notebook in hand, he may not be very discreet, but he is determined.
He's also very charming, with a warm smile and a cheerful word for everyone. Walking down the hall, he passes by a woman with a walker, and reassures her: "Hang in there, someone will come to you soon." Sergio immerses himself in the daily life of the retirement home, and becomes a friend to all. We come to know these women through his caring gaze; their dreams, their fears, their loneliness.
Festival Director Galia Bador and Artistic Director Karin Rywkind Segal typically begin working on the program for the next year's festival as soon as the current festival is over, which means that the films participating in the festival were made, and then selected, well before the world was confronted with the COVID19 pandemic. Yet as one views these films, depicting different aspects of the pre-pandemic world, one inevitably sees them through the filter of our current situation and concerns.
As those over 80 are at much higher risk for complications from COVID 19, the need for physical distancing has exacerbated the isolation and loneliness often experienced by older people. The technology that has helped many of us connect despite periods of lockdown and physical distancing – zoom, whatsapp and other social media – is not as accessible to those who were only introduced to these technologies late in life, and in addition, may have difficulty with sight, hearing or motor function. The pandemic has also exposed the agism of our culture, as some disregard the guidelines for preventing contagion, claiming that the disease is only a concern for older people, who are going to die soon anyway.
There are no easy or obvious solutions for the isolation, boredom and loneliness experienced by many elderly people, and these times are particularly trying for all. Yet through Sergio's empathic, perceptive observations and the friendships forged with several women in the home, the viewer too becomes immersed in their world, in their lives. Sergio emerges as a hero of our time. Indifference is not an option.
Docaviv, the Tel Aviv International Documentary Film Festival, will take place online this year. The full program and ticket information are available in English on the Docaviv 2020 festival website: https://www.docaviv.co.il/2020-en/