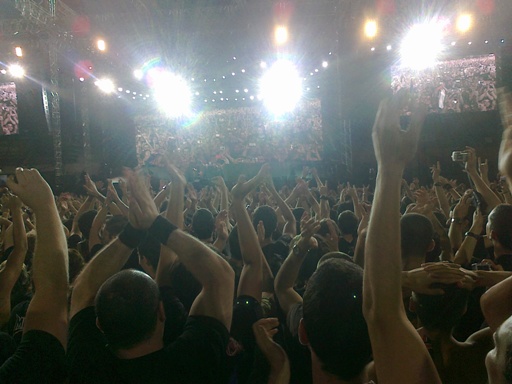 Metallica's performance on Saturday night in Ramat Gan included a small handful of surprises and unexpected glitches. Having paid upwards of 400 NIS per ticket, many fans feel disappointed by the show. Many were let down by the mediocre sound quality, not to mention the numerous problems with the PA system.
 
But other fans feel blessed to have seen Metallica live, problems aside. Metallica only make it to Israel about once a decade and these fans are intent on making the most of it.
 
The turnout at the show was quite varied. Mothers with pre-teen children in tow were spotted, as well as at least 2 grandparents. A young couple was overheard making plans to see Elton John on June 17, while some youngsters complained about being unable to afford to see American metal band Lamb of God next week. The mixture of people from so many walks of life lent the concert a strong sense of community.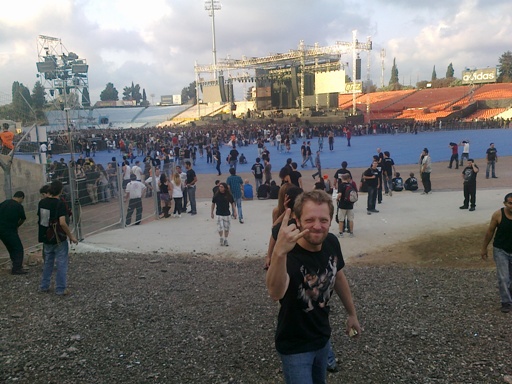 SHOWTIME
  High on Fire (hailing from Oakland, California) kicked off the proceedings with some high energy metal which was unfortunately turned up way too loud. Even so, it's not surprising they completely failed to move the crowd, partly because people were saving their energies for the main event. They played a very solid set and had great chemistry on stage.
 
Next up was Orphaned Land, an Israeli metal band finding much international success in recent years. Their unique blend of ethnic Middle Eastern melodies attracts many fans from Arab countries. Orphaned Land sounded crisp and tight. They played a few songs off their new album "The Never Ending Way of OrWarriOr", and plenty of old stuff as well. They even brought out a few dancers to help get the crowd moving as well.
 
Metallica's show started out in a tasteful, although somewhat predictable way. The crowd was kept waiting and salivating for almost exactly 15 minutes before Ennio Morricone's "Ecstasy of Gold" announced that Metallica was hitting the stage, as has been their tradition for years. Clips from "the Good, the Bad, and the Ugly" were projected on the giant screens to both sides of the stage. Metallica wasted no time jumping right into the oldies, and opened appropriately with "Creeping Death", which tells the story of the exodus of the Hebrews from Egypt. From there they continued plowing full-force with "For Whom the Bell Tolls" and "Ride the Lightning". Many in the crowd were ecstatic to hear Metallica open with such often-neglected old material. 
BROKEN, BEAT AND DEAF
  It was during "Harvester of Sorrows" that technical trouble began: A few minutes into the song the sound system collapsed, leaving fans in aural darkness. There was something absurd in the dissonance between the sight of Metallica rocking out and playing energetically and the lack of music. Metallica, either unaware of the problem or just keeping their cool, didn't miss a beat and continued right on playing until the sound returned.
 
The problem was never fully fixed and a few other songs (including crowd favorite "Fade to Black") had the sound go out under them. If that wasn't enough, there were also problems with James' microphone going out every few minutes. The entire sound production was sub-par and even when the speakers were working; the sound was distorted and muddy.
It's uncanny how a few seconds of uncontrolled silence is all it takes to almost completely ruin any momentum built up by the opening bands. Just the same, the crowd was very forgiving and even tolerated the few songs off 'Death Magnetic' (Metallica's 2008 release) in a reserved, if passive, manner. 
 
Technical trouble aside, Metallica are hardened stadium rockers and gave a motivated, high energy performance. The climax was during the relatively error-free second half of the show, which started with James Hetfield promising some heavier tunes. Metallica delivered "Sad But True" followed by "Broken Beat and Scarred" from 'Death Magnetic'.
Next up was "One", complete with a two minute introduction of pyrotechnics and sounds of gunshots and mortar shells. The set list got even heavier as Metallica played "Master of Puppets" and "Blackened".
 
The high point of the whole concert was during "Nothing Else Matters" and "Enter Sandman", which evoked more crowd participation than any of other songs. Fans literally sang along with every word, including the guitar lines.
 
During the encore ("Stone Cold Crazy" and "Whiplash", followed by "Seek and Destroy") the crowd seemed somewhat reserved, either because Metallica had succeeded in wearing them out, or as a result of the technical mishaps.
 
Throughout the show James revealed his softer side and requested that love be sent to the stage. At some point after particularly appreciative applause, he remarked "You've made Metallica feel good!" 
  
Metallica, all things considered, you've made Israel feel good.
ASHER KRIM