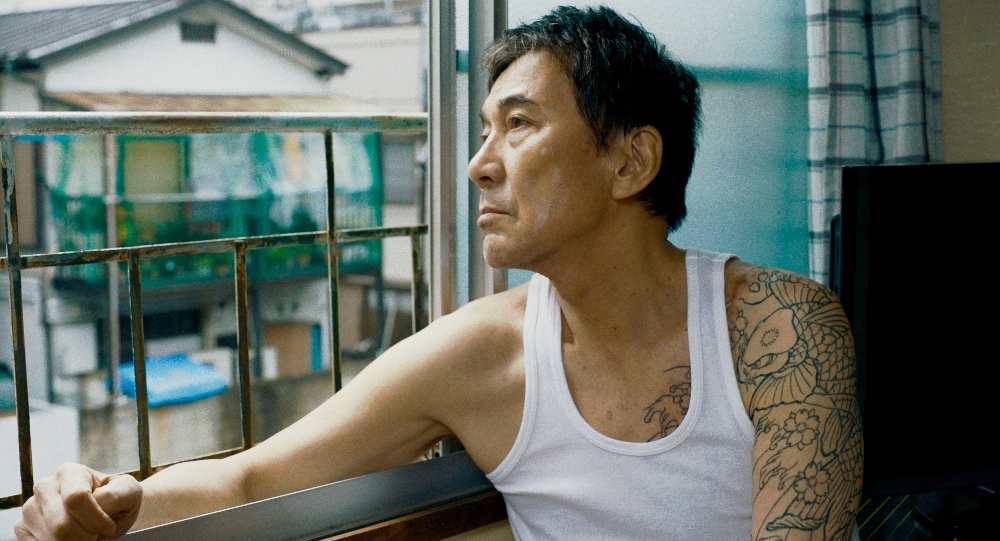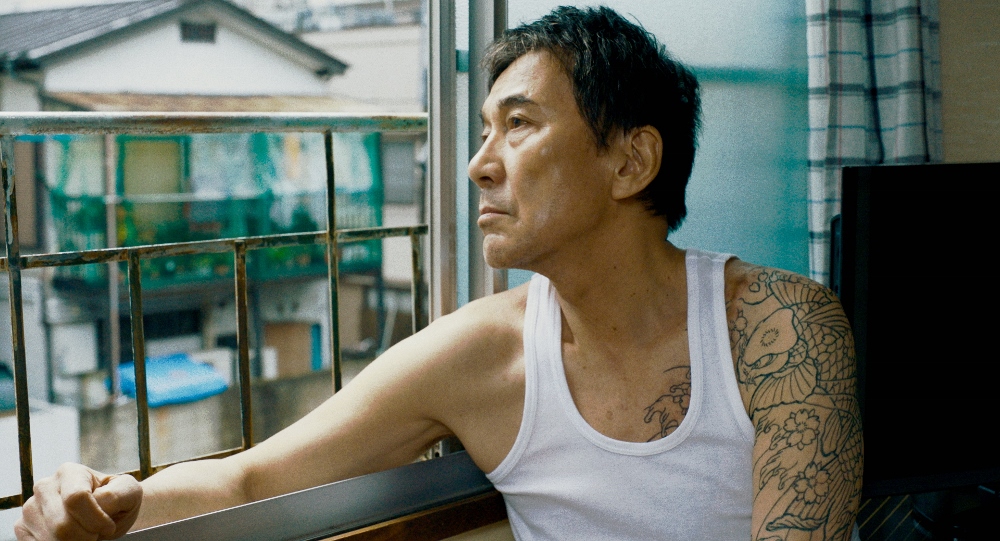 "It's not too late to start over," the prison doctor tells Mikami, who is about to be released after serving a 13-year sentence for murder. Yet as Mikami stands silent, the hardships he has endured etched into his face, his eyes are full of darkness, and an eternity passes before he nods, an assent that suggests determination rather than belief. Kōji Yakusho (Shall We Dance?) delivers a superb performance as the complex and troubled Mikami, struggling to find his place in an unfamiliar world that is far from welcoming. Is it possible to start over? As Miwa Nishikawa's Under the Open Sky follows Mikami on his journey towards a new life, the film creates a complex, nuanced portrait of a man in relation to society, its cultural codes, systems and structures.
A former driver for the yakuza, whose first stint in juvie was at age 14, the middle-aged Mikima is determined to go straight this time. Rather than go back to his old friends and contacts, he connects with a sponsor, the genial lawyer Souji (Isao Hashizune), who offers encouragement and hospitality, inviting him home for dinner. But Mikima has so much working against him. The codes he has lived by, whether among the yakuza or in prison, have no relevance in his efforts to become a working person. Having no schooling or professional training, Mikima also lacks the social skills that one learns from family, friends and teachers. His code of honor and swift retribution will not serve him well outside prison, and a murder conviction on his resume will not recommend him to future employers. Health issues are yet another obstacle with which he must contend.
Yet Mikima possesses an inner strength and vigor, and he is determined to forge ahead. He connects with a television producer, sending her his inmate files, in the hope that she will take an interest and help him find his mother. Issues of rehabilitation and recidivism are always pertinent, and together with the young director Tsunoda (Taiga Nakano) the two begin to film Mikima, motivated perhaps more by a desire for a dramatic story, than to help him in his search.
Rebuffed and confronted with a maze of bureaucracy at every turn, as well as the ordinary grievances of life – like noisy neighbors – Mikima often responds in the only way he knows: with anger and violence. His volatile temper flares up in a flash, which is just what society expects from an ex-con. He doesn't fit in, and although the 'right' thing to do is to go straight, there is a certain nostalgia for his past life, as Mikima muses, "it's nice to be with people who appreciate you."
A yearning for the past haunts Mikima, as he dreams of finding the mother who abandoned him at age 4. The day he entered the orphanage is the day his life veered off course, and in the desire to be reunited with his mother is the desire to be that child again, someone who is loved, who has a home, who has a future.
True to his inner sense of justice, Mikima courageously stands up to the welfare officer who thinks he's just looking for a free ride, and doesn't hesitate to brutally beat up two muggers. Yet he is also sensitive and vulnerable. His seething feelings are close to the surface, just as he explodes in anger, the pain within sometimes finds its expression in unexpected tears. The relationships he develops with Tsunoda and Souji, as well as some more passing encounters, reveal a glimpse of the man he might have been, had his life begun on a different path.  Kōji Yakusho conveys the tempestuous intensity of the character in a riveting performance. Mikima's yearning for acceptance and a sense of belonging draws the viewer in, as one hopes for his success and aches at every loss.
Under the Open Sky will be shown at the Arava International Film Festival, which will take place online, from November 5 – 14, 2020. Tickets may be purchased on the festival website: https://www.aravaff.co.il/en
Under the Open Sky
Japan, 126 min, 2020, Japanese with Hebrew and English subtitles.
Directed by Miwa Nishikawa; based on the novel by Ryuzo Saki; Cinematorgraphy: Norimichi Kasamatsu; Editors: Tomomi Kikuchi, Ruji Miyamima; Music: Masaki Hayashi; Cast: Kōji Yakusho, Taiga Nakano, Isao Hashizune, Seiji Rokkaku.