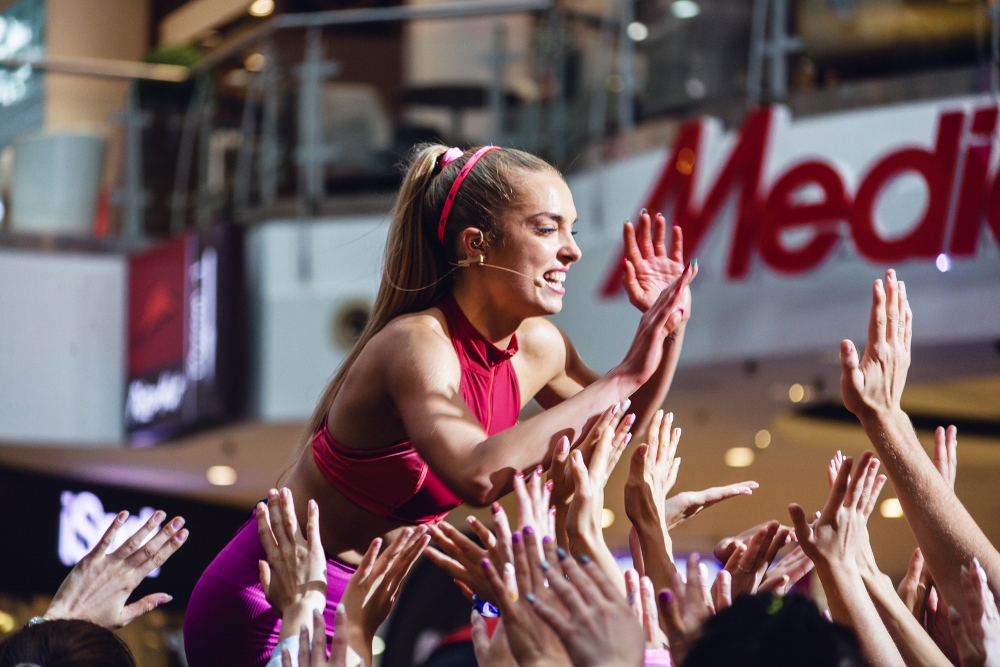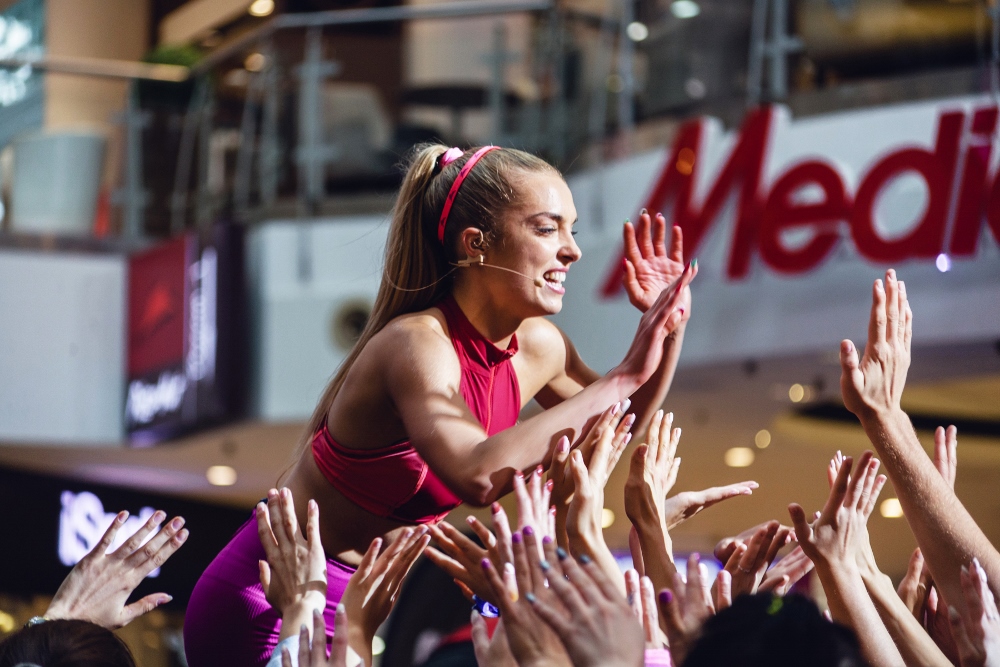 Fitness instructor Sylwia Zajac is more than just a pretty face (and great body!). A social media celebrity, she has 600,000 followers as well as a bevy of sponsors who provide her with a very comfortable and well-accessorized lifestyle. Magnus von Horn's film Sweat takes an intensely close look at three days in Sylwia's life, a life lived very much online and in public. Long, blond ponytail flying, moving and thinking fast, Magdalena Kolesnik is mesmerizing as Sylwia, radiating an effervescent exuberance, with a warm smile that never fails to dazzle, and eyes that sparkle or darken by turn, hinting at the depths they conceal. Possessing the physical perfection of mainstream Western beauty standards – a tall, thin, toned body, clear skin, blond hair and blue eyes – Kolesnik rises beyond cliché, delivering a moving performance as she portrays an intelligent woman trying to balance her professional and personal life in a field where the boundaries between public and private are not really clear to anyone.
The road to perfection is paved with discarded selfies as so many of us (including this writer, mea culpa) strive to create carefully edited versions of ourselves on social media. Constantly documenting, we can share (carefully chosen) moments with friends and strangers, curating our lives for the benefit of an admiring public. Not only do we document, we follow. We follow our friends, and we follow those strangers we admire, becoming spectators of their lives. At no other point in history has it been possible to connect to so many people at once. Yet despite the abundance of likes, messages, and followers, loneliness and a sense of isolation permeate contemporary culture. What about the celebrities and influencers, what is life like at the top of the social media heap? As ever, with greatness comes great responsibility. Constant posting is a requirement, and those posts must appeal not only to fans, but to sponsors. As the camera lovingly follows Sylwia, the film reveals the demands of her position, and the dissonance between her online image and her real experiences.
A fitness trainer who wishes to inspire others, most of Sylwia's posts are relentlessly encouraging and upbeat. There is a warmth and optimism to her presence that feels genuine, making her all the more attractive. The vibrant opening scene shows her leading a class in a mall, telling the crowd "I'm diving into your beautiful energy," as she leaves the stage to go down among the masses, preaching acceptance as well as effort: "work with the body you have." She also practices what she preaches: coming home after a long day, arms laden with packages, she chooses the stairs over the elevator. Shot from outside the apartment building, the brief scene offers a visual metaphor for the questions at the heart of the film: seen through the tall windows of each floor's landing, Sylwia appears and disappears as she climbs the stairs. As a media star, how much does she want to share with her public?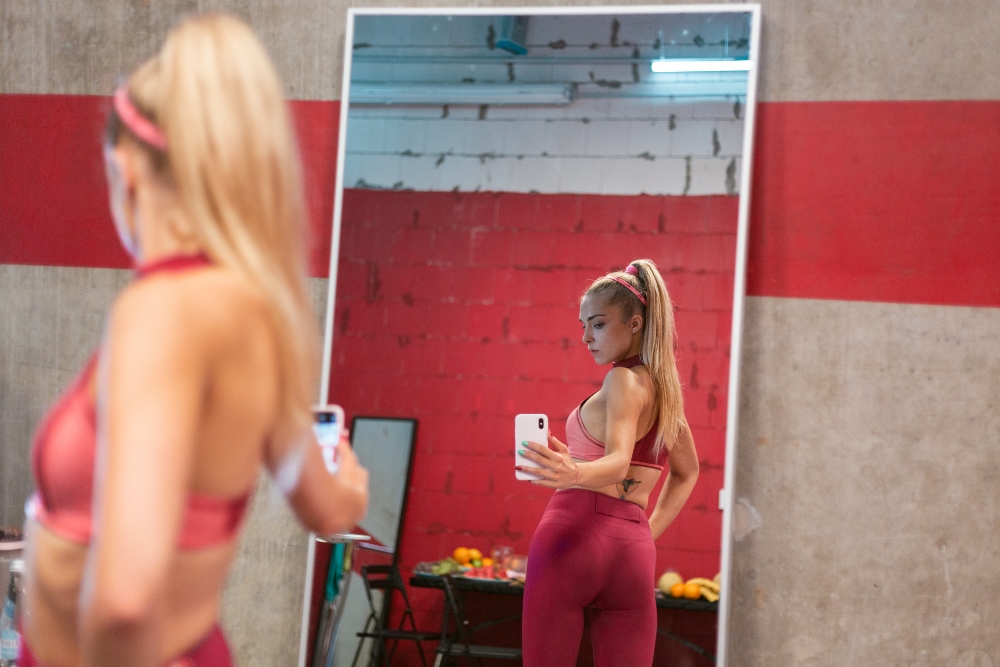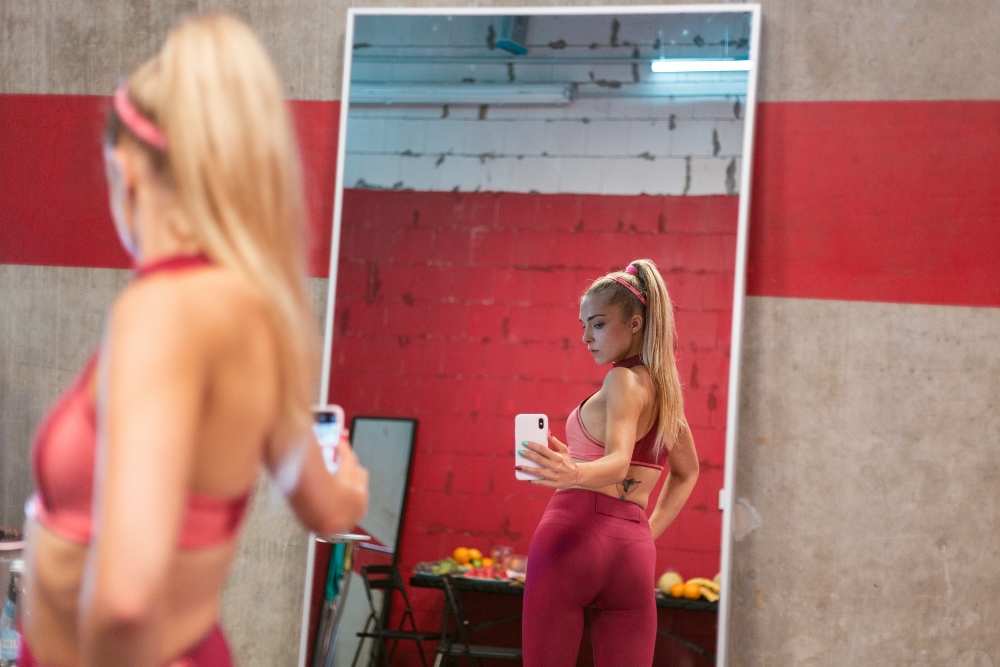 Following Sylwia through her interactions with fans, colleagues and family, it is apparent that all is not as picture-perfect as it seems. Through her internet fame, she has become a commodity. A woman who recognizes her at the mall feels free to approach and tell her "I want your ass." Yet Sylwia herself is caught up in her online image, spending most of her time either posting just about every detail of her life, viewing messages from fans, or watching and re-watching her own posts. In her car, in the kitchen, and even while brushing her teeth, she is online all the time. She needs her fans and the attention she receives from them at least as much as they need her. A visit to her family, fraught with humor and underlying tensions, suggests how Sylwia came to be so driven and ambitious. Depicted with passive-aggressive splendor by Aleksandra Konieczna, Sylwia's mother is not overly generous with attention and approval.
Sylwia's struggles and conflicts mount over the course of an intense few days, with the narrative taking some unexpected twists along the way. Kolesnik is riveting, eliciting one's empathy for the character as she makes some impetuous decisions while trying to cope. This writer was definitely rooting for her, although I must wonder whether a life without cake offers any possibility of happiness.
Sweat will be shown at the Arava International Film Festival, which will take place online, from November 5 – 14, 2020. Tickets may be purchased on the festival website: https://www.aravaff.co.il/en
Sweat
Poland, Sweden; 105 min; 2020; Polish with subtitles in Hebrew
Written and directed by Magnus Von Horn; Cinematography: Michal Dymek; Editor: Agnieszka Glinska; Music: Piotr Kurek; Cast: Magdalena Kolesnik, Julian Swiezewski, Aleksandra Konieczna