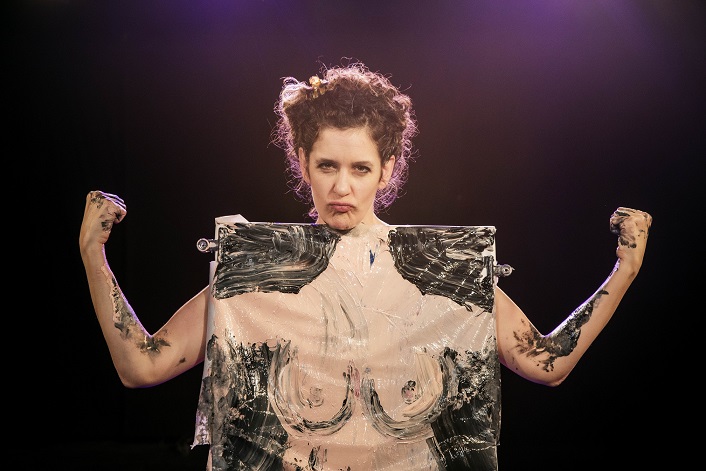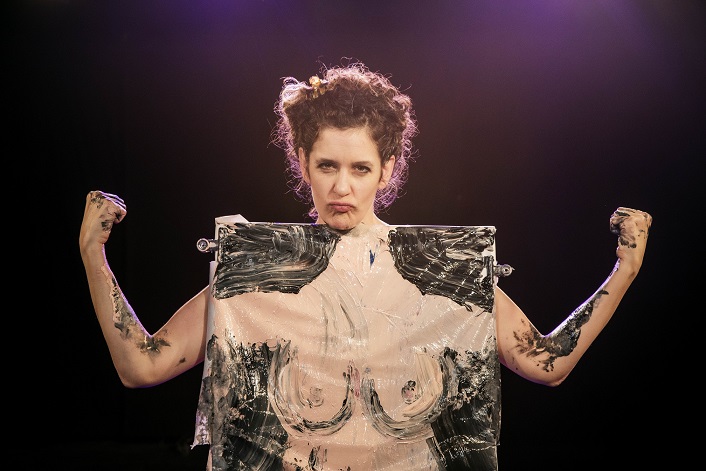 Funny, evocative, and poignant, Michal Svironi's Carte Blanche is an imaginative work of theatre that utilizes imagery, movement, text and music to create an experience that is as thought-provoking as it is delightful. Carte Blanche literally means a white/blank page in French, and the piece opens on the artist standing in the spotlight, a big, rectangular pad of paper covering her torso. Taking out two small paintbrushes, she begins to paint. As an image appears and grows on the page it enters the viewer's mind, creating associations, while the soundscape establishes its own – and all this, before she has spoken a single word. Carte Blanche, in common usage, means complete freedom to do as one wishes; a theme that is explored in this work in different ways.
There is a graceful lightness to Svironi's stage presence, as she merges visual humor with a clever, fast-paced text. Hitting the audience with the toughest truth to contemplate (death, if I must spell it out for you) right at the start, Carte Blanche touches on so many themes – emotional, philosophical and practical – love, the generation gap, human frailty, art and the meaning of life; all interwoven with lively personal stories.
Vivid and quirky, the characters in these stories come to life – embodied in paint and puppetry, given voice – the viewer comes to know and feel empathy for them all, recognizing the familiar tangle of affection and frustration in family ties. Exploring identity, mortality, and family relationships from different perspectives, Svironi expresses the nuances of emotion, ambivalence and ambiguity with touching acuity and hilarious creativity. A simple phrase repeated alters its meaning in its different iterations, expressing changing and contradictory feelings. Where words can often be too definite and confining in their meaning, visual imagery, physical humor and music access other ways of connecting to meaning. In its inventive use of music, paint, paper, puppets, prints and string, the artistry of Carte Blanche evokes its themes of the mutability and evanescence of life, even as it celebrates the joys and freedom of creativity.
Carte Blanche was awarded an Honorable Mention at Theatronetto 2021.
Carte Blanche
Creator & performance: Michal Svironi; Co-creator & music: Yoni Tal; Props, costumes & puppets: Leonid Alisov; Production: Shani Luzon; External eye: Miki Mevurach