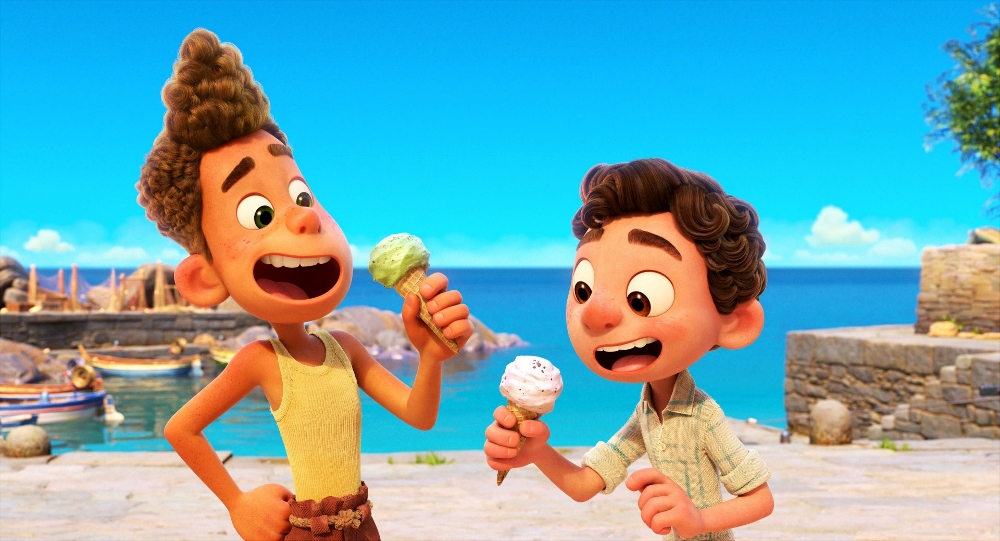 Luca, with its sunny, playful, fantasy world, and paean to friendship, is the perfect summer movie. Set in the gentler, warmer, clime of memory and nostalgia – Portorosso, a small sea-coast town in 1950s Italy – this coming-of-age tale is sensitively attuned to the small, shared moments that create the intensity of childhood friendships. Enrico Casarosa's feature debut is a film that lets kids be kids (even if they are also sea monsters), and that is something to celebrate!
Luca Paguro is a young sea monster, with a luxurious crown of bright blue gills, wide eyes that want to see the world, and a vivid imagination. Voiced by Jacob Tremblay (Room), he herds goatfish (perciform fish from the family Mullidae, sometimes referred to as red mullets), and tends to be distracted by human artifacts he finds in the water. His mother Daniela (Maya Rudolph) is worried that his insatiable curiosity will lead him into trouble, after all, there are land monsters out there. Lorenzo, his dad (Jim Gaffigan), preoccupied with show-crabs and other distractions, is more oblivious, while rough-voiced Grandma (Sandy Martin), knows more than she's saying.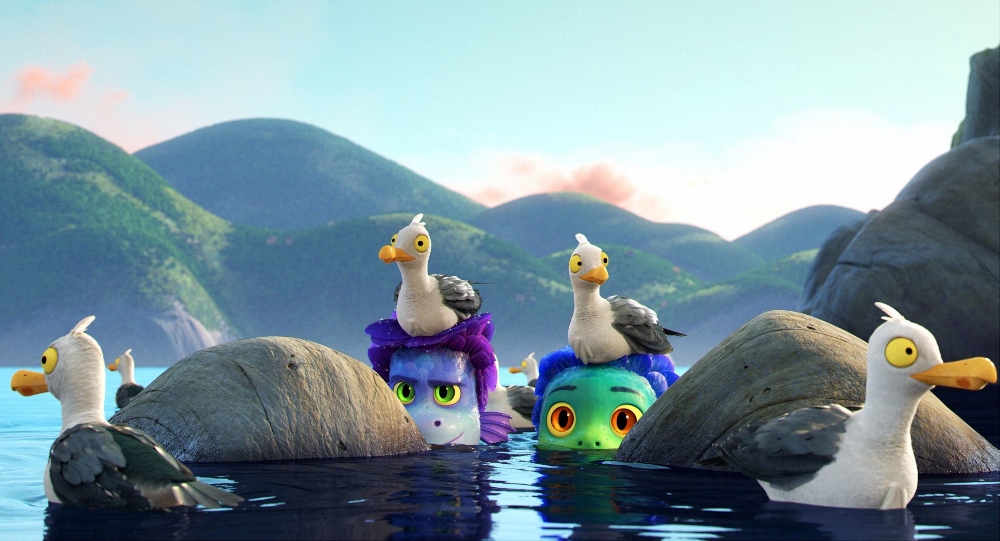 Luca's curiosity is tempered by his fears, but this will be the summer when he meets another young sea monster, Alberto Scorfano (Jack Dylan Grazer), and everything changes. Alberto is exactly the kind of friend parents don't like – he doesn't appear to have any supervision or limits, and does whatever he pleases.  Alberto is as confident as Luca is hesitant, and to Luca's admiring yet naïve eyes, appears infinitely knowledgeable. When they look up at the night sky, and Alberto explains that the lights are anchovies, Luca believes. Inevitably, Alberto leads Luca into forbidden territory, literally dragging him ashore, where both sea monsters are magically transformed into human boys, and from there it's a slippery slope.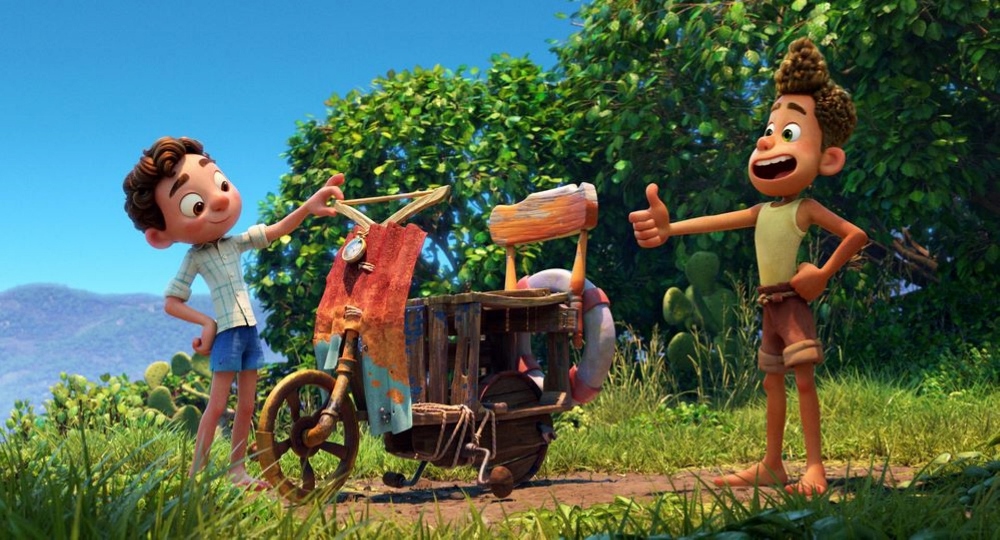 Super-energized by the joy of discovery, Luca and Alberto are enamored with the Vespa and all it symbolizes: freedom. They pursue the dream with childlike glee, deciding to build their own out of scraps. The lines of their rough, stick-figure sketch practically leap off the page with excitement. Their thirst for freedom and adventure takes them into Portorosso, where they meet Giulia (Emma Berman), an outsider who befriends the two boys – because underdogs have to stick together. We all know what happens when best friends meet a third person, yet although the ensuing friction is predictable, the film handles the sense of discovery, and shifting emotions with touching honesty.
Although it does not aim for the deeper concepts of Pixar films such as Inside Out and Soul, Luca is as delightful and satisfying as gelato on a summer's day. In its exploration of themes of difference, it reaches beyond momentary entertainment to consider these issues in a way that even young children can comprehend. Its modesty becomes a virtue as it eschews the more sensational, and dramatic to emphasize acceptance and friendship. In Giulia there is a strong, resilient, warm and friendly female protagonist, and the connection between Giulia and Luca is solidly grounded in friendship. It's refreshing to find a film that lets girls and boys be good friends without attributing any romantic or sexual attraction to that friendship. Reflecting the central theme of acceptance and differences, Giulia's father Massimo, is a giant, muscular fisherman, who "kills anything that swims" and has one arm. Responding to the boys' obvious curiosity, Massimo tells them simply: I was born this way.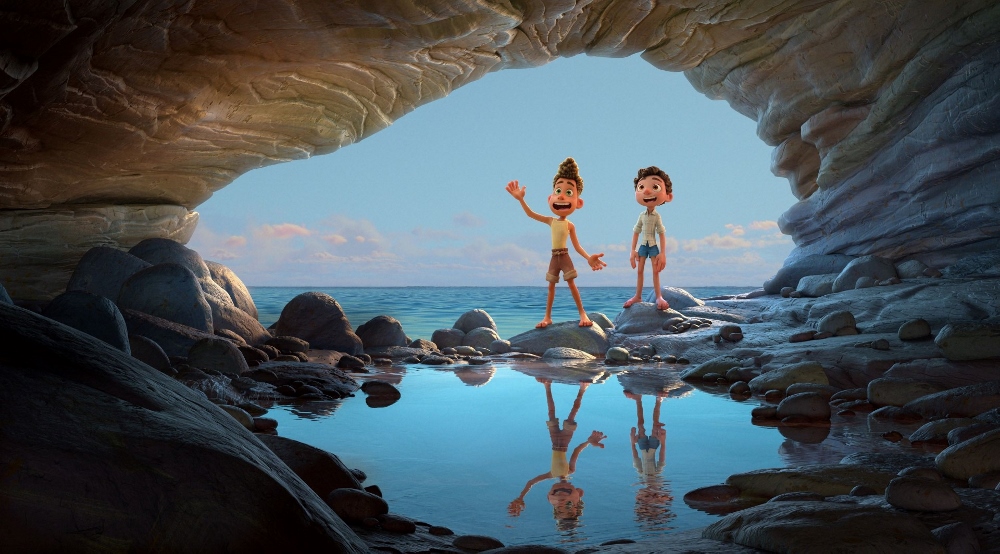 I was happily immersed in the visual world created by the film – the joyful terracotta warmth of Portorosso, the wide eyes and cartoon-like gangly limbs of the children, and the colorful sea monsters with their flowering crown of floating gills. The transformation from sea monster to human is mesmerizing, astoundingly beautiful as scales disappear to reveal skin, and even more enchanting when the boys accidentally get wet and human skin is replaced by shimmering scales. The water – as gentle waves caress the pebbled shore, is so enticing and realistically rendered that I wanted to kick off my shoes and jump in. Dan Romer's score magically transported me to dreams of Italy – an Italy of the imagination, where it is always summer.
Luca
USA/2021/95 min/English with Hebrew subtitles or Hebrew dubbed
Director: Enrico Casarosa; Screenplay: Jesse Andrews and Mike Jones; Cinematography: David Juan Bianchi and Kim White; Editing: Catherine Apple and Jason Hudak; Music: Dan Romer