Sometimes there is a feeling of urgency, that calls us to respond to the current moment – that is the impetus driving the Cameri Theatre's Love and Pandemic, a project conceived and directed by Irad Rubinstein in the midst of the current global pandemic. There is a wonderful unfettered freedom to this project – edgy and funny, with pointed social critique, it also lets the full flood of emotions break through. The pandemic has generated some extreme situations and certainly extreme emotions, even in those of us who were not directly affected by the virus. Happily, Love and Pandemic looks at it all with wit and humor. The four short pieces, written by contemporary writers – Yoav Shoten-Goshen, Irad Rubinstein, Bat-Chen Sabag, Noa Lazar Keinan and Gur Koren – and directed by Rubinstein, take place during the pandemic, all centered on relationships, from the most familiar to the most surprising, with excellent performances from the ensemble cast.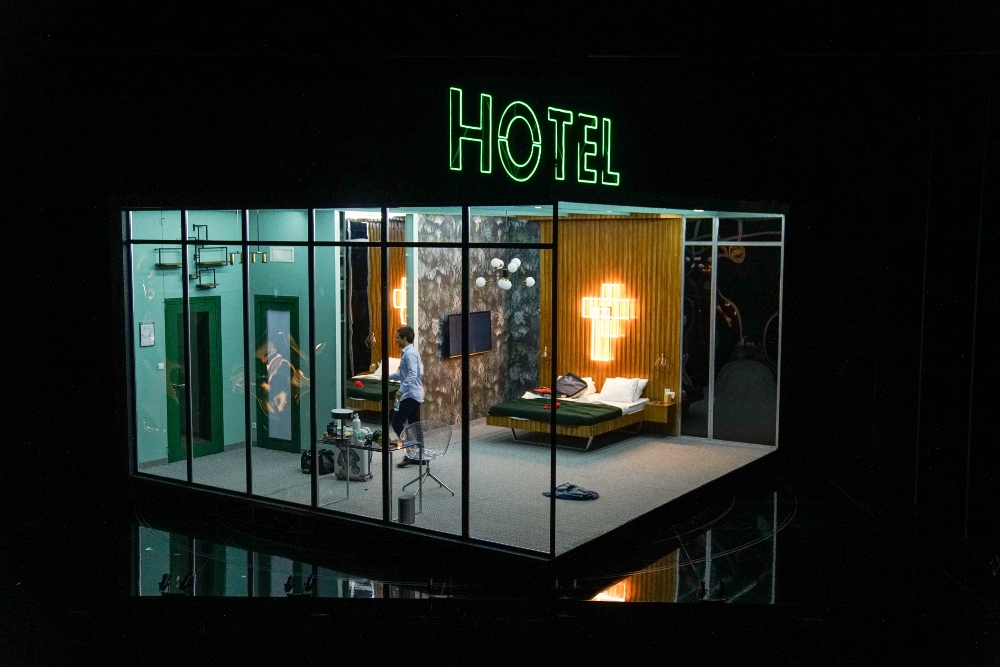 Set in a hotel repurposed for quarantine, or as they are colloquially known – a 'Corona' hotel – the design by Eran Atzmon is one of the delights of this production. The set is a cube with clear sides that gives the audience a view of the hotel room, and, when it rotates, the adjoining bathroom. Thus, the viewer is invited to peek into this private scene, seeing what takes place behind closed doors. It's mischievous and fun, and those walls have a dual purpose as a screen for the video art which enhances certain scenes. Contributing to the playful spirit of the program are the hotel's sanitation and cleaning crew (Natasha Mentel Gorislevets and Shir Ashkenazi), clad in white hazmat suits, who come in to sanitize the room between occupants.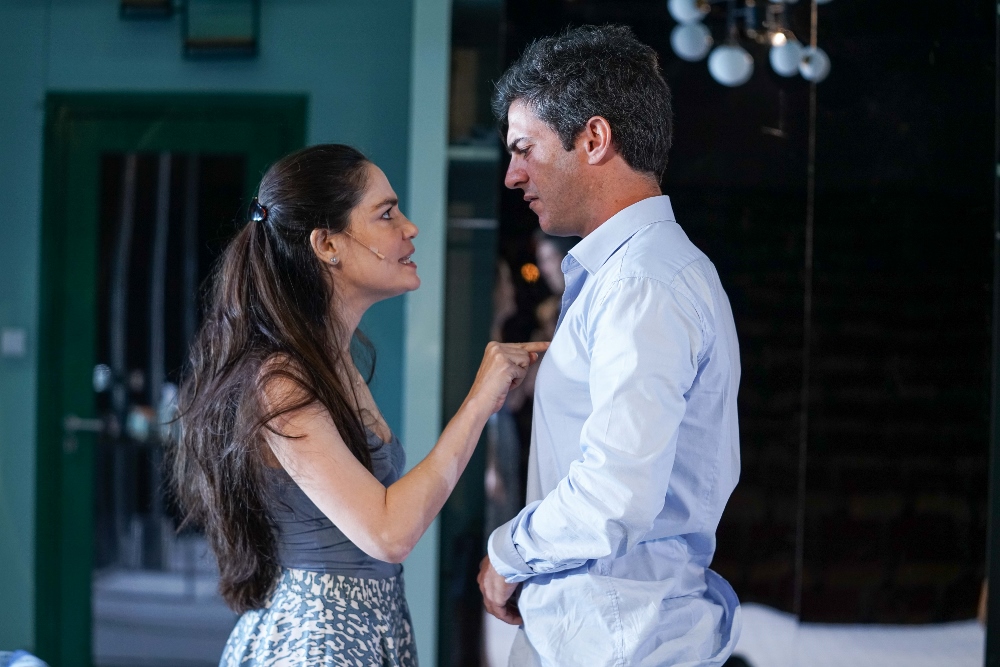 The first play, Opportunity, written by Yoav Shoten-Goshen and Irad Rubinstein, centers on a young married couple, Omer (Nadav Nates) and Lia (Netta Garti) who must enter quarantine. He's quite jubilant, with Nates radiating a bouncy optimism, and sees this as an opportunity to reignite their marriage – after all, here they are in a rather nice hotel room.  She's less enthusiastic, much less – Garti's body language sends a message of tension and barely contained rage, and remains fixed on her phone. But there's nowhere to go, and like it or not, they need to relate to one another. As the couple argues, Garti delivers some pointed and very funny one-liners, some with topical political references. The dialogue is clever and funny, and whether sparks are flying or they are generating heat, Nates and Garti have quite the connection onstage. I am guessing most of the audience will be shipping this couple.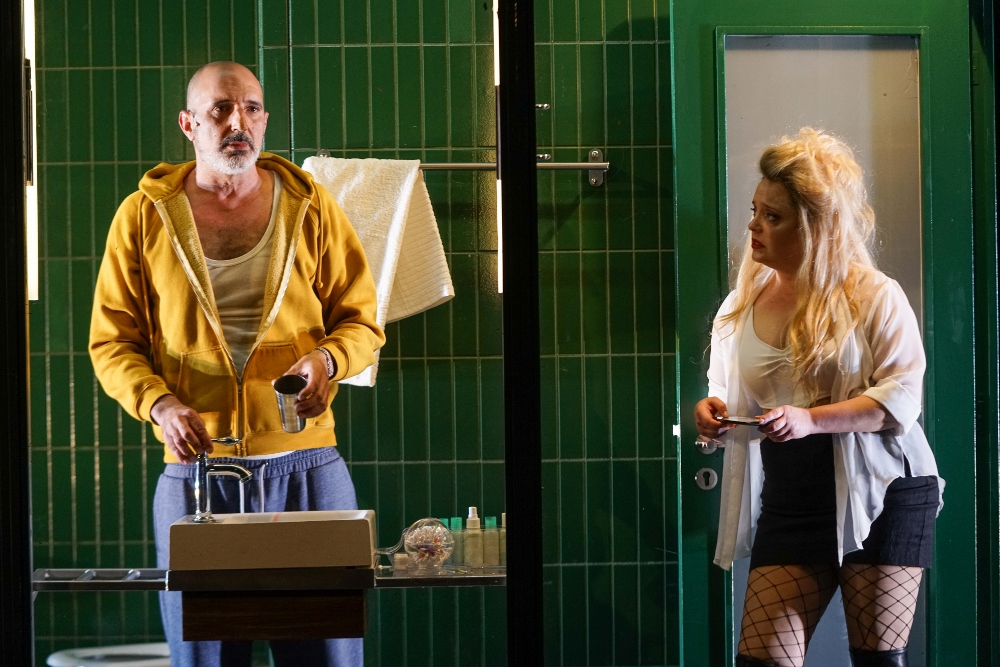 The next pair, in Momi and Revi, written by Bat-Chen Sabag, is very different. A woman (Kineret Limoni), who can be immediately identified as a sex-worker by her outfit (she's dressed exactly like Julia Roberts in Pretty Woman), is lounging in the bath, then, as the cube turns, a man – Momi (Nadav Assulin), is seen lying face-down on the bed. On the table is a cake with a sparkler, and on the floor are discarded food containers and other detritus. If there was any lingering doubt about the relationship, when she enters the bedroom, Momi tells her that he put money on the table for her. But she is not quite ready to go. She is chattering away; she wants something more – perhaps just to feel that he sees her as a fellow human? Kineret Limoni is very funny, and she imbues this guest who's overstaying her welcome with sweetness. Assulin is quite convincing as an insensitive lout. Can this hooker with a heart of gold get him in touch with his feelings? It's fun to find out.
The next piece, Say I Managed to Survive, written by Noa Lazar Keinan, is very different in tone and style. It's a reflective piece, delivered in narration by Netta Garti, while video art is shown on the wall of the cube, and she stands onstage, outside the cube. Although all four works evoke feelings that will be familiar to all, this one feels the most directly connected to feelings evoked by the pandemic. In it, the speaker imagines surviving the pandemic, and reflecting back on her past from a distance of many years, projecting herself into a very distant future. Garti's voice infuses the words of this sensitive reflection with poignancy.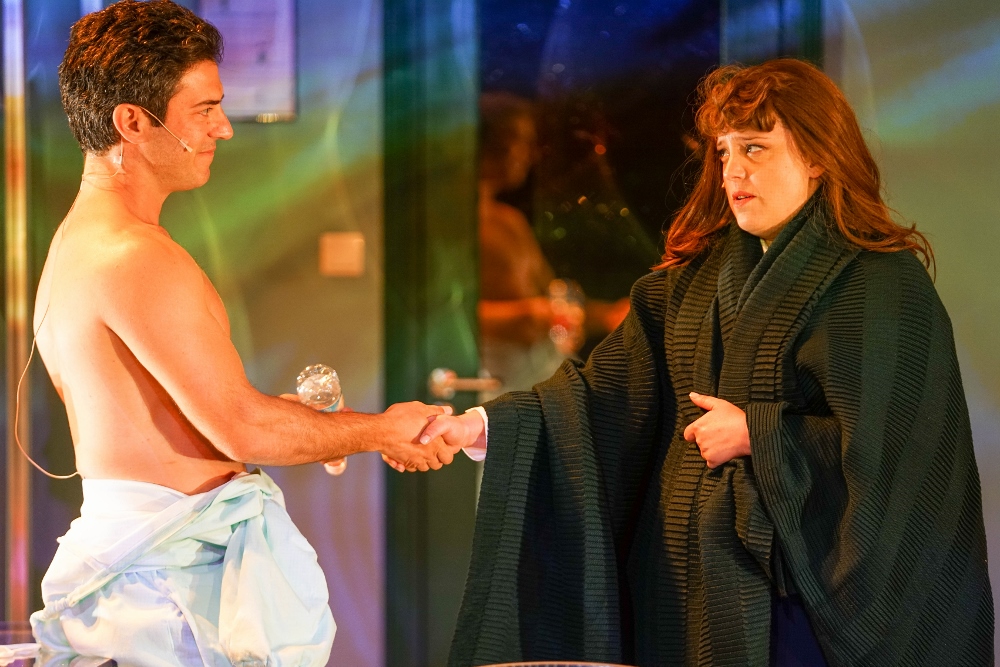 Closing the program is Fear and Loathing in Dan Panorama, written by Gur Koren. It is here that one finds the most unlikely bedfellows, as right-wing Knesset member Oshrat Ben Dayan (Kineret Limoni) is stuck in quarantine, and hazmat suit clad lefty, gay Ohad (Nadav Nates) surprises her in bed. Actually, they are both very surprised, since Ohad had expected to find his romantic fling Effie in that room.  She's about as homophobic as a person can be, asking Ohad "how is your mother not disgusted by you?" Their conversation is very amusing, and becomes even more hilarious as the situation turns extremely bizarre; and perhaps most bizarre of all, they begin to relate to one another as fellow humans. Limoni is very funny, and even though her character goes through a great deal of change in a very short time, she is utterly convincing.
Love and Pandemic reminds us that even in the midst of the pandemic, as we contend with all the worries, restrictions, fears and sorrow, it's OK to laugh at ourselves and the absurdity of our situation. Honest and not afraid to take risks, with clever dialogue, creative staging, a fantastic soundtrack (Billie Eilish's Party Favor, Queen's I Want to Break Free), and performances that touch the heart even as they elicit our laughter – there's a lot to love about Love and Pandemic.
Love and Pandemic
Concept and Directing: Irad Rubinstein; Set: Eran Atzmon; Lighting: Avi Yona Bueno; Costume Design: Maor Tzabar; Movement: Amit Zamir; Music: Roy Yarkoni; Video Art: Guy Romem
The Plays:
Opportunity
By Yoav Shoten-Goshen and Irad Rubinstein
Omer – Nadav Nates, Lia – Netta Garti
Momi and Revi
By Bat-Chen Sabag
Momi – Nadav Asulin, Prostitute – Keren Mor/Kineret Limoni
Revi – Netta Garti
Say I Managed to Survive
By Noa Lazar Keinan
Netta Garti
Fear and Loathing in Dan Panorama
By Gur Koren
Oshrat Ben Dayan – Keren Mor/Kineret Limoni
Ohad – Nadav Nates
Sanitation and Cleaning Crew: Natasha Mentel Gorislevets, Shir Ashkenazi