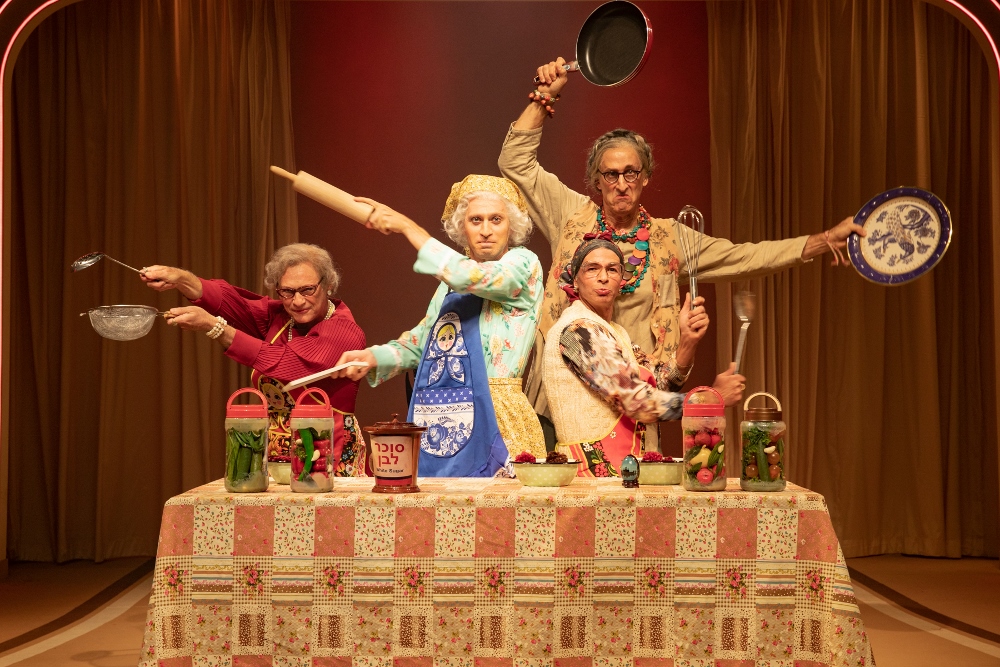 Lively, funny, and created around a brilliant concept, the Khan Theatre's new production, Grannies – described as a "freestyle comedy" is immensely entertaining. Co-written by director Shirili Deshe and the actors, it shines a spotlight on those who are usually depicted as minor characters in life's comedy: elderly women. Living through a global pandemic has made us all acutely aware of the vulnerability of older people to the disease, yet, perhaps even more painful, has been the isolation of the elderly, exacerbated by the pandemic and the ensuing lockdowns. Grannies was created in this moment in time, in an interactive process between the director and five actors of the Khan, inspired by memories of their own grandmothers.
The show opens with a song that describes its concept: in the magical world of the theatre, you can bring the dead back to life, and an actor who misses his grandmother, can express his feelings by portraying her onstage. I can't rave enough about this amazing concept, at once funny and clever, as well as very intimate and moving. Each of the four actors developed a character that is an amalgam of memories – of grandmothers, grandfathers, and parents – and represents his fictionalized grandmother. Suzanna Papian portrays Lucy, the young and lovely caretaker (yet another much over-looked role in society) who watches over her charges at the home for the elderly.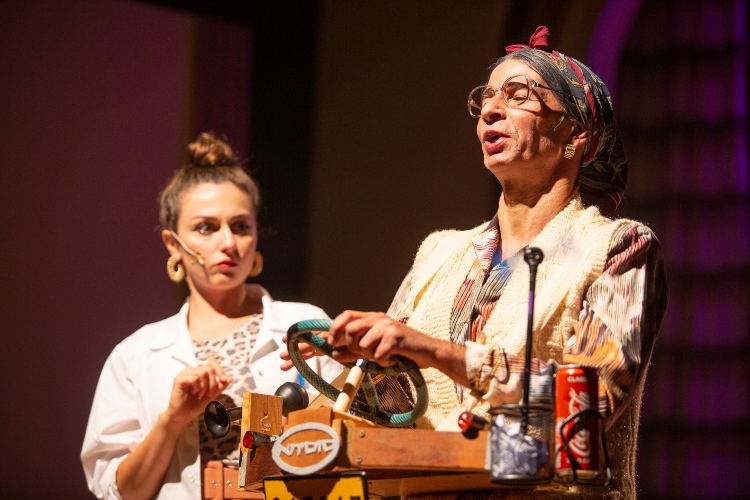 The dramatis personae are (in alphabetical order):
Aziza (Yossi Eini) is a Middle Eastern grandmother, a sort of Iraqi-Moroccan mix with a colorful kerchief on her head, and a head full of ideas.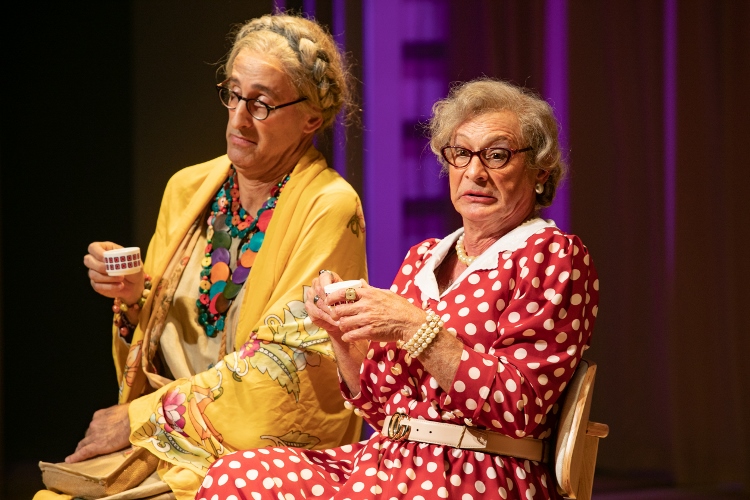 Fella (Erez Shafrir) is always smartly dressed, comme il faut, and possesses a lively libido.
Shosh (Nir Ron) is a poet, and lets us all know it as often as possible, a former kibbutznik and craft devotee, she carries a photo of her late husband Baruch.
Sonia (Vitali Friedland) is from Russia, and is intent on feeding everyone – but especially her grandson – with her cooking, even if it means breaking the residential home's rules.
All four embody their characters so utterly that it is pure delight to watch them. It's a very precise and nuanced drag show, complete with song and dance. There are several musical numbers, making this a very cabaret-like production. Their moves are impressive and captivating – Yoram Karmi's choreography and the actors' interpretation exists on that very fine line between comedy and caricature, and they never falter. Their physicality is marvelous – Yossi Eini, Vitali Friedland, Nir Ron and Erez Shafrir just disappear, and we get to know a foursome of rather limber old women.
Svetlana Breger's costumes are outstanding! Fella is always in red – from her swirling dress, to polka dots and smart tailored suit – the message is clear: this woman is oh so sexy and elegant. Aziza's colorful patterns sing out so much warmth and energy I wanted to give her a hug, while Shosh's flowing hippie chic with her crown of braids and big, bright necklace has a nostalgic glow. Sonia, with her unruly white mane and shapeless flower-patterned dress, immediately stands out as the odd one; it's not too surprising to learn that she keeps a live chicken in her room. In one of my favorite scenes, the actors all don beautifully designed aprons with the image of a Russian doll – enchanting!
The hardships of aging are well known. As their years advance, most people experience a series of losses: physical and mental abilities, friends and lovers who pass away, family members caught up in the chase of their own goals who rarely have time to visit, and the loss of freedom. Grannies appears to be very ambitious in its scope, aiming to convey the difficulties of old age and the individuality of these women, while keeping the action mostly light, funny and entertaining. The balance between serious and comic is difficult to maintain, and in places I felt a lack of depth and reliance on some conventional tropes. Grannies is to be applauded for bringing to the foreground issues that are rarely discussed, such as sexuality, the enduring presence of libido and desire, and the challenge in fulfilling those desires. Yet in a scene where Fella, Shosh and Aziza sing of their lustful dreams, while some of the lyrics (particularly Aziza's culinary fantasies) were hilariously witty, going for laughs inevitably means that it is more difficult to convey a more layered, complex reality. Sometimes, the smaller moments are more potent, as when Fella declines Shosh's invitation to make yarn pom poms for her dead husband, Baruch's 80th birthday party. Fella begs off because she has a date, and as she speaks, she casually cups the duo of pom poms Shosh is dangling before her. It's a swift, ephemeral gesture, and oh so very sexy! Amazeballs.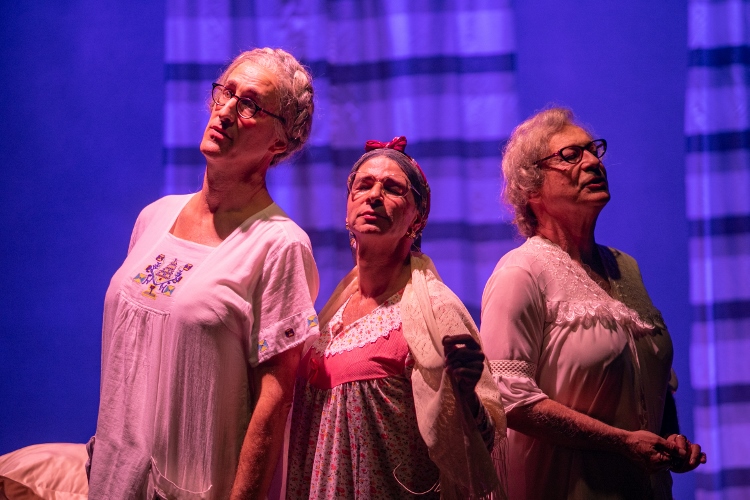 In this "freestyle comedy" there isn't a traditional narrative arc. Rather than relying on plot, the emotional weight of Grannies is conveyed through the characters themselves; one becomes more acquainted with them and learns more about each woman's life story as the play progresses. Their presence is eloquent; these women, coming to life onstage, speak directly to the viewer's feelings. The choice to render Sonia's speech in Russian punctuated by the occasional word in Hebrew is a comic tour de force, comedy that originates in the most painful truths. In the loneliness and isolation of old age, Sonia is all the more distanced by her difference. Aziza's inventions are one of the joys of this production, as is her resourcefulness and endless optimism. Shosh's longing for the good old days of the kibbutz, as she cavorts about, singing and skipping across the stage, evoke the cherished illusion of the past as a kinder, better time.
The entire cast is excellent, and there is a sense of genuine connection and camaraderie between the women; even the designated "bad guy" Lucy, who is constantly trying to keep them all under control – continually suggesting that they go to their room to nap or watch television – occasionally shows her softer side. Vitali Friedland delivers an outstanding performance as Sonia. Mesmerizing and dazzling, every cell in his body reverberates with an awkward melancholy that imbues his physicality with a spectacular hilarity that pierces the heart. The thing about old age is that all of us, if we are lucky enough, will experience it someday. Something to ponder.
Grannies
A freestyle comedy by Shirili Deshe and the actors; Co-playwright: Roni Sinai; Director: Shirili Deshe; Set & Costume Design: Svetlana Breger; Music: Itamar Gross; Lighting Design: Roni Cohen; Choreography: Yoram Karmi; Vocal Coach: Rebecca Bogatin; Assistant Director: Eliana Magon; Cast: Yossi Eini, Suzanna Papian, Vitali Friedland, Nir Ron, Erez Shafrir.