You can't hurry love, so in this quartet of films to be shown at the Tel Aviv International LGBTQ Film Festival, I'll look at sports, sex and horror first.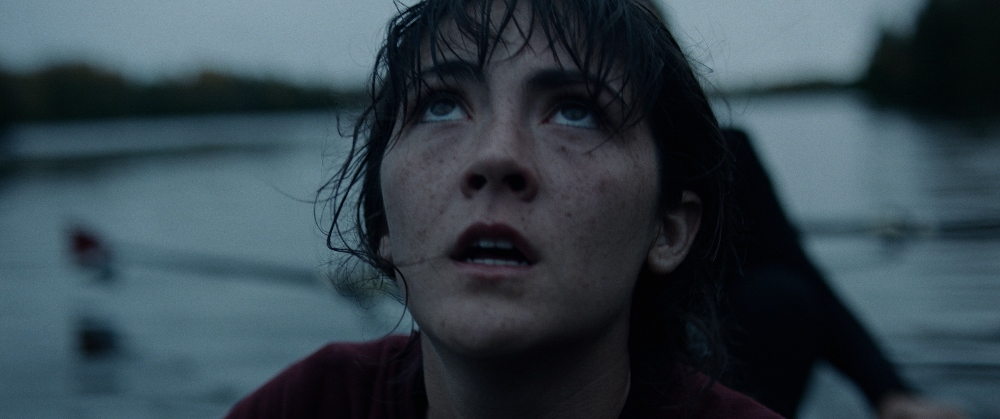 In a breathtaking feature debut, Lauren Hadaway's The Novice is fraught with so much tension it made my pulse race. It's the American Dream turned nightmare, as tightly wound, queer, first year college student Alex Dall (Isabelle Fuhrman) not only lives by the ethic expressed in the popular quote from high school basketball coach Tim Notke: "hard work beats talent when talent doesn't work hard" – she is obsessed. Majoring in physics even though she readily admits it's her "worst subject" Alex's tenacity has earned her a Presidential scholarship, relieving the financial anxiety that many college students experience. Entering the novice rowing team, Alex is determined to excel, and the gritty authenticity of the film is inspired by Hadaway's own experiences as a competitive rower.
An ominous atmosphere is established from the start with a tantalizing soundscape interspersed with the titles, as dark, low strings are mirror by the black waters and a small speck comes into view. This strange image on the water feels weighted with meaning, an enigmatic symbol from a secret culture, yet as the camera moves closer in, it becomes apparent that it is a single rower. The sound of water is then layered over with the light scratching of a pencil on paper and the screen cuts to a college classroom, where Alex is fiercely clutching her writing instrument, then turning her paper over and over. Those subtle sounds are magnified as she whispers to herself, checking her answers, and ignoring the instructor's announcement that the class is over. In one small scene, that lasts about a minute and a half, we learn so much about Alex, and the tension is contagious.
Hadaway's background in sound editing and mixing – she worked on films such as Damien Chazelle's Whiplash, and Quentin Tarantino's The Hateful Eight – is apparent in her creative use of sound throughout the film. Alex's internal voice is heard as she repeats significant phrases to herself, these repetitions not only communicate her obsessive determination, but the extent to which she is living inside her own mind, detached from her surroundings. Hadaway captures Alex's isolation visually as well, with the screen around her going dark as she practices rowing; even though she is in a room full of her teammates, she appears utterly alone.
Isabelle Fuhrman is riveting as Alex, delivering an intense and emotionally wrenching performance. While the film offers a fascinating look at the world of rowing, college sports, and the relationships among teammates – with an emphasis on the complex balance of camaraderie and competitiveness – this psychological thriller is nothing like a traditional sports film. Although she begins college life much like any other freshman, hanging out with her high school BFF and current roommate the lively Winona (Jeni Ross), her focus becomes ever narrower. Most interesting to me was Alex's relationship with teammate Jamie Brill (Amy Forsyth), who is soon dubbed "best novice". Jamie's athletic gifts are evident in the ease in which she accomplishes each task, and she has the confidence to match. She is Alex's main competition for a spot on the varsity team and other accolades, yet she is also the only person on the novice team with whom Alex has any sort of interaction that might be called friendly.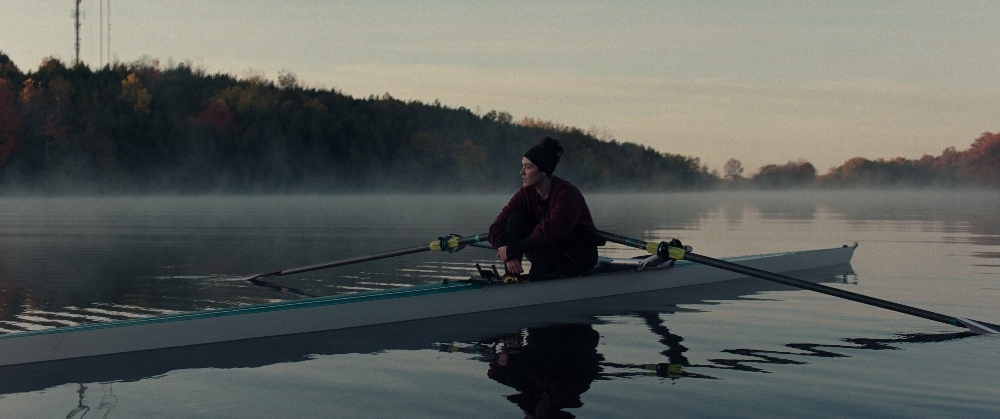 Alex Weston's evocative score for the film is augmented by popular songs from the 60s, whose pairings with the various scenes are precise and powerful. You may never again be able to hear Brenda Lee's I'm Sorry without feeling a sense of foreboding. Throughout the film, Alex rarely feels pleasure in her body, her experiences are mostly those of effort and pain. There is one interlude of grace, as after she has finally learned to row a single, she steers through the beauty of the early morning mist to the triumphant sound of Connie Francis singing Al Di La. Yet Alex is not one to rest on her laurels. As this powerful and tormented soul races onward, she captivates, and invites empathy and horror in equal measure.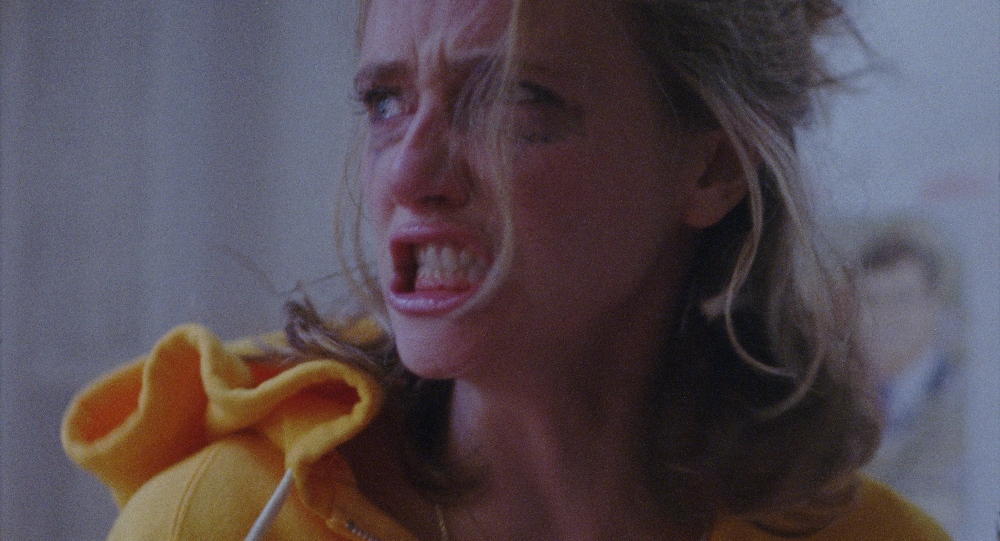 Torment, from the mundane to the horrific, is the perfect word to set the tone for actor and podcaster Dasha Nekrasova's disturbing and compelling debut feature The Scary of Sixty-First. Co-written with Madeline Quinn, the film touches on serious themes of sexual abuse and conspiracy theories, yet occupies a bizarre space between taking itself too seriously to not taking anything seriously at all. The mundane torment may be found in the relationship between aspiring actor Addie (Betsey Brown) and not-so-gentleperson loafer Noelle (Quinn), as the latter constantly takes down the former, and Addie takes it all without complaint. Poverty makes for odd bedfellows.
Strapped for cash because Addie will no longer agree to ask her father for money, there are intimations of past abuse as Noelle taunts Addie calling her a victim, while Addie refers to herself as a survivor. Finding a furnished, ridiculously cheap apartment is not an opportunity to pass up, even if the place has a very bad vibe with mirrors on the ceiling, locks on bedroom doors and disturbing stains on the mattress. Nothing a little smudging won't solve, right? Filmed in 16 mm, the grainy, B-movie look and white sheets suspiciously billowing over the furniture would appear to suggest otherwise.
A mysterious woman (credited only as The Girl) appears at their door and informs Noelle that their apartment was one of Jeffrey Epstein's many properties. Portrayed by Nekrasova, The Girl has a dominant, seductive presence and Noelle eagerly follows her down the rabbit hole of conspiracy theories. The attraction between the two is electrifying and their chemically-fueled marathon of sex and internet searches offers an interesting view of contemporary lust. Meanwhile, Addie, who already has a fairly submissive role in her relationship with her boyfriend Greg (Mark Rapaport), is tormented by nightmares and strange episodes of infantilized and weirdly sexual behavior. Is there a supernatural force at work?
Somewhere on this horrific blood-splattered journey is an exquisite comic moment near the end of the film that I found hilarious, precisely because its humor hinges on the horror-inspiring truths that underlie this very strange film: the systemic oppression of women and other marginalized groups. It's a system in which the privileged go through life with an invisible, protective shield that allows them to destroy others without ever having to bear the consequences; it's a system so deeply entrenched in the foundations of our culture that we are constantly in danger of becoming complicit in our own oppression.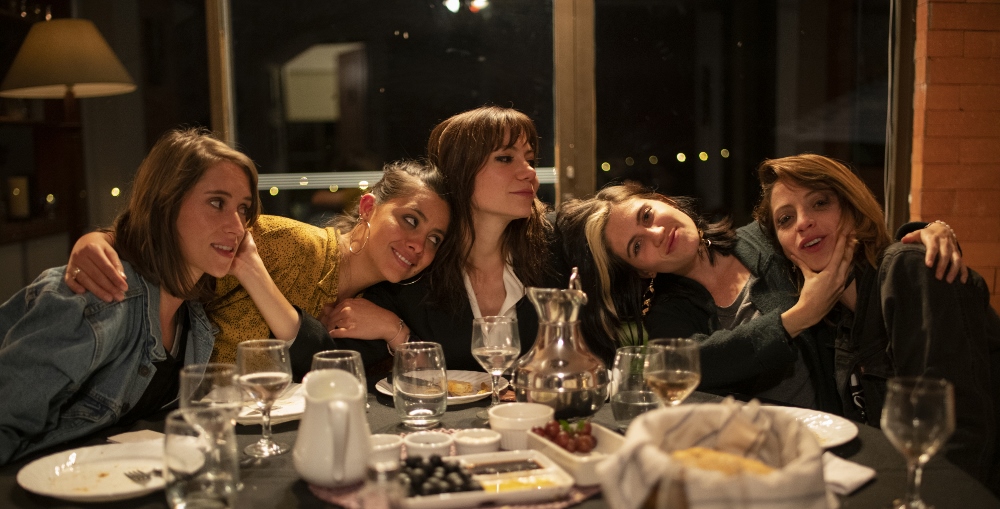 On a somewhat lighter note, Ruth Caudeli's Leading Ladies takes an innovative look at familiar themes: friendship, memory, secrets and guilt. A group of friends gathers for a dinner party to celebrate the return of Marce (Marcela Robledo), who has been gone and out of touch for the past two months. Intimate, sexy, and intense, Leading Ladies feels very authentic, capturing the feel of friends who have known each other for many years. A unique aspect of the film, which contributes to the spontaneous, natural feeling, is that it is unscripted, and all the dialogue is improvised. So, it's literally five women talking to one another.
The format of the film is also unusual: divided into five parts, each segment is focalized through a different character, the events of the evening seen from her perspective. Each is the leading lady of her story. Colored by the vagaries of memory and other, psychological influences, each woman's reconstruction of the dinner is different. It is up to the viewer to piece together the narrative as another layer of meaning accumulates in each part. Although their stories differ, the characters and their tangled relationships emerge clearly by the film's conclusion. At one point they sing an empowering song – "I am not weak/I'll follow my dreams" – and it's fun to see the way each one remembers it, as the instrument played changes from a ukulele to a guitar, and in one version, there are bongo drums. Just like in life, although many secrets are revealed, there are questions that remain unanswered at the film's closure.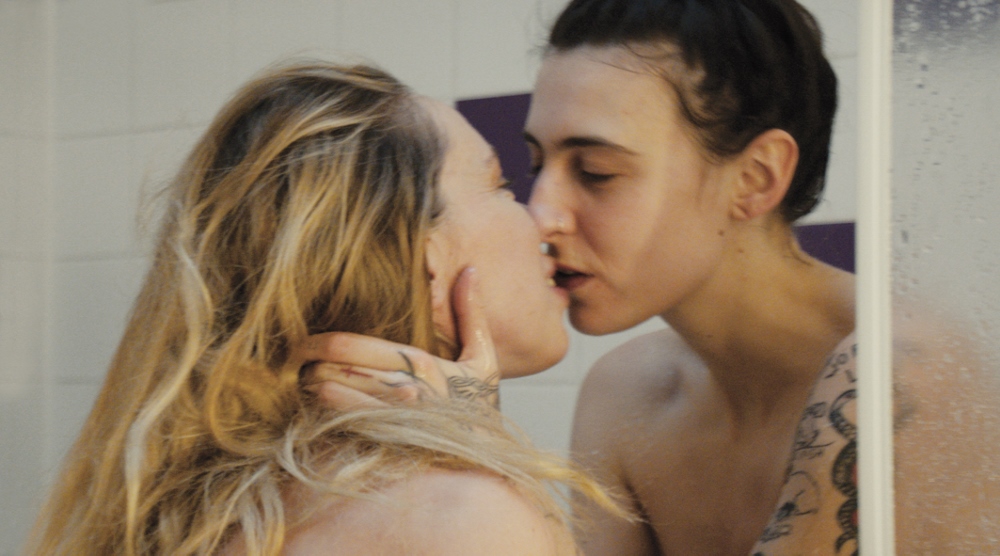 If you've read this far, then you certainly deserve love, lots of it! Glück (Bliss), Henrika Kull's second feature, locates love in what some might consider an unlikely place: the brothel. Set in Berlin, Germany, where sex work is legal, the film offers an interesting perspective on sex work. Once the illicit aspect is removed, sex work is like any other job. Sometimes it can be difficult, frustrating, and stressful; there can be mean, controlling employers and annoying customers – just like any other job. The brothel described in the film however reflects a harmonious workplace, where the employees have a good, warm relationship with the manager. Another intriguing aspect of Glück, is that it was filmed in the brothel where Kull had done a lot of research, while the brothel was open and working, with the actors portraying sex workers among sex workers going about the day's work.
Sascha (Katharina Behrens) has a ready smile and the warmth of a summer sun. Her long tangle of hair and easy ways convey a natural, unaffected manner. One of the older women at the brothel, she seems very comfortable and confident in her place of work. A new employee arrives, and is introduced as Jessy (Adam Hoya). Pale and angular, with dark hair and myriad tattoos, she is from Italy, and speaks to the other women in English. You can feel the heat. When Sascha enters the common room asking who would be up for a threesome, you can feel Jessy – who had been lounging on the couch with a book – silently screaming "choose me, choose me." Sascha doesn't, but fear not, much flirtation follows.
The differences between the two contribute to the mutual attraction, yet introduce some uncertainty into the possibility of a relationship. Sascha has an 11-year-old son who lives with his father in the town where she grew up, full of "ugly people" with "ugly thoughts". She is tied to the place and her past through her love for her son. In contrast, Jessy is in her twenties and has no real ties. For her, sex work is a performance, as may be seen in her choice of a pseudonym – or stage name – and performance is part of her life. Her name is Maria and even the messages she leaves for her father in Italy are a fiction. Yet her attraction to Sascha is very real, and the onscreen connection of the two actors is romantic and sensual. Hoya is incandescent as Maria, the heat and light emanating from this performer is mesmerizing. It's bliss.
The full program of films, schedule and ticket information may be found on the Tel Aviv International LGBTQ Film Festival website: http://tlvfest.com/tlv/he/en/
The Novice
Director & Script: Lauren Hadaway
Producer: Ryan Hawkins, Kari Hollend, Steven Sims, Zack Zucker
Cast: Isabelle Fuhrman, Amy Forsyth, Dilone, Kate Drummond
USA, 2021, 94 min, English with Hebrew subtitles
The Scary of Sixty-First
Director: Dasha Nekrasova
Writer: Dasha Nekrasova, Madeline Quinn
Producer: Adam Mitchell, Mark Rapaport
Cast: Betsey Brown, Madeline Quinn, Dasha Nekrasova, Mark Rapaport
USA, 2021, 81 min, English with Hebrew subtitles
Leading Ladies
Director & Writer: Ruth Caudeli
Producer: Sara Larrota, Ruth Caudeli
Cast: Ana María Otálora, Silvia Varón, Marcela Robledo, Diana Wiswell, Ana María Cuéllar
Colombia, 2021, 81 min, Spanish with Hebrew and English subtitles
Glück // Bliss
Director & Writer: Henrika Kull
Producer: Martin Heisler
Cast: Katharina Behrens, Adam Hoya, Nele Kayenberg
Germany, 2021, 90 min, German, English and Italian with Hebrew and English subtitles