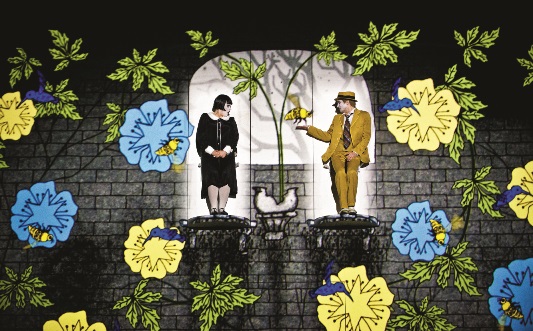 Joyous and magical, the artistry of Suzanne Andrade and Barrie Kosky's Die Zauberflöte (The Magic Flute) conveys the playful, fantastic spirit of Mozart's opera. Merging animation with live performance, the artistry and jubilant creativity of Paul Barritt's hand-drawn animation creates an imaginative world onstage, and the soloists – with impeccable timing, fearless agility and enchanting performances – become part of that world. It's a production that embraces the freedom to create within Mozart's world, and it's so much fun!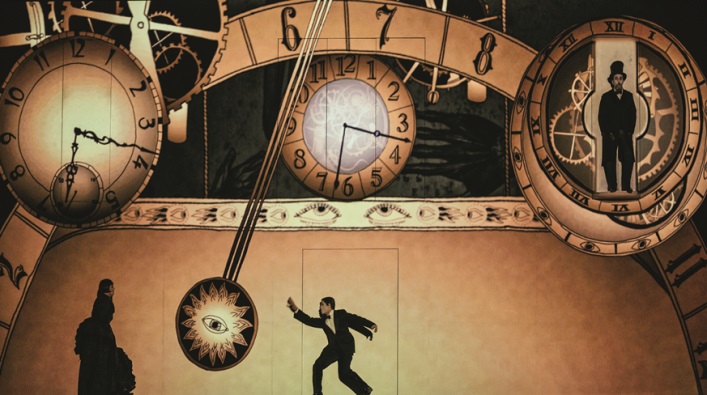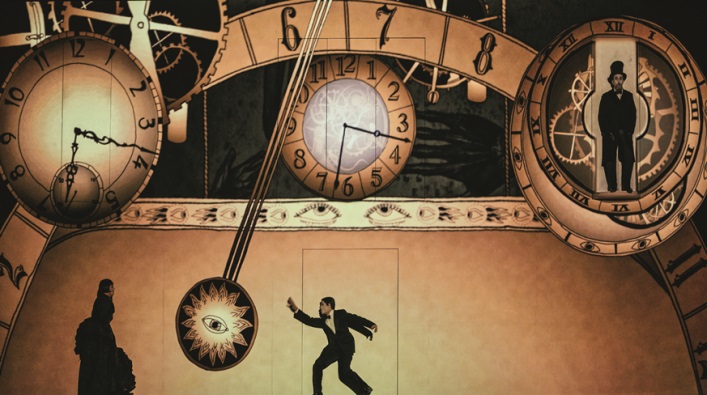 The imagery evokes the era of silent films, with characters reminiscent of the figures of that time – Papageno recalls Buster Keaton in his dress and manner, while Monostatos reminds one of Nosferatu. The three ladies are dressed in typical 20s attire, with fur-collared coats and stylish hats. A distinctive aspect of this production, referencing silent films, is the rendering of sung-spoken dialogue as intertitles, in suitably ornamented script, accompanied by piano interludes, performed by the opera's conductor, Nimrod David Pfeffer. For some, this might be taking freedom a step too far, yet if you can overcome the shock and relax into this wild ride, Andrade and Kosky's Die Zauberflöte is a thrilling experience.
To fully understand what is meant by merging animation with live performance, you really need to see the opera – I strongly recommend it! But I'll try to convey a sense of the mechanics and art. Mechanics first. A gigantic white wall stands on the stage, and the images are projected there. Within the wall there are revolving panels that can swivel open, revealing the character of the moment. Many of these are set quite high up, with the intrepid soloist standing on a rather narrow pedestal. I have been informed that they are also secured, so that there is no danger of falling. Still, it's quite a brave feat to stand up there and sing, and even be funny!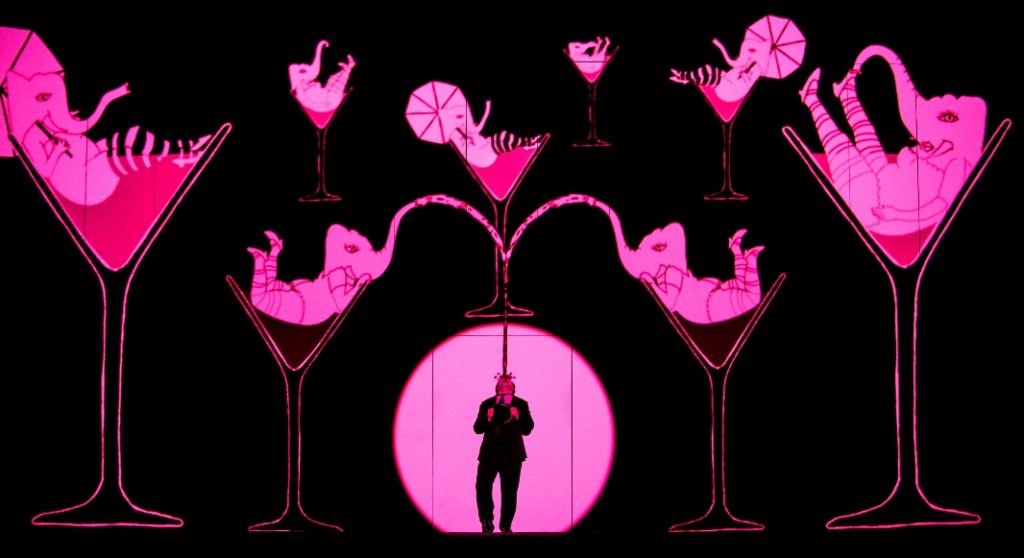 The art is amazing! The total immersion of the soloists within the animation is even more amazing. The opera begins with an exciting chase scene as Tamino is pursued by a dragon. Rescued by the three ladies, these lovelies, perched high above Tamino, do not fail to notice the allure of this handsome young man. Each lady professes her attraction, as a throbbing, red, cartoon heart – anatomically drawn – appears above her head. It's cute and funny, and becomes even more amusing as the central lady pokes at the others' hearts with her cigarette holder, popping them like balloons. And that's just the beginning… The visual references are many and diverse, from steam-punk inspired characters to Dumbo-like pink elephants and monkeys, albeit sans wings, that reminded me of the Wizard of Oz. It's a visual extravaganza, a carnival of aesthetic pleasure that conveys what is for me, the ultimate message of Die Zauberflöte: the power of music.
Performances of Die Zauberflöte will run through November 17, 2021. Tickets may be ordered online from the Israeli Opera website: https://www.israel-opera.co.il/eng/
Die Zauberflöte
Conductor: Nimrod David Pfeffer; Directors: Suzanne Andrade, Barrie Kosky; Revival Director: Erik Friedman; Animation: Paul Barritt; Concept 1927 (Suzanne Andrade, Paul Barritt) and Barrie Kosky; Set and Costume Designer: Esther Bialas; Lighting Designer: Eyal Levi Sharon
Soloists (November 4): Tamino – Aaron Blake, First Lady – Elinor Sohn, Second Lady – Tal Bergman, Third Lady – Hagar Sharvit, Papgeno – Oded Reich, Queen of the Night – Beate Ritter, Monostatos – Anthony Webb, Pamina – Alla Vasilevitsky, First Girl – Neomi Ben Shachar, Second Girl – Sophie Sahano, Third Girl – Yael Benacerraf, Sarastro – Taras Berezhansky, First Armed Man – Oshri Segev, Second Armed Man – Yair Polishook, Papgena – Tal Ganor
The Israeli Opera Chorus – Chorus Master Assaf Benraf, The Opera Orchestra – The Israel Symphony Orchestra Rishon LeZion, Interludes on the Piano – Nimrod David Pfeffer
Duration: approx. 2 hours and 45 minutes, including one intermission
A production of the Komische Oper Berlin
Opening event of the Opera Season donated by Sara and Professor Michael Sela