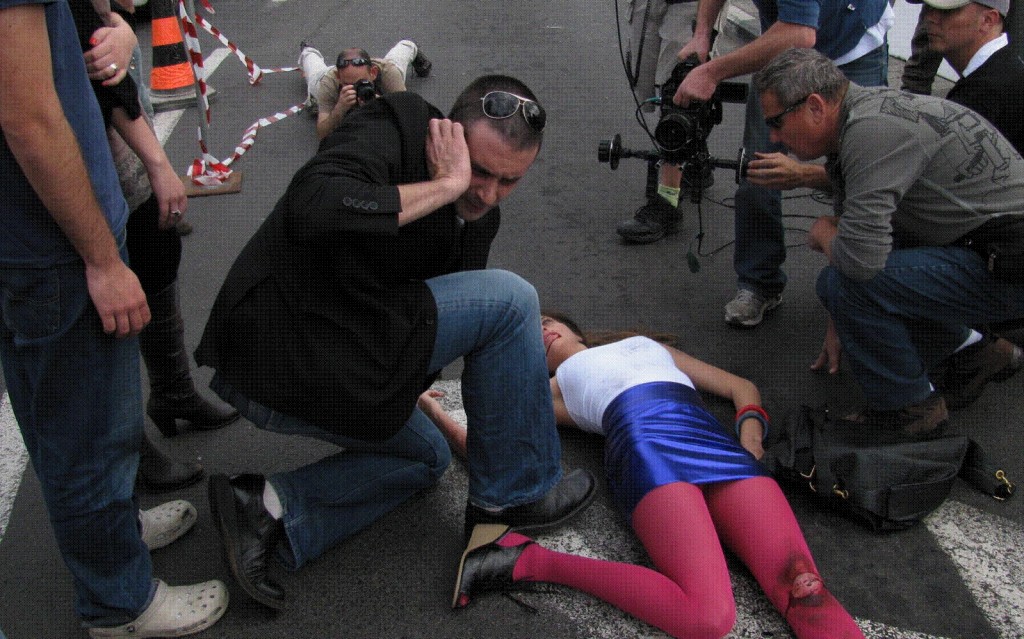 The International Student Film Festival Tel Aviv is a unique cultural event, bringing together film lovers from all over the world, from students to internationally known film makers, for a week of student films, premiere screenings, workshops, conferences and special projects. Taking place from June 5 – 12, 2010 at the Tel Aviv Cinematheque, this year's festival will host Roger Corman, King of the B movies and a major influence on independent film. Corman's films include: "Night of the Cobra Woman", "Blood Bath", "Attack of the Giant Leeches", "Attack of the Crab Monsters", "Blood Beast", "The Brain Eaters", and "Little Shop of Horrors", with a very young Jack Nicholson playing a bit part!
The festival's International Competition is the largest of its kind, with 122 fiction, documentary, animation and experimental films from 40 countries taking part this year. Producer and director Jan Harlan will be the Chairman of the International Competition, in addition to conducting a master class on "Music as a Dramatic Element of Filmmaking and Script Structure."
Harlan was Stanley Kubrick's executive producer on "Barry Lyndon" (1975), "The Shining" (1980), "Full Metal Jacket" (1987) and "Eyes Wide Shut" (1999), and he also worked with Steven Spielberg on "Artificial Intelligence: AI" (2001). Harlan has also directed several films, among them, the documentaries "Stanley Kubrick: A Life in Pictures" (2000) and "O Lucky Malcolm!" (2006), about the British actor Malcolm McDowell. The jury for the International Competition includes: Prof. Tereza Barta (Canada), Georges Bollon (France), Ernesto Contreras (Mexico), Dr. Laurentiu Damian (Romania), Kornél Mundruczó (Hungary), Nikolaj Nikitin (Germany), Kimberly Yutani (USA), and Uri Klein (Israel), film critic for "Ha'aretz" newspaper since 1987.
Several prominent members of the international film community will be guests of the festival. Filmmakers Rob Epstein (USA) and Jeffery Friedman's first joint project "Common Threads: Stories from the Quilt" (1989), that recounted the first decade of the US AIDS epidemic, won the Academy Award for Best Documentary. Epstein and Friedman will present their new film "Howl" (2010), their first dramatic narrative, and will give a special master class on Documentary Cinema. Nathan Miller (France), who has worked with his father Claude Miller on films such as "The Little Thief" (1988), "The Accompanist" (1992) and "A Secret" (2007), will present his directorial feature debut, "I'm Glad My Mother Is Alive" (2009).
Florin Şerban (Romania) will introduce his debut feature, "If I Want to Whistle, I Whistle" which won the Silver Bear – Jury Grand Prix, and the Alfred Bauer award for innovation in cinema at the 2010 Berlin Film Festival. Artist Simon Szado (Hungary) creates in different fields, including directing commercials and music videos, acting in theatrical and cinematic productions, as well as writing an e-diary for a literary internet website. Szabo will introduce "Paper Planes", his first feature film which won the Best First Feature Award at the 2009 Hungarian National Film Wee.
Some of the events new to the festival this year are: One on One, the Cinematic Monologues Competition and 20/10 – Extremely Short Films Competition. The format for the latter will be 20 second films dealing with the assigned topic – both theme and object: a bench. This new event suggests an alternative, poetic option inspired by the Japanese Haiku. Haiku is a short poem consisting of 17 sound units, in three phrases of 5, 7 and 5, evoking a moment in time and feeling. 10 films in various genres will compete in this category.
The Cinematic Monologues Competition is open to students in their final year of studies and fresh graduates of Yoram Loewenstein, Beit Zvi, Nissan Nativ, Tel Aviv University and Kibbutzim College. 25 actors will present film monologues before a special jury, giving them an opportunity to express their talent before members of the film and television industry.
One on One is a mentoring project that connects film students working on a personal project with film and industry professionals who will advise and guide them. Among the tutors for the project are Katriel Schori, Head of the Israeli Film Fund, producer Osnat Trabelsi and Liran Atzmor, Head of Development, Documentary Channel 8.
Several special events are planned for the festival including: Bread, Work – a documentary series of short films focusing on the daily lives of working women and men; New Media Conference for Filmmakers; the Academic Colloquium: Suspenseful Times and the Moving Image; a tribute to The New Romanian Cinema; and a tribute to the Clermont-Ferrand International Short Film Festival with films selected by Mr. Georges Bollon, the Head of the International program in Clermont-Ferrand.
Coffee – Between Reality and Imagination is a joint project of eleven filmmakers, Israeli and Palestinian, creating short films inspired by coffee. Working in mixed crews, the filmmakers explored cultural identity, social reality and connections between people onscreen and behind the scenes as they met and shared ideas, conversations…and coffee. Coffee was initated by Yael Perlov, who is the project's Artistic Director.
The Israeli Competition is open to film students in all higher institutions for film studies in Israel. The selection committee – composed of four lectors from the film and television industry, and students, selected 31 films for the competition. Chairing the jury will be Yael Shuv, film critic and editor of the film section of Time Out Tel Aviv for the past eight years. This year's award categories are: Best Film, Best Cinematography, Best Script, Original Filmmaking and Audience Award.
The full program and additional information can be found on the festival website, and fun viewing on the YouTube Fest Channel:
AYELET DEKEL