Spiderman: No Way Home is a thrilling adventure composed of almost equal parts action and emotion. This is a superhero film so there will be pain, but even through my tears I must admit that from a storytelling perspective, it works. The film offers many surprises, and I am loathe to spoil them, which makes it very hard to say anything at all about the film other than go see it, it's so much fun! On the other hand, having said that – I saw the film yesterday, and even though I already know all the secrets, I would very happily see it again and again… so perhaps spoilers are not so bad.
Part of Tom Holland's appeal in the Marvel Cinematic Universe, aside from his remarkably lithe moves, has been that he is so young. Holland portrays Peter Parker with all the enthusiasm, optimism, and naivete of youth. He gets a kick out of being Spider-Man, but he still has a long way to go, learning to be a superhero while contending with more typical teen angst. In this sense, Spider-Man: No Way Home feels like Peter Parker's coming of age story. The film takes off from the bitter ending of Spider-Man: Far From Home, when Mysterio (Jake Gyllenhaal) has exposed Spider-Man's identity. Now Peter must deal with the repercussions, and they are overwhelming. News broadcaster J. Jonah Jameson (J.K. Simmons) is all too eagerly spreading the word and accusing Spider-Man of being a malevolent force.  Peter is also in the process of applying to colleges, as are his girlfriend MJ (Zendaya) and best friend Ned (Jacob Batalon). Now that's stressful!
These relationships, as well as Peter's close connection to Aunt May (Marisa Tomei) form the emotional core of the film, and it's strong. Zendaya's MJ is amazing, even without the benefit of superpowers. A beacon of casual, grounded negativity, strong and confident, she even calmly stands up to Dr. Strange (Benedict Cumberbatch). Writers Chris McKenna and Erik Sommers perform a delicate balancing act, shifting effortlessly between action, drama and conversations between Peter and MJ that would not be out of place in a dramatic film.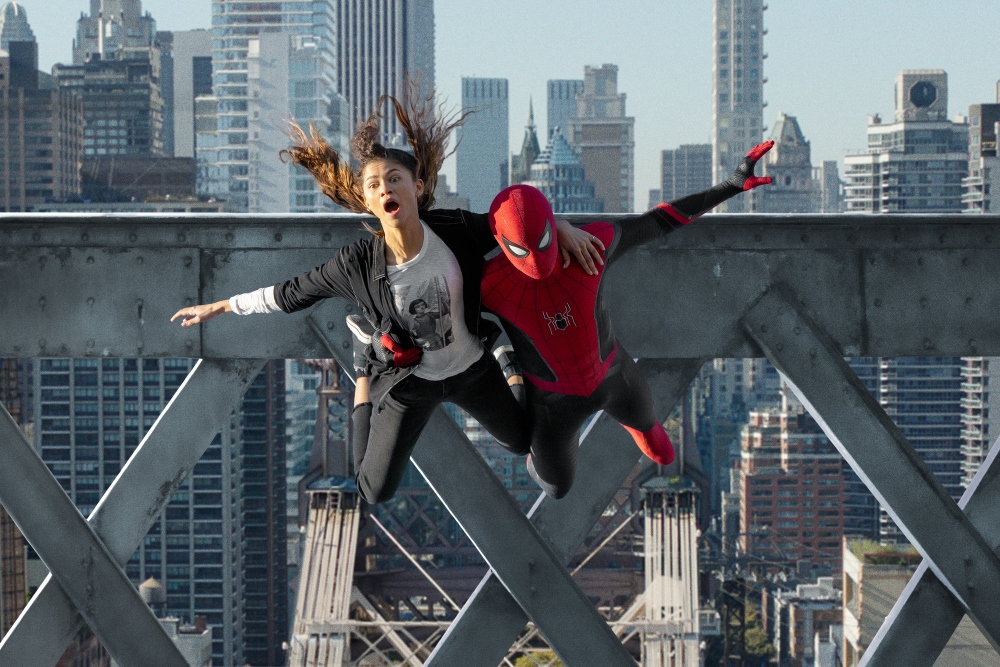 Don't let my emphasis on well-drawn characters and dialogue mislead you – Spider-Man: No Way Home is one adrenalin rush after another. Crushed by the consequences of his identity reveal, Peter seeks out Dr. Strange, who agrees to help him by conjuring a spell that will make everyone forget that Peter Parker is Spider-Man. Mid-way through the spell, Peter realizes that it means everyone will forget, including those closest to him. He keeps asking Dr. Strange to make exceptions, and his interruptions disrupt the spell, creating a crack in the multiverse, and letting in a variety of characters from parallel universes. Past foes of past iterations of Spider-Man suddenly appear, including: Norman Osborne (Willem Dafoe), Dr. Otto Octavius (Alfred Molina), Max Dillon (Jamie Foxx) and more. Willem Dafoe's performance is other-worldly, his features are so pliant and expressive that I think there is a chance that he truly is endowed with superpowers.
Fans will be very, very, happy. During the screening I attended, people laughed, cheered and applauded at various critical moments. Somewhere to my left, I could hear one ecstatic fan call out cries of joy. The film is an outstanding example of how to delight fans while retaining narrative and dramatic integrity. One of its strengths is in the self-aware, self-mocking moments, which I will not describe here, but are supremely satisfying. However, even those who have come this far in life with only a limited knowledge of the Spider-Man universe, are in for an exhilarating, intensely emotional experience. Spider-Man: No Way Home is spectacular.
Spiderman: No Way Home
USA/2021/147 min/English with Hebrew subtites
Director: Jon Watts; Screenplay: Chris McKenna and Erik Sommers, based on the Marvel comic book by Stan Lee and Steve Ditko; Cinematography: Mauro Fiore; Editing: Leigh Folsom Boyd and Jeffrey Ford; Music: Michael Giacchino; Cast: Tom Holland, Zendaya, Benedict Cumberbatch; Marisa Tomei, Jacob Batalon, Jon Favreau, Willem Dafoe, Jamie Foxx, Alfred Molina, J.K. Simmons