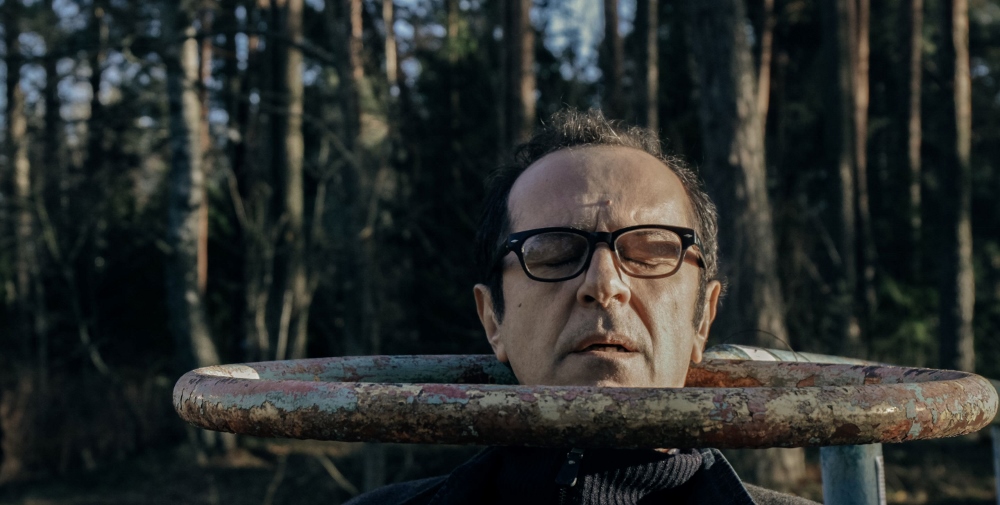 Aleksey German Jr's House Arrest (Delo) is a film whose impact lingers long after the credits have rolled and the house lights go up. An Official Selection at the 2021 Cannes Film Festival, its themes of confinement, isolation, systemic oppression, and the insidious way that corruption permeates all aspects of life, touch on the burning issues of our time.
David (Merab Ninidze), a middle-aged professor of literature, posted a caricature of the mayor on social media, implicitly accusing the latter of corruption. He soon found himself accused of embezzlement and placed under house arrest. Under pressure to confess, David awaits his trial, and the film follows David through this experience as it impacts his relationships, his view of the world, and his sense of self.
Steeped in knowledge, David initially approaches his situation with confidence and bravado. His area of expertise is the Silver Age of Russian Literature, which spanned about 40 years from 1890 – 1930, with such luminaries as Anna Akhmatova, Boris Pasternak and Osip Mandelstam. David's apartment is a glorious mess, reflecting his interests, it is replete with books, music and art, including a large poster of Akhmatova. German has stated in interviews that his wife, production designer Elena Okopnaya, "creates a world from scratch" that reflects the film's story. Meticulously detailed, the interior of the apartment is fascinating in its depiction of character. As someone with a rich inner life, David clearly has no fear of boredom. These first scenes will surely resonate with anyone who has experienced lockdown and/or quarantine during the current pandemic. Yet that initial bliss of plenty of time to read and listen to music, is always short-lived, and David is no exception.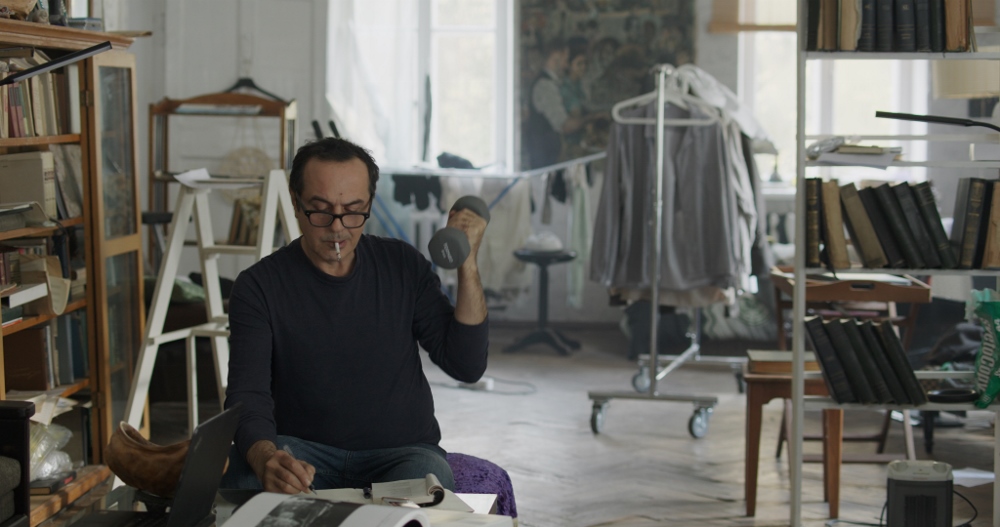 Although David feels relatively confident, his chain-smoking volcano of a mother, Svetlana (Roza Khayrullina), is seriously worried. She's lived through this kind of scenario before. Even if there is no evidence against David, those in charge can fake evidence, as she says: "that's how they got my mother." A diminutive powerhouse, Svetlana loves her son and is endlessly loyal, yet furious with what she considers his deluded world view. His lawyer Anna (Anna Mikhalkova), would also prefer that her client realize the severity of his situation. Even though the entire film takes place almost exclusively in David's apartment, with a few forays into the surrounding green, and the focus is closely on David and his predicament, his encounters with his mother, lawyer, doctor, students and others, provide a sense of the society as a whole, and its issues.
As time goes on and the pressures mount, David finds disappointment more often than support, and albeit rarely, also finds understanding in unexpected places. In his solitude, he is confronted with his own character and choices; the image he sees is not always one of which he can be proud. In the midst of this bleak situation there are also moments of light – in David's encounters with his students, who remain loyal throughout. Most significant is his advisee, a student from China, who is writing about the poet Osip Mandelstam (1891 – 1938). Mandelstam was first arrested in 1934, after he wrote the poem "Stalin Epigram" in which he described the Soviet leader as rolling "the executions on his tongue like berries" (translation by Clarence Brown and W.S. Merwin). David's current predicament is reminiscent of Mandelstam's. When the student asks him how was Mandelstam able to be so brave – "didn't he know Stalin would punish him?" – David responds with what might be a first glimmer of self-awareness, "maybe he didn't understand it fully."
In its close focus on David and the responses of those around him to his predicament, House Arrest makes it painfully clear that breaking the chain of oppression and corruption is a Sisyphean task. The system ruthlessly exploits the weakness of each individual, eliciting their silence and cooperation either through fear or through expectation of benefits. Yet it also serves as a reminder that each individual who chose to remain silent might have chosen differently.
House Arrest (Delo)
Russia/2021/106 min/Russian
Director: Aleksey German Jr; Screenplay: German and Maria Ogneva; Cinematography: Ivan Burlakov; Production Design: Elena Okopnaya; Cast: Merab Ninidze, Anna Mikhalkova, Rozaa Khayrullina, Svetlana Khodchenkova, Aleksandr Pal, Aleksandra Bortich, Anastasiya Melnikova, Anastasia Talzyzina