The Israeli Opera will present a new production of Ruggero Leoncavallo's Pagliacci directed by Inbal Pinto, with performances taking place from February 25 – March 6, 2022. The borders between life and theatre are blurred in this tale of love, jealousy, and violence, as a theatre troupe comes to a small village to perform the traditional commedia dell'arte play, but with a dramatic twist and a bitter taste of reality. Inbal Pinto creates a unique and entire world for Pagliacci, designing set and costumes, and creating the choreography for this production. The opera will be conducted by Daniele Callegari, with the participation of international and Israeli soloists, as well as the Israeli Opera Chorus conducted by Asaf Benraf, the Israel Symphony Orchestra Rishon LeZion, and twenty dancers.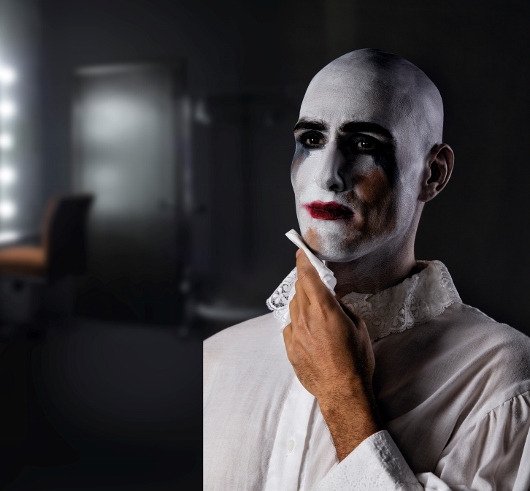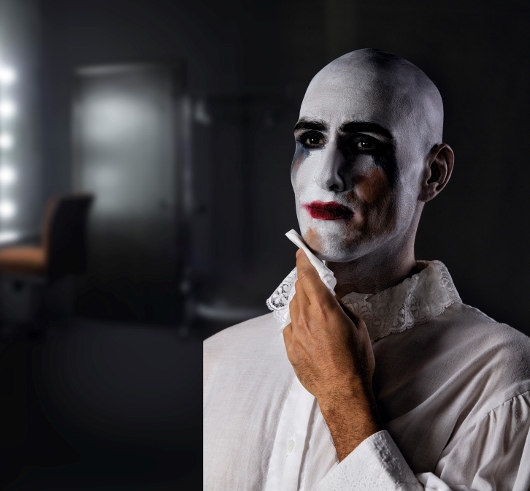 Pagliacci, which means "clowns" in Italian, focuses on the events of a single day, as a commedia dell'arte troupe arrives in the town of Calabria on a holy day in the Catholic religion, celebrating the Assumption of Mary to heaven. In the prologue, the actor Tonio reminds the audience that the show is about real people and their feelings. Feelings and drama abound in the opera as Tonio is in love with Nedda, who is married to Canio, and conducting a clandestine affair with Silvio. Canio is jealous, Tonio is jealous, and over the course of the afternoon and performance, secrets and turbulent feelings will rise to the surface. Canio overhears Nedda bid adieu to her lover, and she tells him "I will always be yours" – words that will later recur in the text of the play-within-the-opera, when as Columbina, she parts from her lover Harlequin.  Devastated, Canio prepares for his role as Pagliacci, singing the moving aria "Vesta la guibba" (putting on the costume), knowing he must portray a clown despite his pain.
The opera belongs to the genre of verismo opera that developed in Italy towards the end of the 19th century, with dramatic and often melodramatic plots based on true events. The Italian literary movement of verismo is related to the late 19th century international movement of naturalism, that sought to portray everyday life, including working class and poor people, as opposed to narratives focused solely on monarchs, the aristocracy, or mythological gods. In opera, verismo viewed the music as an integral part of the narrative, for which Pagliacci is an excellent example, with the music and libretto both composed by Leoncavallo.
Real life events did inspire Leoncavallo's creation, and it, in turn, was the catalyst for some real-life drama. Leoncavallo based the libretto on a murder that took place in Calabria, and the case was brought to court at Cosenza before his father, who was the presiding magistrate. The murderer, Gaetano D'Allessandro, and his victim, Gaetano Scavello, were both in love with the same village girl. The opera almost led to another courtroom drama as the French author Mendès felt that it resembled his play La Femme de Tabarin, which also featured a clown murdering his wife in a play-within-a-play. Mendès eventually dropped his accusation, which Leoncavallo perhaps somewhat regretted, as he wrote: "What is stranger still, as I have since learned, the protagonist of my work is still living… If the action had come to trial, he would have been willing to come and give evidence in my favor. I regret that this did not happen, as we should have had a very dramatic scene during the evidence of poor Alessandro (the real name of my Canio)…" (from The North American Review).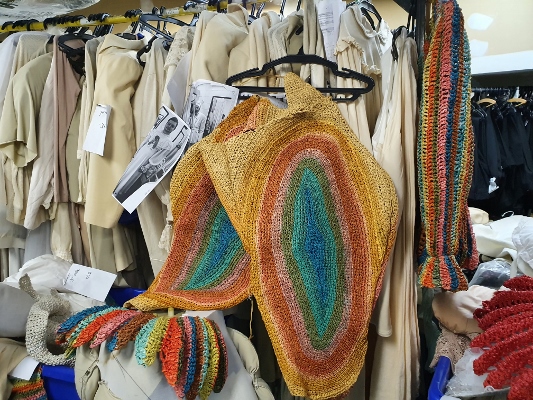 Inbal Pinto created over 100 individual costumes for this production of Pagliacci, and they reflect her concept for the opera. In a backstage tour with Israeli Opera General Director Zach Granit and Public Relations Manager Yonat Burmil that took place in July 2021, I saw some of the costumes in the making and learned more about Pinto's vision for the opera from Head of Wardrobe Iris Ratinsky and Wardrobe Assistant Maya Levi. Pinto designs the costumes to reflect the characteristics of the villagers, as Iris said, "the chorus is divided into families, each family has its own family genetics, a kind of deformation. [for example] Former acrobats have lots of muscles." Pinto worked with the dancers, creating movement that suits the "family traits" as movement and costumes are designed in parallel. Commenting on working with Pinto, Maya Levi said, "We become kind of actors, trying on the costumes…before she tries them on the singers. We imagine how this person will move and behave, and what this family will be like, and we really become part of the process." Levi also noted that Pinto "likes to work with different materials" and pointed out the colorful costume for one of the commedia dell'arte troupe members, made with knit raffia.
Soloists performing in Pagliacci will include: Luis Chapa alternating with Samuele Simoncini as Canio; Alla Vasilevitsky and Elisa Cho alternating as Nedda; Ionut Pascu and Hansung Yoo alternating as Tonio; Dmytro Kalmuchyn and Julien Van Mellaerts alternating as Silvio; Eitan Drori and William Wallace alternating as Beppe.
Performances will take place: Friday, February 25th at 13:00; Sunday, February 27th at 19:30 (premiere); Monday, February 28th at 20:00; Tuesday, March 1st at 18:00; Thursday, March 3rd at 20:00; Friday, March 4th at 13:00; Saturday, March 5th at 20:00; Sunday, March 6th at 20:00.
One hour before each performance there will be a 30-minute talk on the opera (in Hebrew) presented by opera staffers. Admission is free for ticket holders.
Tickets may be ordered online from the Israeli Opera website – https://www.israel-opera.co.il/eng/ – or call: 03-6927777.