Mascarpone is like the perfect dessert: sweet, but not too sweet. The romantic comedy, directed by Alessandro Guida and Matteo Pilati is fun, flirty, and at the same time very real, with characters that are relatable, likeable, and seriously hot. Friendship, dating, and the mysteries of adulting are explored in this light and lovely feel-good movie.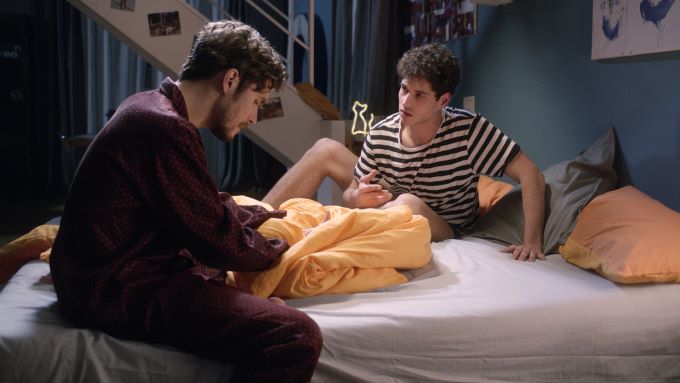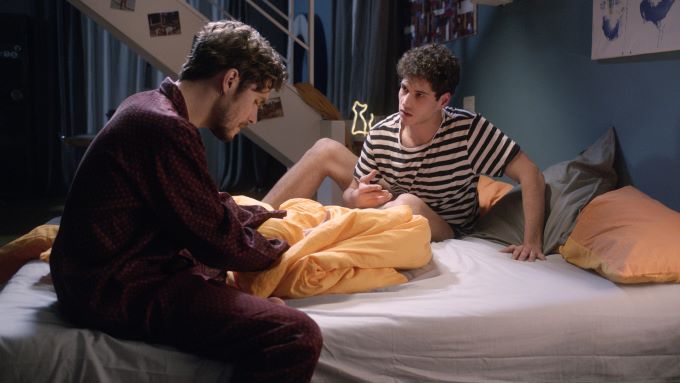 Antonio (Giancarlo Commare) enjoys life with his husband Lorenzo (Carlo Calderone). The film opens with what looks like a typical day: he wakes up past noon in their big, comfy bed whose bright orange linens are a bold contrast to the marine blue wall, works out at the gym, then comes home to bake biscotti for tiramisu and make dinner for Lorenzo. But it doesn't turn out to be the cozy couple's evening Antonio had expected. Lorenzo wants to break up, and Antonio's entreaties can't change his mind.
Not quite 30, Antonio has been with Lorenzo since high school, almost forever. Throughout the years in which most of us are figuring out who we are and who we want to be, as well as acquiring some necessary life skills, Antonio has been tucked away in his comfy cocoon with Lorenzo. He's never had to worry about making a living or finding an apartment. Lorenzo always took care of that. Heartbroken and broke, Antonio feels lost.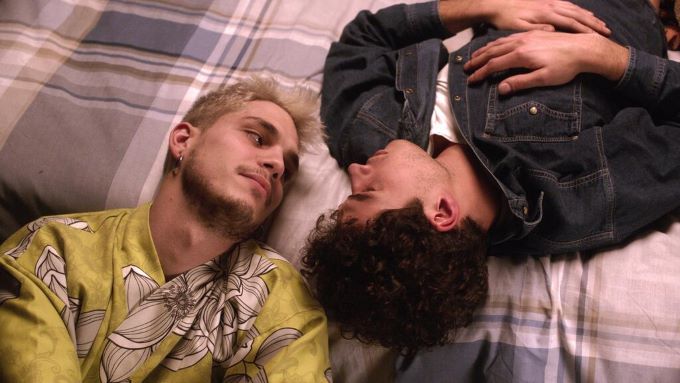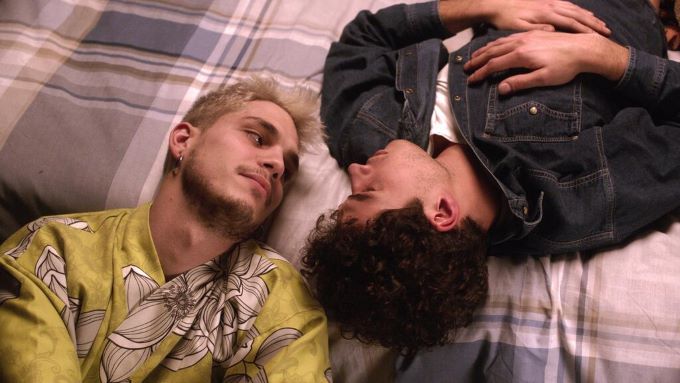 Commare is touching as the floundering Antonio, the sincerity of his grief invites the viewer's empathy. Antonio's best friend Christina (Michela Giraud) is a bright presence in his life and in the film, loyal and supportive, she tries to encourage him to heal. He rents a room from Denis (Eduardo Valdarnini) an outrageous, flamboyant character who is very provocative and sometimes annoying, yet alluring and even kind.  In his zeal to make sure Antonio can pay the rent, Denis gets him a job with his friend Luca (Gianmarco Saurino), who owns a bakery. Like every other character in this film, Luca is incredibly attractive, and there's a lot of heat in the kitchen.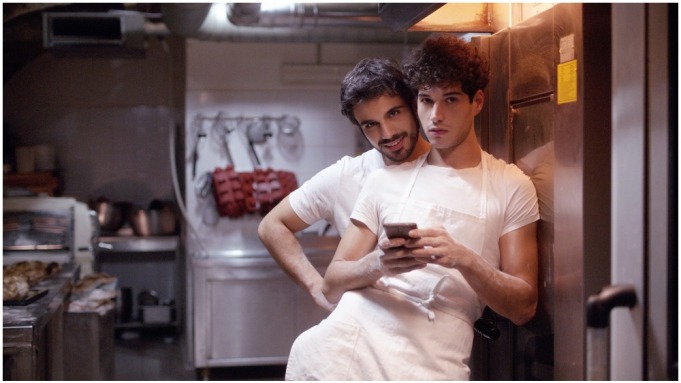 As the film progresses it becomes apparent to what extent Antonio had depended on Lorenzo, not only financially, but in all other aspects of his life. Although he studied to be an architect, it doesn't seem as though he's ever worked in the profession. He likes to bake, but that too is just a hobby. He had never fully explored his own inclinations. Living with Denis and working at the bakery, he begins to branch out in different ways, and even gets on a dating app.
I really like the ways in which the film is sex positive, showing different perspectives on sex, dating, and relationships. Denis and Luca mentor Antonio, and along with sharing their views on the dos and donts of hooking up, they also remind him to be safe and use condoms. Another aspect of the film that I appreciated is that there are no bad guys. Lorenzo may have caused Antonio pain by breaking up with him, but he is shown as managing the breakup in a relatively decent way. There's a recognition that feelings can change, and people can want different things.
Antonio starts out as a sad, lonely guy who has only ever been with one man, but with a little help from his friends he experiments and explores. As his confidence grows, he becomes a dating app fiend, his phone constantly pinging with messages. His various encounters with men are depicted in a very light, amusing way. But when he meets Thomas (Lorenzo Adorni), a photographer from Milan, everything changes. It's fun to follow Antonio as he emerges from his cocoon and tries out his wings, trying to figure out what direction to take.
Mascarpone is now showing at the Tel Aviv Cinematheque, link to screening dates & times on the TLVFEST website.
Mascarpone
Italy/1 hr 41 min/2021/ Italian with English and Hebrew subtitles
Original Title: Maschile Singolare
Directors: Alessandro Guida and Matteo Pilati; Screenplay: Guida, Pilati and Giuseppe Paterno Raddusa; Cinematography: Michel-Clement Franco; Editing: Marco Careri; Cast: Giancarlo Commare, Carlo Calderone, Michela Giraud, Eduardo Valdarnini, Gianmarco Saurino, Lorenzo Adorni