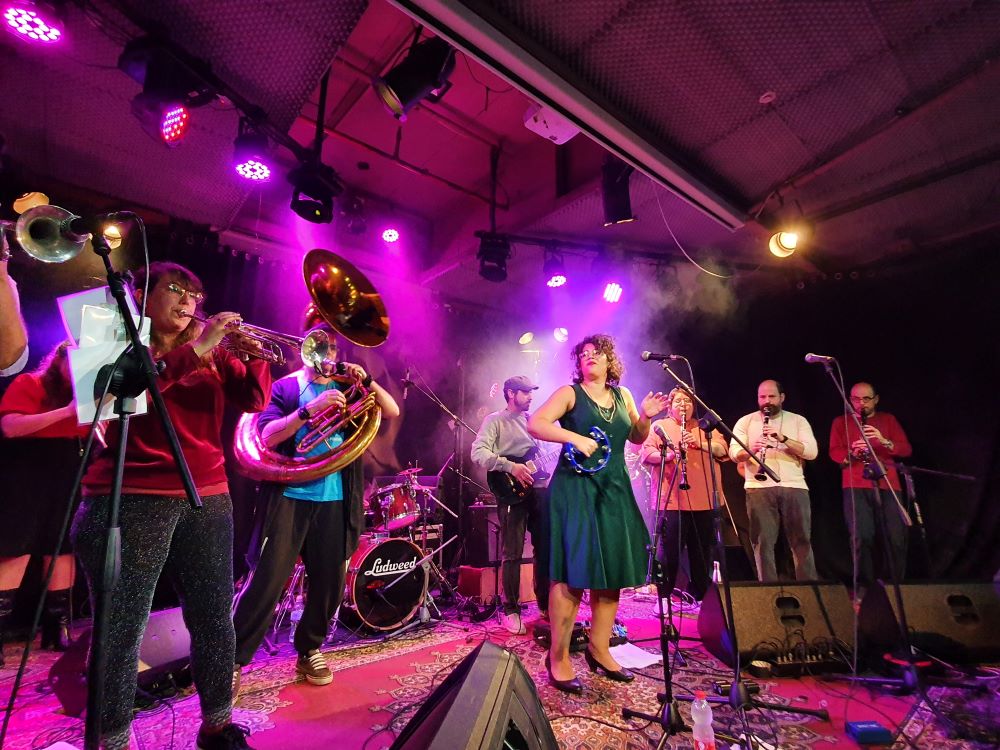 Exhilarating, colorful, playful, and surging with energy, Las Piratas Piratas celebrated the release of their single Chipsy at The Zone last Saturday night in Tel Aviv, filling the night with music that was full of swing and spirit, rhythmic, textured, exuberant and joyous. The 20-person band hails from Jerusalem and is a music collective that has been together since 2013. Saturday night marked their first Tel Aviv concert, sure to be the first of many more. There was an amazing feeling of warmth and camaraderie emanating from the musicians onstage, a sense of total immersion in the music, a sense of community. Yet the power of this community was its sense of freedom and individuality. Each musician was attired according to their preferences, and every time someone took a solo, there was that same feeling of free-spirited exploration, taking the music in different directions. I like bands that move, bands that move me, bands that feel like a movement – Las Piratas Piratas are all that! Get to know these musicians – they are amazing!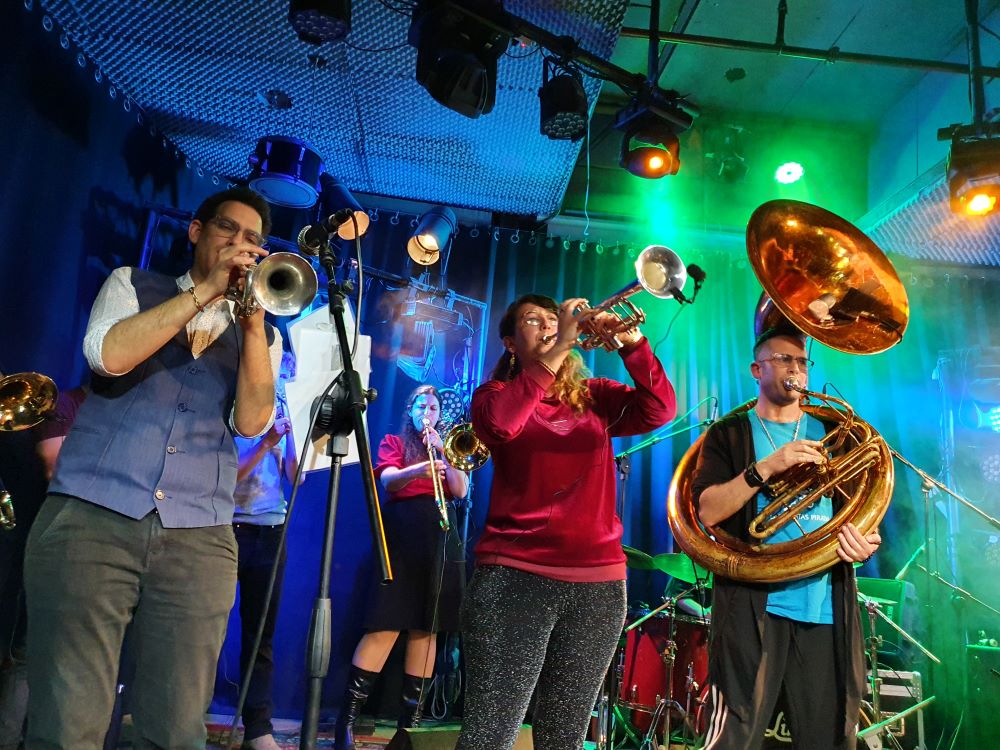 Opening for Las Piratas Piratas was Bilgo, a rapper with an electric guitar, good vibes, and a sense of humor. Rapping in Hebrew about the woes of the music industry, the trials and tribulations of being a delivery person (the pandemic really put the brakes on concerts), missed opportunities for love, and the complexities of trust, he connected with the audience and set the scene for a good time.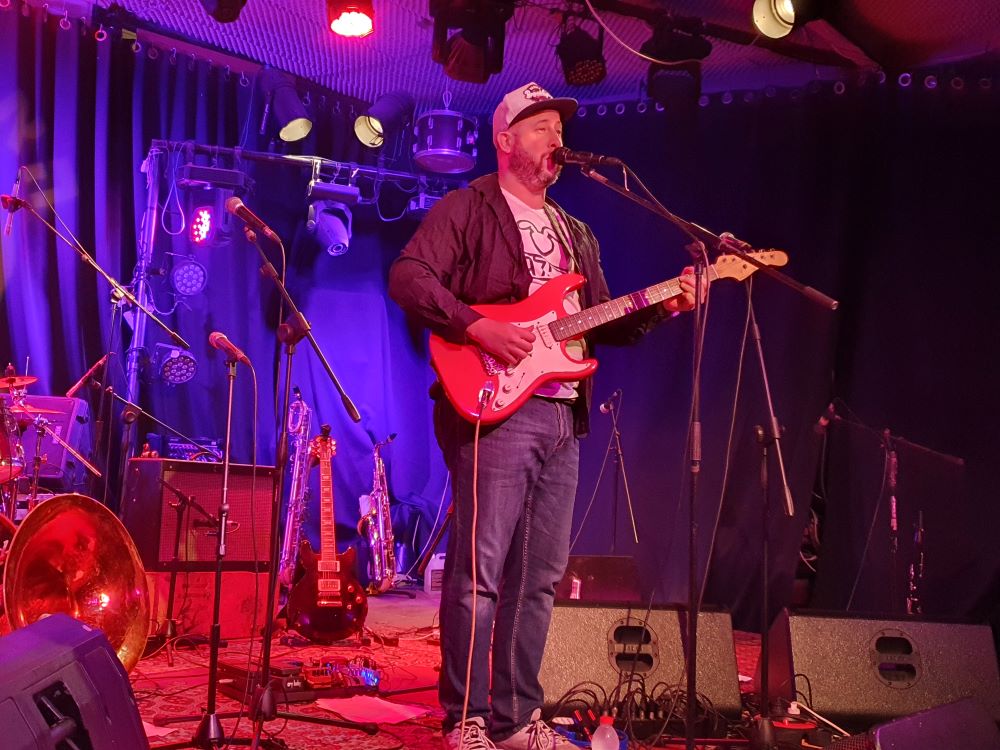 Las Piratas Piratas opened with a song called Dancing in the Streets, Noa Ben-Sadia singing "it's time to sing and shout". And they did, and we did too – the audience dancing through the entire concert, smiling, and occasionally shouting out their love to the band. The set included both covers and originals, and they make each song their own, with vivacious, sensitive arrangements. The spiritual Down By the Riverside started out soft and tender, then shifted, revival mode, to a fast dance interlude, with solos from the Baritone Sax and French Horn, sound dancing across the stage, then a Clarinet solo took it to slow, lofty heights, leading to an acapella finish in angelic harmony. Kvish Shesh is named for the highway, a light and breezy road song with a sunny day groove that featured a cool guitar solo. A Baritone Sax intro that gave me a feeling of late nights and smoky rooms introduced the mournful St. James Infirmary, but then brilliantly shifted into a fast-moving orchestrated riot of fun solos and great dance music. In the tradition of jazz songs with mischievous double-entendres, their original Moisty Tomatoes is a very appealing, sensual tune, with an enticing description of a salad, and Noa Ben-Sadia did it vivacious justice, as she did throughout the evening with her radiant stage presence.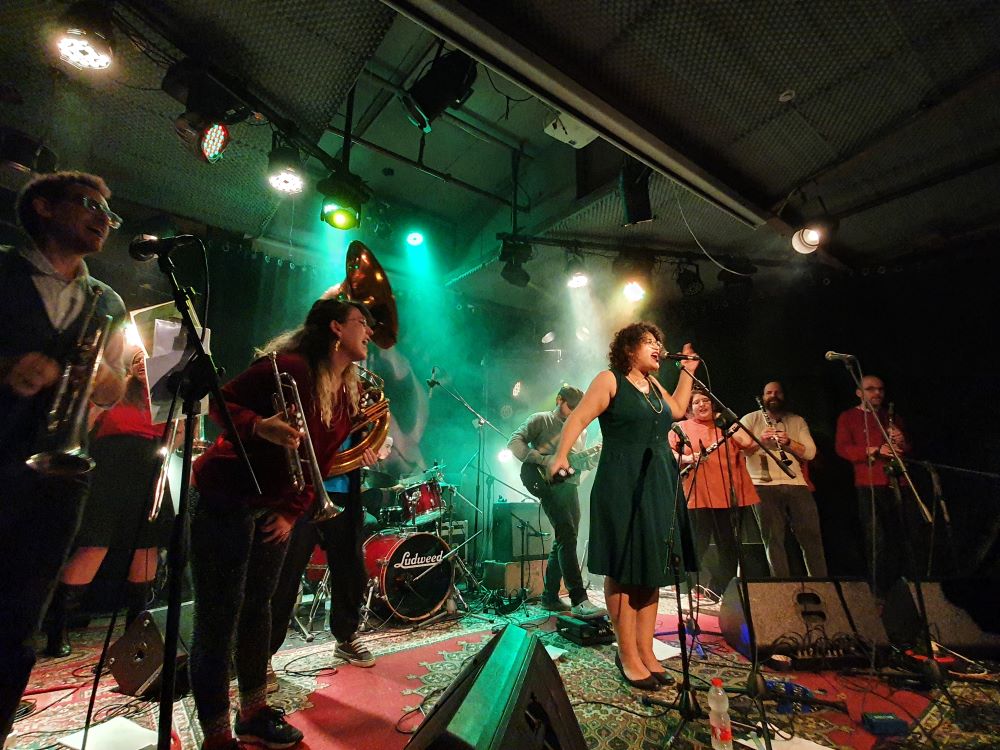 Singer/MC Echo was the very special guest for the evening and her rapport with Las Piratas Piratas was terrific! They sang the famous labor union song Which Side Are You On, originally written by activist Florence Reese in 1931, and it worked so well, this meeting of different music genres – protest and Hip Hop – that are so very connected at the core. Performing Echo's originals – Shemesh, Karma, and Afa Alecha – Echo's signature cool and knowing humor felt magnified by the band's heat for a powerful performance.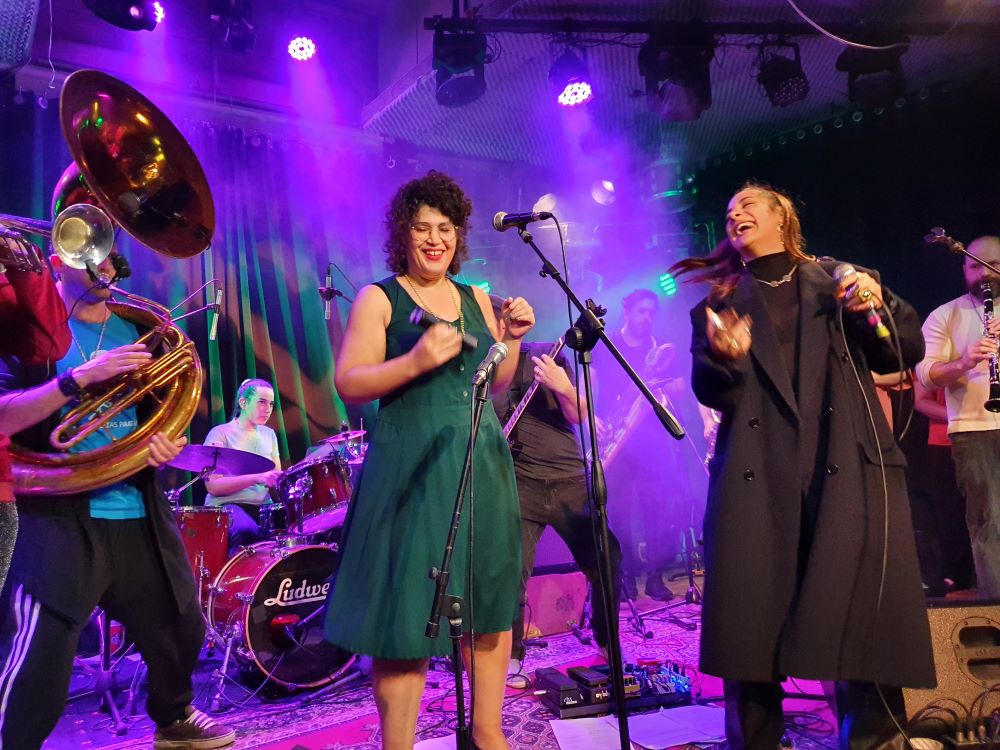 One of the many highlights of the evening was Chipsy – composed by Ben Borenstein and produced by Yossi Fine. Lively and light-hearted, the Balkan-infused music swirls, wandering, dancing, then takes you somewhere deeper, with a sense of mystery, only to rise up again, buoyant and playful. Featured on the recording are musicians who were not onstage on Saturday: Tuval Haim (Drums) and Inbar Heiman (Percussion), Yagil Weiss (Percussion), Harel Plavius Keshet (Trumpet), Shevach Samuel (Tenor Saxophone), Guy Mauda (Alto Saxophone), Dorian Levin (Flute).Enjoy Chipsy!

Onstage were: Avigail Mersel (Drums), Noa Ben-Sadia (Percussion and Vocals), Ben Bornstein (Electric guitar), Adam Yodfat (Sousaphone), Nimrod Katz (Trombone), Andy Ptashka (Trombone), Yehonatan Avidan (Trombone), Daniel Tagar (Trombone), Edo Hayek (French Horn), Yohai Vered-Guberman (Trumpet), Miryam Bareket (Trumpet), Halel Moran (Baritone Saxophone), Shevach Samuel (Tenor Saxophone), Yonatan Fridman  (Tenor Saxophone), Shai Kedem (Tenor Saxophone), Noa Richke  (Alto Saxophone), Yarden Kedar (Clarinet), Shirli Zarbiv (Clarinet), Nadav Amir (Clarinet), Maor Meltzer (Clarinet).
Follow Las Piratas Piratas:
https://www.facebook.com/laspiratasjlm
https://www.instagram.com/las.piratas.piratas
Bilgo: https://www.facebook.com/BILGOMAN