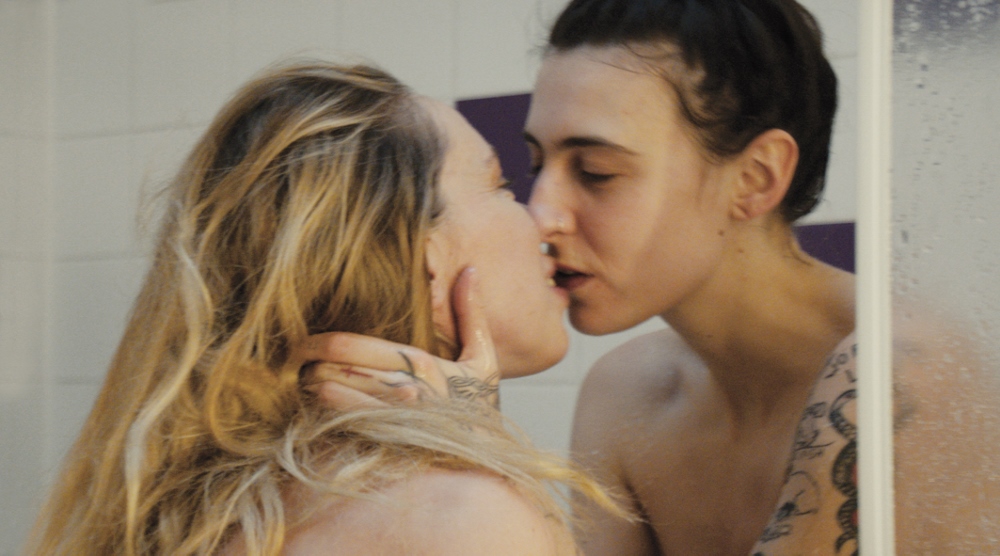 Glück (Bliss), Henrika Kull's second feature, locates love in what some might consider an unlikely place: the brothel. Set in Berlin, Germany, where sex work is legal, the film offers an interesting perspective on sex work. Once the illicit aspect is removed, sex work is like any other job. Sometimes it can be difficult, frustrating, and stressful; there can be mean, controlling employers and annoying customers – just like any other job. The brothel described in the film however reflects a harmonious workplace, where the employees have a good, warm relationship with the manager. Another intriguing aspect of Glück, is that it was filmed in the brothel where Kull had done a lot of research, while the brothel was open and working, with the actors portraying sex workers among sex workers going about the day's work.
Sascha (Katharina Behrens) has a ready smile and the warmth of a summer sun. Her long tangle of hair and easy ways convey a natural, unaffected manner. One of the older women at the brothel, she seems very comfortable and confident in her place of work. A new employee arrives, and is introduced as Jessy (Adam Hoya). Pale and angular, with dark hair and myriad tattoos, she is from Italy, and speaks to the other women in English. You can feel the heat. When Sascha enters the common room asking who would be up for a threesome, you can feel Jessy – who had been lounging on the couch with a book – silently screaming "choose me, choose me." Sascha doesn't, but fear not, much flirtation follows.
The differences between the two contribute to the mutual attraction, yet introduce some uncertainty into the possibility of a relationship. Sascha has an 11-year-old son who lives with his father in the town where she grew up, full of "ugly people" with "ugly thoughts". She is tied to the place and her past through her love for her son. In contrast, Jessy is in her twenties and has no real ties. For her, sex work is a performance, as may be seen in her choice of a pseudonym – or stage name – and performance is part of her life. Her name is Maria and even the messages she leaves for her father in Italy are a fiction. Yet her attraction to Sascha is very real, and the onscreen connection of the two actors is romantic and sensual. Hoya is incandescent as Maria, the heat and light emanating from this performer is mesmerizing. It's bliss.
TLVFEST will present a special screening at the Tel Aviv Cinematheque on Friday, March 11th at 21:30. Ticket info on the TLVFEST website: http://tlvfest.com/tlv/he/2022/02/12/bliss-2/
Glück // Bliss
Director & Writer: Henrika Kull
Producer: Martin Heisler
Cast: Katharina Behrens, Adam Hoya, Nele Kayenberg
Germany, 2021, 90 min, German, English and Italian with Hebrew and English subtitles