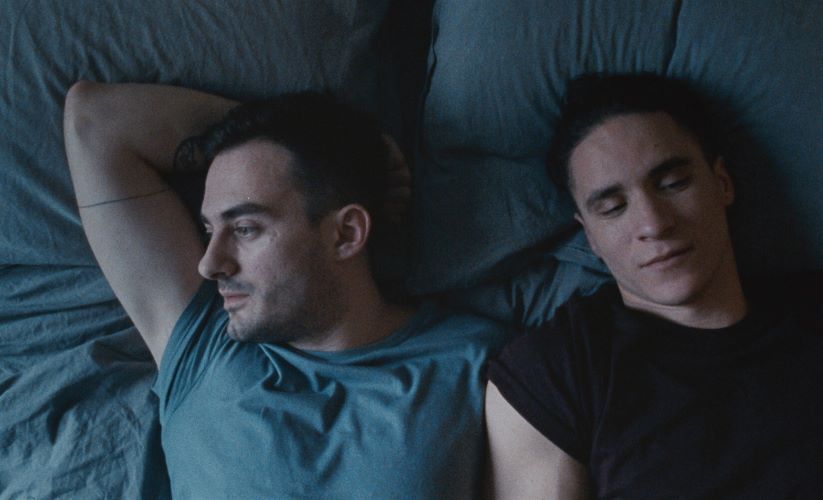 Eugen Jebeleanu's Poppy Field opens with a romantic idyll as Cristi greets his lover Hadi, a charming flight attendant who has come to spend the weekend. Their desire heats up the screen as the two lovers can't wait to get to the apartment, passionately embracing in the elevator. Playful and affectionate, their body language and conversation reflect a warm connection between the two. It's a fun scene, yet through it all, there is a palpable tension in Cristi. The tension comes to the surface when Hadi (Radouan Leflahi) suggests going away for the weekend, and Cristi (Conrad Mericoffer) adamantly refuses, saying: "It's complicated." All is not as idyllic as it seems.
Taut, passionate, suspenseful, and intense, Eugen Jebeleanu's Poppy Field maintains an unrelenting close focus on Cristi, a man who lives in two worlds, yet does not fully belong to either one. Conrad Mericoffer delivers a sensitive, nuanced performance as Cristi, a closeted gay man who is a member of the Romanian police force. Although the film is set in Romania – and it is important to remember that consensual, homosexual sex in a private setting was not decriminalized in Romania until 1996 – its commentary on the impact of homophobia on the individual, and a culture of violence in the police force, has universal resonance.  Moraru's screenplay and Jebeleanu's direction make use of every second in this brief, yet powerful film, revealing its characters in their many-faceted, flawed, vulnerable, humanity.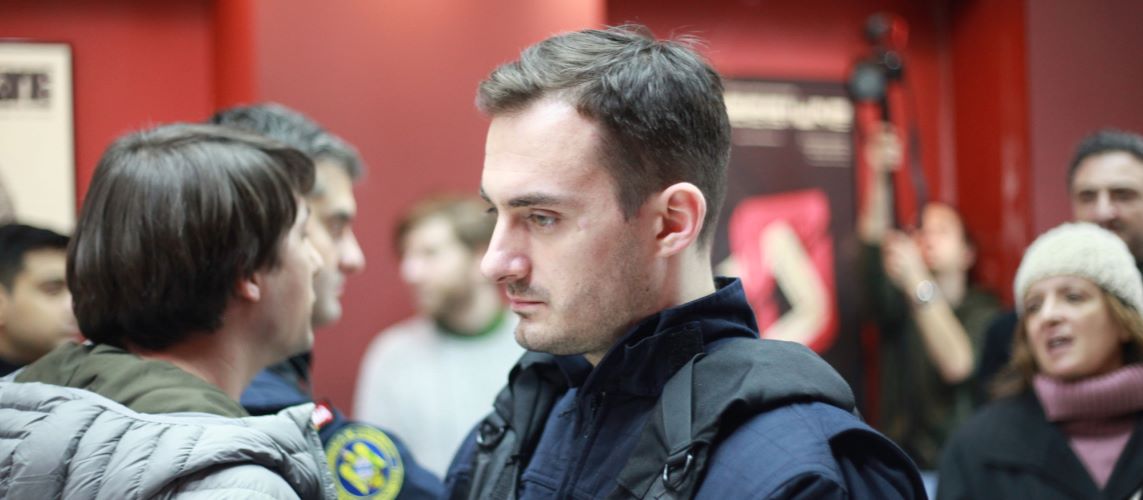 Cristi's eyes reveal his inner conflict and turbulent emotions. There is an almost documentary feel to the film as the camera stays on Cristi, registering his response to conversation and events around him. Riding in the car with his fellow officers, he is compelled to tolerate their teasing about his status as a serial dater, unable to hold on to a girlfriend. He's always on the alert, careful not to reveal too much, but in his portrayal Mericoffer conveys the sense that he can handle this, after all, this is part of the daily routine. It's made glaringly obvious that in this climate of macho posturing, taking a weekend off would have invited questions that Cristi could not have contended with. It is complicated.
The police are called to intervene in a tense situation: a group of protesters have disrupted the screening of a queer film at the cinema. The protesters stand on the stage shouting crude insults and holding offensive signs, while the people who have come to see the film respond, shouting back, and the police don't really seem to be helping the situation, aggressively demanding the movie goers (wait, aren't they the innocent bystanders here?) show their ID. The camera fixes on Cristi's face, as it turns, revealing the noise and chaos in the background. The claustrophobic feeling draws the viewer into Cristi's experience, he's trapped by the situation, and by his own feelings. There are moments when it feels unbearable. His fear and tension erupt in the worst way, and as events unfold, the response of his police colleagues reveals some of their individual stories, prejudices, and vulnerabilities, as well as their loyalty and caring. It's complicated, and Jebeleanu resists offering a comforting resolution. And it is that complexity, the critical eye cast on the individuals and the culture in which they live, that makes Poppy Field a strong, thought-provoking film.
Poppy Field
Original title: Câmp de maci
Romania/2020/82 min/Romanian, English, French with English and Hebrew subtitles
Director: Eugen Jebeleanu; Screenplay: Ioana Moraru; Cinematography: Marius Panduru; Editing: Catalin Cristutiu; Cast: Conrad Mericoffer, Alexandru Potocean, Radouan Leflahi