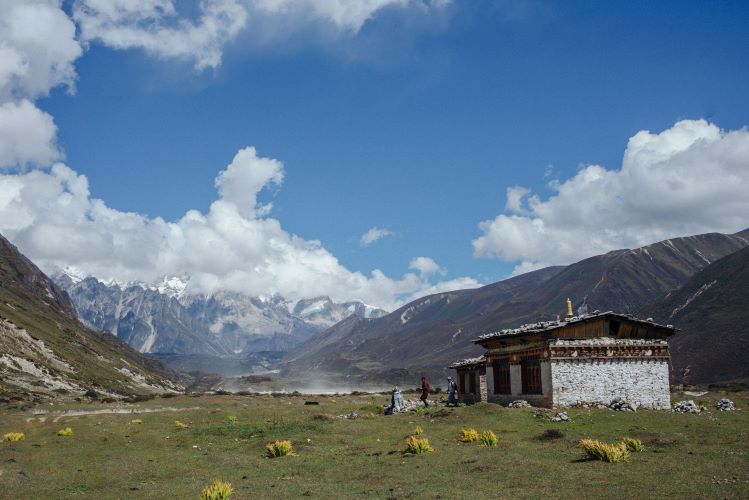 Lunana: A Yak in the Classroom is a warm-hearted, fun, and tender film set amid the dramatic mountain landscape of Bhutan, in the remote village of Lunana, population 56. It's a wonderful addition to the tradition of films about teachers and students, illuminating that special connection and its potential for mutual growth and change. Some of my favorites are To Sir with Love (1967), Up the Down Staircase (1967), Stand and Deliver (1988) and Freedom Writers (2007). The power of Pawo Choyning Dorji's film – Bhutan's nominee for the 2022 Academy Awards, Best Film at CinemAsia 2020, and winner of the Audience Award for Best Narrative Feature and Best of Fest at the 2020 Palm Springs International Film Festival among others – is in its recognition of the lasting impact and deep meaning of small changes and fleeting moments.
Twenty-something Ugyen (Sherab Dorji) lives with his grandmother (Tsheri Zom) in Thimphu, the largest city and capital of Bhutan. He dreams of emigrating to Australia to pursue a career as a singer, but still has one more year to go on his government contract as a teacher. Like many people today, Ugyen is more connected to contemporary global culture and all the abundance it offers than to his country's language and heritage, singing covers in English in bars that look like any urban bar anywhere.
Sherab Dorji delivers a sensitive and nuanced performance as Ugyen. He's immensely likeable, inviting our empathy for this young man and his dreams, as well as his frustration in having trained as a teacher, a job for which he feels he has no affinity. Scolded by his supervisor for his lack of motivation, he is sent to work out the remainder of his contract in the far-off village of Lunana.
Located at an altitude of almost 5,000 meters, Lunana is so remote that he must make the last leg of his journey on foot, with the help of Michen (Ugyen Norbu Lhendup) and Singye (Tshering Dorji), yak herders from the village. The film follows Ugyen's journey with gentle humor, noting the drop in population as the altitude rises, and the distance between Ugyen and his guides. Ugyen's music is the essence of his being, it brings him happiness and solace. At night, by the campfire, when Michen and Singye sing a traditional song, Ugyen is intrigued. But after a brief interlude, the headphones go back on his head, cutting him off from his immediate surroundings.
In Lunana, electricity is solar-based, and therefore inconsistent, and there's no cell reception. Ugyen is struck by the spare conditions of the village. The classroom does not have anything beyond bare walls, simple desks and chairs. It doesn't even have a blackboard. It's not too surprising that Ugyen is very unhappy and balks at taking on this challenge.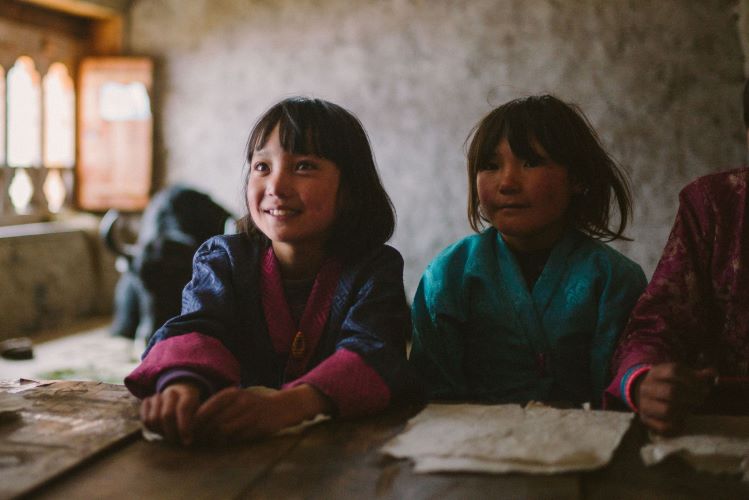 Strong performances by the entire ensemble cast illuminate the film. Many are first-time actors, residents of Lunana, their interaction with Ugyen feels very genuine and natural. Young Pem-Zam, the class captain, easily wins hearts with her bright eyes, eager intelligence and ready smile. Gross National Happiness (GDH) is a constitutional goal of the government of Bhutan. Dorji's film explores the pursuit of happiness without prejudice, judgements, or cliché. There are no grand gestures here or dramatic transformation. It is rather the flow of daily life, with its struggles, hardships, efforts, pleasures, and dreams, that catches Ugyen up in its rhythms. At every turn he encounters the resilience and creativity of the people of Lunana and comes to understand more about them and their way of life. Jigme Tenzing's cinematography captures the beauty of the landscape, and it too works its magic.
Lunana: A Yak in the Classroom
Bhutan/2021/109 min/Dzongkha, English with Hebrew subtitles
Director: Pawo Choyning Dorji; Screenplay: Pawo Choyning Dorgi; Cinematography: Jigme Tenzing; Editing: Ku Hsiao-yun; Music: Hu Shuai; Cast: Sherab Dorji, Kelden Lhamo Gurung, Ugyen Norbu Lhendup, Kunzang Wangdi, Sonam Tashi, Tsheri Zom, Tshering Dorji, Tashi Dema, Dophu, Dorji Om