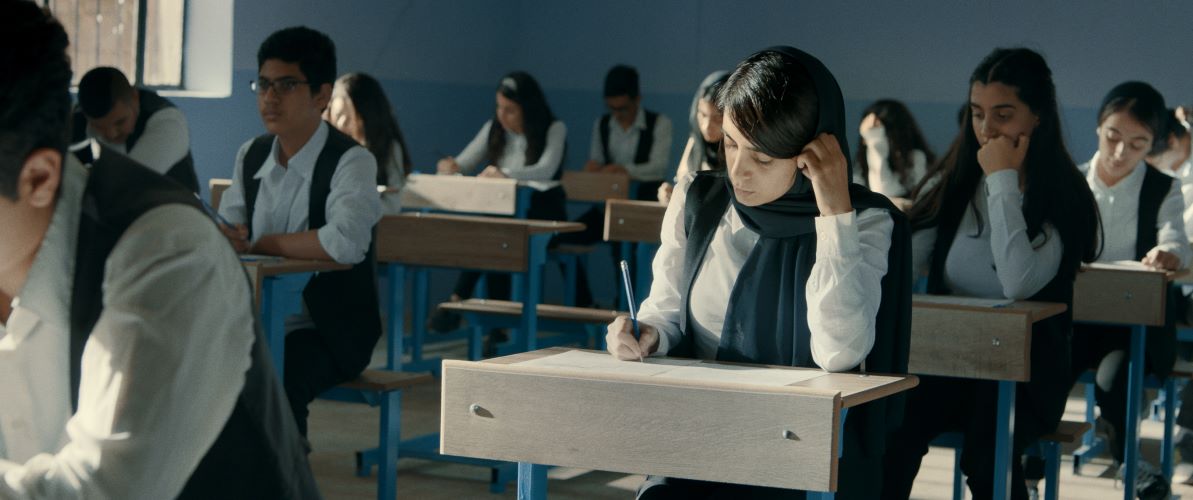 Suspenseful and fast-paced, Shawkat Amin Korki's The Exam is pervaded by an ominous sense of danger and macabre humor. Set in the Eastern city of Sulaymaniyah (Iraqi Kurdistan) in unspecified contemporary times, the film opens with Rojin, a young woman, crying bitterly on the beach, then cuts to the image of another woman, Rojin's older sister Shilan, rushing through the streets, practically dragging her small daughter Senur. Both sisters have been harmed by cultural-political circumstances. Rojin (Vania Salar) is mourning a lost love, her boyfriend has been missing for two years now (there are hints that his disappearance and possible death are war or politics related), and she is frozen in her grief. Her older sister Shilan (Avan Jamal) is trapped in marriage to her controlling husband Sardar (Hussein Hassan Ali) and determined to help Rojin escape a similar fate. With strong family and cultural pressure on Rojin to marry, there is one acceptable alternative: university studies. The Exam is an intense and captivating social drama-crime caper with themes of feminism and social justice.
To gain admission to the university, Rojin must pass a series of six exams, and she is simply not up to the task. The contrast to Rojin's grief and perhaps depression-induced passivity accentuates Shilan's fierce will to save her sister, a passion that propels her to take risks and set aside moral considerations. There are ways to circumvent the obstacle of the dreaded university exams, certain people that one can turn to for help. Shilan reaches out to property developer Shamal (Kawar Qadir) and Mr. Engineer (Hushyar Nerwayi), who have found a profitable way to get through difficult economic times by setting up an elaborate cheating network. Their help, however, doesn't come cheap, and it's a challenge for Shilan, whose days are so circumscribed, under Sardar's jealous eyes, to come up with the money. In her efforts to help her sister, the pressure mounts on Shilan.
In parallel to the intimate family drama is the wider picture of the educational system, with teachers and exam monitors aware that some students may be cheating. There is also a sense of mystery, because inevitably, if exam questions are being leaked, someone within the system must be complicit. The students are overseen by Mr. Jamal (Shwan Attoof) and Ms. Munira (Nigar Osman). Mr. Jamal, new to the job, is intent on seeking out the cheaters, full of suspicion and strict in his approach, while Ms. Munira tends to be less uptight. The educational system, in an effort to root out the cheaters, sets up more stringent conditions. The canny Mr. Engineer takes up the challenge and devises new ways to get around the obstacles. As the plot thickens, the risk increases, and suspense mounts, there are also some absurd, morbidly comic, laugh-out-loud scenes.
Cleverly scripted by Shawkat Amin Korki and Mohamed Reza Gohari, with strong performances by the entire cast, the characters are revealed, and events unfold in often unexpected ways. Just as Shilan is swept away in pursuit of a better future for Rojin, the viewer is swept away by the swirling emotions, suspense, and action, yet always conscious of the myriad moral and ethical questions raised in this film.
The Exam
France/2021/89 min/Kurdish with English and Hebrew subtitles
Director: Shawkat Amin Korki; Screenplay: Shawkat Amin Korki, Mohamed Reza Gohari; Editing: Ebrahim Saeedi; Music: Mehmud Berazi; Cast: Avan Jamal, Vania Salar, Hussein Hassan, Shwan Attoof, Hoshyar Nerwayi
Awards: FIPRESCI Critics Award Karlovy Vary, Best Screenplay Award Tirana, UNFPA Award Cairo, Best Film Santa Barbara
Next screening: Saturday, October 15th at 15:00, Haifa Cinematheque