Midway on my journey through the Haifa International Film Festival, I've seen several films that I will gladly recommend. The festival continues through October 17th, and new screenings have been added for films in popular demand. The full program and ticket information may be found on the Haifa International Film Festival website.
There's still time to see: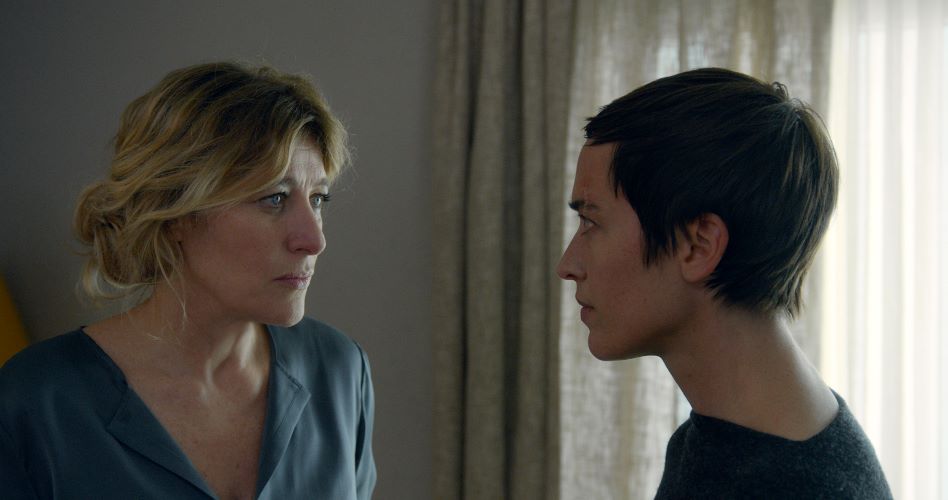 The Line
Director: Ursula Meier
The Line explores the blurred lines of relationships, the ambivalent feelings of love, hate, and dependence between mothers and daughters, and between sisters. Opening with a violent scene so stylized and orchestrated that at first it is almost abstract: objects crash in slow motion against a white wall, exploding into many hued fragments. A delicate classical piece forms the soundtrack as a woman screams in rage, yet her voice is silent, only the music is heard. As she – Margaret (Stéphanie Blanchoud), pursues her mother Cristina (Valeria Bruni Tedeschi), the youngest daughter Marion, dressed in an angel's robe, watches in fear. Meier provides no exposition, the catalyst for the attack and its background are to be inferred as the narrative unfolds. The consequences are clear: there is a restraining order against Margaret, for the next three months she cannot contact her mother or come within 100 meters of Cristina's house, which, up until then, was Margaret's home as well.
Stéphanie Blanchoud, who is one of the writers on this film, delivers a strong performance as Margaret, who burns with an uncontrollable rage, endlessly self-sabotaging. Her concern for her mother is just as fierce as her anger – despite the restraining order she can't keep away from the family and insists on finding out how Cristina, who is in the hospital is doing. Her sisters, Louise (India Hair) who has embarked on a life of her own, and is pregnant with her first child, and 12-year-old Marion (Elli Spagnolo), are caught between their anger and frustration at Margaret, their concern and love for her, and their own complicated relationship with Cristina. Elli Spagnolo is a wonderful discovery, her performance as Marion illuminates the film. Valeria Bruni Tedeschi imbues Cristina with an enchanting beauty and childlike self-absorption, as well as an inner resilience. A talented musician who gave up her career as a soloist when she fell pregnant with Margaret, and never lets her daughters forget her sacrifice, Cristina bestows and withholds her love, with caustic remarks tossed at her daughters along the way. A compelling perspective on violence and family relationships.
Next screening: Friday, October 14th at 15:00. Auditorium.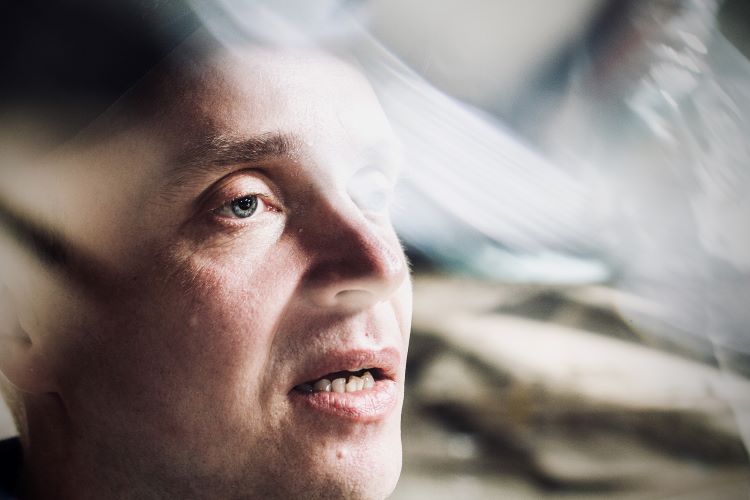 The Blind Man Who Did Not Want to See Titanic
Director: Teemu Nikki
Director Teemu Nikki (Nimby) takes a bold and creative approach in this fascinating, suspenseful, comic, and unusual film. The Blind Man Who Did Not Want to See Titanic was written with actor Petri Poikolainen in mind, who is blind and has MS. Nikki takes the viewer deep into Jaakko's (Poikolainen) world, with an extremely close focus – literally and figuratively, with Jaakko's face often filling the entire frame. Poikolainen imbues Jaakko with a sharp wit and an obsessive love of films (Several bags full of VHS cassettes, in addition to a well-stocked DVD collection counts as an obsession. A good one, but an obsession) marked by strong opinions – this is a fun film for cinephiles. His nuanced expressions reflect myriad emotions and can well sustain the 82-minute-long scrutiny of the film.
Jaakko enjoys a relationship with Sirpa, they talk every day and share their thoughts, dreams, memories and desires. But they have never met in person. When Sirpa receives some disturbing news, Jaakko decides he must go to her, and embarks on an adventurous journey, fraught with peril.  It's rare to see a film that focuses on a protagonist living with a disability, even more rare to cast an actor living with a disability – Nikki and Poikolainen show how it can be done, and have made a terrific, artistically compelling and entertaining film.
Next screenings: Friday, October 14th at 16:30. Tikotin.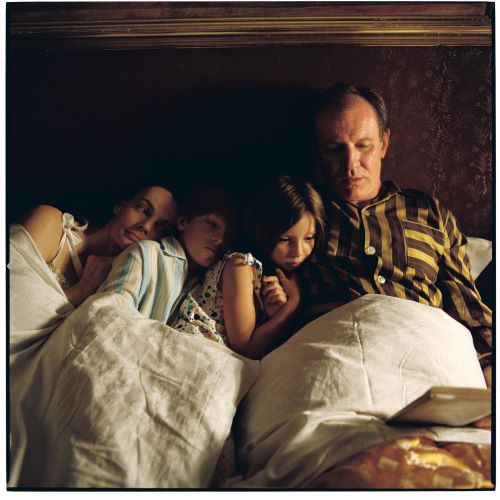 The Word
Director: Beata Parkanová
Beata Parkanová's The Word is set in Czechoslovakia of 1968, a critical time in the country's history, when the Warsaw Pact Invasion brought an end to the reforms and new freedom of the Prague Spring, strengthening the grip of the Communist Party. The strength of Parkanová's film is in its focus on the intimate circle of Václav, a respected notary public, and his family. The political events of the time take place off-stage, as it were, and are experienced through their impact on daily life.
Martin Finger and Gabriela Mikulková deliver outstanding performances as Václav and Vera, creating robust, complex characters and a portrait of a marriage of contrasts and equals. Dealing with probate law and other domestic legal issues, Václav gently but firmly guides his clients to just resolutions, taking care to protect those who are vulnerable. He does not hesitate to educate and admonish, appealing to the emotions, as he tells a pair of squabbling siblings "Imagine how your mother would feel if she could see you now." With Václav active in the community coaching the swimming team and other volunteer efforts, Vera is the one who keeps the family going, ruling with a firm hand, yet with endless generosity and affection. When the family vacations, Vera is the one who jumps up from the beach towel to shout out – stop throwing sand – while Václav is the one who bends to daughter Emma's wishes. Vera is fierce in her criticism, and just as fierce in the power of her love, which will be severely tested.
The shadow looming over Václav is the Communist Party, of which he is not a member. There is constant pressure on him to join, for when such a well-liked, prominent member of the community refuses to join, it makes the Communist Party look bad. When two Party members visit his office to encourage him to sign, Václav looks like a man facing his doom, yet stands firm, even though he knows the consequences can be severe. But how long can he hold out?
Next screening: Friday, October 14th at 17:30. Auditorium.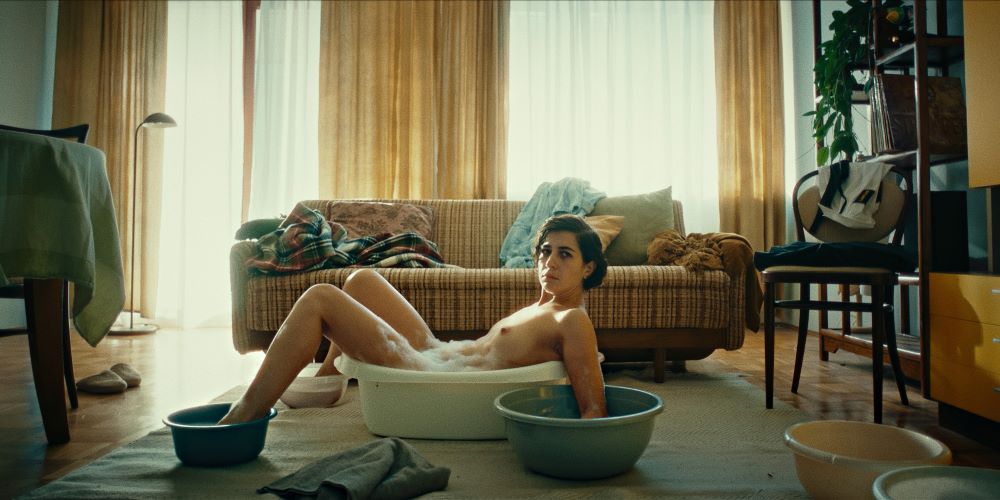 WE MIGHT AS WELL BE DEAD
Director: Natalia Sinelnikova
WE MIGHT AS WELL BE DEAD is as dark and hilarious as the title implies. Anna (Ioana Iacob) is a security officer in an exclusive community, a haven away from the implied dangers outside. As they sing at a community gathering, "we're safe in here within these walls". Admission is voted on by a committee, and people are desperate to be accepted. It must be rough out there. Yet perhaps all is not quite perfect within the community. Anna's daughter Iris (Pola Geiger) has secluded herself in the bathroom and refuses to come out at all. She receives her meals through an opening in the bottom of the door. The relationship between the two is a close one despite the bizarre situation, and their conversations – tense and affectionate, are both funny and poignant. When someone's dog goes missing it sets off a wave of suspicion and hysteria in the community from which no one is immune. Anna tries to be a voice of reason, but to no avail, and the climate of fear escalates. Suddenly differences of language and culture become significant, a way of separating "us" and "them". People begin arming themselves for protection from the invisible menace, and currying favor with members of the board, to ensure their future in the community. Ioana Iacob delivers a restrained yet strong performance as a mother trying to care for her daughter and provide a safe environment for her, and as a member of the community trying to fulfill her role as security officer and speak out against the wave of panic. The extreme reactions within the community are amusing to view and terrifying in their implications, all leading to what is perhaps an inevitable conclusion.
Next screening: Friday, October 14th at 18:30. Tikotin.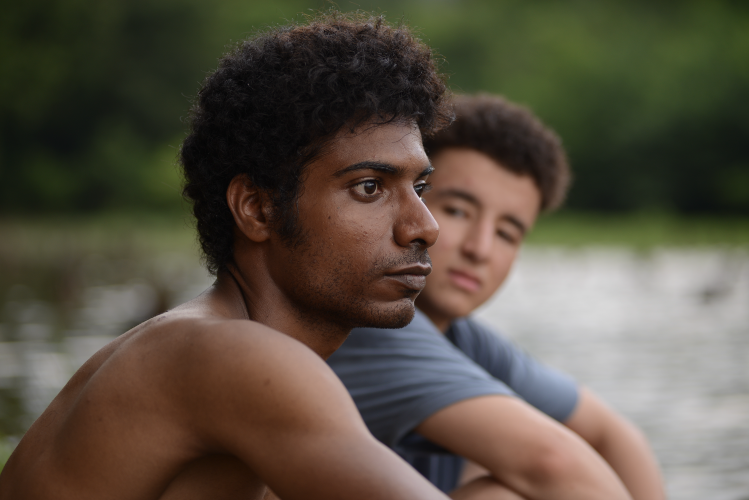 Summer with Hope
Director: Sadaf Foroughi
Summer with Hope focuses on Omid, whose name means "hope" in Persian. He is a typical teenager in so many ways. He loves to swim and go out dancing at night and cajoles his mother Leili (Leili Rashidi) to let him drive, even though he doesn't have his license yet. Mehdi Ghorbani imbues Omid with the shifting moods, the desire for independence, the boundless energy and bursts of joy that mark adolescence. Together with his uncle Saadi (Alireza Kamali) and mother, Omid has travelled from Teheran to northern Iran on the Caspian coast to compete in a swim meet. Yet when they arrive, he is barred from competing due to a technicality.
That is the story on the surface, yet the force of the film lies in all that is beneath the surface, all that is not explicitly stated. The anguish generated runs deep, and it appears that there is more at stake than a swimming competition. Omid's parents are on the verge of a divorce, the father is an ominous presence in the background, conveying his wishes and decrees through phone calls. Omid is intent on proving himself as a swimmer and wants a place on the national team. Although the swimming coach Kamran (Milad Mirzaee) was insistent on excluding Omid, claiming that although he received an invitation, the competition is for club members only, the assistant coach Mani (Benjamin Peyrovani) suggests an alternative. There is also an open water competition, which Omid can slip into using the invitation he received. The only catch is that open water swimming is not Omid's event, all his training has been in a swimming pool. Mani offers to help him train.
There is a feeling of secrecy and mystery throughout the film, and a constant sense of outside forces at work – social hierarchy, government, culture, religion – all influencing people and events. The cinematography is wonderfully dynamic. Much of the friendship between Omid and Mani is seen literally from a distance most of the time, lighting a bonfire at night or running on the beach. Images are intentionally fragmented as if to emphasize that we can only see and know part of the picture. The relationship between Omid and Mani is suspect in the eyes of the community. "You are drawing attention," Leili tells her son. And that is dangerous.
Next screening: Saturday, October 15th at 10:00. Rappaport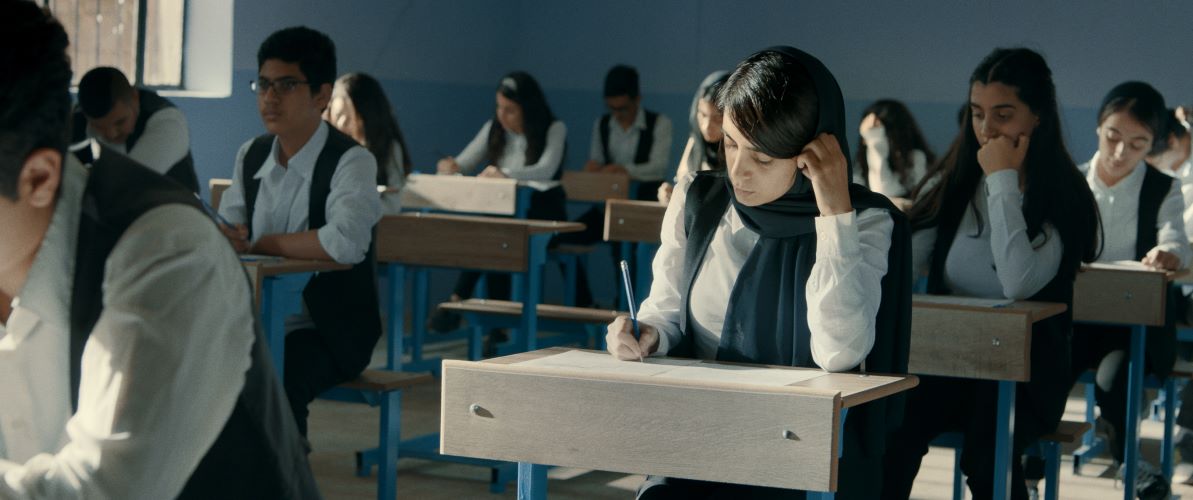 The Exam
Director: Shawkat Amin Korki
Suspenseful and fast-paced, Shawkat Amin Korki's The Exam is pervaded by an ominous sense of danger and macabre humor. Set in the Eastern city of Sulaymaniyah (Iraqi Kurdistan) in unspecified contemporary times, the film opens with Rojin, a young woman, crying bitterly on the beach, then cuts to the image of another woman, Rojin's older sister Shilan, rushing through the streets, practically dragging her small daughter Senur. Both sisters have been harmed by cultural-political circumstances. Rojin (Vania Salar) is mourning a lost love, her boyfriend has been missing for two years now (there are hints that his disappearance and possible death are war or politics related), and she is frozen in her grief. Her older sister Shilan (Avan Jamal) is trapped in marriage to her controlling husband Sardar (Hussein Hassan Ali) and determined to help Rojin escape a similar fate. With strong family and cultural pressure on Rojin to marry, there is one acceptable alternative: university studies. The Exam is an intense and captivating social drama-crime caper with themes of feminism and social justice.
To gain admission to the university, Rojin must pass a series of six exams, and she is simply not up to the task. The contrast to Rojin's grief and perhaps depression induced passivity accentuates Shilan's fierce will to save her sister, a passion that propels her to take risks and set aside moral considerations. In parallel to the intimate family drama is the wider picture of the educational system, with teachers and exam monitors aware that some students may be cheating. There is also a sense of mystery, because inevitably, if exam questions are being leaked, someone within the system must be complicit. Cleverly scripted by Shawkat Amin Korki and Mohamed Reza Gohari, with strong performances by the entire cast, the characters are revealed, and events unfold in often unexpected ways. Just as Shilan is swept away in pursuit of a better future for Rojin, the viewer is swept away by the swirling emotions, suspense, and action, yet always conscious of the myriad moral and ethical questions raised in this film.
Next screening: Saturday, October 15th at 15:00. Cinematheque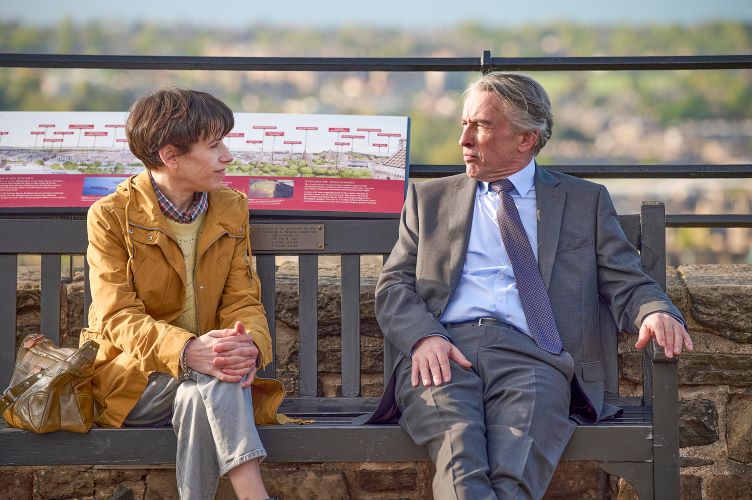 The Lost King
Director: Stephen Frears
History buffs, Shakespeare enthusiasts and fans of Sally Hawkins will enjoy Stephen Frears account of the search for King Richard III's remains. History is happening around us all the time, and is documented, interpreted and invented for the benefit of future generations. In this era of fake news, the differing perspectives on King Richard III, and the attempts to sort out the truth about the figure made infamous by Shakespeare's play – Did he have a hunchback? Did he kill his two young nephews, the princes in the Tower? – have a resounding relevance. The film is based on true events, that seem almost too bizarre to be real: the discovery of King Richard III's remains beneath a Leicester car park in 2012.
The inimitable Sally Hawkins carries the weight of this film in her portrayal of Philippa Langley, a woman who is struck by the vicious hatred of King Richard III, feeling that he was unjustly treated by history, remembered as a villain due to the slanted accounts of his opponents. King Richard III was killed in battle in 1485, when he was just 32, the last of the Plantagenet dynasty. As we know, history is written by the victors. Hawkins brings a wry humor and steely determination to her character, as well as a welcome depiction of a woman living with a chronic disease, affected by its impact, and making the necessary accommodations, yet always, the heroine of her own life. The issue of disability and the discrimination against those perceived to be disabled is one of the film's motifs, as Hawkin's character senses a parallel between her own experience and that of King Richard III. As she tells a theatregoer convinced of Richard's evil nature, "I don't believe someone would be that wicked because of a disability." And of course, the discovery itself is amazing.
Next screenings: Wednesday, October 12th at 20:30; Saturday, October 15th at 15:15. Kriger.