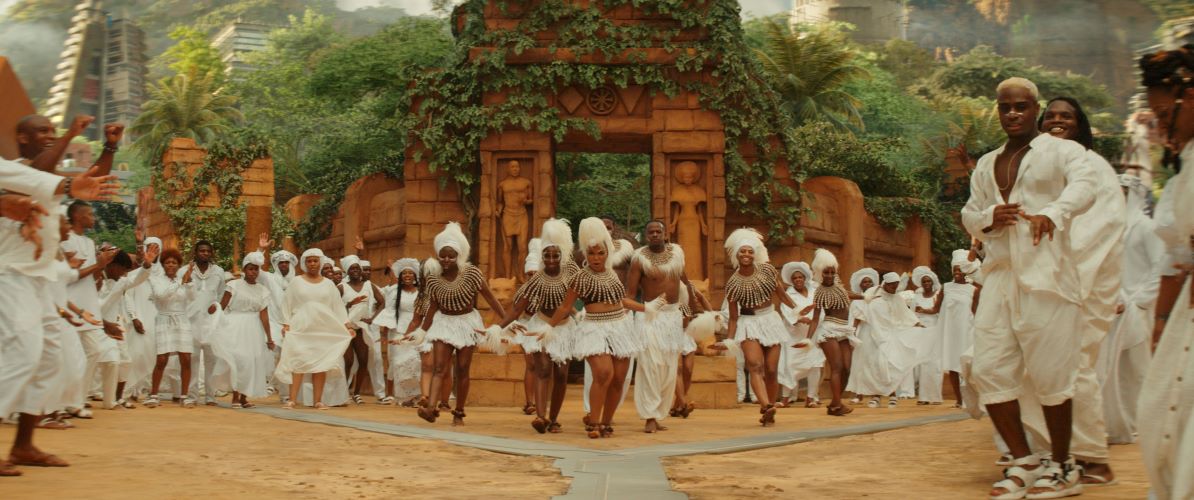 The kingdom of Wakanda is contending with a crisis, as is the creative team of the film Black Panther – the loss of the late Chadwick Boseman is immeasurable. Boseman's performance is indelible, he brought courage, humor, vision, and a generosity of spirit to his portrayal of T'Challah, the Black Panther. His performance created the character, and the filmmakers were faced with difficult choices, none of them ideal, yet I feel that Ryan Coogler, director and co-writer of Black Panther (2018) and Black Panther: Wakanda Forever, has made the best choice under the circumstances. Integrating the loss of its superhero into the film's narrative, Wakanda Forever is a tale of grief and strife, as the kingdom mourns while contending with the never-ending challenges from a world eager to plunder Wakanda's vibranium.
The film opens with Shuri (Letitia Wright) racing against fate to try to save her brother's life, and when Queen Ramonda (Angela Basset) tells her "your brother is with the ancestors" their anguish resonates powerfully. The elegance and solemnity of the funeral ritual, marked by the eloquence of Ruth Carter's costumes, as Ramonda and Shuri walk with the coffin from the woods into the village, becomes not only a cry of pain, but, as the entire community dances, chanting "T'Challah," a celebration and a tribute to the actor and the character he brought to life.
I see Wakanda Forever as an interregnum piece, for although Queen Ramonda is there to rule Wakonda, Black Panther is no more, and there is no superhero to defend Wakonda. Throughout the film the characters are struggling to cope with T'Challah's absence, not quite knowing how to live with this sorrow, while life keeps throwing new obstacles and challenges in their path. The strength of Coogler and Joe Robert Cole's screenplay is that it gives grief its authentic voice, one that takes time, expresses itself differently in everyone, and wreaks havoc on heart and mind.  Inevitably, this is also the film's weak point, as it does not and perhaps cannot reach the heights of exhilaration evoked by the first Black Panther.
Driving the plot is the desire to possess vibranium. Now that the world knows about Wakanda, it has become a target. And the question arises – might there be vibranium elsewhere on the planet? The film introduces Namor (Tenoch Huerta) and his kingdom of Talokan – both immensely intriguing. The two kingdoms have common enemies, and the potential to be allies, or not. Namor is merciless in his determination to do whatever it takes to save his people, a villain who is also, in his own way, heroic.
Strong and vibrant women characters were a powerful aspect of Black Panther's appeal, and they are all back. Angela Bassett is magnificent, regal, and formidable as Queen Ramonda, presiding over one of my favorite scenes in the film, as she stands up to the hypocritical and antagonistic world leaders at the United Nations. General Okoye (Danai Gurira), leader of the Dora Milaje, is fierce and loyal as ever, while Nakia (Lupita Nyong'o), T'Challah's ex-girlfriend and former spy, is sweetly enigmatic and amazingly capable. Michaela Coel is a very welcome addition as the Dora Milaje warrior Aneka, she has an intensity that burns up the screen. Playing for the opposition and lightening the mood is a comic turn by Julia Louis-Dreyfus as the coldly superior Valentina Allegra La Fontiane, CIA agent Ross's (Martin Freeman) boss and ex-wife.
T'Challah's younger sister Shuri (Letitia Wright) is consumed by grief and rage, feelings that dominate the character's entire arc. I loved the character of Shuri in the first film, she had a brightness about her, a swift intelligence and shimmering energy that is dimmed here, and sorely missed. I did not feel that her character was fully developed in this film, which could have taken her from the youthful playfulness of Black Panther to the fullness of maturity with more nuance and color. Shuri's more monochromatic emotional palette here ultimately contributed to my sense that something is lacking in the narrative arc of the film, reinforcing the sense of an interregnum. There were the beginnings of a movement towards greater emotional complexity in a scene between Queen Ramonda and Shuri, but they are interrupted by a surprising and amazing event. In the balance between emotional depth and action, there's some unsteady wavering, as the film packs a lot of new information and intrigue.
While it lacks the cohesiveness and mythic force of Black Panther, Wakanda Forever introduces new and fascinating directions and questions to explore, with evocative world-building and entertaining action. It honors the memory of Chadwick Boseman and T'Challah, and in that sense, met an excruciating challenge with grace. As ever, Ruth Carter's costumes are an event in themselves, meticulously and sumptuously detailed, they build a world and evoke worlds of feeling.
Black Panther: Wakanda Forever
Director: Ryan Coogler; Screenplay: Ryan Coogler, Joe Robert Cole; Cinematography: Autumn Durald Arkapaw; Editors: Kelley Dixon, Jennifer Lame, Michael P. Shawyer; Music: Ludwig Göransson; Cast: Letitia Wright, Angela Bassett, Lupita Nyong'o, Tenoch Huerta, Danai Gurira, Winston Duke, Florence Kasumba, Michaela Coel, Julia Louis-Dreyfuss, Dominique Thorne, Martin Freeman.