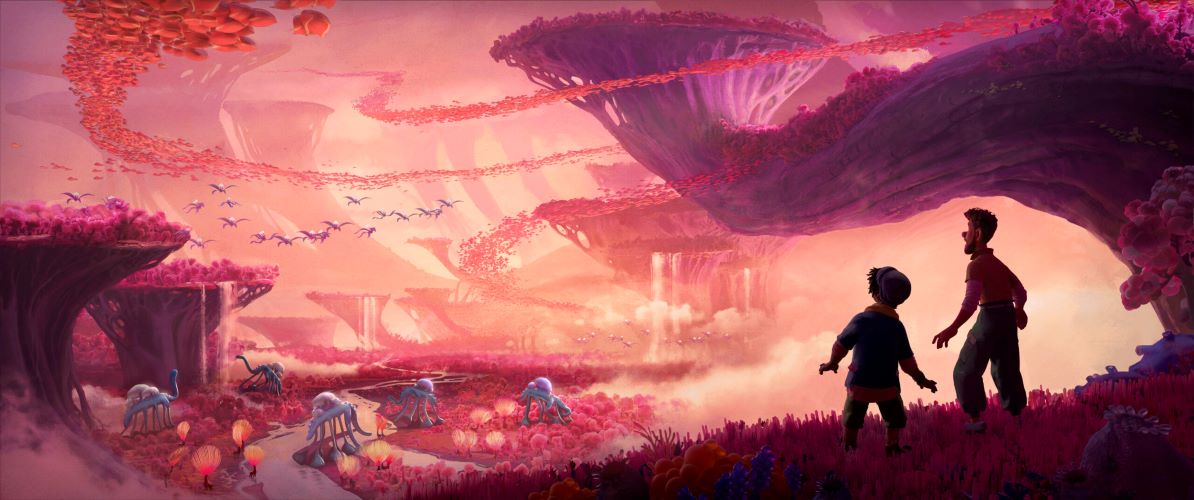 Strange World merges a retro-steam punk aesthetic spiked with wild imaginings and imbues a familiar narrative with a contemporary social sensibility. Directed by Don Hall (Big Hero 6) in his second collaboration (following Raya and the Last Dragon) with co-director and writer Qui Nguyen, it's a fun-filled journey through a quirky, vividly rendered, and alluring world, with travel companions who are likeable, relatable, characters.
Avalonia is a secluded town surrounded by mountains. As one might imagine, resources are limited, and courageous explorer Jaeger Clade (Dennis Quaid) sets off through the treacherous ice in the hope that solutions may lie beyond the snow-capped mountains. He's accompanied by a team that includes his teenage son Searcher (Jake Gyllenhaal). But when they encounter something unexpected, the rift between Jaeger and Searcher grows wider and feels impassable, as Jaeger marches on into the unknown. The theme of a father who expects his son to follow in his footsteps, and a son who wants to determine his own path is far from new, yet perhaps for that reason, it is eternally relatable and relevant, a narrative each generation writes and interprets in its own voice.
Skip ahead and twenty-five years later Avalonia is flourishing thanks to Searcher's discovery of a plant-based energy source: Pando. Although his father was never heard from again after that fateful mission, Searcher has a happy life farming Pando, together with his pilot wife Meridian (Gabrielle Union) and teenage son Ethan (Jaboukie Young-White). Ethan is curious about his famous grandfather – there's even a statue of Jaeger in the town square, but Searcher does not want to think about the past. I am reminded here a quote from Roland Barthes – "those who fail to reread are obliged to read the same story everywhere" – in refusing to reflect on the past, Searcher ends up oblivious to the fact that he is repeating his father's mistakes.
Although the father-son trope is not new, it is invigorated by the diverse and inclusive context in which it takes place. Ethan is comfortably gay and out, and openly crushing on the stylish and sweet Diazo (Jonathan Melo). The family is interracial, and that does not become an issue. Avalonia's population is diverse in many ways, and has a formidable woman president Calisto Mal (Lucy Liu). Viewers may note a wheelchair-using seller in the market place, and more central – Legend, the family's dog, has only three legs, but that does not hamper the dog's predilection for adventure. It feels great to have Disney reflect the world as I see and experience it.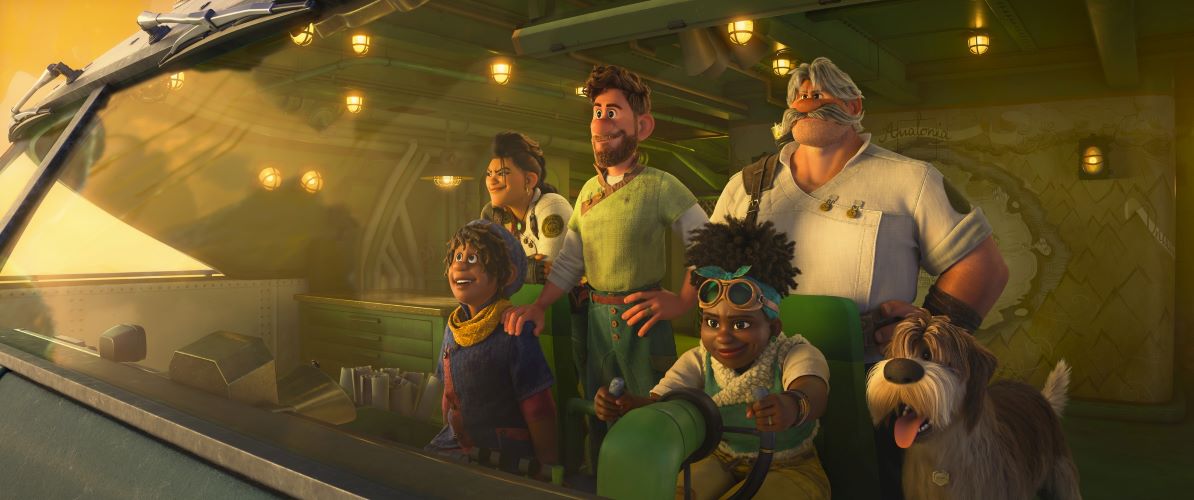 When an energy crisis strikes, Avalonia president Calisto turns to Searcher, after all, he belongs to a family of explorers. Something is mysteriously wrong with Pando, and a mission sets out to get to the root of the matter, literally. As they enter the depths, a delightfully bizarre magenta-hued world is revealed, populated with odd looking and sometimes dangerous creatures. The art and creative world-building are spectacular and full of humor. A stand-out is a faceless, non-verbal blue blobby creature imbued with so much personality it almost steals the show.
There are some nice twists that I would not want to spoil, but this very entertaining film does deal with some contemporary concerns in a thoughtful way. Along with its dazzling visuals, gentle humor, and catchy theme song, it conveys a concept that is very difficult to accept: sometimes what we think we know might be all wrong.
Strange World
Director: Don Hall; Co-director, screenplay: Qui Nguyen; Music: Henry Jackman; Cast: Jake Gyllenhaal, Dennis Quaid, Jaboukie Young-White, Gabrielle Union, Lucy Liu, Karan Soni, Alan Tudyk, Adelina Anthony, Abraham Benrubi, Jonathan Melo