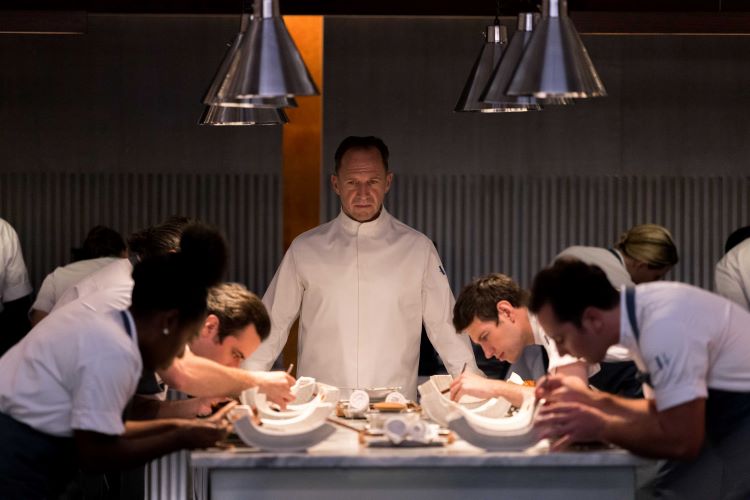 The Menu is an enticing dish, elegant yet hearty, with a delectable mélange of satire, dark comedy, and horror, to be savored by foodies and anti-foodies alike. Directed by Mark Mylod, with a screenplay by Seth Reiss, Will Tracy, the film takes aim at the extremes of a culture whose fascination with food has elevated the preparation of food to an art, endowed Chefs with cult status, and in the process, distanced it from nourishment for body and soul.
In the manner of thrillers, the film takes its characters out to the secluded Hawthorne restaurant, that has an island all to itself, where these fortunate, affluent diners will experience a unique meal at $1,250 per person. Presiding over the culinary event is Chef Slowik – tyrant and rebel, an artist who has lost his sense of self in the Faustian alliance with commerce. Depicted with magnificent precision by Ralph Fiennes, he inspires admiration, revulsion, and compassion. The restaurant is run like a military base, with the staff sleeping in immaculate barracks devoid of any personal items or ornamentation, their lives devoted entirely to their work, responding to Slowik's every command with a resounding "Yes, Chef."
First seen among the exclusive cohort gathered for the pilgrimage to Hawthorne is an attractive young couple. Margot (Anya Taylor-Joy) lights up a cigarette, and her date Tyler (Nicholas Hoult) insists she stop, saying it will ruin her palate. Hoult is hilarious as Tyler, a devout worshipper at the altar of haute cuisine, imbuing the character with the kind of naivete that is endearing in a child and supremely annoying in an adult. In contrast, Margot is not drinking the Kool-Aid, asking "What is it with this food thing?"   Skeptical from the start, questioning everything, Margot provides a vibrant counterpoint to Tyler's harmonious acceptance of anything and everything that comes out of the kitchen. One soon realizes that there is something off about this couple, they, like the other guests, have their secrets. Anya Taylor-Joy brings a tantalizing intensity to Margot, with a dark gaze that burns through the hypocrisy and pretensions of the dining ritual. Her biting irreverence and fiery sparring with Chef Slowik is a savory delight.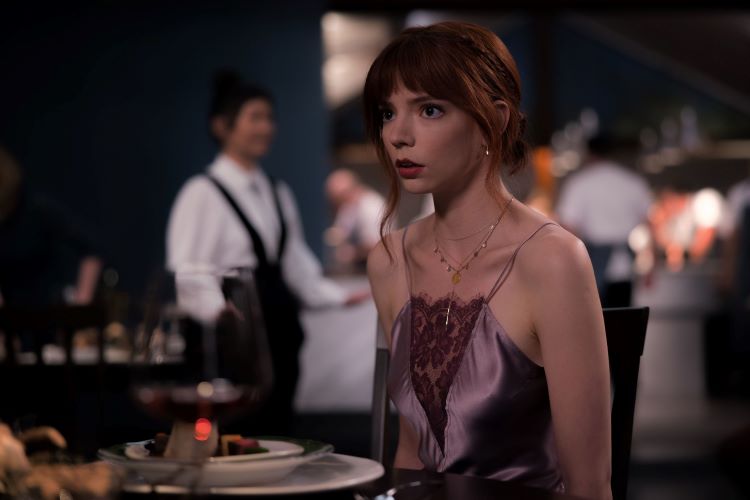 Chef Slowik claps the room to startled attention with each course and commands the guests – Do not eat… savor – and the pretentious theatricality of the scene is established, and the satire of cuisine cult is amusing and spot on. Each course is accompanied by the flash of the dish's title and description on the screen. Most fun are the comments and reactions of the diners, whose characters are sketched out in greater or lesser detail, as are the kitchen staff. Hong Chau delivers a star turn as Elsa, the Chef's intimidating assistant/henchperson, whose serene tone conveys ominous depths as she manages the guests. Among those, Janet McTeer stands out as Lillian the food critic, celebrated as much for the careers she has ruined as for those she has built up. Her curated comments are carefully chosen to celebrate her discerning taste and superior knowledge, calling a truly lovely first course called "the island" – a single scallop poised on a rock adorned with plants native to Hawthorne – "half great". Accompanying Lillian is her editor (Paul Adelstein) eager to agree with everything she says as a cover for his lack of knowledge. Also on board are three repugnant businessmen (Arturo Castro, Rob Yang, and Mark St. Cyr) who drink a toast to "work and money"; John Leguizamo as a has-been star desperately trying to maintain a façade of importance and his assistant (Aimee Carrero) who wants to quit; Judith Light and Reed Birney are an older, wealthy couple who are regulars at the restaurant – and they have their secrets too. Light is almost invisible and feels under-used as Anne, the wife, until one small moment that is quite poignant.
The film maintains a fun balance between the clever, playful satire and suspense. Soon enough, the diners have a sense that there is something sinister going on. That's where the thrills and horror begin. Margot's vigorous push-back against the tide of snobbery and her strategic yet intriguingly empathetic dynamic with Chef Slowik is dazzling and keeps the uncertainty tight and exciting until the final course is served.
The Menu
Director: Mark Mylod; Screenplay: Seth Reiss, Will Tracy; Cinematography: Peter Deming; Editor: Christopher Tellefsen; Music: Colin Stetson; Cast: Ralph Fiennes, Anya Taylor-Joy, Nicholas Hoult, Hong Chau, Janet McTeer, Judith Light, John Leguizamo, Reed Birney, Paul Adelstein, Aimee Carrero, Arturo Castro, Mark St. Cyr, Rob Yang