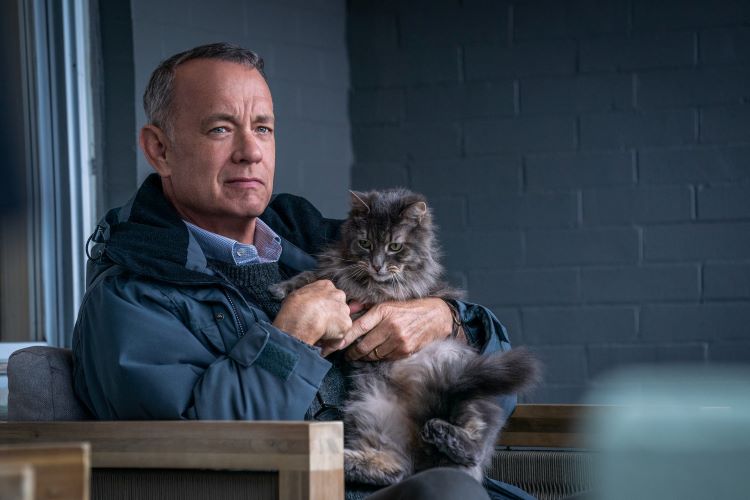 Looking at the world through the lens of his bitter rigidity, 60-something Otto, delightfully portrayed by Tom Hanks, strides through a hardware store with a permanent frown etched into his forehead, making caustic comments, and insisting on cutting his own length of rope, while the salesclerk stands by, reluctant to interact too assertively with this knife-wielding curmudgeon. Then, at the register, when the clerk has the impunity to charge him by the yard, making him pay for 6 feet of rope when he only took 5 feet, Otto is outraged at the injustice, and argues his case, holding up the line of customers. It's a hilarious scene, all the more so because although Otto's reaction is disproportionate, in principle, he is right.
Directed by Marc Forster, A Man Called Otto is an American remake of the Swedish film A Man Called Ove (2016), which in turn is based on Fredrik Backman's bestselling novel A Man Called Ove (2012). The general premise and plot are the same, although the setting has been transposed to suburban America, and some characters have been altered to better fit an American cultural environment. In the Swedish version, Ove's new neighbors are Iranian, while here, Marisol and Tommy are Latinx.
Otto is seen going about his daily routine – waking at the crack of dawn to make his tour of the neighborhood, organizing the recycling bins, checking to see if the neighbor's dog has peed on the sidewalk, and putting any stray bikes in the shed. There is a slight sense of mystery as he makes some odd phone calls, canceling his newspaper subscription, electricity, and other utilities. But his plans become clear in in one stark frame as a noose is suspended from the ceiling. Recently widowed, and edged out of his job, Otto plans to end his life and has set everything up in his typical organized and precise manner. But then life intervenes.
When Otto sees Tommy (Manuel Garcia-Rulfo) make a miserable job of parallel parking while a very pregnant wife Marisol (Mariana Treviño) alternately encourages and critiques, he rushes out to inform them that the street is solely for the use of residents, only to be told that they are his new neighbors. Compelled to see everything done precisely right, Otto parks the car for them, earning their warm gratitude which soon takes the form of a home-cooked meal brought to his door at yet another inopportune moment. Mariana Treviño is a welcome infusion of humor and energy as the extroverted Marisol, who is clearly curious about her odd neighbor, and cheerfully intrudes on Otto's privacy. Manuel Garcia-Rulfo provides many a comic moment as the inept, yet good-natured Tommy.
Yet as the film progresses it loses the edge of its first scenes, and takes a turn towards the sentimental, as the reasons for Otto's gruff bitterness are revealed. Although traumatic life events can be an integral part of comedy (as Tig Notaro has brilliantly demonstrated) here, the comedy fades and the narrative becomes quite predictable as the emphasis turns toward showing Otto's loving, generous, and wounded heart. A Man Called Otto is a heartwarming, if somewhat simplistic, look at aging, loneliness, and grief, as well as the healing power of community and relationships. Ultimately, the film conveys a useful message: if you are nice to your neighbors, they may bring you gifts of delicious food.
A Man Called Otto
US/2022/126 min/English
Director: Marc Forster; Screenplay: David Magee; Cinematography: Mathuas Koenigswieser; Editor: Matt Chessé; Music: Thomas Newman; Cast: Tom Hanks, Mariana Treviño, Rachel Keller, Truman Hanks, Mike Birbiglia, Manuel Garcia-Rulfo